The Red Green Show
Season 10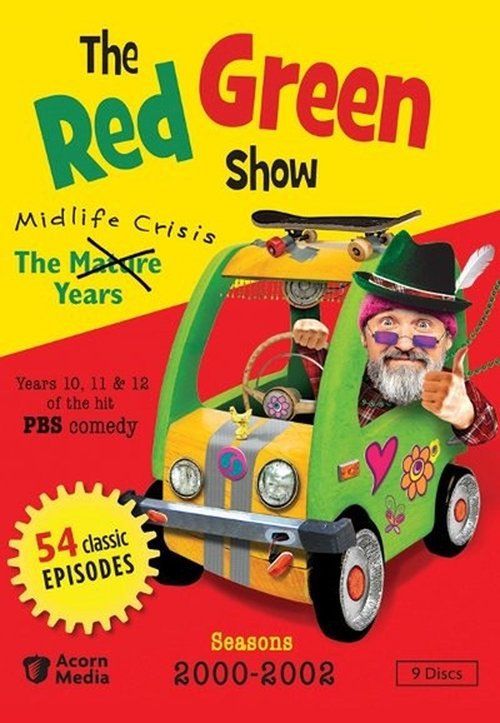 The Red Green Show
Season 10
First Air Date: January 01, 2010

| | | |
| --- | --- | --- |
| First Aired on | : | 2010 |
| Episodes | : | 19 episodes |
Episodes
10x19 No Duct Tape (January 01, 0001)
---
Everyone panics when the Lodge runs out of duct tape and the local hardware store is back-ordered. Red uses a frozen turkey as a toboggan return. Ranger Gord gets struck by lightning. Ed Frid enlists Red's help to catch his pet ground hog. Red uses gumball machines to dispense nuts and bolts. Ed Frid is the featured guest on Up Close and Personal.
---
10x18 Damn You Emu (January 01, 0001)
---
Red Green opens by stating that there's a "great big chicken on the loose. Four feet tall and very, very vicious." Actually, it's not a chicken. It's an emu, which appears to be generated by computer graphics. In a typically harebrained scheme to make money, Dalton's getting into the emu business. He lassos in Red Green too, telling him that they'd be "making money in three months." However, the emus aren't exactly the friendliest of creatures. Later, when Dalton recommends getting more emus, Red gripes, "More emus! You know, only a married person would have an appetite for that kind of abuse, Dalton." Dalton counters, "You won't regret it. It's a great opportunity." As one of the emus starts pecking at the window, Red quips, "I think I hear opportunity knocking at the window there Dalton." Eventually they decide to dump the emus. But how? Red has the perfect idea--- they'll give them to the eccentric Ranger Gord! The prize for the "Possum Lodge Word Game" is a "gift certificate to Big Al's Podiatry Clinic." The player is Edgar, and the word is fuse. Red details how to provide a remote defrosting system for your vehicle using an electric drill, a tire iron, and a broom. "I can show you how it all works, but I'm sure you've already figured it out." In his "I'm Pullin' For Ya'" segment, Red explains why guys don't like to ask for help. It's all about payback work. If you try to get one of your friends to help you with one of your projects, they're going to want payback work. And why do you want to do that when you should be enjoying the fruits of your project. If you can't fix it yourself, then hire a professional. "It's better to pay in cash, once than pay in payback work for the rest of your life. Remember, I'm pullin' for ya'. We're all in this together. Ranger Gord's weekly film is titled "Before the Fire." In this episode, "Ranger Gord of the Future" travels back in time to prevent a devastating forest fire. Along the way, he picks up "Ranger Gord of the Present," as well Red Green and Harold. Back in the past, lightning strikes Harold and Red, setting them on fire. What is now a trio of Ranger Gords stomp them to ashes, 'preventing' the fire. They all take off in the time machine, which sets the forest on fire. The 'Up Close and Personal' segment features Mike Hampton. He had a 'typical childhood.' He had anywhere from '3 to 7 Dads', depending on bail money. When asked to give his advice on life for the kids, he explains, "It's not that bad. They call it life, but really it's only 25 years."
---
10x17 The Dandruff Foundation (January 01, 0001)
---
The men find a charity for the Lodge to affiliate with as way of avoiding taxes and receiving government grants. Red makes a device that automatically clears snow from your driveway. Ed Frid brings in a bucket of leeches. Red makes a fireworks display out of screen doors and a high voltage transformer. The men have a brief tennis competition. Edgar Montrose is the featured guest on Up Close and Personal.
---
10x16 The Beaver Dam (January 01, 0001)
---
Possum Lake is rising because the beavers have built a dam across the river running out of it. Red uses the van exhaust to inflate children's toys. Dalton tries to sneak out of the house to go fishing. Red visits Ranger Gord just as he comes out of hibernation. Walter and Ed help Red install a satellite dish at the Lodge. Red uses empty duct tape rolls to make a beer cellar instead of a wine cellar.
---
10x15 Who Wants To Be A Smart Guy (January 01, 0001)
---
Dalton represents the Lodge as a contestant on a tv trivia game show. Red shows how you can be in your own tourist photos without asking a stranger to take the picture. Red turns a van into a sports car using duct tape and paint. Ranger Gord has an animated film about defending yourself against a sasquatch. Ed Frid hypnotizes a chicken and Red puts a rotary antenna on his car to improve his radio reception.
---
10x14 DNA All The Way (January 01, 0001)
---
A land-owner's death prompts the residents of Possum Lodge to take DNA tests to see who was his offspring.
---
10x13 Cheap Jeep (January 01, 0001)
---
In one of his favorite magazines (Archie Comics), Red finds an advertisement for an army jeep on sale for seventy-five dollars. He orders it and it arrives in 15 cases of parts. The instructions are billingual: Spanish and German. Red decides to build it using his own instincts, much to Winston's anxiety. During construction, Red finds trouble with the steering and the brakes, and after "beatin' the living daylights outta all the linkage pieces", he discovers why: It's a JDF (Jamaican Defense Force), and in Jamaica they drive on the left side of the road.
---
10x12 Out Of The Woods (January 01, 0001)
---
Red and Ed trap a large animal roaming the woods at night. Red demonstrates a carefree way to travel by using wear-on luggage. Ranger Gord presents an animated feature about signs on the forest. Red uses a car exhaust system to make a caliope. Winston does a couple of promotional messages for his septic suckiing business. Red makes automatic space ship doors using windshield wipers and shower curtains.
---
10x11 Barter Starter (January 01, 0001)
---
Red, Dalton and Winston trade somewhat valuable items to each other for the weekend but it doesn't work out so well for Dalton. Red and Walter use a giant electo-magnet to find lost car keys. Red makes an outside elevator out of a phone booth and a hot water heater. Red also demonstrates how to convert the junk on your lawn into a miniature village. Local marina operator finds a lazy way to change the name of Red's boat.
---
10x10 Lunar Eclipse (January 01, 0001)
---
The men try to recapture their youth by watching a lunar eclipse together, just like they did thirty-five years ago. Red converts the Possum van into an airboat. Dalton decides to use the Drive-In Theater as a golf driving range. The men do a featured biography on Walt Gorgovich - Possum Lake's Daredevil. Red demonstrates how to use a gas siphon hose to keep yourself cool and how to use a cel phone as a massager.
---
10x09 Twinning (January 01, 0001)
---
Possum Lodge twins with the state of Iowa. Red stays back to host the 500 visiting Americans. Ranger Gord presents an animated film about aliens. Red converts his old hockey equipment into fishing gear. He also demonstrates how to use small airplanes to remove tree stumps. The Possum Lake Funeral Director has tips on giving a eulogy when you don't know the deceased.
---
10x08 Historic Site (January 01, 0001)
---
Red and Mike try to save the Lodge by having it declared a historical site. Red demonstrates how to get two cars into a one-car garage. Red makes a hedge trimmer our of a weed whacker on roller blades. Winston and Walter have a homerun contest. Red brings personal ads to show Ranger Gord. Red installs a coffee maker into the Possum van.
---
10x07 Survivor (January 01, 0001)
---
A toxic cloud in the area forces Red to stay locked in the Lodge for a few days. Also Red makes a woodshop out of a truck. The men have fun rolling down a hill inside oil drums. Red demonstrates an easy way to exercise your dog and how you can use a belt sander to bring you drinks. Red meets with a network executive who wants Red to add profanity and violence to the show. Ranger Gord plays the word game - the word is 'stool'.
---
10x06 Man Of The Year (January 01, 2010)
---
The guys at the Lodge nominate a man who doesn't exist, as Possum Lake's Man Of The Year, hoping to win a new fishing boat. Dalton gets home late and tries to fool his wife. Ranger Gord's animated film is all about rainbows. Red has a solution for irritating phone calls. He also make house awnings out of car hoods and turns a mini-van into a riverboat paddlewheeler.
---
10x05 Winston's Wedding (January 01, 2010)
---
Winston needs Red's help in planning his wedding - he has everything except the bride. Dalton tries to sneak a new boat home without telling his wife. Red and Walter have a melon tossing contest. Red demonstrates easy ways to exercise and keep your windshield clean. He also makes a stretch limo out of two mini-vans and a pick-up truck.
---
10x04 What A Dump (January 01, 2010)
---
The Lodge proposes itself to the city of Toronto as an ideal place to dump garbage. Red makes an extremely elaborate automated firewood chopper. He also demonstrates how to use a manhole cover as a spare tire and how to deter unwanted visitors. The Adventure film is an attempt at roof repair. Ranger Gord has a gang of tree huggers chained to trees and he doesn't want them to ever leave.
---
10x03 Foster Child (January 01, 2010)
---
Red learns that the Lodge has a foster child who's coming to spend the weekend with him. Red demonstrates a fun way to take out the garbage and builds a revolving restaurant out of a dining tent. Ranger Gord presents an educational cartoon on cloud factories. Also featured is a biography of the first man in the Possum Lake area to put zippers into men's pants.
---
10x02 Sausage Envy (January 01, 2010)
---
The boys do their wurst for the Possum Lake Sausage Carnival. Red meets with the network programmer - an 18 year-old woman played by Stephanie Beard of Toronto's KISS FM. Red makes popcorn in a clothes dryer, converts a hot water tank into a snowmobile, and uses his dog to wash his car. George Buza plays the lazy owner of the Port Asbestos Marina. Dalton locks the keys in his car and has to blow the doors off to get them.
---
10x01 A Very Merry Red Green Christmas (January 01, 2010)
---
---