Sherlock Holmes
Series 1
Sherlock Holmes
Series 1
First Air Date: May 17, 1964

| | | |
| --- | --- | --- |
| First Aired on | : | 1964 |
| Episodes | : | 13 episodes |
Episodes
1x13 The Disappearance of Lady Frances Carfax (May 07, 1965)
---
---
1x12 The Retired Colourman (April 30, 1965)
---
---
1x11 Charles Augustus Milverton (April 23, 1965)
---
---
1x10 The Bruce-Partington Plans (April 16, 1965)
---
---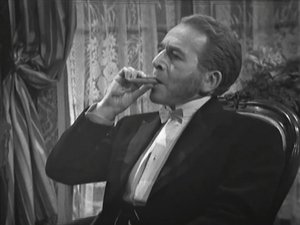 1x09 The Beryl Coronet (April 09, 1965)
---
---
1x08 The Man with the Twisted Lip (April 02, 1965)
---
---
1x07 The Six Napoleons (March 26, 1965)
---
---
1x06 The Abbey Grange (March 19, 1965)
---
---
1x05 The Red-Headed League (March 12, 1965)
---
---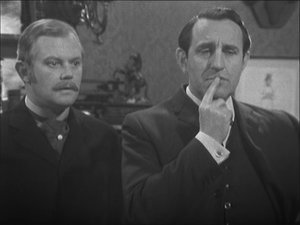 1x04 The Copper Beeches (March 05, 1965)
---
---
1x03 The Devil's Foot (February 26, 1965)
---
Whilst in Cornwall Holmes is approached by the local vicar to determine how Brenda Tregennis died whilst sitting in a room, playing cards with her two brothers, who were struck down with dementia as a result. The trail leads to an African adventurer and a deadly root known as the Devil's Foot.
---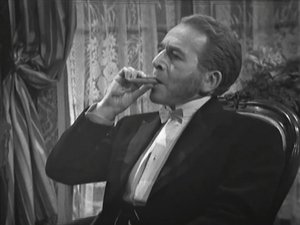 1x02 The Illustrious Client (February 19, 1965)
---
Sir James Damery, acting for a very illustrious client, consults Holmes. Violet Merville is engaged to marry the Austrian Baron Gruner, who has murdered at least one wife and yet the foolish, headstrong Violet will not hear a word against him. The client is fearful for Violet's safety should the marriage go ahead. Holmes enlists the assistance of Kitty Winter, a woman whom the Baron used and threw aside, to get access to Gruner's album in which he has catalogued his conquests, to make Violet see him in his true light.
---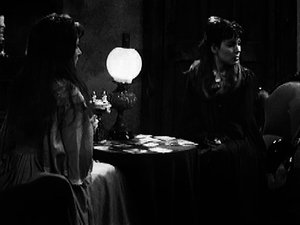 1x01 The Speckled Band (May 17, 1964)
---
Helen Stoner needs the great man's help. She lives in a country mansion with her flamboyant and sinister guardian Grimesby Raylott, who has travelled abroad and brought home some souvenir livestock. Recently her sister Julia, about to be married and made by Raylott to sleep in a bed that was screwed to the floor, died in mysterious circumstances. Her final words referred to a "speckled band." Helen is fearful for her own safety and Holmes and Watson investigate.
---