Sammy & Co
Season 1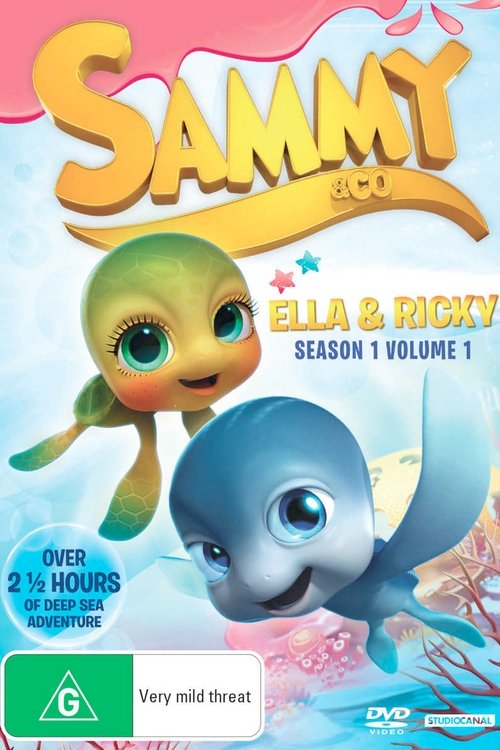 Sammy & Co
Season 1
First Air Date: September 01, 2014

| | | |
| --- | --- | --- |
| First Aired on | : | 2014 |
| Episodes | : | 52 episodes |
Episodes
1x52 Episode 52 (February 29, 2016)
---
---
1x51 Episode 51 (February 29, 2016)
---
---
1x50 Episode 50 (February 29, 2016)
---
---
1x49 Episode 49 (February 29, 2016)
---
---
1x48 Episode 48 (February 29, 2016)
---
---
1x47 Episode 47 (February 29, 2016)
---
---
1x46 Episode 46 (February 29, 2016)
---
---
1x45 Episode 45 (February 29, 2016)
---
---
1x44 Episode 44 (February 29, 2016)
---
---
1x43 Episode 43 (February 29, 2016)
---
---
1x42 Episode 42 (February 29, 2016)
---
---
1x41 Episode 41 (February 29, 2016)
---
---
1x40 Episode 40 (February 29, 2016)
---
---
1x39 Episode 39 (February 29, 2016)
---
---
1x38 Episode 38 (February 29, 2016)
---
---
1x37 Episode 37 (February 29, 2016)
---
---
1x36 Episode 36 (February 29, 2016)
---
---
1x35 Episode 35 (February 29, 2016)
---
---
1x34 Episode 34 (February 29, 2016)
---
---
1x33 Episode 33 (February 29, 2016)
---
---
1x32 Episode 32 (February 29, 2016)
---
---
1x31 Episode 31 (February 29, 2016)
---
---
1x30 Episode 30 (February 29, 2016)
---
---
1x29 Episode 29 (February 29, 2016)
---
---
1x28 Episode 28 (February 29, 2016)
---
---
1x27 Episode 27 (February 29, 2016)
---
---
1x26 The Sharks' Treasure (December 25, 2015)
---
When Lulu tells the class about a legendary treasure exhibited each year during a secret ceremony, Glitz hatches a risky plan to make her way inside.
---
1x25 The War of the Fish (December 25, 2015)
---
When the rockfish refuse to share the playground with the turtles, a sports tournament is arranged to settle the dispute. But the rockfish play dirty.
---
1x24 Light on the Reef (December 25, 2015)
---
While the children spend the night together under Lulu the Lobster's watch, a strange light wakes Ricky and Glitz up, and they go off to investigate.
---
1x23 Fortune and Fib Telling (December 25, 2015)
---
When Big Boss tries to take control of the reef by pretending that he's clairvoyant, Ella and Annabel reluctantly escort Pipo to his psychic reading.
---
1x22 Ricky's Betrayal (December 25, 2015)
---
Sammy worries when there is no news of Big Boss for a while, and Ricky tries to get information by pretending to switch sides and join the Rockfish.
---
1x21 The Alpha Mystery (December 25, 2015)
---
When pilot fish Alpha leaves the reef at night and refuses to tell his partner Albert where he goes, Ricky and Annabel follow him to learn his secret.
---
1x20 The Precious Ring (December 25, 2015)
---
In a spoof of "The Lord of the Rings," Sammy thinks that a ring found in the reef holds a curse and forms a team to go toss it into a bottomless pit.
---
1x19 Feathered Turtle (December 25, 2015)
---
The seagulls lure Ricky and Ella to the beach to put them on their dinner menu, and the duo's one seagull ally gets hit on the head by a coconut.
---
1x18 Vengeance Under the Shell (December 25, 2015)
---
Unfairly punished by Lulu because of the rockfish, Ricky takes revenge by damaging the palaver tree and laying the blame on Glitz and her crew.
---
1x17 Lobsterary Confinement (December 25, 2015)
---
When fishermen capture Lulu's cousin, Ricky and the gang find him being held prisoner in a lobster farm and try to set all the captives free.
---
1x16 Pipo's Pack (December 25, 2015)
---
When a dance contest is arranged for the reef fair, Pipo gets weary of the turtles ignoring his choreography instructions and joins the Rockfish team.
---
1x15 The Imaginary Invalid (December 25, 2015)
---
When Ricky pretends that he has a terrible illness to get out of school, Ella, Pipo and Annabel do everything they can to try and find a cure.
---
1x14 Love Makes You Blind (December 25, 2015)
---
When Ricky's grandmother tries to spruce herself up and accidentally glues her eyes shut, Ricky guides her on a risky journey to find help.
---
1x13 The Rival (December 25, 2015)
---
When a turtle of Ricky and Ella's age pretends to have braved many great dangers in the oceans, Ella succumbs to his charms, and Ricky feels jealous.
---
1x12 Flying Turtles (November 13, 2014)
---
Hungry seagulls hunt for Ella and Ricky and will stop at nothing to make a meal of them. Stuck on a high branch, Ricky suffers from vertigo.
---
1x11 Yum (September 22, 2014)
---
In the village, everyone is a vegetarian. But when Big Boss steals all the food, Albert struggles to hold on before giving in to his old appetites.
---
1x10 Moray's Word of Honor (September 19, 2014)
---
Irked by Big Boss treating him like an idiot, Philip decides to go back to school, but his brother Marco misses him so much that he cannot do his job.
---
1x09 The Invaders (September 18, 2014)
---
When divers armed with nets and a harpoon capture Pipo and endanger the reef, Ricky, Ella and Annabel must save their friend and scare off the humans.
---
1x08 The Walk of the Butterfly Fish (December 24, 2014)
---
When a boat sinks near the reef with a seagull trapped inside, the turtles decide to save him. But poor Pipo doesn't know he's being tricked.
---
1x07 The Pearl Hunt (September 17, 2014)
---
In order to teach the students to tolerate each other, Lulu organizes a pearl hunt, creating teams of mixed fish, but collaboration seems impossible.
---
1x06 Trapped (September 08, 2014)
---
When Ricky and Ella hunt for a magnifying glass for Pipo's nearsighted father, Ella gets locked inside a human hut, and Ricky must save her.
---
1x05 Like a Grownup (September 05, 2014)
---
Thirsty for adventure, Ricky dreams of leaving the reef and fighting fearsome predators, so Sammy must find a way to show him he is still too young.
---
1x04 For Better or for Worse (September 04, 2014)
---
When Albert and his pilot fish, Alpha, won't stop fighting, Ricky and Ella find Alpha a new job with a barracuda, but the pair drives everyone crazy.
---
1x03 Sweet Scorpfish (September 03, 2014)
---
Ella's admirer, Babbles, becomes jealous of Ricky, who gets to spend more time with her, so he sets a trap for his rival and gets caught in a jam.
---
1x02 The Abominable Seamonster (September 02, 2014)
---
When a terrifying unknown creature attacks the reef, Big Boss plays protector and makes a move to take over, but the children smell something fishy.
---
1x01 The Shark's Tooth (September 01, 2014)
---
Glitz challenges Ricky to an adventurous contest: The first to bring back a shark tooth to the reef will be called the bravest in the ocean.
---