Home Movies
Season 3
Home Movies
Season 3
First Air Date: August 04, 2002

| | | |
| --- | --- | --- |
| First Aired on | : | 2002 |
| Episodes | : | 13 episodes |
Episodes
3x13 Coffins & Cradles (May 25, 2003)
---
The kids are preparing for Halloween, Linda (Brendon's new stepmother) is preparing to have a baby, and Coach McGuirk is preparing to have the romantic night of his life. Despite all this, no one is prepared when things start to go wrong.
---
3x12 Stowaway (November 24, 2002)
---
The kids decide to run away to Europe and become ex-patriot artists, but find their plan is a little lost at sea. Back home, McGuirk's car breaks down and he has no money to fix it. He asks Tom Wilsonberg, author of 'Starting Early: The New World of Corporate Kids,'for financial advice. Tom's answer? Gambling.
---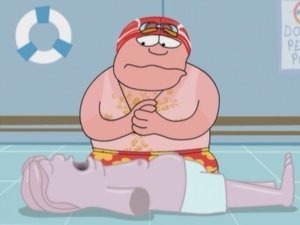 3x11 Broken Dreams (November 17, 2002)
---
In a suspicious coincidence, Melissa and Jason each break their arms. This may affect the current film in production, but Brendon is also worried that he is dumb, or at the very least, that Melissa is smarter than he is. Meanwhile, McGuirk wants desperately to become a lifeguard.
---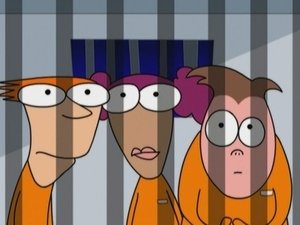 3x10 Time to Pay the Price? (November 10, 2002)
---
Brendon, Jason and Melissa get in BIG trouble at school and have to go to a 'scared straight'program at the local prison. Meanwhile, Paula stumbles across a huge pile of the kids' old movies and incredibly, she watches them. What's more, she discovers an odd motif that runs through every film.
---
3x09 Storm Warning (November 03, 2002)
---
Coach McGuirk tries to convince Paula to pose as his fiance while his sister visits. Meanwhile, Paula needs to get her novel to her agent before he goes on vacation. On the filmmaking front, the kids try to decide whether they want to make a mockumentary about making a movie or a mock, making-of-a-mockumentary movie or just a movie.
---
3x08 Guitarmageddon (October 27, 2002)
---
The kids ignore the fact that they have no musical experience or talent and decide to start a band, recording their first single, 'Freaky Outie.'At the same time, Duane enters a guitar contest where he will face his archrival, Jimmy Monet.
---
3x07 My Cheatin' Heart (October 20, 2002)
---
Brendon has trouble convincing Jason and Melissa to make their latest film backwards, a la 'Memento.' Meanwhile, Brendon is forced to work on his golf game after his dad pressures him into playing a round with an important client. Coach McGuirk gives Brendon some valuable golf advice: cheat.
---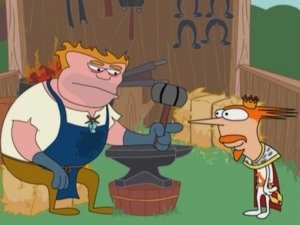 3x06 Renaissance (October 13, 2002)
---
Brendon, Jason and Melissa are performing the musical 'King Arthur Meets Robin Hood'at a medieval fair organized by Mr. Lynch. Tensions soon arise between the fair and the sci-fi convention next door. Can Brendon bring peace to the warring factions? Also, can Coach McGuirk stay in character as a medieval blacksmith?
---
3x05 Four's Company (October 06, 2002)
---
Melissa gets a new French-accented boyfriend, and Brendon and Jason get jealous when her love life starts to interfere with their busy production schedule--and the casting of their Susan B. Anthony biopic. Meanwhile, Coach McGuirk transforms into to a social planner.
---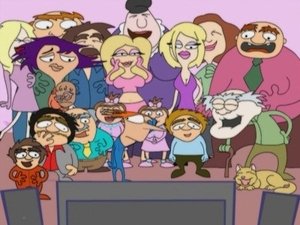 3x04 Improving Your Life Through Improv (August 28, 2002)
---
Brendon gets caught making fun of another kid at school and as a result, Mr. Lynch sends everyone to sensitivity training on a Saturday. There they learn the value of really bad improv games and experience the song 'No Skin Off My Ass.'Also: Paula secretly enters one of Brendon's movies in a contest.
---
3x03 Bad Influences (August 18, 2002)
---
The camera does add 10 pounds, but so does bingeing on junk food. Brendon and Jason are gaining weight at an alarming rate, so in order break the 'fat-enabling'cycle, they decide never to see each other again.
---
3x02 Breaking Up Is Hard To Do (August 11, 2002)
---
A kitchen fire at the Smalls is nothing compared to the flaring tempers triggered when both of Paula's newly separated parents move in. To make matters worse, Coach McGuirk volunteers to 'renovate'the kitchen. Meanwhile, Brendon, Jason and Melissa make a crime drama called 'Mulligan and Winooski'about two cops.
---
3x01 Shore Leave (August 04, 2002)
---
Erik is worried that Melissa doesn't have enough friends who are girls so he enrolls her in The Fairy Princesses. Meanwhile, Brendon gets invited to spend the weekend with Fenton, whom he didn't even know he was friends with. Both Brendon and Melissa have what they consider to be the worst weekends of their lives.
---