The Daily Show with Trevor Noah
Season 23
The Daily Show with Trevor Noah
Season 23
First Air Date: October 02, 2017

| | | |
| --- | --- | --- |
| First Aired on | : | 2017 |
| Episodes | : | 157 episodes |
Episodes
23x157 America Ferrera (September 27, 2018)
---
Emotions run high as Dr. Christine Blasey Ford and Brett Kavanaugh testify before the Senate Judiciary Committee, and America Ferrera discusses her book "American Like Me."
---
23x156 Bill Gates (September 26, 2018)
---
Brett Kavanaugh faces a third sexual misconduct allegation, Roy Wood Jr. goes to extremes to bridge America's partisan divide, and Bill Gates discusses Goalkeepers.
---
23x155 M.I.A. (September 25, 2018)
---
Brett Kavanaugh insists that he was a virgin in college, Neal Brennan implores Trump-supporting Republicans to find Jesus, and M.I.A. discusses "Matangi / Maya / M.I.A."
---
23x154 Jenny Han (September 24, 2018)
---
A second woman accuses Brett Kavanaugh of sexual assault, Michael Kosta and Roy Wood Jr. tackle sports headlines, and Jenny Han discusses "To All the Boys I've Loved Before."
---
23x153 Tracey Ullman (September 20, 2018)
---
Roy Wood Jr. comes up with a sci-fi solution for a racially charged problem, Desi Lydic addresses helicopter parenting, and Tracey Ullman discusses "Tracey Ullman's Show."
---
23x152 Eli Saslow & Derek Black (September 19, 2018)
---
Controversy swirls around Bert and Ernie's sexuality, Brett Kavanaugh faces sexual assault allegations, and Eli Saslow and Derek Black discuss "Rising Out of Hatred."
---
23x151 José Andrés (September 13, 2018)
---
The World's Fakest News Team forecasts more disastrous tweets from President Trump, Trevor pitches a Trump-inspired Magic 8 Ball, and José Andrés discusses "We Fed an Island."
---
23x150 Anna Kendrick (September 12, 2018)
---
The East Coast braces for Hurricane Florence, Roy Wood Jr. investigates structural racism in Boston, and Anna Kendrick chats about her role in "A Simple Favor."
---
23x149 Mitski (September 11, 2018)
---
President Trump continues his tradition of behaving badly on 9/11, Michael Kosta examines a midterm race in Orange County, CA, and musician Mitski discusses "Be the Cowboy."
---
23x148 Amy Klobuchar & Kevin Love (September 10, 2018)
---
Barack Obama takes aim at President Trump, Senator Amy Klobuchar discusses "Nevertheless, We Persisted," and Cleveland Cavaliers player Kevin Love sits down with Trevor.
---
23x147 Maggie Gyllenhaal (September 06, 2018)
---
Conservatives claim to be censored by Facebook and Twitter, Senator Kamala Harris grills Supreme Court nominee Brett Kavanaugh, and Maggie Gyllenhaal discusses "The Deuce."
---
23x146 April Ryan (September 05, 2018)
---
An anonymous White House official blasts President Trump in the New York Times, Brett Kavanaugh's Supreme Court hearings continue, and CNN's April Ryan discusses "Under Fire."
---
23x145 DeRay Mckesson (September 04, 2018)
---
Trevor examines high-profile boycotts, tensions rise at Brett Kavanaugh's Supreme Court confirmation hearing, and DeRay Mckesson discusses "On the Other Side of Freedom."
---
23x144 D.L. Hughley (August 16, 2018)
---
Fired FBI agent Peter Strzok gets a major boost via GoFundMe, Hasan Minhaj tries to save MoviePass, and comedian D.L. Hughley discusses his book "How Not to Get Shot."
---
23x143 Jimmy O. Yang (August 15, 2018)
---
Roy Wood Jr. reacts to Donald Trump's alleged use of the N-word, Ronny Chieng learns about deregulation, and Jimmy O. Yang discusses "Crazy Rich Asians" and "How to American."
---
23x142 Omarosa Manigault Newman (August 14, 2018)
---
Dulce Sloan demands equal pay for black women, Pakistani Prime Minister Imran Khan takes a page from the Trump playbook, and Omarosa Manigault Newman talks about "Unhinged."
---
23x141 Spike Lee (August 13, 2018)
---
Omarosa Manigault Newman releases two secretly taped White House conversations, a Unite the Right rally fizzles out in Washington, D.C., and Spike Lee talks "BlacKkKlansman."
---
23x140 Emma Gonzalez & Matt Deitsch (August 09, 2018)
---
Mothers face harassment for breastfeeding in public, the first black "Peanuts" character turns 50, and March For Our Lives activists Emma Gonzalez and Matt Deitsch stop by.
---
23x139 Big Boi (August 08, 2018)
---
The Trump administration targets legal immigrants, Lewis Black rails against summer camp programs for adults, and rapper-producer Big Boi discusses his album "Boomiverse."
---
23x138 Rob Corddry (August 07, 2018)
---
Former Trump campaign official Rick Gates testifies against Paul Manafort, Hasan Minhaj explores the history of presidential pardons, and "Dog Days" star Rob Corddry stops by.
---
23x137 Stacey Abrams (August 06, 2018)
---
President Trump bashes LeBron James on Twitter, Trevor explains why Iran and America aren't friends, and Georgia gubernatorial candidate Stacey Abrams talks "Minority Leader."
---
23x136 A$AP Rocky (August 02, 2018)
---
Former Trump campaign manager Paul Manafort goes on trial, Attorney General Jeff Sessions creates a Religious Liberty Task Force, and A$AP Rocky discusses his album "Testing."
---
23x135 Michael McFaul (August 01, 2018)
---
The debate over 3D-printed "ghost guns" heats up, Jim Jordan runs for House Speaker amid a sexual assault scandal, and Michael McFaul discusses "From Cold War to Hot Peace."
---
23x134 Skylar Grey (July 31, 2018)
---
Beyonce takes over a cover issue of Vogue, Michael Kosta weighs in on the GOP's latest proposed tax cut for the rich, and Skylar Grey chats with Trevor about her music career.
---
23x133 Andrea Mitchell (July 30, 2018)
---
Rudy Giuliani attempts to smear Michael Cohen, Trevor announces the book version of "The Donald J. Trump Presidential Twitter Library," and MSNBC's Andrea Mitchell stops by.
---
23x132 Alexandria Ocasio-Cortez (July 26, 2018)
---
President Trump tries to undo the effects of his own policies, a global heat wave alarms scientists, and New York congressional candidate Alexandria Ocasio-Cortez stops by.
---
23x131 Bo Burnham (July 25, 2018)
---
Audio of an exchange between Donald Trump and Michael Cohen raises eyebrows, Roy Wood Jr. meets online victims of mistaken identity, and Bo Burnham discusses "Eighth Grade."
---
23x130 Michael Scott Moore (July 24, 2018)
---
The Trump administration targets environmental protection laws, Desi Lydic investigates Staten Island's deer problem, and Michael Scott Moore talks "The Desert and the Sea."
---
23x129 Tip "T.I." Harris (July 23, 2018)
---
President Trump tweets an all-caps threat to Iran's president, Roy Wood Jr. and Ronny Chieng react to bizarre baseball news, and Tip "T.I." Harris talks "The Grand Hustle."
---
23x128 Daveed Diggs & Rafael Casal (July 19, 2018)
---
Michael Kosta reacts to the arrest of alleged Russian agent Maria Butina, Roy Wood Jr. highlights conspiracy theories, and Daveed Diggs and Rafael Casal talk "Blindspotting."
---
23x127 Annie Lowrey (July 18, 2018)
---
The FDA mulls a ban on labeling non-dairy products as "milk," Trevor does a deep dive into the life of Nelson Mandela, and Annie Lowrey discusses her book "Give People Money."
---
23x126 Wiz Khalifa (July 17, 2018)
---
President Trump walks back his comment supporting Russia over the U.S., Ronny Chieng tackles a chicken coop craze among millionaires, and Wiz Khalifa talks "Rolling Papers 2."
---
23x125 Boots Riley (July 16, 2018)
---
President Trump cozies up to Vladimir Putin in Helsinki, Gina Yashere reacts to Trump's disastrous visit to the U.K., and Boots Riley discusses his film "Sorry to Bother You."
---
23x124 Darnell L. Moore (June 28, 2018)
---
Hasan Minhaj reacts to Supreme Court Justice Anthony Kennedy's retirement, Trevor highlights progress for LGBTQ rights, and Darnell L. Moore discusses "No Ashes in the Fire."
---
23x123 Janet Mock (June 27, 2018)
---
Alexandria Ocasio-Cortez beats Joe Crowley in New York's primary election, Michael Kosta examines the political perils of anti-Trump rhetoric, and Janet Mock discusses "Pose."
---
23x122 Bill Clinton & James Patterson (June 26, 2018)
---
Confrontations with Trump officials ignite a civility debate, Michael Kosta attends a Trump rally, and Bill Clinton and James Patterson discuss "The President Is Missing."
---
23x121 J Prince (June 25, 2018)
---
A Virginia restaurant ejects Sarah Huckabee Sanders, a white woman calls the cops on an eight-year-old black girl, and J Prince discusses "The Art & Science of Respect."
---
23x120 June 21, 2018 (June 21, 2018)
---
---
23x119 June 20, 2018 (June 20, 2018)
---
---
23x118 June 19, 2018 (June 19, 2018)
---
---
23x117 June 18, 2018 (June 18, 2018)
---
---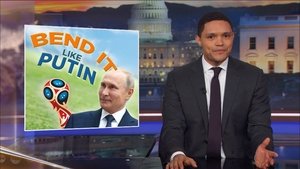 23x116 Mike Colter (June 14, 2018)
---
Actor Mike Colter, star of "Marvel's Luke Cage."
---
23x115 Ian Bremmer (June 13, 2018)
---
Ian Bremmer, Eurasia group president and author ( "Us vs. Them: The Failure of Globalism.")
---
23x114 Eric Garcetti (June 12, 2018)
---
Los Angeles mayor Eric Garcetti stops by the Daily Show.
---
23x113 Kirsten Gillibrand, Don Christensen, BriGette McCoy (June 11, 2018)
---
Ian Bremmer, Eurasia group president and author ( "Us vs. Them: The Failure of Globalism.")
---
23x112 Regina King (June 07, 2018)
---
EPA chief Scott Pruitt takes heat for possible ethics violations, the NFL's Malcolm Jenkins silently fires back at President Trump, and Regina King discusses "Seven Seconds."
---
23x111 Chimamanda Ngozi Adichie (June 06, 2018)
---
Trevor highlights how Facebook thrives on polarization, Ronny Chieng tackles adventure playgrounds, and feminist author Chimamanda Ngozi Adichie discusses "Dear Ijeawele."
---
23x110 Brian Tyree Henry (June 05, 2018)
---
The Miss America pageant ditches its swimsuit contest, Hasan Minhaj wonders if President Trump is converting to Islam, and actor Brian Tyree Henry chats about "Hotel Artemis."
---
23x109 Awkwafina (June 04, 2018)
---
President Trump's legal team argues that he can't be charged with a crime, the U.S.-North Korea summit is back on, and Awkwafina talks "Ocean's 8" and "Crazy Rich Asians."
---
23x108 Cynthia Nixon (May 31, 2018)
---
Kim Kardashian meets with President Trump at the White House, Ronny Chieng takes aim at a greedy televangelist, and Cynthia Nixon discusses her bid for governor of New York.
---
23x107 Tarana Burke (May 30, 2018)
---
President Trump pushes a wild conspiracy theory to discredit the FBI, Fox News pundits react to Roseanne Barr's racist tweet, and Tarana Burke discusses the Me Too movement.
---
23x106 Johnny Knoxville (May 29, 2018)
---
Immigration officials separate families at the U.S.-Mexico border, Roy Wood Jr. contributes to Starbucks's racial bias training, and Johnny Knoxville discusses "Action Point."
---
23x105 Terry Crews (May 16, 2018)
---
Betsy DeVos shutters investigations into for-profit colleges, John Bolton jeopardizes U.S.-North Korea peace talks, and Terry Crews discusses "Brooklyn Nine-Nine."
---
23x104 Gayle King (May 15, 2018)
---
President Trump ends his nights by chatting with Sean Hannity, Ronny Chieng weighs in on Michigan's first police cat, and CBS's Gayle King discusses her book "Note to Self."
---
23x103 Michael C. Hall (May 14, 2018)
---
President Trump opens a controversial U.S. embassy in Jerusalem, John Kelly makes disparaging remarks about Mexican immigrants, and Michael C. Hall chats about "Safe."
---
23x102 Joaquin Castro (May 10, 2018)
---
A black Yale student is interrogated by police for napping, Desi Lydic investigates a refugee flow from the U.S. to Canada, and Rep. Joaquin Castro sits down with Trevor.
---
23x101 Diane Guerrero (May 09, 2018)
---
Don Blankenship loses his Senate primary bid in West Virginia, Trevor highlights gun-happy police officers, and Diane Guerrero discusses her memoir "In the Country We Love."
---
23x100 Jon Meacham (May 08, 2018)
---
President Trump ditches the Iran nuclear deal, New York Attorney General Eric Schneiderman faces sexual abuse allegations, and Jon Meacham discusses "The Soul of America."
---
23x99 Ronan Farrow (May 07, 2018)
---
An NHL player goes on a face-licking spree, Michael Kosta breaks down Rudy Giuliani's defense strategy for President Trump, and Ronan Farrow discusses his book "War on Peace."
---
23x98 David Blaine (May 03, 2018)
---
Rudy Giuliani lights a fire under the Stormy Daniels scandal, Lewis Black sounds off about midterm primary battles, and magician David Blaine chats about "David Blaine Live."
---
23x97 Michael Hayden (May 02, 2018)
---
Donald Trump is accused of faking his doctor's note, Kanye West comes under fire for saying slavery was "a choice," and Michael Hayden discusses "The Assault on Intelligence."
---
23x96 Antoinette Robertson (May 01, 2018)
---
Robert Mueller's questions for President Trump are leaked to the press, Michael Kosta chats with a 27th Amendment hero, and Antoinette Robertson discusses "Dear White People."
---
23x95 Kevin Young (April 30, 2018)
---
President Trump takes credit for a summit between the two Koreas, Michelle Wolf sparks outrage at the White House Correspondents' Dinner, and Kevin Young discusses "Brown."
---
23x94 James Forman Jr. (April 26, 2018)
---
North Korea's nuclear testing site collapses, President Trump launches into an unhinged tirade on "Fox & Friends," and author James Forman Jr. discusses "Locking Up Our Own."
---
23x93 Christina Hendricks & Ricardo Rossello (April 25, 2018)
---
Controversy swirls around Trump's pick for VA secretary, Puerto Rico Gov. Ricardo Rossello discusses post-Maria recovery, and Christina Hendricks talks about "Good Girls."
---
23x92 Jonah Goldberg (April 24, 2018)
---
President Trump cozies up to French President Emmanuel Macron, strippers compete with bartenders in New York City, and author Jonah Goldberg discusses "Suicide of the West."
---
23x91 Tracy Morgan (April 23, 2018)
---
Donald Trump allegedly lied in order to get on the Forbes 400 list in 1982, Kanye West tweets controversial remarks about racism, and Tracy Morgan discusses "The Last O.G."
---
23x90 Thandie Newton (April 19, 2018)
---
Puerto Rico experiences a massive power outage, Trevor highlights misadventures of "good guys with guns," and Thandie Newton discusses her role on "Westworld."
---
23x89 Chelsea Clinton (April 18, 2018)
---
A train filled with human waste from New York City riles Alabamians, Desi Lydic examines the "raw water" trend, and Chelsea Clinton discusses "She Persisted Around the World."
---
23x88 Eric Holder (April 17, 2018)
---
The IRS gives taxpayers an extra day to file, Sean Hannity downplays his relationship with Michael Cohen, and Former Attorney General Eric Holder sits down with Trevor.
---
23x87 Alex Wagner (April 16, 2018)
---
NASA scientists send human sperm into space, ex-FBI Director James Comey hurls shade at President Trump on "20/20," and journalist Alex Wagner discusses her book "Futureface."
---
23x86 Karlie Kloss (April 12, 2018)
---
A rumor surfaces that President Trump secretly had a child with a former employee, Roy Wood Jr. examines the Fair Housing Act, and Karlie Kloss discusses Kode With Klossy.
---
23x85 Martellus Bennett (April 11, 2018)
---
President Trump uses Twitter to threaten Syria, Hasan Minhaj explains the impeachment process, and Martellus Bennett chats about his children's book "Hey A.J., It's Bedtime!"
---
23x84 Mariska Hargitay (April 10, 2018)
---
Mark Zuckerberg gets grilled by Congress, Michael Kosta and Roy Wood Jr. announce the winner of the Bracket of Bulls**t, and Mariska Hargitay discusses "I Am Evidence."
---
23x83 Tyra Banks (April 09, 2018)
---
The FBI raids the office of Trump's attorney, EPA chief Scott Pruitt comes under fire for a long list of scandals, and Tyra Banks chats about her book "Perfect Is Boring."
---
23x82 Rosie Perez (March 29, 2018)
---
Kim Jong-un comes out of his shell, "Punish a Muslim Day" fliers spark outrage in the U.K., and Rosie Perez discusses arts education and her role in NBC's "Rise."
---
23x81 Chloe x Halle (March 28, 2018)
---
Desi Lydic channels Sarah Huckabee Sanders, a sheriff profits off of inmates' food money, and Chloe x Halle perform songs from their debut album "The Kids Are Alright."
---
23x80 Sean Penn (March 27, 2018)
---
Trevor examines Trump's incoming National Security Adviser John Bolton, Third Month Mania's bulls**t heats up, and Sean Penn discusses his novel "Bob Honey Who Just Do Stuff."
---
23x79 Tyler Perry (March 26, 2018)
---
America's teens make history at the March For Our Lives, Roy Wood Jr. investigates a pro-gun rally in Montana, and Tyler Perry discusses his film "Acrimony."
---
23x78 RuPaul Charles (March 22, 2018)
---
Ronny Chieng weighs in on Facebook's data-sharing scandal, Trevor talks to survivors of the school shooting in Parkland, FL, and RuPaul Charles discusses "RuPaul's Drag Race."
---
23x77 Matt Damon & Gary White (March 21, 2018)
---
Three women add to President Trump's legal woes, Trevor breaks down the Facebook-Cambridge Analytica scandal, and Matt Damon and Gary White discuss Water.org and WaterEquity.
---
23x76 Drew Barrymore (March 20, 2018)
---
President Trump wages a war against opioids, Third Month Mania's Bracket of Bulls**t enters round two, and Drew Barrymore discusses her role in "Santa Clarita Diet."
---
23x75 Mitch Landrieu (March 19, 2018)
---
FBI Deputy Director Andrew McCabe is fired, Vladimir Putin celebrates yet another election victory, and Mitch Landrieu discusses his book "In the Shadow of Statues."
---
23x74 Christiane Amanpour (March 15, 2018)
---
An astronaut's DNA is altered by his time in space, Trump taps CNBC's Larry Kudlow to be his economic adviser, and Christiane Amanpour discusses "Sex & Love Around the World."
---
23x73 Krysten Ritter (March 14, 2018)
---
Students protest gun violence on National Walkout Day, Lewis Black examines Donald Trump's golfing habits, and Krysten Ritter discusses her role on "Marvel's Jessica Jones."
---
23x72 David Byrne (March 13, 2018)
---
President Trump fires Secretary of State Rex Tillerson, Vladimir Putin refuses to admit that Russia poisoned a spy in the U.K., and David Byrne discusses "American Utopia."
---
23x71 Junot Diaz (March 12, 2018)
---
President Trump agrees to meet North Korean leader Kim Jong-un, Michael Kosta and Roy Wood Jr. kick off Third Month Mania, and author Junot Diaz discusses "Islandborn."
---
23x70 Vann R. Newkirk II (March 08, 2018)
---
Donald Trump pushes the myth that video games spur gun violence, Dulce Sloan examines tech's racial blind spot, and Vann R. Newkirk II talks Martin Luther King Jr.'s legacy.
---
23x69 Terese Marie Mailhot (March 07, 2018)
---
The White House erupts into chaos despite Donald Trump's denials, Ronny Chieng looks at how A.I. is changing the legal system, and Terese Marie Mailhot talks "Heart Berries."
---
23x68 Malcolm Jenkins (March 06, 2018)
---
Former Trump aide Sam Nunberg lashes out at Robert Mueller's subpoena, Desi Lydic explores robot sex, and Eagles captain Malcolm Jenkins discusses his off-the-field activism.
---
23x67 David Chang (March 05, 2018)
---
President Trump threatens to impose tariffs on aluminum and steel, Trevor weighs the cost of artificial intelligence on everyday life, and David Chang talks "Ugly Delicious."
---
23x66 Chadwick Boseman (March 01, 2018)
---
President Trump sides with Democrats on gun control, Ronny Chieng asks a pro wrestler how Democrats can reach middle America, and Chadwick Boseman discusses "Black Panther."
---
23x65 Jorge Ramos (February 28, 2018)
---
HUD Secretary Ben Carson blows taxpayer money on office furniture, Roy Wood Jr. and Dulce Sloan examine accomplishments of black women, and Jorge Ramos discusses "Stranger."
---
23x64 Nima Elbagir (February 27, 2018)
---
Trevor looks at the 2018 midterm congressional candidates, a German village grapples with a Nazi-era town bell, and CNN's Nima Elbagir talks about Libya's slave trade.
---
23x63 Wayne Brady (February 26, 2018)
---
Critics slam the sheriff who allegedly ignored warnings about the Parkland shooter, Roy Wood Jr. and Michael Kosta recap the Olympics, and Wayne Brady discusses "Kinky Boots."
---
23x62 Lupita Nyong'o (February 22, 2018)
---
Parkland shooting survivors confront Marco Rubio and President Trump on gun control, Roy Wood Jr. celebrates black innovators, and Lupita Nyong'o discusses "Black Panther."
---
23x61 Ludacris (February 21, 2018)
---
Conservatives accuse the Parkland survivors of being paid actors, Florida sidelines gun control measures for anti-porn legislation, and Ludacris discusses "Fear Factor."
---
23x60 Taylor Kitsch (February 20, 2018)
---
School shooting survivors in Florida stage rallies for gun control, Roy Wood Jr. explains why black audiences love "Black Panther," and Taylor Kitsch discusses "Waco."
---
23x59 Steve Aoki (February 08, 2018)
---
Trevor breaks down reports on Russia hacking voter rolls and Rob Porter's resignation, Roy Wood Jr. honors unsung black politicians, and Steve Aoki discusses "Kolony."
---
23x58 "The 15:17 to Paris" Cast (February 07, 2018)
---
President Trump orders a military parade, Trevor examines recent archeological findings, and Anthony Sadler, Alek Skarlatos and Spencer Stone discuss "The 15:17 to Paris."
---
23x57 Liz Claman (February 06, 2018)
---
President Trump accuses Democrats of treason for not applauding him, Hasan Minhaj reacts to the Dow Jones taking a record dip, and Liz Claman weighs in on the stock market.
---
23x56 Jessica Williams & Phoebe Robinson (February 05, 2018)
---
Republicans react to Devin Nunes's FBI memo, Michael Kosta and Roy Wood Jr. examine racist sports logos, and Jessica Williams and Phoebe Robinson discuss "2 Dope Queens."
---
23x55 Rose McGowan (February 01, 2018)
---
The GOP pushes a sketchy memo in hopes of undermining the Trump-Russia probe, Roy Wood Jr. examines the on-screen deaths of black actors, and Rose McGowan discusses "Brave."
---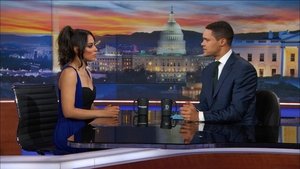 23x54 Angela Rye (January 31, 2018)
---
Conservatives praise President Trump's first State of the Union, Roy Wood Jr. gives an update on black America, and Angela Rye discusses "Angela Rye's State of the Union."
---
23x53 David Remnick (January 30, 2018)
---
In a live episode following the State of the Union, Trevor chats with Michael Kosta and The New Yorker's David Remnick about President Trump's first year in office.
---
23x52 Alex Gibney (January 29, 2018)
---
Hillary Clinton reportedly shielded a 2008 campaign staffer accused of sexual harassment, President Trump tried to fire Robert Mueller, and Alex Gibney talks "Dirty Money."
---
23x51 Cecile Richards (January 25, 2018)
---
The GOP claims that the FBI is undermining the White House, Desi Lydic gives tips on interviewing President Trump, and Cecile Richards discusses Planned Parenthood's future.
---
23x50 P.K. Subban (January 24, 2018)
---
Trevor breaks down how gerrymandering affects democracy, Dulce Sloan and Michael Kosta examine the Mexico border wall debate, and P.K. Subban discusses the NHL All-Star Game.
---
23x49 Jason Reynolds (January 23, 2018)
---
Trevor explains why Dreamers had the most to lose in the government shutdown, Roy Wood Jr. reacts to the 2018 Oscar nominations, and Jason Reynolds discusses "Long Way Down."
---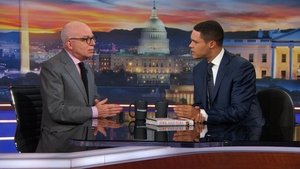 23x48 Michael Wolff (January 22, 2018)
---
A stalemate in Congress leads to a government shutdown, Dulce Sloan and Desi Lydic look back on the 2017 Women's March, and Michael Wolff discusses his book "Fire and Fury."
---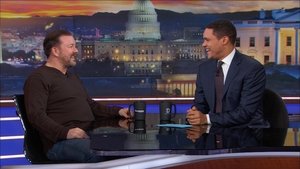 23x47 Ricky Gervais (January 18, 2018)
---
President Trump signals an overhaul of both illegal and legal immigration, Trevor catches up on lesser-known news, and Ricky Gervais discusses the game show "Child Support."
---
23x46 Anthony Bourdain (January 17, 2018)
---
Senator Cory Booker calls out Kirstjen Nielsen for dismissing racist remarks, a porn star details her affair with Donald Trump, and Anthony Bourdain discusses "Parts Unknown."
---
23x45 Ricky Martin (January 16, 2018)
---
Trevor looks back at Chris Christie's governorship, Ronny Chieng examines the top gadgets at the Consumer Electronics Show, and Ricky Martin discusses "American Crime Story."
---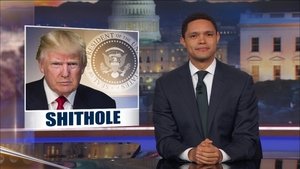 23x44 Vashti Harrison (January 15, 2018)
---
President Trump faces fallout after calling immigrant nations "s**tholes," a missile alert is mistakenly issued in Hawaii, and Vashti Harrison discusses "Little Leaders."
---
23x43 Kareem Abdul-Jabbar (January 11, 2018)
---
President Trump exempts Florida from an offshore drilling proposal, Hasan Minhaj finds out how to challenge hate speech, and Kareem Abdul-Jabbar discusses "Becoming Kareem."
---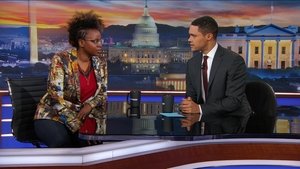 23x42 Dee Rees (January 10, 2018)
---
President Trump meets with congressional leaders to negotiate the terms of DACA, Lewis Black gives an update on New York City, and filmmaker Dee Rees discusses "Mudbound."
---
23x41 Jason Mitchell (January 09, 2018)
---
President Trump slams the Justice Department for not protecting him in the Russia probe, Trevor runs through lesser-reported headlines, and Jason Mitchell discusses "The Chi."
---
23x40 Ashley Graham (January 08, 2018)
---
President Trump calls himself a "stable genius" on Twitter, Roy Wood Jr. and Michael Kosta break down NFL headlines, and Ashley Graham discusses "America's Next Top Model."
---
23x39 Jodi Kantor (January 04, 2018)
---
Michael Wolff releases a salacious book on President Trump, Michael Kosta learns how California is curbing gun violence, and Jodi Kantor discusses her Harvey Weinstein report.
---
23x38 Dan Harris (January 03, 2018)
---
Steve Bannon calls Team Trump's contacts with Russia "treasonous," President Trump taunts North Korea on Twitter, and Dan Harris discusses "Meditation for Fidgety Skeptics."
---
23x37 Yara Shahidi (January 02, 2018)
---
The GOP tax plan takes effect, Kim Jong-un hints at North Korea's nuclear capabilities and possible peace talks with South Korea, and Yara Shahidi discusses "Grown-ish."
---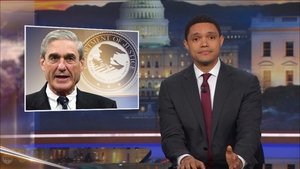 23x36 Niecy Nash (December 14, 2017)
---
Conservative pundits call on Robert Mueller to end the Trump-Russia probe, Ronny Chieng learns about cryptocurrencies like Bitcoin, and Niecy Nash chats about "Downsizing."
---
23x35 Satya Nadella (December 13, 2017)
---
Roy Wood Jr. reacts to Democrat Doug Jones winning the Alabama Senate race, Dulce Sloan weighs in on black female voters, and Satya Nadella discusses "Hit Refresh."
---
23x34 Bob Odenkirk (December 12, 2017)
---
Roy Moore's wife uses questionable logic to claim her husband isn't racist, Roy Wood Jr. tells the GOP how to rebrand their tax plan, and Bob Odenkirk discusses "The Post."
---
23x33 Pete Souza (December 11, 2017)
---
Trevor questions the GOP's response to sexual assault, Ronny Chieng examines crime-fighting technology, and Pete Souza discusses "Obama: An Intimate Portrait."
---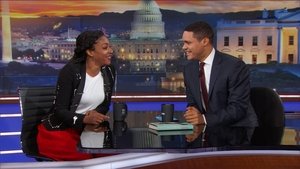 23x32 Tiffany Haddish (December 07, 2017)
---
The Supreme Court considers whether a baker can deny a gay couple a wedding cake, Trevor looks at lesser-reported news, and Tiffany Haddish discusses "The Last Black Unicorn."
---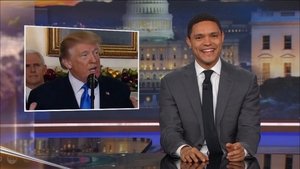 23x31 St. Vincent (December 06, 2017)
---
President Trump seemingly wrestles with his dentures during a presser, Russia is banned from the Winter Games amid a doping scandal, and St. Vincent discusses "Masseduction."
---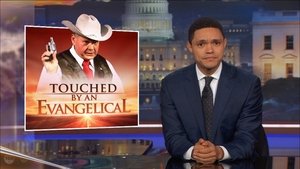 23x30 Julia Ioffe (December 05, 2017)
---
The RNC resumes funding for Roy Moore's Senate bid, Desi Lydic profiles a liberal survivalist, and The Atlantic's Julia Ioffe discusses Russian President Vladimir Putin.
---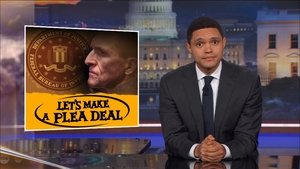 23x29 Frankie Shaw (December 04, 2017)
---
Michael Flynn pleads guilty to lying to the FBI, Senate Republicans pass sweeping tax cuts for the wealthy, and Frankie Shaw discusses her Showtime series "SMILF."
---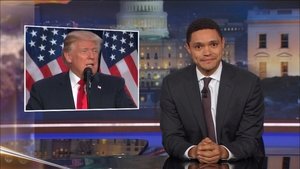 23x28 Henry Louis Gates Jr. (November 30, 2017)
---
Libya uses Donald Trump's tweets to discredit a CNN report, Hasan Minhaj examines the White House's Islamophobia, and Henry Louis Gates, Jr., discusses "Finding Your Roots."
---
23x27 Talib Kweli (November 29, 2017)
---
Gina Yashere weighs in on the racism aimed at Meghan Markle, President Trump appoints Mick Mulvaney as director of the CFPB, and Talib Kweli discusses "Radio Silence."
---
23x26 Greta Gerwig (November 28, 2017)
---
Trevor explains why Donald Trump calls Elizabeth Warren "Pocahontas," Project Veritas tries to delegitimize The Washington Post, and Greta Gerwig discusses "Lady Bird."
---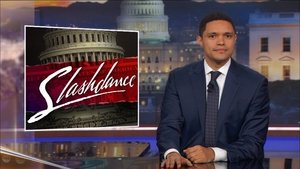 23x25 Esther Perel (November 27, 2017)
---
Congress grapples with a series of high-profile sexual assault accusations, President Trump pushes tax cuts for the wealthy, and Esther Perel discusses "The State of Affairs."
---
23x24 Jordan Peele (November 16, 2017)
---
Senator Al Franken is accused of groping a reporter during a 2006 USO tour, Jon Stewart talks about "Night of Too Many Stars," and Jordan Peele discusses his film "Get Out."
---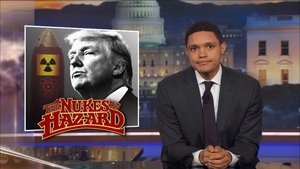 23x23 Elaine McMillion Sheldon (November 15, 2017)
---
Congress debates President Trump's power to use nuclear arms, Michelle Wolf explains how to not sexually harass coworkers, and Elaine McMillion Sheldon discusses "Heroin(e)."
---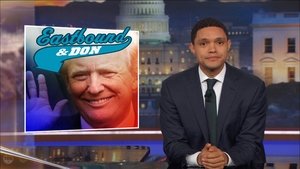 23x22 2 Chainz (November 14, 2017)
---
Ronny Chieng explains how President Trump has made China more powerful, a fifth woman accuses Roy Moore of sexual misconduct, and 2 Chainz discusses "Most Expensivest."
---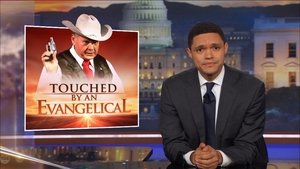 23x21 Hari Kondabolu (November 13, 2017)
---
Roy Moore is accused of sexual assault, President Trump mocks Kim Jong-un and defends Vladimir Putin on a trip to Asia, and Hari Kondabolu discusses "The Problem with Apu."
---
23x20 Van Jones (November 09, 2017)
---
President Trump visits China, Lewis Black calls for lawmakers to stop politicizing veterans, and Van Jones discusses his book "Beyond the Messy Truth."
---
23x19 Kenneth Branagh (November 08, 2017)
---
Democrats sweep the 2017 elections, Trevor tries to imagine a worse president than Donald Trump, and Kenneth Branagh discusses his film "Murder on the Orient Express."
---
23x18 Jeff Ross (November 07, 2017)
---
Sen. Rand Paul gets into a landscaping dispute with his neighbor, Saudi Arabia's crown prince cracks down on corruption, and Jeff Ross discusses Jeff Ross Roasts the Border.
---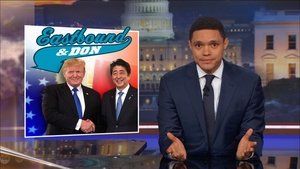 23x17 Jeff Flake & Tig Notaro (November 06, 2017)
---
President Trump kicks off his tour of Asia in Japan, Sen. Jeff Flake discusses his book "Conscience of a Conservative," and Tig Notaro talks about her show "One Mississippi."
---
23x16 Gabrielle Union (November 02, 2017)
---
Congress grills tech execs on Russian-bought ads meant to influence U.S. voters, Trevor recaps simpler news, and Gabrielle Union discusses "We're Going to Need More Wine."
---
23x15 Hillary Clinton (November 01, 2017)
---
President Trump calls to curb immigration after a terrorist attack in New York City, and Hillary Clinton discusses "What Happened" and weighs in on the Trump-Russia probe.
---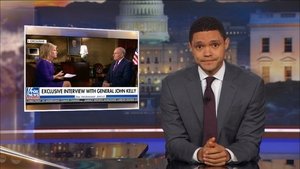 23x14 Gretchen Carlson (October 31, 2017)
---
Michael Kosta reacts to John Kelly's revisionist Civil War history, Desi Lydic spends Halloween avoiding President Trump's tweets, and Gretchen Carlson discusses "Be Fierce."
---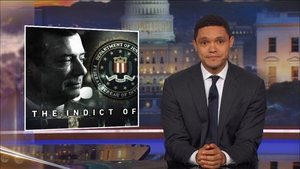 23x13 Ta-Nehisi Coates (October 30, 2017)
---
Paul Manafort is indicted by Robert Mueller, Trevor breaks down the biggest headlines of the weekend, and Ta-Nehisi Coates discusses his book "We Were Eight Years in Power."
---
23x12 Miles Teller & Jason Hall (October 26, 2017)
---
President Trump responds to the opioid epidemic, Roy Wood Jr. warns against racist Halloween costumes, and Miles Teller and Jason Hall discuss "Thank You for Your Service."
---
23x11 Maggie Gyllenhaal (October 25, 2017)
---
Senators Bob Corker and Jeff Flake stand against President Trump, Ronny Chieng examines the automation of fast food, and Maggie Gyllenhaal discusses "The Deuce."
---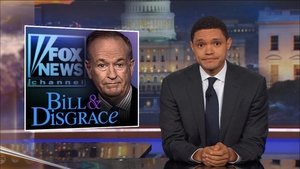 23x10 Margo Price (October 24, 2017)
---
Bill O'Reilly blames God for his sexual harassment cases, Michael Kosta examines the environmental decline of the Great Lakes, and Margo Price discusses "All American Made."
---
23x09 Khizr Khan (October 23, 2017)
---
John Kelly lies about a congresswoman while defending President Trump, Fox News shows selective outrage over sexual harassment, and Khizr Khan discusses "An American Family."
---
23x08 Vic Mensa (October 19, 2017)
---
President Trump feuds with Gold Star families, Hasan Minhaj explains how Chicago could prevent a nuclear attack from North Korea, and Vic Mensa discusses "The Autobiography."
---
23x07 Lena Waithe (October 18, 2017)
---
From Chicago, Michelle Wolf weighs in on Harvey Weinstein's alleged sexual assaults, Dulce Sloan learns about Young Chicago Authors, and Lena Waithe discusses "The Chi."
---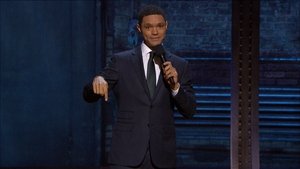 23x06 Arne Duncan & Curtis Toler (October 17, 2017)
---
President Trump buddies up to Mitch McConnell at a surprise presser, Ronny Chieng learns about Chicago's jail pizza program, and Arne Duncan and Curtis Toler discuss CRED.
---
23x05 Common (October 16, 2017)
---
From Chicago, Trevor examines the politicization of the Windy City, Roy Wood Jr. finds out how former gang members are reducing crime rates, and Common discusses "Marshall."
---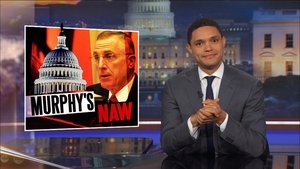 23x04 Kenya Barris (October 05, 2017)
---
Pro-life Congressman Tim Murphy resigns after pushing his mistress to get an abortion, Trevor remembers the anniversary of Pussygate, and Kenya Barris discusses "Black-ish."
---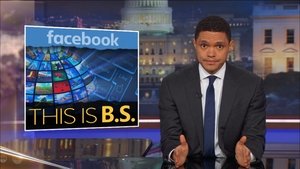 23x03 John Hodgman (October 04, 2017)
---
Michael Kosta explains how Russia spreads fake news across social media in the U.S., Neal Brennan examines the gun control debate, and John Hodgman discusses "Vacationland."
---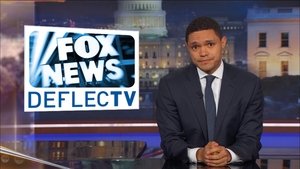 23x02 Jim Himes (October 03, 2017)
---
Fox News struggles to process the mass shooting in Las Vegas, O.J. Simpson is released from prison, and Representative Jim Himes weighs in on U.S. gun control.
---
23x01 Robin Thede (October 02, 2017)
---
Las Vegas experiences the deadliest mass shooting in modern U.S. history, Tom Price resigns as secretary of Health and Human Services, and Robin Thede discusses "The Rundown."
---