The Daily Show with Trevor Noah
Season 19
The Daily Show with Trevor Noah
Season 19
First Air Date: September 30, 2013

| | | |
| --- | --- | --- |
| First Aired on | : | 2013 |
| Episodes | : | 159 episodes |
Episodes
19x159 Steven Johnson (September 25, 2014)
---
The media fixates on President Obama's "latte salute," Jason Jones speaks with activists protesting the Redskins' name, and Steven Johnson discusses "How We Got to Now."
---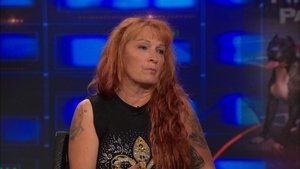 19x158 Tia Torres (September 24, 2014)
---
Samantha Bee campaigns for office on her home planet, the Chinese company Alibaba debuts on Wall Street, and Tia Torres discusses "Pit Bulls & Parolees."
---
19x157 Tony Zinni (September 23, 2014)
---
Jessica Williams reports on the terrorist supergroups that could replace ISIS and the Khorasan Group, and General Tony Zinni discusses "Before the First Shots Are Fired."
---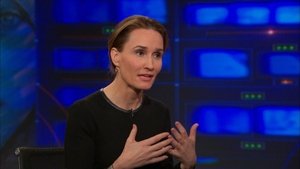 19x156 Jenny Nordberg (September 22, 2014)
---
New York City hosts a historic climate change march, Jason Jones pilfers an outfit from the White House, and Jenny Nordberg discusses "The Underground Girls of Kabul."
---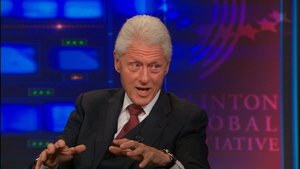 19x155 Bill Clinton (September 18, 2014)
---
Joe Biden's word choices jeopardize his election hopes, The Best F#@king News Team Ever says goodbye to Michael Che, and Bill Clinton discusses the Clinton Global Initiative.
---
19x154 Zephyr Teachout (September 17, 2014)
---
The NFL struggles with its image after several cases of domestic abuse emerge, Ebola poses a greater threat than ISIS, and Zephyr Teachout discusses "Corruption in America."
---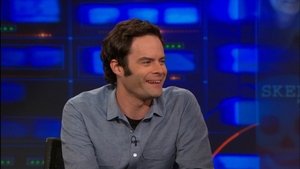 19x153 Bill Hader (September 16, 2014)
---
Hillary Clinton remains secretive about her intentions for 2016, Michael Che takes on the pharmaceutical industry, and Bill Hader discusses his movie "The Skeleton Twins."
---
19x152 Ken Burns (September 15, 2014)
---
President Obama gathers a coalition to fight ISIS, Samantha Bee explains Senator Lindsey Graham's paranoia, and Ken Burns discusses "The Roosevelts: An Intimate History."
---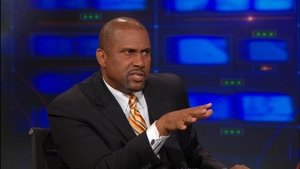 19x151 Tavis Smiley (September 11, 2014)
---
President Obama delivers a speech about ISIS, Jordan Klepper becomes an Obamacare critic, and Tavis Smiley discusses "Death of a King."
---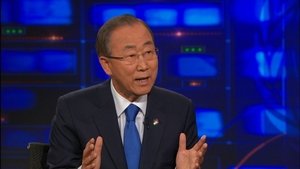 19x150 Ban Ki-moon (September 10, 2014)
---
The NFL suspends Ray Rice indefinitely, Scotland considers breaking away from the U.K., and U.N. Secretary-General Ban Ki-moon discusses the state of the world.
---
19x149 Kirsten Gillibrand (September 09, 2014)
---
ISIS inspires an unexpected reunion, and Senator Kirsten Gillibrand describes the struggles women face in her book "Off the Sidelines: Raise Your Voice, Change the World."
---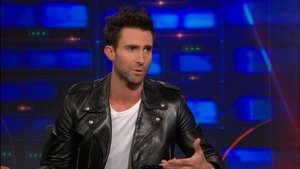 19x148 Adam Levine (September 04, 2014)
---
Campaign ads for the midterm elections roll out, Michael Che investigates a potential children's invasion of the U.S., and Adam Levine discusses Maroon 5's album "V."
---
19x147 Rory Kennedy (September 03, 2014)
---
Jordan Klepper bares it all in the wake of a hacking scandal, conflict between Russia and Ukraine continues, and Rory Kennedy discusses her documentary "Last Days in Vietnam."
---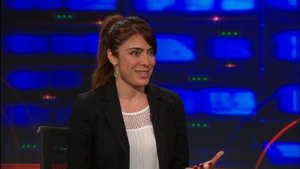 19x146 Ramita Navai (September 02, 2014)
---
Jessica Williams addresses a catcaller, former House Majority Leader Eric Cantor finds a new job, and Ramita Navai discusses her book "City of Lies."
---
19x145 Todd Glass (August 28, 2014)
---
Rick Perry is indicted on two felony counts, Jason Jones examines Germany and America's friendship, and Todd Glass discusses his book "The Todd Glass Situation."
---
19x144 Hassan Abbas (August 27, 2014)
---
ISIS looks to establish a caliphate, Samantha Bee comes up with ways for Michael Sam to succeed in the NFL, and Hassan Abbas discusses "The Taliban Revival."
---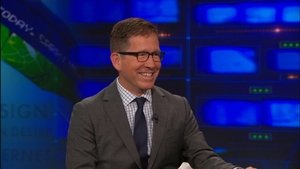 19x143 David Rose (August 26, 2014)
---
A police officer shoots an unarmed black teenager in Missouri, Michael Che flees Earth to avoid discrimination, and David Rose discusses his book "Enchanted Objects."
---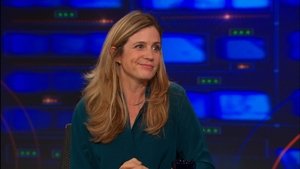 19x142 Tracy Droz Tragos (August 07, 2014)
---
Former Governor Bob McDonnell and his wife face corruption charges, Rand Paul begins to act like a presidential candidate, and Tracy Droz Tragos discusses "Rich Hill."
---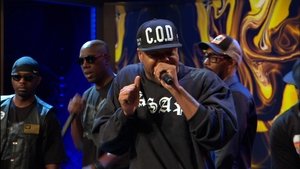 19x141 Wu-Tang Clan (August 06, 2014)
---
Republicans battle it out in the Kansas and Kentucky primaries, Jordan Klepper shows off his rap skills, and Wu-Tang Clan performs "Ron O'Neal" and "Triumph."
---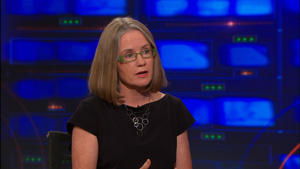 19x140 Helen Thorpe (August 05, 2014)
---
Jessica Williams does some dubious health reporting, Michael Che investigates a particular kind of brand-name loyalty, and Helen Thorpe discusses her book "Soldier Girls."
---
19x139 Elisabeth Moss (August 04, 2014)
---
The child immigration crisis continues, Jordan Klepper explains the ethics of border smugglers, and Elisabeth Moss discusses "The One I Love."
---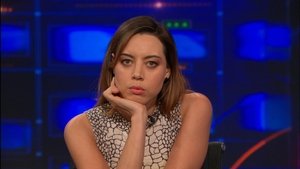 19x138 Aubrey Plaza (July 31, 2014)
---
Congress spends the time before summer recess deciding to sue President Obama, Jason Jones tries to stop supporting the NFL, and Aubrey Plaza discusses "Life After Beth."
---
19x137 Maggie Gyllenhaal (July 30, 2014)
---
Corporations throw tantrums and move to Europe, Jordan Klepper reports on hard-hitting journalism in a digital world, and Maggie Gyllenhaal discusses "The Honorable Woman."
---
19x136 Sara Firth (July 29, 2014)
---
The U.S. helps arm several countries in the Middle East, the LetsBuyCNN.com Kickstarter campaign is a success, and Sara Firth discusses her decision to leave RT.
---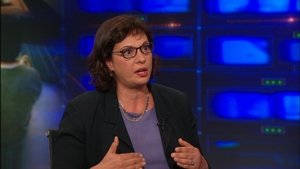 19x135 Sonia Nazario (July 28, 2014)
---
A Times Square photo op goes awry, global leaders struggle to broker peace in the Middle East, and Sonia Nazario discusses "Enrique's Journey."
---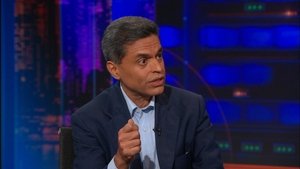 19x134 Fareed Zakaria (July 24, 2014)
---
Gov. Andrew Cuomo tackles corruption everywhere but in his own office, a Japanese artist commits an unusual crime, and Fareed Zakaria discusses diplomacy in a changing world.
---
19x133 George Takei (July 23, 2014)
---
A court ruling deals Obamacare a heavy blow, the summer news cycle needs more scandals and animal attacks, and George Takei discusses the documentary "To Be Takei."
---
19x132 Richard Linklater (July 22, 2014)
---
Rupert Murdoch decides that he wants to own Time Warner, Jordan Klepper interviews the victims of civil forfeiture, and Richard Linklater discusses his film "Boyhood."
---
19x131 Sue Turton (July 21, 2014)
---
International tensions escalate after Malaysia Airlines Flight 17 is shot down over Ukraine, and Sue Turton discusses the Egyptian trial of several Al Jazeera journalists.
---
19x130 Emma Stone (July 17, 2014)
---
Republicans seek to impeach Barack Obama, Jessica Williams investigates an Army regulation that targets black women, and Emma Stone chats about "Magic in the Moonlight."
---
19x129 Jerry Seinfeld (July 16, 2014)
---
The federal Highway Trust Fund runs dry, an "anonymous" informant reveals the CIA's cafeteria secrets, and Jerry Seinfeld talks about "Comedians in Cars Getting Coffee."
---
19x128 Hillary Clinton (July 15, 2014)
---
Thousands of child immigrants flee to America in search of a better life, and Hillary Clinton discusses her experiences as Secretary of State and her memoir, "Hard Choices."
---
19x127 Dahlia Lithwick (July 14, 2014)
---
Numerous global crises emerge during summer vacation, Jessica Williams and Jason Jones report on the Hobby Lobby case, and Dahlia Lithwick discusses the Supreme Court.
---
19x126 Melissa McCarthy (June 26, 2014)
---
Republicans spout incongruous domestic and foreign policy ideas, Samantha Bee reports on child labor in the U.S., and Melissa McCarthy discusses her film "Tammy."
---
19x125 Keira Knightley (June 25, 2014)
---
Two aging incumbents win re-election, Jordan Klepper and Jessica Williams share campus safety do's and don'ts, and Keira Knightley describes singing in "Begin Again."
---
19x124 Jennifer Esposito (June 24, 2014)
---
The IRS struggles with proper recordkeeping, Hillary Clinton and Joe Biden drum up support, and Jennifer Esposito discusses her book, "Jennifer's Way."
---
19x123 Bill Maher (June 23, 2014)
---
President Obama sends military advisors to Iraq, an Egyptian court convicts three well-respected journalists, and Bill Maher talks politics and the New York Mets.
---
19x122 Hamid Al-Bayati (June 19, 2014)
---
The U.S. Patent and Trademark Office revokes the Redskins' trademark, Republicans find new ways to deny climate change, and Hamid Al-Bayati discusses the crisis in Iraq.
---
19x121 Kevin Hart (June 18, 2014)
---
CNN and Fox News interview Hillary Clinton on the same day, Al Madrigal investigates chicken boxing, and "Think Like a Man Too" star Kevin Hart talks about hosting "WWE Raw."
---
19x120 Daniel Schulman (June 17, 2014)
---
Texas Republicans try to "cure" gay people with reparative therapy, Donald Trump clashes with Chicago Mayor Rahm Emanuel, and Daniel Schulman discusses "Sons of Wichita."
---
19x119 Howard Schultz (June 16, 2014)
---
Iraq War supporters go on a reunion tour, America has conflicting feelings about Iran and Saudi Arabia, and Howard Schultz shares some exciting news about Starbucks.
---
19x118 Christopher Walken (June 12, 2014)
---
The militant group ISIS overruns much of Iraq, Jason Jones delves into the world of Google Glass users, and Christopher Walken discusses "Jersey Boys."
---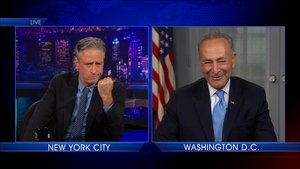 19x117 Senator Charles Schumer (June 11, 2014)
---
Eric Cantor loses his primary election in a surprising upset, a Connecticut boy accidently brings a grenade to school, and Charles Schumer shares some news from Washington.
---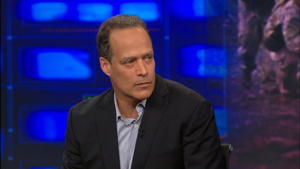 19x116 Sebastian Junger (June 10, 2014)
---
Congress scrutinizes the V.A. for its ongoing failures, Jordan Klepper investigates how unionizing would affect college athletes, and Sebastian Junger discusses "Korengal."
---
19x115 Philip K. Howard (June 09, 2014)
---
Fox News gets worked up over a beard, Jason Jones and Jessica Williams report on the Bowe Bergdahl controversy, and Philip K. Howard discusses government paralysis.
---
19x114 Tom Cruise (June 05, 2014)
---
Gun rights activists in Texas start carrying rifles in public, Michael Che and Jordan Klepper give tips on proper gun etiquette, and Tom Cruise chats about "Edge of Tomorrow."
---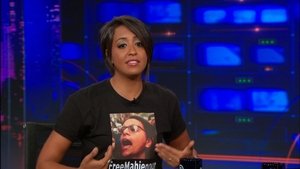 19x113 Gigi Ibrahim (June 04, 2014)
---
Michael Che joins the Best F#@king News Team Ever, Republicans hold steadfast to their myopic views, and Gigi Ibrahim discusses the revolutionary movement in Egypt.
---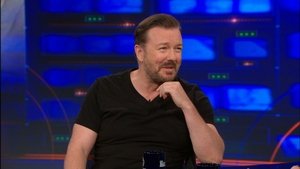 19x112 Ricky Gervais (June 03, 2014)
---
Controversy quickly shatters the happy news of a P.O.W.'s return home, Herman Cain considers the presidential race, and Ricky Gervais shares his conditions for an ideal death.
---
19x111 Robert De Niro (June 02, 2014)
---
Egypt's popular satirical news show ends abruptly, Samantha Bee discovers a dangerous epidemic of stupidity, and Robert De Niro remembers his father's artwork.
---
19x110 Drew Barrymore (May 22, 2014)
---
America upholds a long tradition of mistreating its veterans, Jason Jones attempts to interview India's new prime minister, and Drew Barrymore talks about filming "Blended."
---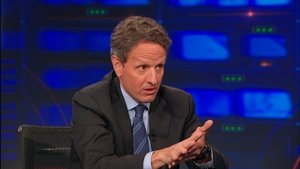 19x109 Timothy Geithner (May 21, 2014)
---
Mitch McConnell defeats the Tea Party in Kentucky's Republican primary, Jason Jones explores India's media, and Timothy Geithner defends the handling of the financial crisis.
---
19x108 Aneesh Chopra (May 20, 2014)
---
Chipotle bans guns in its restaurants, Phillies manager Ryne Sandberg eats a bad burger at a Mets game, and Aneesh Chopra discusses technology in government.
---
19x107 James McAvoy (May 19, 2014)
---
The V.A. continues to mismanage veterans' health care, Jason Jones compares democracy in India and America, and James McAvoy chats about "X-Men: Days of Future Past."
---
19x106 Jim Parsons (May 15, 2014)
---
India holds elections for prime minister, aging incumbents continue to run for Congress, and Jim Parsons discusses AIDS activism and "The Normal Heart."
---
19x105 Blondie (May 14, 2014)
---
The media searches for the reason why Solange Knowles attacked Jay Z in an elevator, Lewis Black considers cloning himself, and Blondie celebrates their 40th anniversary.
---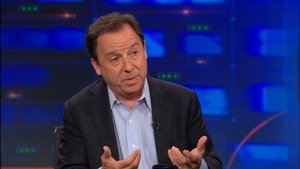 19x104 Ron Suskind (May 13, 2014)
---
Harry Reid takes on the Koch brothers, Hillary Clinton's health scare inspires a #Brainghazi conspiracy, and "Life, Animated" author Ron Suskind talks about autism.
---
19x103 Martin Blaser (May 12, 2014)
---
A terrorist group abducts hundreds of Nigerian schoolgirls, Donald Sterling apologizes for his racist remarks, and Martin Blaser warns against the overuse of antibiotics.
---
19x102 Katie Couric (May 08, 2014)
---
The New York Senate engages in a spirited debate about yogurt, John Hodgman considers acquiring the Los Angeles Clippers, and Katie Couric discusses the obesity epidemic.
---
19x101 Seth Rogen (May 07, 2014)
---
Rumors about 2016 presidential hopefuls start circulating, Jordan Klepper reports on the disastrous effects of a chemical spill, and Seth Rogen chats about "Neighbors."
---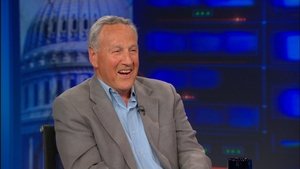 19x100 Peter Schuck (May 06, 2014)
---
Samantha Bee defends the real victims of the financial crisis, lesbians face discrimination during major life events, and Peter Schuck describes effective public policy.
---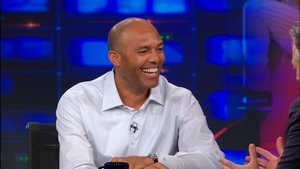 19x99 Mariano Rivera (May 05, 2014)
---
News about the Benghazi investigation sparks outrage from Fox News, Jordan Klepper covers the South Carolina primaries, and Mariano Rivera discusses his baseball career.
---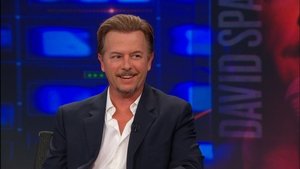 19x98 David Spade (May 01, 2014)
---
Bill O'Reilly complains about Beyonce's sexiness, crack-smoking Toronto Mayor Rob Ford checks into rehab, and David Spade reminds himself that he does stand-up.
---
19x97 Martin Gilens & Benjamin Page (April 30, 2014)
---
Controversies hit several government agencies, Rep. Michael Grimm faces fraud charges, and Martin Gilens and Benjamin Page take an empirical look at politics and corruption.
---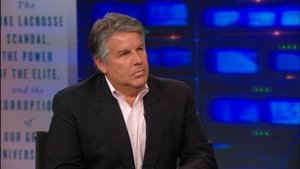 19x96 William D. Cohan (April 29, 2014)
---
Sarah Palin gives a speech at the NRA convention, Jordan Klepper reports on low-cost legal aid for gun users, and William D. Cohan discusses the Duke lacrosse scandal.
---
19x95 Mookie Wilson (April 28, 2014)
---
Diverse forms of racial discrimination hit the media, Larry Wilmore explains how to tackle racism in America, and Mookie Wilson discusses team relationships in sports.
---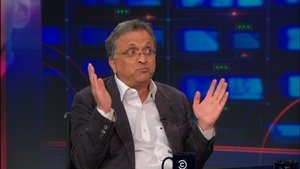 19x94 Ramachandra Guha (April 24, 2014)
---
CNN receives advice on how to report properly, John Oliver discusses his post-correspondent life, and Ramachandra Guha shares Gandhi's early political influences.
---
19x93 Robin Roberts (April 23, 2014)
---
Sean Hannity contradicts his own beliefs, Stephen Colbert decides to end his show, and Robin Roberts shares her struggles with breast cancer.
---
19x92 Elizabeth Warren (April 22, 2014)
---
Women in politics continue to face sexist double standards, and Senator Elizabeth Warren discusses "A Fighting Chance" and the need for political reform.
---
19x91 Gina McCarthy (April 21, 2014)
---
Cliven Bundy fights for his lawless ranching practices, Putin remains dishonest about Russia's involvement in Ukraine, and Gina McCarthy discusses being EPA administrator.
---
19x90 Jennifer Garner (April 10, 2014)
---
Stephen Colbert makes an exciting career move, college athletes struggle to unionize, and Jennifer Garner shares Kevin Costner's off-set activities while filming "Draft Day."
---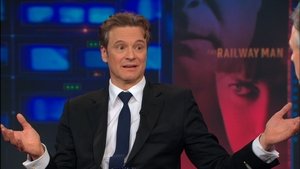 19x89 Colin Firth (April 09, 2014)
---
Samantha Bee fears Putin is plotting to invade Brooklyn, Fox News covers spring break festivities, and Colin Firth discusses his role in "The Railway Man."
---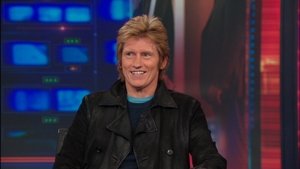 19x88 Denis Leary (April 08, 2014)
---
Al Madrigal tackles the liberal Latino media bias regarding Obamacare, "Noah" disappoints certain moviegoers, and Denis Leary shares his hairstyle choices for "Draft Day."
---
19x87 Matt Taibbi (April 07, 2014)
---
The leaders of the Bush Administration defend their legacy, Afghan voters overcome immense obstacles, and author Matt Taibbi talks justice and the wealth gap in "The Divide."
---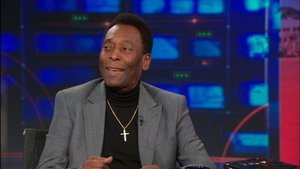 19x86 Pelé (April 03, 2014)
---
Aasif Mandvi reports on a Supreme Court ruling that gives wealthy Americans a stronger voice in politics, and Pele shares some highlights from his momentous soccer career.
---
19x85 Samuel L. Jackson (April 02, 2014)
---
General Motors takes its sweet time recalling a deadly part, John Hodgman gets into offshore banking, and Samuel L. Jackson shares how cool it is to film action movies.
---
19x84 Michael Lewis (April 01, 2014)
---
CNN desperately struggles to fill its news cycle with Flight 370 developments, and Michael Lewis discusses the Wall Street corruption detailed in his book "Flash Boys."
---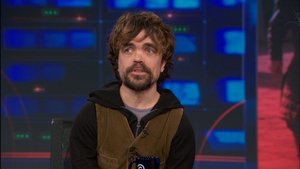 19x83 Peter Dinklage (March 31, 2014)
---
Governor Chris Christie's own investigation exonerates him, corruption scandals emerge nationwide, and Peter Dinklage shares his admiration for a Croatian security guard.
---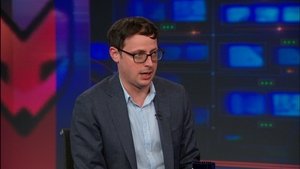 19x82 Nate Silver (March 27, 2014)
---
Kristen Schaal offers marriage advice to young women, Aasif Mandvi investigates the impacts of fracking, and Nate Silver discusses his website "FiveThirtyEight.com".
---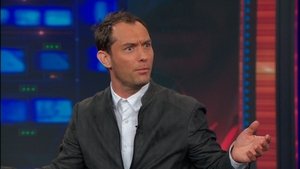 19x81 Jude Law (March 26, 2014)
---
Jordan Klepper promotes biblical health care, Samantha Bee finds family with the cast of "Morning Joe", and Jude Law discusses getting into character for "Dom Hemingway."
---
19x80 Amy Yates Wuelfing & Gibby Haynes (March 25, 2014)
---
Russia annexes Crimea despite international scorn, the Mitch McConnell game continues with #meconnelling, and Amy Yates Wuelfing and Gibby Haynes fondly remember City Gardens.
---
19x79 Arianna Huffington (March 24, 2014)
---
Malaysia Airlines Flight 370 disappears mysteriously, Surgeon General nominee Dr. Vivek Murthy faces opposition, and Arianna Huffington redefines success in "Thrive."
---
19x78 Anita Hill (March 13, 2014)
---
Fox News gives some math lessons on welfare spending, Mitch McConnell's campaign gives rise to the game #McConnelling, and Anita Hill is the subject of a new documentary.
---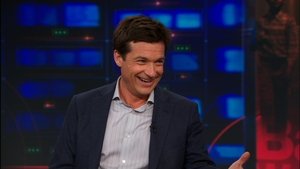 19x77 Jason Bateman (March 12, 2014)
---
Jordan Klepper denies CIA interference in the Senate's torture investigation, Samantha Bee discovers Medicare covers penis pumps, and Jason Bateman learns Yiddish.
---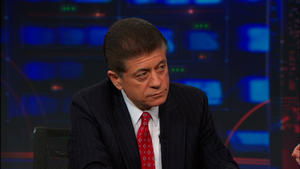 19x76 Andrew Napolitano (March 11, 2014)
---
America scrutinizes Vladimir Putin closely as Russia exerts control in Crimea, and Andrew Napolitano gives a lengthy defense of his views on Abraham Lincoln and the Civil War.
---
19x75 Paul Taylor (March 10, 2014)
---
Conservatives search for a presidential hopeful at CPAC, Pope Francis' papacy turns one, and Paul Taylor discusses millennials in his book "The Next America."
---
19x74 Kimberly Marten (March 06, 2014)
---
Vladimir Putin embraces his own geopolitical propaganda, Aasif Mandvi discovers third world health care in America, and Kimberly Marten discusses the growing Crimean crisis.
---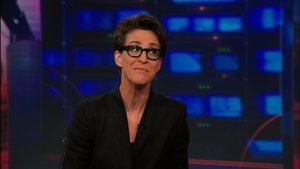 19x73 Rachel Maddow (March 05, 2014)
---
Senate shamefully rejects a veteran benefits bill, Hamid Karzai criticizes American presence in Afghanistan, and Rachel Maddow revisits the Iraq War in "Why We Did It."
---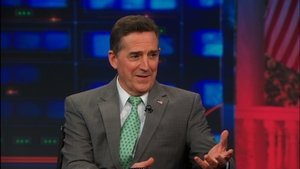 19x72 Jim DeMint (March 04, 2014)
---
Fox News fixates on food stamps, Jessica Williams discovers racism in surprising places, and Jim DeMint discusses "Falling in Love with America Again."
---
19x71 Seth MacFarlane (March 03, 2014)
---
Russian forces threaten to storm Ukranian bases, Jordan Klepper reports from Crimea, and Seth MacFarlane novelizes "A Million Ways to Die in the West."
---
19x70 Kevin Roose (February 27, 2014)
---
The corruption of financial institutions is revealed, Al Madrigal explains some problems with Medicaid expansion, and Kevin Roose reflects on morose young Wall Street bankers.
---
19x69 Liam Neeson (February 26, 2014)
---
Arizona preemptively fends off the gay agenda, Chuck Hagel announces cuts to American military spending, and Liam Neeson explains his beef with Bill de Blasio.
---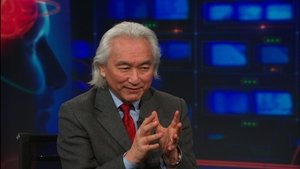 19x68 Michio Kaku (February 25, 2014)
---
Ukrainians depose President Viktor Yanukovych, Mexican police apprehend a notorious drug lord, and physicist Michio Kaku talks "The Future of the Mind."
---
19x67 Hooman Majd (February 24, 2014)
---
The Sochi Games come to a close, Jason Jones discovers an important Russian adage, Larry Wilmore defends Lincoln, and Hooman Majd talks about life in Iran.
---
19x66 Ronan Farrow (February 20, 2014)
---
Kansas Child-Hitting Law, Missouri Creationism Law, Food Recalls at Subway, Kraft and Hot Pockets, Ronan Farrow, "Ronan Farrow Daily"
---
19x65 David O. Russell (February 19, 2014)
---
The Obama administration gets philosophical on drone policy, Jason Jones discovers an unlikely conservative wonderland, and David O. Russell talks "American Hustle."
---
19x64 Kevin Spacey (February 18, 2014)
---
Another Florida man stands his ground against an unarmed black teenager, Republicans fight capitalism, and Kevin Spacey reveals the politics behind "House of Cards."
---
19x63 Joel Kinnaman (February 12, 2014)
---
Jason Jones takes the pulse of gay Russia, Democrats prove they're not immune to political corruption, and Joel Kinnaman talks "RoboCop."
---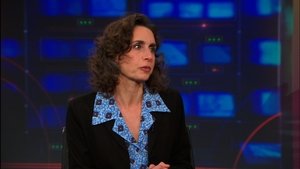 19x62 Elizabeth Kolbert (February 11, 2014)
---
The Daily Show fills in for Bob Costas at the Olympics, Francois Hollande breaches state dinner etiquette, and Elizabeth Kolbert discusses "The Sixth Extinction."
---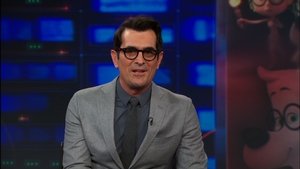 19x61 Ty Burrell (February 10, 2014)
---
Jason Jones kicks off the Sochi Olympics in Moscow, an NFL prospect comes out as gay, and "Mr. Peabody & Sherman" star Ty Burrell reflects on working with Stephen Colbert.
---
19x60 Robyn Doolittle (February 06, 2014)
---
Fox News trumpets the CBO report's imaginary condemnation of Obamacare, Coca-Cola upsets American America, and Robyn Doolittle reveals the real Rob Ford.
---
19x59 George Clooney (February 05, 2014)
---
Al Qaeda fights an insurgency within its insurgency, Jason Jones investigates conservative Super PAC spending in Iowa, and George Clooney talks "The Monuments Men."
---
19x58 Elizabeth Banks (February 04, 2014)
---
Bill O'Reilly interviews President Obama before the Super Bowl, China's lunar rover says goodbye, and Elizabeth Banks talks "The Lego Movie."
---
19x57 Bill de Blasio (February 03, 2014)
---
The Best F#@king News Team Ever surveys New York's winter snowscape, Chris Christie employs high school tactics, and Bill de Blasio addresses the pizza controversy.
---
19x56 Nancy Pelosi (January 30, 2014)
---
Atlanta shuts down following a massive two-inch blizzard, Justin Bieber and Rob Ford keep Canada in the news, and Nancy Pelosi talks government inefficiencies.
---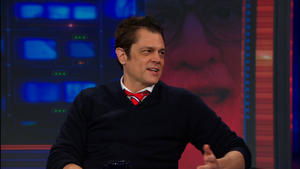 19x55 Johnny Knoxville (January 29, 2014)
---
President Obama offends sensitive Republican souls by abandoning bipartisanship in his State of the Union, and Johnny Knoxville talks "Bad Grandpa."
---
19x54 Louis C.K. (January 28, 2014)
---
President Obama updates America on the State of the Union, Sam Bee investigates minimum wage protests, and Louis C.K. reveals details of his film, "Tomorrow Night".
---
19x53 Jeff Garlin (January 27, 2014)
---
Andrew Cuomo offends Sean Hannity, Justin Bieber supplants real news, Ted Cruz knows who's to blame for the government shutdown, and Jeff Garlin talks "The Goldbergs."
---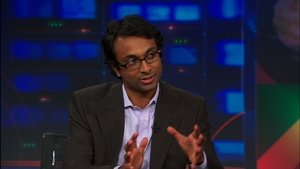 19x52 Anjan Sundaram (January 23, 2014)
---
A Syrian peace conference erupts in a word war, the world's billionaires descend on Davos to fight income inequality, and Anjan Sundaram explains "Stringer."
---
19x51 Hari Sreenivasan (January 22, 2014)
---
Bob McDonnell fails to heed his own financial advice, the Christie administration runs afoul of Hoboken's mayor, and Hari Sreenivasan discusses the art of real news.
---
19x50 Theresa Payton (January 21, 2014)
---
The 2014 Sochi Homophobic Olympics heats up, Jason Jones deals with untreated PTSD symptoms, and Theresa Payton talks "Privacy in the Age of Big Data."
---
19x49 Marilynne Roach (January 20, 2014)
---
President Obama imposes self-enforced guidelines on secret government surveillance, bacon shortages haunt the Super Bowl, and Marilynne Roach explains the Salem witch trials.
---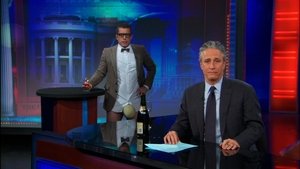 19x48 Steven Brill (January 16, 2014)
---
Women breach the glass ceiling, Utah and Oklahoma grapple with marriage equality, and Steven Brill weighs in on unreasonably high health care costs.
---
19x47 Robert Gates (January 15, 2014)
---
Justin Bieber bothers his neighbors, Congress threatens to nuke a nuclear deal with Iran, and former Defense Secretary Robert Gates discusses his memoir, "Duty".
---
19x46 Tim Gunn (January 14, 2014)
---
New evidence emerges in Chris Christie's bridge scandal, Brit Hume decries America's feminization, The Fox Five is a love story, and Tim Gunn hosts "Under the Gunn".
---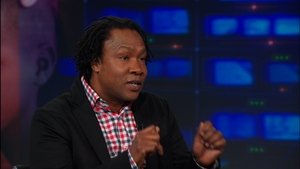 19x45 Roger Ross Williams (January 13, 2014)
---
A chemical spill leaves thousands without water in West Virginia, Bill de Blasio shames New York pizza, and Roger Ross Williams discusses "God Loves Uganda".
---
19x44 Scarlett Johansson (January 09, 2014)
---
Long-term unemployment benefits lapse, Chris Christie addresses his role in the "Bridgegate" scandal, and Scarlett Johansson talks post-modern dating in "Her".
---
19x43 Richard Cordray (January 08, 2014)
---
Chris Christie gets jammed by traffic, Aasif Mandvi learns about "brosurance", and Richard Cordray discusses the Consumer Financial Protection Bureau.
---
19x42 Steve Coogan (January 07, 2014)
---
Colorado opens for recreational weed business, beer advertisers earn America's trust with snow bikini parties, and Steve Coogan discusses "Philomena".
---
19x41 Oscar Isaac (January 06, 2014)
---
Harsh winter conditions disprove global warming, the White House takes on the nuns, and "Inside Llewyn Davis" star Oscar Isaac remembers his punk rock roots.
---
19x40 Jonah Hill (December 19, 2013)
---
The Queen gets angry, John Oliver says goodbye to the Daily Show, and "The Wolf of Wall Street" star Jonah Hill shares his deep admiration for Martin Scorsese.
---
19x39 Steve Carell, Will Ferrell, David Koechner & Paul Rudd (December 18, 2013)
---
Former E.P.A. official John Beale finally tells the truth, IKEA spies on its employees, and the stars of "Anchorman 2" cause a ruckus.
---
19x38 Erik Prince (December 17, 2013)
---
John Boehner and Paul Ryan face conservative backlash over the budget deal, "The Hunger Games" gets real, and Erik Prince shares details from his book, "Civilian Warriors".
---
19x37 Haifaa al-Mansour (December 16, 2013)
---
Megyn Kelly clears up the white Santa misunderstanding, the media again spotlights a dangerous new trend, and Haifaa Al Mansour discusses the making of "Wadjda".
---
19x36 Evangeline Lilly (December 12, 2013)
---
Fox News confirms Santa Claus's whiteness, Lewis Black finds the future underwhelming, and Evangeline Lilly discusses "The Hobbit: The Desolation of Smaug".
---
19x35 Reza Aslan (December 11, 2013)
---
Congress whips up a bipartisan budget agreement, Jason Jones refuses to abandon the budget battle, and Reza Aslan addresses the Iranian nuclear agreement.
---
19x34 Amy Adams (December 10, 2013)
---
Congress outdoes itself, Jason Jones embraces the art of gerrymandering, President Obama shakes hands with Raul Castro, and Amy Adams dishes on "American Hustle".
---
19x33 Husain Haqqani (December 09, 2013)
---
The N.S.A. wiretaps the World of Warcraft, world leaders pay tribute to Nelson Mandela, and Husain Haqqani untangles Pakistani-U.S. relations.
---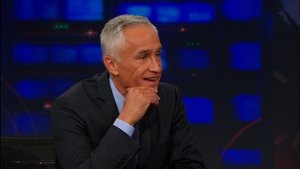 19x32 Jorge Ramos (December 05, 2013)
---
Fast food workers go on strike, John Hodgman warns of deranged millionaire flight from New York City, and Jorge Ramos predicts a Latino president.
---
19x31 Jehane Noujaim (December 04, 2013)
---
Corporations differ from people after all, Samantha Bee sheds light on shady, legal business practices, and Jehane Noujaim talks "The Square".
---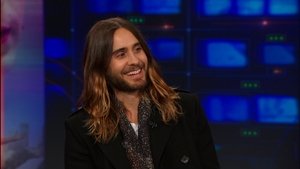 19x30 Jared Leto (December 03, 2013)
---
Sarah Palin fights back in the war on Christmas, the RNC marks the end of racism in America, and Jared Leto returns to acting after a six-year hiatus.
---
19x29 Ian McKellen (December 02, 2013)
---
The Obama administration fixes HealthCare.gov, Black Friday shoppers turn violent, Christian B&B owners reject a gay couple, and Ian McKellen discusses "The Hobbit".
---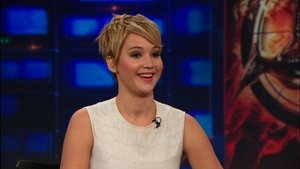 19x28 Jennifer Lawrence (November 21, 2013)
---
The Senate actually does something, Jessica Williams offers Black Friday shopping tips, and Jennifer Lawrence promotes "The Hunger Games: Catching Fire".
---
19x27 Tom Brokaw (November 20, 2013)
---
Peace is declared in the pizza war between New York and Chicago, a Republican legislator enjoys hip hop and cocaine, and Tom Brokaw remembers the day JFK was killed.
---
19x26 Bill Cosby (November 19, 2013)
---
Toronto strips Rob Ford of his mayoral powers, Qatar constructs the country's largest steel vagina, and Bill Cosby talks "Far From Finished".
---
19x25 Elizabeth Olsen (November 18, 2013)
---
Obamacare suffers in comparison to Hurricane Katrina, Liz Cheney assumes her father's mantle, and Elizabeth Olsen shows how not to be a Hollywood mess.
---
19x24 Geoffrey Rush (November 14, 2013)
---
President Obama takes responsibility for the ACA's failings, Rob Ford appears before the Toronto city council, and Geoffrey Rush promotes "The Book Thief".
---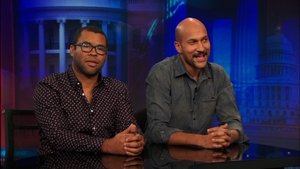 19x23 Key & Peele (November 13, 2013)
---
The media struggles to identify racism, New York and Chicago share a not-so-polite disagreement, and Key and Peele detail their comedy beginnings.
---
19x22 Joe Scarborough (November 12, 2013)
---
John Kerry nearly pulls off a landmark nuclear deal with Iran, Fox News meshes medical opinion and talking points, and Joe Scarborough diagnoses Republican extremism.
---
19x21 Doris Kearns Goodwin (November 11, 2013)
---
"60 Minutes" acknowledges errors in its Benghazi report, Jason Jones motivates voters in Colorado, and Doris Kearns Goodwin talks "The Bully Pulpit".
---
19x20 Patrick Stewart (November 07, 2013)
---
A Second Rob Ford video emerges, NFL players defend Richie Incognito, Rand Paul is accused of plagiarism, and Patrick Stewart sheds light on his lobster costume.
---
19x19 Monique Brinson Demery (November 06, 2013)
---
Indecision 2013 concludes and Monique Brinson Demery talks "Finding the Dragon Lady".
---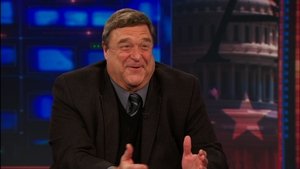 19x18 John Goodman (November 05, 2013)
---
Toronto enables Rob Ford and John Goodman works with Garry Trudeau in "Alpha House".
---
19x17 Bob Woodruff (November 04, 2013)
---
Toronto's Mayor Rob Ford learns crack is wack, and Bob Woodruff raises money for vets.
---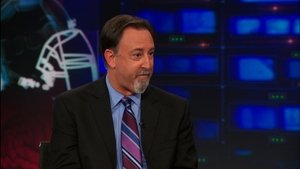 19x16 Mark Fainaru-Wada (October 31, 2013)
---
Kathleen Sebelius takes the rap for HealthCare.gov and Mark Fainaru-Wada talks "League of Denial".
---
19x15 Diane Ravitch (October 30, 2013)
---
The NSA goes on the defensive and Diane Ravitch offers solutions to public school woes.
---
19x14 Rep. Debbie Wasserman Schultz (October 29, 2013)
---
CNN asks the question that really matters and Debbie Wasserman Schultz champions Obamacare.
---
19x13 Nick Offerman (October 28, 2013)
---
Congress rides to HealthCare.gov's rescue, and Nick Offerman discusses "Paddle Your Own Canoe".
---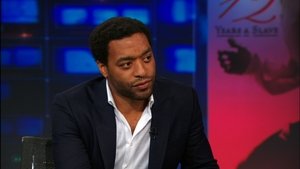 19x12 Chiwetel Ejiofor (October 24, 2013)
---
Europe takes exception to America's attentions and Chiwetel Ejiofor turns out to be British.
---
19x11 Charles Krauthammer (October 23, 2013)
---
JP Morgan Chase reaches a settlement with the government and Charles Krauthammer talks health care.
---
19x10 Malcolm Gladwell (October 22, 2013)
---
Mainstream Republicans battle the Tea Party and Malcolm Gladwell discusses "David and Goliath".
---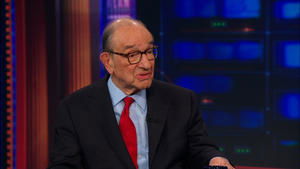 19x09 Alan Greenspan (October 21, 2013)
---
The government's health care technology sputters and Alan Greenspan reconsiders Wall Street.
---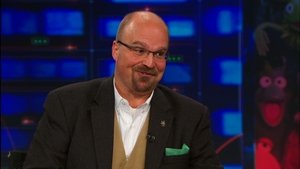 19x08 Brian Jay Jones (October 10, 2013)
---
A Medicaid expansion encounters Republican turbulence and Brian Jay Jones talks Jim Henson.
---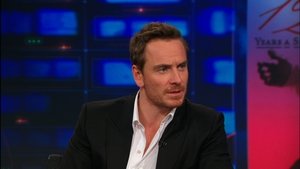 19x07 Michael Fassbender (October 09, 2013)
---
Moderate Republicans remain in hiding and Michael Fassbender plays a really bad guy.
---
19x06 Malala Yousafzai (October 08, 2013)
---
Republicans deny responsibility for the shutdown and Malala Yousafzai talks fighting the Taliban.
---
19x05 Kathleen Sebelius (October 07, 2013)
---
Obamacare commences, Democratic incompetence battles Republican nihilism, and Kathleen Sebelius clarifies the finer points of the Affordable Care Act.
---
19x04 Kerry Washington (October 03, 2013)
---
Fox News investigates the liberal shutdown, Smokey the Bear gets furloughed, Sam Bee interviews a rebellious Republican, and Kerry Washington discusses "Scandal".
---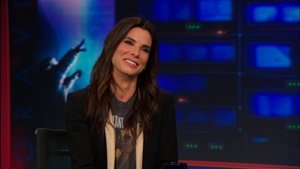 19x03 Sandra Bullock (October 02, 2013)
---
Congressional Republicans show signs of shutdown remorse, Lewis Black sets his sights on Barilla Pasta, and Sandra Bullock talks zero-gravity projectile vomit.
---
19x02 David Mitchell (October 01, 2013)
---
Fox News weathers the government shutdown, Jason Jones surveys Obamacare supporters and opponents, and David Mitchell discusses "The Reason I Jump".
---
19x01 Bill O'Reilly (September 30, 2013)
---
Republicans threaten to shutter the government if their Obamacare demands go unmet, and Bill O'Reilly talks Syria and "Killing Jesus".
---