The Daily Show with Trevor Noah
Season 18
The Daily Show with Trevor Noah
Season 18
First Air Date: October 01, 2012

| | | |
| --- | --- | --- |
| First Aired on | : | 2012 |
| Episodes | : | 158 episodes |
Episodes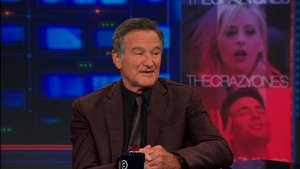 18x158 Robin Williams (September 26, 2013)
---
President Hassan Rouhani of Iran hits New York, Pope Francis and Republicans disagree on scriptural matters, and Robin Williams talks "The Crazy Ones."
---
18x157 Atoms for Peace (September 25, 2013)
---
Ted Cruz takes a stand against the Affordable Care Act, and Thom Yorke and Flea perform songs from their joint project, Atoms for Peace.
---
18x156 Richard Dawkins (September 24, 2013)
---
Republicans rally against Obamacare, Jessica Williams reports on the future of international shipping, and Richard Dawkins compares science and religion.
---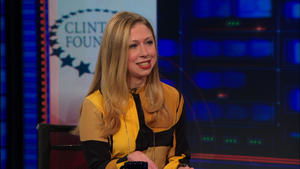 18x155 Chelsea Clinton (September 19, 2013)
---
Businesses circumvent Obamacare, Aasif Mandvi celebrates India's Miss America victory, and Chelsea Clinton shares details of her work at the Clinton Foundation.
---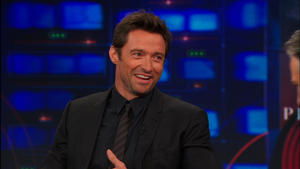 18x154 Hugh Jackman (September 18, 2013)
---
Washington D.C. gun laws prove ineffective, Al Madrigal tests the limits of southern hospitality, and Hugh Jackman embraces the darkness in "Prisoners."
---
18x153 Jake Gyllenhaal (September 17, 2013)
---
CNN learns the wrong lessons from Boston, the Best F#@king News Team Ever speculatively reports a Godzilla attack, and Jake Gyllenhaal talks "Prisoners."
---
18x152 Robert Reich (September 16, 2013)
---
Lindsey Graham declares war on not going to war in Syria, Pope Francis takes aim at Catholic dogma, and Robert Reich predicts a return to progressivism.
---
18x151 Billy Crystal (September 12, 2013)
---
Vladimir Putin assumes the role of peacemaker, Aasif Mandvi reports on the plight of biotech companies, and Billy Crystal recounts a bygone era in comedy.
---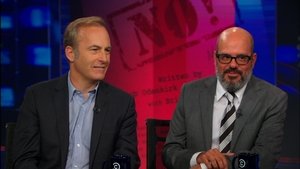 18x150 Bob Odenkirk & David Cross (September 11, 2013)
---
Bill de Blasio wins the New York City Democratic primary, members of Congress address Egypt's people, and David Cross and Bob Odenkirk talk "Hollywood Said No!"
---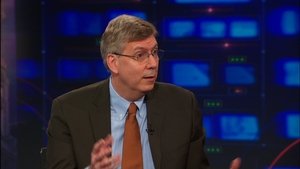 18x149 Bill Dedman (September 10, 2013)
---
John Kerry offers inadvertent hope for peace in Syria, a drug boat burns off the coast of Italy, and Bill Dedman sheds light on a reclusive heiress.
---
18x148 Sheri Fink (September 09, 2013)
---
Americans debate intervention in Syria, Bashar al-Assad launches a campaign to charm the west, Republican mayoral candidates clash, and Sheri Fink prepares for disaster.
---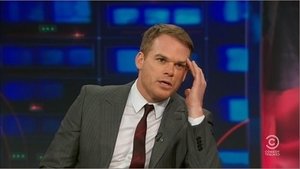 18x147 Michael C. Hall (September 05, 2013)
---
The New York City Democratic mayoral candidates debate the issues, Anthony Weiner fights back, and Michael C. Hall discusses the final season of "Dexter."
---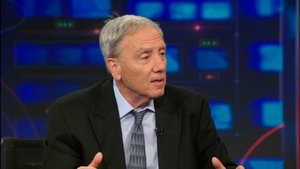 18x146 Mario Livio (September 04, 2013)
---
John McCain shows his poker face, Samantha Bee searches for common ground with Russia, and Mario Livio shares some of science's greatest blunders.
---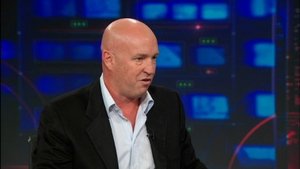 18x145 Andrew Harper (September 03, 2013)
---
Jon returns from the Middle East, Syria crosses America's red line, and Andrew Harper explains the reality for Syrian refugees in Jordan.
---
18x144 Simon Pegg (August 15, 2013)
---
Protestors oppose Russia's gay propaganda ban, Anthony Weiner insults BuzzFeed, former correspondents bid farewell to John Oliver, and Simon Pegg talks "The World's End".
---
18x143 Regis Philbin (August 14, 2013)
---
Amazon's Jeff Bezos takes over The Washington Post, Elon Musk dreams up a supersonic transport capsule, and Regis Philbin describes his sports talk show, "Crowd Goes Wild".
---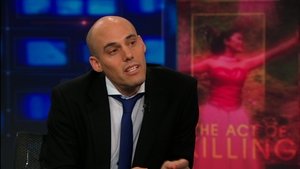 18x142 Joshua Oppenheimer (August 13, 2013)
---
A judge goes after NYC's stop-and-frisk policies, Jessica Williams demands stop-and-frisk on Wall Street, and Joshua Oppenheimer describes his film, "The Act of Killing".
---
18x141 Rand Paul (August 12, 2013)
---
Chris Matthews makes 2016 election predictions, Australia's federal candidates slip up, Dr. Sanjay Gupta turns pro-pot, and Senator Rand Paul talks health care.
---
18x140 Kirsten Gillibrand (August 08, 2013)
---
The SEC holds big banks accountable in small ways, Obama speaks out on sexual assault in the military, and Kirsten Gillibrand criticizes how the military handles such cases.
---
18x139 Lake Bell (August 07, 2013)
---
President Obama breaks his date with Vladimir Putin, David Cameron takes away England's porn, "Shark Week" is engulfed in shark-troversy, and Lake Bell talks filmmaking.
---
18x138 Liam Hemsworth (August 06, 2013)
---
Tax reform terrifies politicians who want tax reform, Jessica Williams and Samantha Bee debate the race question, and Liam Hemsworth talks sports and white-collar crime.
---
18x137 Neal Thompson (August 05, 2013)
---
The 2016 Republican presidential field expands, politics engulfs sports and the royal baby, and Neal Thompson recounts the life of Robert Ripley in "A Curious Man".
---
18x136 Colin Quinn (August 01, 2013)
---
America's fast food workers demand better pay, Hillary Clinton's lunch ignites 2016 election buzz, and Colin Quinn teaches Constitutional history.
---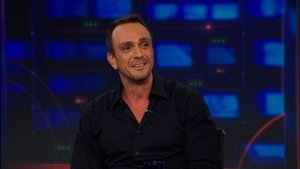 18x135 Hank Azaria (July 31, 2013)
---
Congress continues being unpopular, Jason Jones travels to Kentucky, Anthony Weiner 9/11s his d**k pics, and Hank Azaria discusses "Lovelace".
---
18x134 Tim Gunn (July 30, 2013)
---
Judge Johnny judges Halliburton, Lance Armstrong and Joe Biden, Pope Francis changes the Catholic tone toward homosexuality, and Tim Gunn talks "Project Runway".
---
18x133 Mark Leibovich (July 29, 2013)
---
Edward Snowden receives a literary care package, Congress agrees on something, Anthony Weiner gets more bad news, and Mark Leibovich surveys the Washington landscape.
---
18x132 Bob Bradley (July 25, 2013)
---
Goldman Sachs gets into the aluminum game, Aasif Mandvi tries convincing someone to run for Congress, and Bob Bradley talks Egyptian soccer and the World Cup.
---
18x131 Shailene Woodley (July 24, 2013)
---
Anthony Weiner becomes Carlos Danger, Larry Wilmore begins a conversation on race, and Shailene Woodley discusses "The Spectacular".
---
18x130 Richard Haass (July 23, 2013)
---
The Best F#@king News Team Ever reports on the royal birth, and foreign policy expert Richard Haass reflects on the importance of domestic stability.
---
18x129 Louis C.K. (July 22, 2013)
---
A royal son is born, Edward Snowden considers moving out of the Moscow airport, Detroit goes bankrupt, and Louis C.K. talks Woody Allen and "Blue Jasmine".
---
18x128 Sarah Vowell (July 18, 2013)
---
Egyptians mark the end of democracy, CNN rocks the news, and Sarah Vowell sits in for her friend, the late David Rakoff.
---
18x127 Reza Aslan (July 17, 2013)
---
Eliot Spitzer and Anthony Weiner poll well in NYC, Lewis Black responds to Rick Perry's job offer, and Reza Aslan considers the historical Jesus in his book, "Zealot".
---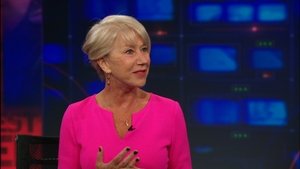 18x126 Helen Mirren (July 16, 2013)
---
The Senate avoids destroying itself, Kate Middleton's unborn child keeps his or her fans waiting, and Helen Mirren explains why she enjoys touching celebrities.
---
18x125 Aaron Sorkin (July 15, 2013)
---
The George Zimmerman murder trial concludes, Al Madrigal questions Latinos about other Latinos, and Aaron Sorkin talks CNN and "The Newsroom".
---
18x124 Tom Goldstein (June 27, 2013)
---
Jon Stewart says hello, Justice Scalia objects to the DOMA ruling, Edward Snowden turns up in a Moscow airport, and Tom Goldstein explains the Supreme Court's decisions.
---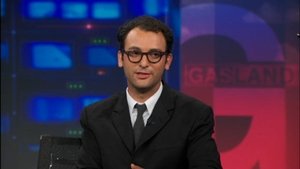 18x123 Josh Fox (June 26, 2013)
---
The Best F#@king News Team Ever responds to the Supreme Court's DOMA decision, Kristen Schaal cheers Wendy Davis, and Josh Fox discusses his film, "Gasland Part II".
---
18x122 Ahmir 'Questlove' Thompson (June 25, 2013)
---
The Supreme Court takes on the Voting Rights Act, George Zimmerman's lawyer starts the trial with a joke, and Ahmir "Questlove" Thompson links hip hop and "The Cosby Show".
---
18x121 Maggie Gyllenhaal (June 24, 2013)
---
Jason Jones learns about the Canadian financial services industry, Edward Snowden eludes the media and the authorities, and Maggie Gyllenhaal discusses "White House Down".
---
18x120 Tom Brokaw (June 20, 2013)
---
Paula Deen finds herself embroiled in controversy, old-timey gangster stories dominate the news, and Tom Brokaw discusses technological innovations in news.
---
18x119 Dawn Porter (June 19, 2013)
---
President Obama doesn't feel the love in Germany, the Supreme Court rules on human gene patenting, and Dawn Porter reflects on underappreciated public defenders.
---
18x118 Jim Gaffigan (June 18, 2013)
---
The Senate nearly accomplishes something, Mick Foley issues an immigration reform challenge, and Jim Gaffigan reflects on fatherhood.
---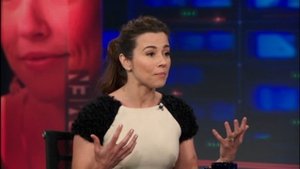 18x117 Linda Cardellini (June 17, 2013)
---
Sarah Palin quits quitting, Iran votes for Mahmoud Ahmadinejad's replacement, Sam Bee reports on a bullied majority, and Linda Cardellini talks "Mad Men".
---
18x116 Fareed Zakaria (June 13, 2013)
---
The "Summer of the Whistleblower" continues, Lewis Black scrutinizes cutting-edge technologies, and Mavis Staples performs songs from her album, "One True Vine".
---
18x115 Mavis Staples (June 12, 2013)
---
The "Summer of the Whistleblower" continues, Lewis Black scrutinizes cutting-edge technologies, and Mavis Staples performs songs from her album, "One True Vine".
---
18x114 Armando Iannucci (June 11, 2013)
---
Republican senators respond to the NSA surveillance controversy, Al Madrigal exposes undercover whistleblowers, and Armando Iannucci talks American politics and "Veep".
---
18x113 Seth Rogen (June 10, 2013)
---
Details of the government's domestic surveillance practices emerge, the Best F#@king News Team Ever congratulates John Oliver, and Seth Rogen talks "This Is the End".
---
18x112 No Guests (June 06, 2013)
---
New York City residents react to Citi Bike, Jon announces his trip to Iran, and John Oliver seizes power.
---
18x111 Jon Favreau (June 05, 2013)
---
Chris Christie calls for a special election, Jessica Williams observes Tennessee's signature health care initiative, and Jon Favreau looks back on his White House days.
---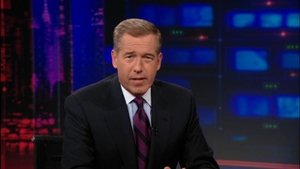 18x110 Brian Williams (June 04, 2013)
---
China wins the Iraq War, health officials warn of a global MERS epidemic, and Brian Williams weighs in on press freedoms.
---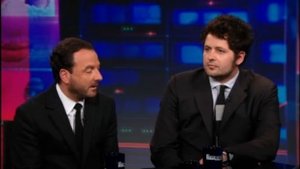 18x109 Maxim Pozdorovkin & Mike Lerner (June 03, 2013)
---
The IRS gets a taste of its own medicine, John McCain visits Syrian rebels, and Mike Lerner and Maxim Pozdorovkin explain the meaning of Pussy Riot.
---
18x108 Morgan Freeman (May 23, 2013)
---
The Obama administration prosecutes dangerous potheads and journalists, Jason Jones measures conservative reactions to IRS profiling, and Morgan Freeman waxes scientific.
---
18x107 Bill O'Reilly (May 22, 2013)
---
The IRS proves short on answers, Apple answers for its tax dodge, Peggy Noonan ranks presidential scandals, and Bill O'Reilly considers the Obama administration's troubles.
---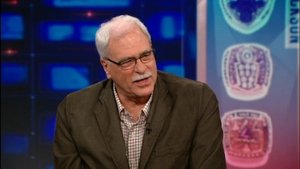 18x106 Phil Jackson (May 21, 2013)
---
Toronto's mayor learns that crack is whack, Al Madrigal tracks down former MSNBC pundit Dylan Ratigan, and Phil Jackson talks basketball and managing big egos.
---
18x105 Ellen Page (May 20, 2013)
---
The Obama administration deploys some guy to do damage control, China flushes away all traces of a mysterious ooze, and Ellen Page sings Canada's praises.
---
18x104 George Packer (May 16, 2013)
---
The 2016 presidential election heats up, Disney neglects its parenting duties, and George Packer surveys three decades of American life in his book, "The Unwinding".
---
18x103 Olympia Snowe (May 15, 2013)
---
The Obama administration is hit by Hurricane Scandy, Donald Rumsfeld and Dick Cheney call for more government accountability, and Olympia Snowe considers bipartisanship.
---
18x102 Nathan Lane (May 14, 2013)
---
President Obama takes a question about the IRS, Jessica Williams counsels a wayward conservative, and Nathan Lane shares his personal theme song.
---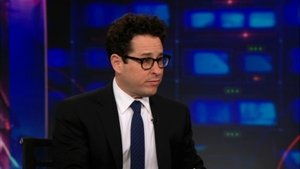 18x101 J.J. Abrams (May 13, 2013)
---
The IRS apologizes for targeting conservative political groups, the government does something right, and J.J. Abrams notes the differences between "Star Trek" and "Star Wars".
---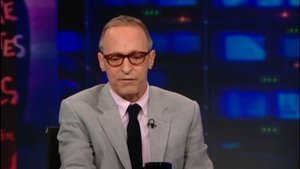 18x100 David Sedaris (May 09, 2013)
---
The Jodi Arias trial ends, Aasif Mandvi steers wayward youth away from dead end college degrees, and David Sedaris talks "Let's Explore Diabetes with Owls".
---
18x99 Carey Mulligan (May 08, 2013)
---
Benghazi-gate continues apace, CNN pulls a fast one, and Carey Mulligan immerses herself in the flapper culture of "The Great Gatsby".
---
18x98 Mindy Kaling (May 07, 2013)
---
Chris Christie goes under the knife, Jessica Williams learns the real meaning of Cinco de Mayo, and Mindy Kaling divulges her Met Ball 2013 punk credentials.
---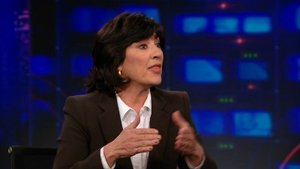 18x97 Christiane Amanpour (May 06, 2013)
---
The NRA does its best CPAC impression, and Christiane Amanpour bets on CNN's resurgence.
---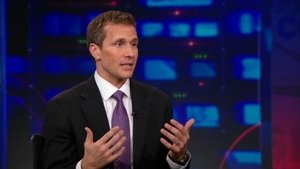 18x96 Eric Greitens (May 02, 2013)
---
Paper joins the axis of evil, the Best F#@king News Team Ever tracks down a fugitive document, and Eric Greitens lays out his plan to help returning veterans.
---
18x95 Kay Bailey Hutchison (May 01, 2013)
---
Guantanamo goes on hunger strike, Ted Cruz rankles everybody, and Kay Bailey Hutchison identifies Texas' independent roots.
---
18x94 Robert Downey Jr (April 30, 2013)
---
Syria questions America's resolve and line-drawing ability, longtime NBA center Jason Collins comes out as gay, and Robert Downey Jr. dons his "Iron Man 3" promotional suit.
---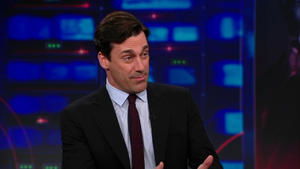 18x93 Jon Hamm (April 29, 2013)
---
Congress feels the sequester pinch, the Elvis impersonator accused of mailing ricin to government officials is found innocent, and Jon Hamm talks "Mad Men"'s sixth season.
---
18x92 Vali Nasr (April 25, 2013)
---
The George W. Bush Presidential Library opens for business, John Oliver concludes his investigation of Australian gun control, and Vali Nasr analyzes American foreign policy.
---
18x91 Bassem Youssef (April 24, 2013)
---
Fox News questions the Constitution, John Hodgman finds an investment alternative to gold, and Bassem Youssef considers the humorlessness of government.
---
18x90 Salman Rushdie (April 23, 2013)
---
The STOCK Act gets the Congressional treatment, John Oliver continues his Australian gun control investigation, and writer Salman Rushdie transitions to filmmaking.
---
18x89 Christina Hendricks (April 22, 2013)
---
The Czech Republic ambassador clears the air, CNN covers every moment of the Boston manhunt, and Christina Hendricks considers possible "Mad Men" spinoffs.
---
18x88 Mark Mazzetti (April 18, 2013)
---
The Senate fails once again, John Oliver proves that gun control actually does work, and Mark Mazzetti sheds light on the CIA's secret wars.
---
18x87 Ricky Gervais (April 17, 2013)
---
CNN goes down speculation road, the United States is accused of torture, and Ricky Gervais brings back his character from "The Office".
---
18x86 Tom Cruise (April 16, 2013)
---
The Senate proposes a long and arduous "path to citizenship," Lewis Black takes on poverty in America, and an ageless Tom Cruise talks "Oblivion".
---
18x85 Edie Falco (April 11, 2013)
---
"Crazy" Rand Paul visits Howard University, Aasif Mandvi delves into the complicated financial world of student athletics, and Edie Falco talks theater and "Nurse Jackie".
---
18x84 Ken Burns (April 10, 2013)
---
Senate Republicans thwart the UN's assault on the Second Amendment, China tunes in, and Ken Burns seeks justice in "The Central Park Five".
---
18x83 Jimmy Carter (April 09, 2013)
---
Virginia's "Cooch" revives the state's anti-sodomy laws, a Tennessee lawmaker takes on the young and poor, and Jimmy Carter celebrates his defeat of the guinea worm.
---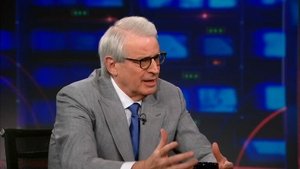 18x82 David Stockman (April 08, 2013)
---
President Obama's budget proposal satisfies no one, Jessica Williams talks pubic lice with John Waters, and David Stockman predicts another economic crash.
---
18x81 Danny Boyle (April 04, 2013)
---
Rutgers University fires its basketball coach, CNN evolves goats and the news, the Department of Veterans Affairs needs help, and Danny Boyle talks "Trance" and the Queen.
---
18x80 Sheryl Sandberg (April 03, 2013)
---
Congress anonymously supports genetically modified food, Republicans look to re-rebrand, and Sheryl Sandberg offers suggestions to close the gender gap.
---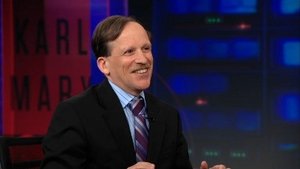 18x79 Jonathan Sperber (April 02, 2013)
---
Kim Jong-un fails to take the hint, Pope Francis I makes his mark, and author Jonathan Sperber delves into the personal life of Karl Marx.
---
18x78 Mary Roach (April 01, 2013)
---
Egypt suffers democratic growing pains, John Oliver investigates violence against guns, and Mary Roach demystifies the digestive process.
---
18x77 Denise Kiernan (March 28, 2013)
---
The Supreme Court hears gay marriage arguments, Rupert Murdoch looks to expand his reach in LA, and Denise Kiernan investigates the women of the Manhattan Project.
---
18x76 Eva Mendes (March 27, 2013)
---
Government doesn't work for returning veterans, the Supreme Court weighs in on same-sex marriage, and Eva Mendes talks "The Place Beyond the Pines".
---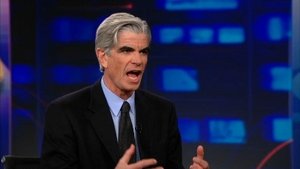 18x75 Michael Moss (March 26, 2013)
---
Republicans reboot, Larry Wilmore offers the GOP minority outreach advice, and "Salt Sugar Fat" author Michael Moss shares processed food industry secrets.
---
18x74 Peter Dinklage (March 25, 2013)
---
Barack Obama brokers Middle Eastern peace, Al Madrigal investigates a lesser-known form of gun violence, and "Game of Thrones"' Peter Dinklage coins a phrase.
---
18x73 Tom Coughlin (March 07, 2013)
---
Biological imperatives end Rand Paul's filibuster, potential papal successors gather in Rome, and Tom Coughlin discusses his book, "Earn the Right to Win".
---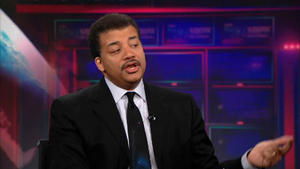 18x72 Neil DeGrasse Tyson (March 06, 2013)
---
Rand Paul filibusters for real, Al Madrigal questions Puerto Rico's desire for statehood, and Neil deGrasse Tyson explains the Russian meteor event.
---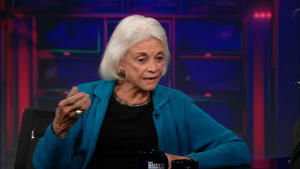 18x71 Sandra Day O'Connor (March 05, 2013)
---
The Supreme Court reconsiders the Voting Rights Act, and Sandra Day O'Connor discusses her life on the bench and her book, "Out of Order".
---
18x70 Paul Rudd (March 04, 2013)
---
Congress punishes itself by not punishing itself, Dennis Rodman reaches out to Kim Jong-un, and Paul Rudd discusses his life on the Supreme Court.
---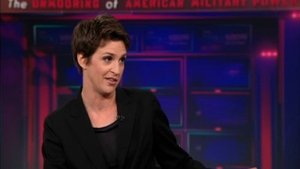 18x69 Rachel Maddow (February 28, 2013)
---
Bob Woodward runs afoul of the White House, Jason Jones battles maple syrup addiction, and Rachel Maddow decodes the Supreme Court.
---
18x68 R.J. Cutler (February 27, 2013)
---
Wall Street enjoys a boom, Italy wanders into a religious and political power vacuum, and R.J. Cutler describes "The World According to Dick Cheney".
---
18x67 Lori Silverbush & Kristi Jacobson (February 26, 2013)
---
Dov Hikind addresses the blackface controversy, Robert Gibbs acknowledges the drone program, and Lori Silverbush and Kristi Jacobson discuss hunger and "A Place at the Table".
---
18x66 Donnie Wahlberg (February 25, 2013)
---
Mississippi's Dick Molpus is vindicated, Samantha Bee prepares for post-sequester America, and Donnie Wahlberg straddles the police communities of Boston and New York.
---
18x65 Steven Brill (February 21, 2013)
---
The White House vows greater transparency, Jessica Williams joins up with Texas secessionists, and Steven Brill discusses his health care industry investigation.
---
18x64 Helaine Olen (February 20, 2013)
---
Republicans revenge themselves on Chuck Hagel, Mississippi ratifies the 13th Amendment, and Helaine Olen discusses her book, "Pound Foolish".
---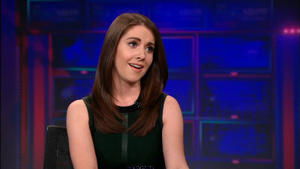 18x63 Alison Brie (February 19, 2013)
---
Great Britain questions the quality of its fast food, a meteor explosion over Russia fails to resonate, and Alison Brie talks "Community," "Mad Men," and Springsteen.
---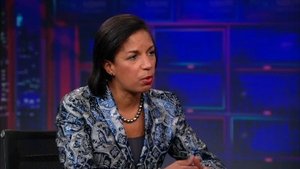 18x62 Susan E. Rice (February 14, 2013)
---
CNN owns the cruise ship story, John Oliver meets with the secretary general of the Organisation of Islamic Cooperation, and Susan Rice shares her side of the Benghazi story.
---
18x61 Fawzia Koofi (February 13, 2013)
---
President Obama updates America on the State of the Union, Marco Rubio takes a water break, and Fawzia Koofi discusses her book, "The Favored Daughter".
---
18x60 Mike Piazza (February 12, 2013)
---
North Korea goes miniature, Lewis Black looks to the real gun control experts, and Mike Piazza talks baseball, steroids, and his book, "Long Shot".
---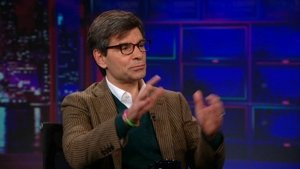 18x59 George Stephanopoulos (February 11, 2013)
---
Pope Benedict XVI steps down, Harvard fails to produce the best cheaters, and George Stephanopoulos talks State of the Union addresses past and future.
---
18x58 Neil Barofsky (February 07, 2013)
---
The White House opens up about drones, the United States Postal Service changes its work schedule, and Neil Barofsky talks banks and bailouts.
---
18x57 Ed Whitacre (February 06, 2013)
---
The Obama administration is questioned over its legal basis for drone strikes, the British government addresses gay marriage, and Ed Whitacre discusses GM's revival.
---
18x56 Ray Kelly (February 05, 2013)
---
Republicans explore alternative methods of voter outreach, Facebook frustrates Germany, and Ray Kelly talks gun control and large sodas.
---
18x55 Michelle Rhee (February 04, 2013)
---
The Super Bowl suffers a power failure, Chinese hackers infiltrate the New York Times, and education reformer Michelle Rhee discusses her book, "Radical".
---
18x54 Jason Bateman (January 31, 2013)
---
The Senate investigates a range of gun control measures, President Obama makes a controversial skeet-shooting remark, and Jason Bateman discusses "Identity Thief".
---
18x53 Al Gore (January 30, 2013)
---
Republicans reach out to Latino voters, and Al Gore talks climate, democracy, and his book, "The Future: Six Drivers of Global Change".
---
18x52 Melissa McCarthy (January 29, 2013)
---
Would-be right-wing homesteaders envision a perfect society, homosexuality comes to the Boy Scouts and the NFL, and Melissa McCarthy blames Jason Bateman for "Identity Thief".
---
18x51 Bob Costas (January 28, 2013)
---
Women gain access to front-line combat, North Korea promises to "settle accounts" with the United States, and Bob Costas discusses the American cultures of guns and football.
---
18x50 Christopher Walken (January 24, 2013)
---
House Republicans press Hillary Clinton on Benghazi intelligence, China's smog problem helps America's self-esteem, and Christopher Walken talks "Stand Up Guys".
---
18x49 Missy Cummings (January 23, 2013)
---
Paul Ryan reviews President Obama's inaugural speech, Israel is no friend to Benjamin Netanyahu, and Missy Cummings shares the many applications of drones.
---
18x48 Jennifer Lopez (January 22, 2013)
---
President Obama is sworn in for his second presidential term, Beyonce "sings" the National Anthem, and Jennifer Lopez discusses her new action film, "Parker".
---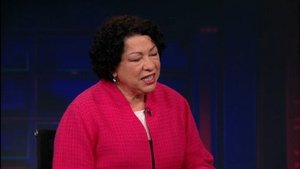 18x47 Sonia Sotomayor (January 21, 2013)
---
President Obama is sworn in for a second term, the Best F#@king News Team Ever experiments with inauguration hairstyles, and Sonia Sotomayor talks "My Beloved World".
---
18x46 Lena Dunham (January 17, 2013)
---
President Obama addresses gun control, the White House rebuffs a petition to build a Death Star, and Lena Dunham is a Golden Globes newbie.
---
18x45 Jessica Chastain (January 16, 2013)
---
The White House and the NRA debate gun control measures, House Republicans vote against Hurricane Sandy relief, and Jessica Chastain talks "Zero Dark Thirty".
---
18x44 Bob Schieffer (January 15, 2013)
---
Lance Armstrong opens up to Oprah, Clarence Thomas speaks for the first time in seven years, and Bob Schieffer prepares for his 13th presidential inauguration.
---
18x43 Roger Waters (January 14, 2013)
---
Paul Krugman teaches brand awareness, Jessica Williams parses President Obama's personal diversity, John Oliver investigates investigations, and Roger Waters battles the flu.
---
18x42 Josh Brolin (January 10, 2013)
---
The government considers minting a trillion dollar coin, Al Gore sells Current TV to Al Jazeera, and Josh Brolin discusses his handsome role in "Gangster Squad".
---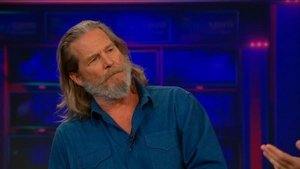 18x41 Jeff Bridges (January 09, 2013)
---
Former AIG CEO Hank Greenberg sues America, Al Madrigal reports on Detroit's Canadian problem, and Jeff Bridges talks "The Dude and the Zen Master".
---
18x40 Gen. Stanley McChrystal (January 08, 2013)
---
America debates gun control, Wayne LaPierre calls for a lunatic database, and retired General Stanley McChrystal discusses his memoir, "My Share of the Task".
---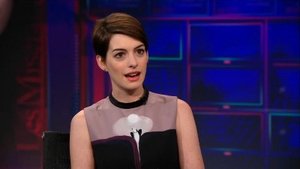 18x39 Anne Hathaway (January 07, 2013)
---
America temporarily avoids the Fiscal Cliff, House Republicans vote against a Hurricane Sandy relief package, and Anne Hathaway divulges the ending to "Les Miserables".
---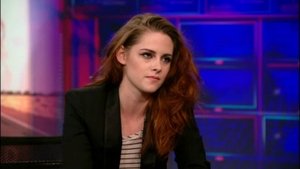 18x38 Kristen Stewart (December 13, 2012)
---
California's Proposition 8 and the Defense of Marriage Act face legal hurdles, Wyatt Cenac completes one last investigation, and Kristen Stewart dances in "On the Road".
---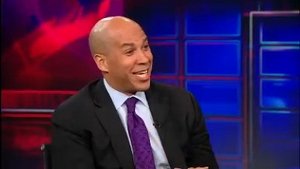 18x37 Cory Booker (December 12, 2012)
---
Atheists assault Christmas, North Korea's Kim Jong-un averts Armageddon, and Newark Mayor Cory Booker touts his city's economic resurgence.
---
18x36 Laura Linney (December 11, 2012)
---
Michigan and Indiana wage economic warfare, Silvio Berlusconi serenades the Italian electorate, and Laura Linney discusses "Hyde Park on Hudson".
---
18x35 Bishop Gene Robinson (December 10, 2012)
---
Sports commentator Bob Costas switches subjects, Mitch McConnell's plan backfires, and Gene Robinson talks being the first openly gay bishop in Christendom.
---
18x34 Chris Christie (December 06, 2012)
---
Kate Middleton battles morning sickness, Samantha Bee predicts the royal child's future, and Chris Christie shares details of his hug with Bruce Springsteen.
---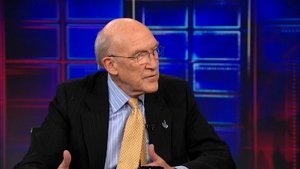 18x33 Alan Simpson (December 05, 2012)
---
Senate Republicans oppose the UN's disability rights treaty, Al Madrigal investigates pot-smoking seniors, and Alan Simpson untangles the fiscal cliff.
---
18x32 R.A. Dickey (December 04, 2012)
---
The left and right debate fiscal cliff resolutions, House Republicans pass on diversity, and Mets pitcher R.A. Dickey describes the brotherhood of the knuckleball.
---
18x31 Denis Leary (December 03, 2012)
---
Fox News continues fighting the war on Christmas, Congress debates the filibuster, and Denis Leary spreads holiday cheer in his book, "Merry F**kin' Christmas".
---
18x30 Calvin Trillin (November 29, 2012)
---
Mitt Romney joins President Obama for a private White House meeting, John Hodgman threatens to secede, and Calvin Trillin recounts the presidential race in verse.
---
18x29 Neil Young (November 28, 2012)
---
John McCain and Lindsey Graham attack Susan Rice, Marcia Fudge attacks their attack, Jason Jones examines political consulting, and Neil Young brings vinyl sound to digital.
---
18x28 Warren Buffett & Carol Loomis (November 27, 2012)
---
Wal-Mart employees surrender their front row Black Friday seats, several parties receive blame for the Twinkie's death, and Warren Buffett and Carol Loomis talk tax fairness.
---
18x27 David Nasaw (November 26, 2012)
---
Israel and Hamas call a ceasefire, God works in mysterious ways, and David Nasaw discusses "The Patriarch: The Remarkable Life and Turbulent Times of Joseph P. Kennedy".
---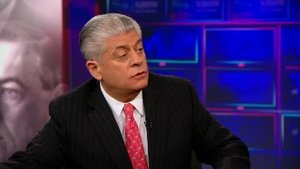 18x26 Andrew Napolitano (November 15, 2012)
---
Mitt Romney accuses President Obama of bribery, Al Madrigal investigates Arizona's legislative landscape, and Andrew Napolitano waxes Constitutional.
---
18x25 Jon Meacham (November 14, 2012)
---
The GOP does well among married women, the BBC confronts a decades-long child sex scandal, and Jon Meacham talks "Thomas Jefferson: The Art of Power".
---
18x24 Jason Sudeikis (November 13, 2012)
---
White House petitioners threaten secession, the Petraeus scandal widens with a second implicated general, and Jason Sudeikis channels Joe Biden and Mitt Romney.
---
18x23 Mike Huckabee (November 12, 2012)
---
New York cleans up after Hurricane Sandy, General Petraeus resigns as head of the CIA, and Mike Huckabee calls for a more inclusive GOP.
---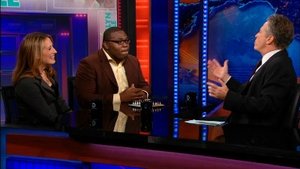 18x22 Katie Dellamaggiore & Pobo Efekoro (November 08, 2012)
---
Colorado legalizes marijuana, John Oliver offers a unique interpretation of the election, and Katie Dellamaggiore and Pobo Efekoro talk "Brooklyn Castle".
---
18x21 Nate Silver (November 07, 2012)
---
Barack Obama defeats Mitt Romney, Karl Rove refuses to admit defeat, Fox News plays the blame game, and Nate Silver explains his forecasting methodology.
---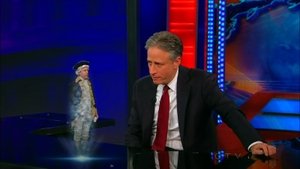 18x20 Democalypse 2012: Election Night - This Ends Now (November 06, 2012)
---
Election night wraps up, the Best F#@king News Team Ever reports future election results, and Samantha Bee interviews undecided voters.
---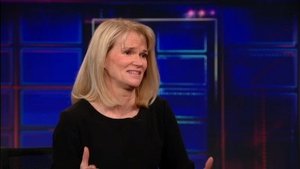 18x19 Martha Raddatz (November 05, 2012)
---
The presidential campaigns wind down, John Oliver and Jason Jones coach young politicians, and Martha Raddatz shares the secret to her debate moderating authority.
---
18x18 Bob Woodruff (November 01, 2012)
---
Ohio suffers a storm of political ads, Jason Jones and John Oliver raise student council election funds, and Bob Woodruff promotes the "Stand Up For Heroes" fundraiser.
---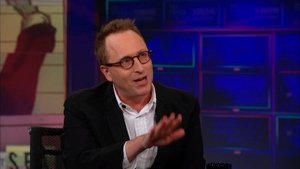 18x17 Jon Ronson (October 31, 2012)
---
Hurricane Sandy reveals government competence, John Oliver and Jason Jones run eighth grade political campaigns, and Jon Ronson shares examples of investigative satire.
---
18x16 Nancy Pelosi (October 25, 2012)
---
Both parties pick winners and losers, an Indiana Senate candidate stirs up controversy, and Nancy Pelosi shares her take on the 2012 presidential election.
---
18x15 Dakota Meyer (October 24, 2012)
---
Donald Trump challenges President Obama, military veterans fight the civilian economy, and war hero Dakota Meyer describes a dark day in Afghanistan.
---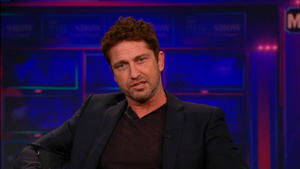 18x14 Gerard Butler (October 23, 2012)
---
Mitt Romney and Barack Obama debate foreign policy, John Oliver and Aasif Mandvi share closing election arguments, and Gerard Butler talks surfing in "Chasing Mavericks".
---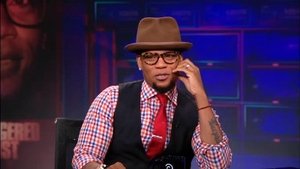 18x13 D.L. Hughley (October 22, 2012)
---
The conservative media exploits an Obama sound bite, Jessica Williams and Samantha Bee follow the President's last campaign, and DL Hughley explains "The Endangered List".
---
18x12 Barack Obama (October 18, 2012)
---
Samantha Bee explains why women voters are turned off by the debates, and President Obama weighs in on the election, Libya and Joe Biden's swimwear.
---
18x11 Nate Silver (October 17, 2012)
---
Barack Obama shows up for the second presidential debate, John Oliver recruits a focus group, and Nate Silver shares his book, "The Signal and the Noise".
---
18x10 Eugene Jarecki (October 16, 2012)
---
Paul Ryan visits a homeless shelter in Ohio, Herman Cain touches on American exceptionalism, and Eugene Jarecki discusses the war on drugs and "The House I Live In".
---
18x09 J. K. Rowling (October 15, 2012)
---
Joe Biden debates Paul Ryan, Martha Raddatz draws praise as debate moderator, and author J.K. Rowling discusses writing a novel without magic or Harry Potter.
---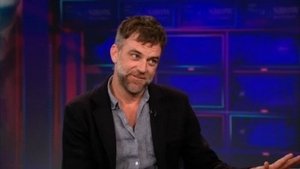 18x08 Paul Thomas Anderson (October 11, 2012)
---
Down-ticket congressional races intensify, John Oliver reports on a fast-growing sector of the US economy, and Paul Thomas Anderson talks writing and directing "The Master".
---
18x07 Magic Johnson (October 10, 2012)
---
President Obama slams Mitt Romney over Big Bird comments, Jason Jones explains the polling of polls, and Magic Johnson reveals the secret to his rivalry with Larry Bird.
---
18x06 Ben Affleck (October 09, 2012)
---
Mitt Romney presents his vague deficit reduction plan, Jessica Williams interviews black Mormons in Utah, and Ben Affleck rescues hostages in "Argo".
---
18x05 Pete Townshend (October 08, 2012)
---
Slightly lower unemployment numbers spark conservative conspiracy theories, Sesame Street comes under fire, and Pete Townshend discusses his memoir, "Who I Am".
---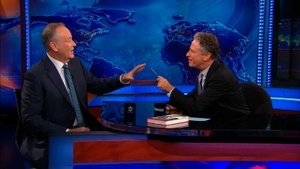 18x04 Bill O'Reilly (October 04, 2012)
---
Mitt Romney's lies win the first debate, Barack Obama breaks Chris Matthews, Al Gore ponders elevation sickness, and Bill O'Reilly discusses "Killing Kennedy".
---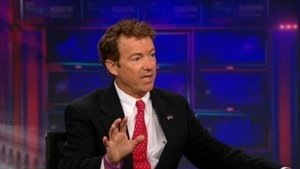 18x03 Rand Paul (October 03, 2012)
---
An explosive Obama video resurfaces, Stephen Colbert plays the part of Bill O'Reilly, and Rand Paul shares libertarian anecdotes from his book, "Government Bullies".
---
18x02 Liam Neeson (October 02, 2012)
---
A Pennsylvania judge rules against the state's voter ID law, John Oliver asks Herman Cain to save America from foreign debt, and Liam Neeson talks kicking ass in "Taken 2".
---
18x01 Arnold Schwarzenegger (October 01, 2012)
---
The Obama and Romney camps aim low at the debates, the White House responds to violence in Libya, and Arnold Schwarzenegger discusses time travel and his book, "Total Recall".
---