Maude
Season 2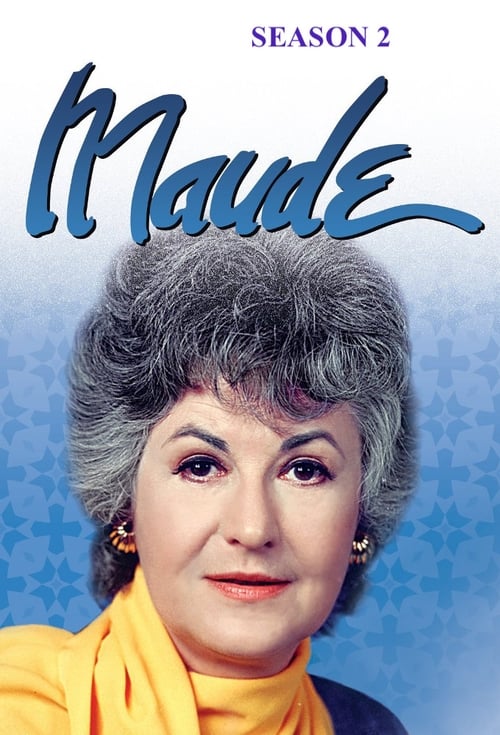 Maude
Season 2
First Air Date: September 11, 1973

| | | |
| --- | --- | --- |
| First Aired on | : | 1973 |
| Episodes | : | 24 episodes |
Episodes
2x24 The Runaway (March 05, 1974)
---
Francie Potter, the teenage house-guest from the ghetto returns again, this time asking for money to run away from home. In a plot with her boyfriend, Francie worms her way into Maude's wallet using a bogus story about her drunken father who abuses her and she now want to escape to become a rock and roll star.
---
2x23 Phillip's Problem (February 26, 1974)
---
Maude's grandson Phillip has been behaving horribly lately and Carol does not know what to do with him. Walter quickly suggests giving him a good old fashioned spanking, but Maude is vehemently against it. However, she begins to change her mind when Carol and Chris leave for a weekend getaway.
---
2x22 The Investment (February 19, 1974)
---
Arthur gives Walter a stock tip which causes Walter to lose $3,700. Walter, angry at Arthur, insists on being angry with Arthur for saying it was a sure thing. Later, when Walter finds out Arthur didn't invest in the stock himself, questions arise about his financial situation, which leads to a huge blowup between Walter, Maude, Vivian and Arthur.
---
2x21 The Tax Audit (February 12, 1974)
---
Walter is a nervous wreck as the Findlays get a tax audit but the tax auditor, Harvey Clarke, turns out to be a man who tried to rape Maude 31 years ago in Boston, Massachusetts. When she tells Walter he doesn't want to do anything about it, but Maude can't let it go and decides to refresh his memory.
---
2x20 Florida's Goodbye (February 05, 1974)
---
After Henry, Florida's husband, gets a job promotion, she must tell Maude she's leaving to become a full-time housewife. Maude is heartbroken and is reluctant to hire anyone new but as applicants for the new job come in, Maude finds something wrong with each one. Finally, at the end of the day, Maude must say goodbye to Florida.
---
2x19 The Commuter Station (January 29, 1974)
---
Maude suggests a romantic winter wedding for Arthur and Vivian, so they all head to Vermont. However, Arthur and Vivian's wedding plans run into trouble as the wedding party gets stranded at a train station during a blizzard. Once there, Maude confronts Arthur about the cold feet he has over marrying Vivian.
---
2x18 Maude's Revolt (January 22, 1974)
---
Walter throws Maude a surprise birthday party and she truly is surprised but unhappy about turning another year older. Tired of the men going off by themselves and the women going off by themselves, Maude makes Walter promise to not leave her side the entire evening. However, he soon breaks his promise and Maude goes into her bedroom and refuses to come out.
---
2x17 The Wallet (January 15, 1974)
---
Maude finds a wallet on the street that belongs to a man, known for his infidelities. After Walter declares a wallet is a place of privacy for all men, she snoops into his wallet. This triggers a series of mistaken identities when she confronts a woman, Norma, whom she thinks is carrying on an affair with Walter.
---
2x16 Maude's Guest (January 08, 1974)
---
Maude is all excited to have a young black girl from the ghetto stay with the Findlays for awhile. She soon discovers that that the girl is actually a feisty teenager who is not thrilled to be staying in a white, guilt ridden, liberals' home and quickly starts driving everyone up the wall.
---
2x15 The Love Birds (January 01, 1974)
---
Arthur and Vivian have been dating regularly and Vivian has had it with Arthur's constant mentioning of his late wife, Agnes. This leads to yet another argument between Maude and Walter over her late husband, Albert. However, by the end of the evening, Vivian makes an exciting announcement, Arthur and her are engaged.
---
2x14 The Office Party (December 18, 1973)
---
An office party on Christmas Eve at the Findlays home sets the stage for Walter's employees to break the news that they are planning to be unionized. When Walter learns this he decides to fire all of them, however, there is yet another issue at hand, Maude is on there side.
---
2x13 Music Hath Charms (December 11, 1973)
---
For their 5th wedding anniversary, Maude makes a big mistake in giving Walter an electric organ as a gift. He's driving everyone up the wall with his constant playing. Maude soon confronts him and they end up a huge argument, leading to Walter storming out and crashing his car into a tree.
---
2x12 Carol's Problem (a.k.a.) The Wedding Gift (December 04, 1973)
---
As their impending nuptials draw near, Maude decides to give Carol and Chris their wedding gift early. They are both certainly surprised to find out that Maude has put a down payment on a house for them but the even bigger surprise is that the house is located right across the street. Immediately this sparks family tension between mother and daughter and future husband and wife.
---
2x11 The Will (November 27, 1973)
---
A major argument erupts on the day that Maude and Walter are to accept a husband and wife of the year award. The reason: Maude discovers that Walter has appointed a trustee in his will and of all people, the trustee is Arthur; Maude promptly refuses to go to the banquet to accept the award.
---
2x10 Maude's Musical (November 13, 1973)
---
Maude is putting together a charity musical to raise money for a library. The musical is set to be in the style of burlesque, however, Arthur is having a problem with almost every sketch that is planned, accusing them of being distasteful and in some cases pornographic. Maude is quickly faced with an ultimatum, Arthur's way or no musical.
---
2x09 Vivian's Problem (November 06, 1973)
---
Maude's constant matchmaking for Vivian has her fed up, especially since all the men have one thing on their mind. This leads Vivian to give up on men and settle for a 70-year old retired general. However, when Maude learns this, she becomes determined to show Vivian that she can do better and fixes her up with Arthur.
---
2x08 The Double Standard (October 30, 1973)
---
Carol and her boyfriend, Chris return from a camping trip and Maude voices her old fashioned morals to Carol when he stays over and the question becomes where should he sleep, in Carol's room or in the guest room. Later, Carol and Chris make an exciting announcement, they're engaged.
---
2x07 Maude Takes a Job (October 23, 1973)
---
Maude is sky high now that she has a part-time job as a real estate agent. However, things on the home-front are not so happy as Walter, a self proclaimed old fashioned man, is not used to coming home and not having Maude to cook for him and tell his problems too. Thus, he orders her to quit her job.
---
2x06 Florida's Affair (October 16, 1973)
---
The lazy furnace repairman, Whitnauer, has been showing an interest in Florida and she doesn't quite know what to do about his advances. This situation ultimately causes marital problems between Florida and her husband, Henry, when he catches her dancing with the man. Meanwhile, Maude and Walter are finding it hard to get Whitnauer to hurry it up on the furnace.
---
2x05 Maude's Facelift (2) (October 09, 1973)
---
Carol does her best to try to keep Walter in the house as anticipation mounts for Maude's return from a 3-week stay in Boston. For which, following Vivian's lead, Maude too got a face-lift. There is only one problem: Walter doesn't notice the difference! As usual, all hell breaks loose and Walter and Maude have yet another argument.
---
2x04 Maude's Facelift (1) (October 02, 1973)
---
At age 47 and recently divorced, Vivian begins her single career (a.k.a. husband search) by getting a face-lift; her new face receives plenty of cheers from Carol and Walter, but only jeers from Maude. This leads Vivian to state the obvious, Maude is jealous and would like a face-lift herself. Maude finally decides to have one and intends to keep it a secret from Walter until she has it done.
---
2x03 Walter's Holiday (September 25, 1973)
---
Walter declares the day ""National I Love You Day"" and gives gifts to one and all and plans to spend a romantic day with Maude. However, when a weepy, newly-divorced Vivian comes over for consolation from Maude, Walter's romantic plans get pushed aside and he takes refuge at the gym with Arthur.
---
2x02 Walter's Problem (2) (a.k.a.) Life of the Party (2) (September 18, 1973)
---
After giving Maude a black eye, Walter continues to drink. Later, Arthur sends over a recovering alcoholic to talk some sense into Walter who adamantly refuses help. When Walter discovers Maude got rid of all the alcohol, he goes ballistic and she locks him in the closet. That's when Carol makes an announcement, she's taking Phillip and is moving out
---
2x01 Walter's Problem (1) (a.k.a.) Life of the Party (1) (September 11, 1973)
---
After a wild evening of drinking, Maude, Walter and Arthur awake to discover some oddities. First, Maude and Arthur shared a bed, second the guys trashed the living room and third, Walter made an obscene phone call to Maude's mother. Carol suggests that perhaps Walter has a drinking problem but he refuses to face that fact. Maude and Walter later get into a big argument while they are both drunk and Walter slaps her.
---