Jumanji
Season 1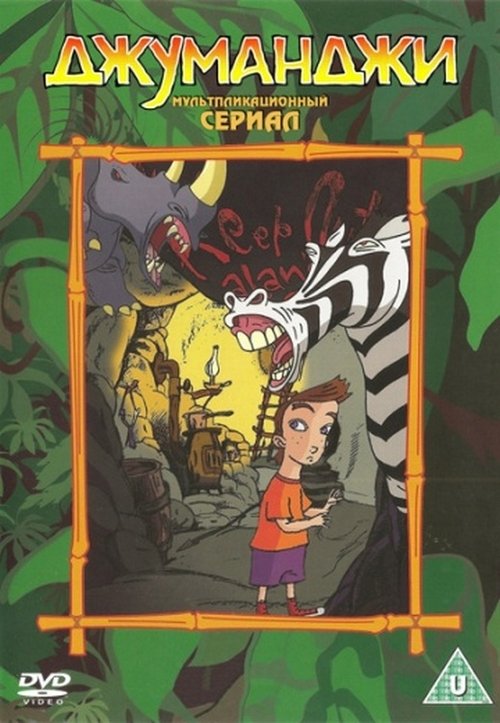 Jumanji
Season 1
First Air Date: September 08, 1996

| | | |
| --- | --- | --- |
| First Aired on | : | 1996 |
| Episodes | : | 13 episodes |
Episodes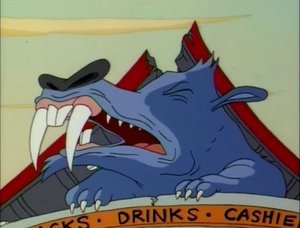 1x13 Truth Or Consequently (February 23, 1997)
---
When the kids and Alan finally escape from Jumanji, Peter brings a harmless-looking animal back with him which proceeds to grow bigger (and hungrier) every time he tells a lie and soon threatens all of Brantford.
---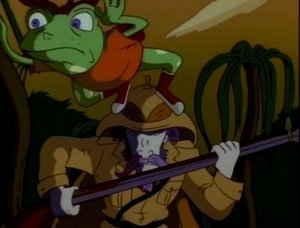 1x12 The Gift (February 16, 1997)
---
When Alan is poisoned by the bite of a Jumanji centipede, the kids must find an antidote while evading the combined onslaught of Van Pelt, Trader Slick, and Professor Ibsen. And Peter lies again and is transformed into a frog.
---
1x11 Perfect Match (February 09, 1997)
---
The queen of a Jumanji tribe of amazons is after Alan, but complications ensue when Aunt Nora is sucked into the game again and challenges the queen for his favors.
---
1x10 El Pollo Jumanji (February 02, 1997)
---
When Peter takes the game to school to impress a girl he likes, both she and the school bully are transported to Jumanji along with him, but the game makes it appear that the bully is daring and brave, whereas it transforms Peter into a wild boar.
---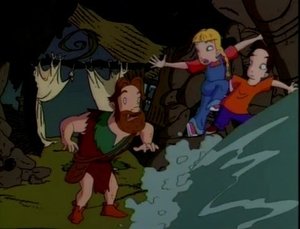 1x09 Stormy Weather (November 24, 1996)
---
Judy and Peter are trapped in a time loop which ends with Peter getting killed, and they keeping reliving it until they figure out how to save him.
---
1x08 The Law of Jumanji (November 17, 1996)
---
Alan manages to turn Van Pelt's own tactics against him and defeat the hunter, but Jumanji simply replaces him by transforming Peter into a miniature replica of Van Pelt.
---
1x07 Love on the Rocks (November 03, 1996)
---
After Judy is ignored by a cute guy at school, who only pays attention to her when he wants her to do his homework, Jumanji conjures up a dashing adventurer who resembles him, to sweep her off her feet, but he transforms Peter into a stone statue.
---
1x06 No Dice (October 27, 1996)
---
When Alan steals the dice so that the kids will no longer be put in danger by visiting Jumanji, Peter figures out another way to get into the game and they discover the mechanical underworks of Jumanji where they are chased by The Stalker, and Jumanji transforms Peter into a toucan.
---
1x05 Master Builder (October 13, 1996)
---
When Peter brings a computer with him into the game to help figure out how to rescue Alan, it falls into the hands of a mad inventor who uses it to gain control over the inner workings of Jumanji.
---
1x04 Ransom or Redhead (September 29, 1996)
---
When Aunt Nora is sucked into the game, the kids and Alan must rescue her from the clutches of Van Pelt.
---
1x03 Masked Identity (September 22, 1996)
---
After an encounter with the school bully and his gang, Peter decides to stay in Jumanji and is slowly transformed into a Manji mask-warrior, while Alan discovers the key to the secret back door of Jumanji.
---
1x02 Bargaining For Time (September 15, 1996)
---
When Judy trades Slick her broken wristwatch for an item that will allow Alan to escape from the game, the three of them get back home to Brantford only to discover that time has stopped, the annoying chimps from Jumanji have come back with them, and Peter is slowly being transformed into a turtle as punishment for Judy's attempt to cheat Slick.
---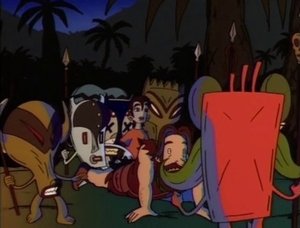 1x01 The Price (September 08, 1996)
---
Judy and Peter discover the game and are transported to Jumanji for the first time, where Peter is transformed into a monkey for trying to cheat the game.
---