The Flying Nun
Season 1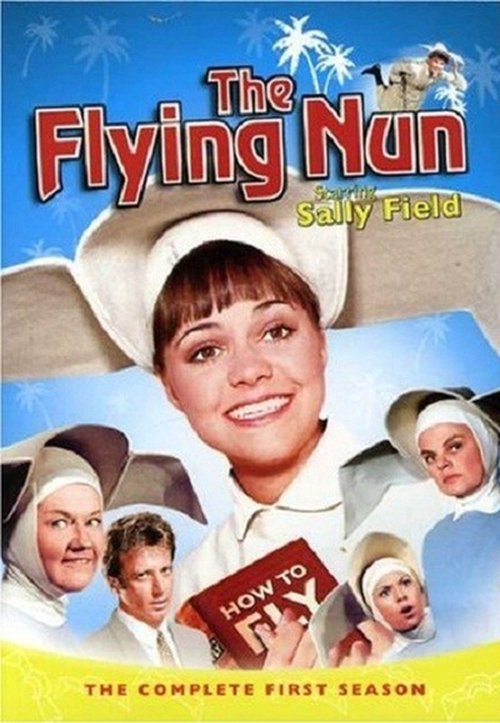 The Flying Nun
Season 1
First Air Date: September 07, 1967

| | | |
| --- | --- | --- |
| First Aired on | : | 1967 |
| Episodes | : | 30 episodes |
Episodes
1x30 You Can't Get There from Here (April 11, 1968)
---
Sister Bertrille, Carlos, and one of Carlos's girls are stranded on a desert island.
---
1x29 Love Me, Love My Dog (April 04, 1968)
---
One of the convent children takes an interest in Scraples, a kleptomanic dog.
---
1x28 May the Wind Be Always at Your Back (March 28, 1968)
---
---
1x27 The Puce Albert (March 21, 1968)
---
---
1x26 Where There's a Will (March 14, 1968)
---
---
1x25 Reconversion of Sister Shapiro (February 29, 1968)
---
When a lonesome Jewish girl comes to stay at Convent San Tanco while her parents are away on vacation, Sister Bertrille takes on chief babysitting duties--and perhaps goes too far in the Big Sister department before little Linda Shapiro announces she wants to become a nun too.
---
1x24 Cyrano de Bertrille (February 22, 1968)
---
---
1x23 The Sister and the Old Salt (February 08, 1968)
---
Sister Bertrille helps a sailor who plans on going from San Juan to Miami in a tiny ship.
---
1x22 Sister Lucky (February 01, 1968)
---
A gambler thinks Sister Bertrille is good luck.
---
1x21 My Sister, the Sister (January 25, 1968)
---
Carlos falls for Sister Bertrille's sister.
---
1x20 The Hot Spell (January 18, 1968)
---
---
1x19 A Fish Story (January 11, 1968)
---
Sister Sixto's uncle uses Sister Bertrille to help him catch fish.
---
1x18 Tonio's Mother (January 04, 1968)
---
A little boy believes Sister Bertrille is his mother.
---
1x17 With a Friend Like Him (December 28, 1967)
---
A clumsy brother comes to the convent to help with the library.
---
1x16 Wailing in a Winter Wonderland (December 21, 1967)
---
After pulling the name of an elderly nun from the Christmas grab bag, Sister Bertrille tries to make it snow. Even though her intentions are good, all goes wrong.
---
1x15 The Dig In (December 14, 1967)
---
When looking for rocks, Sister Bertrille gets stuck in a mine with an ex-con.
---
1x14 If You Want to Fly, Keep Your Cornette Dry (December 07, 1967)
---
---
1x13 The Patron of Santa Thomasina (November 30, 1967)
---
Sisters Bertrille and Jaqueline try to stop a civil war between the village of Santa Thomasina.
---
1x12 A Young Man with a Cornette (November 23, 1967)
---
When she and Sister Jaqueline volunteer at a hospital, Sister Bertrille befriends a boy with a knack for telling lies. The boy sees Bertrille flying, but no one else believes him!
---
1x11 It's an Ill Wind (November 16, 1967)
---
When Mother Superior goes on a business trip in Saint Thomas, Sister Bertrille uses her powers to give Plaseato something very important that she forgot. When the wind dies down, she lands on a small island where some gamblers are staying.
---
1x10 With Love from Irving (November 09, 1967)
---
After helping a pelican on the beach, Sister Bertrille has to cope with a lovesick bird.
---
1x09 Days of Nuns and Roses (November 02, 1967)
---
To raise money for the convent, Sister Bertrille and the others try to market sea grape juice under the title ""Nector of San Tanco."" But, however, they get more than they bargain for.
---
1x08 Ah Love, Could You and I Conspire (October 26, 1967)
---
A hit man's girl poses as Mother Superior's secretary, but makes friends with the Sisters.
---
1x07 Polly Wants a Cracked Head (October 19, 1967)
---
Sister Bertrille and Sister Jaqueline try to hide a bird in the convent.
---
1x06 Flight of a Dodo Bird (October 12, 1967)
---
A psychiatrist pays a visit to San Tanco.
---
1x05 The Fatal Hibiscus (October 05, 1967)
---
Rumors of Sister Bertrille's imminent demise lead to a conspiracy to brighten her last days.
---
1x04 A Bell for San Tanco (September 28, 1967)
---
Sister Bertrille and Carlos try to salvage the convent's bell from the ocean.
---
1x03 Old Cars for New (September 21, 1967)
---
Sister Bertrille goes to a greedy car salesman to get a new station wagon for San Tanco.
---
1x02 The Convert (September 14, 1967)
---
Sister Bertrille tries to explain her flying ability to Carlos.
---
1x01 The Flying Nun (September 07, 1967)
---
---