The Game
season 3
The Game
season 3
First Air Date: October 03, 2008

| | | |
| --- | --- | --- |
| First Aired on | : | 2008 |
| Episodes | : | 22 episodes |
Episodes
3x22 The Wedding Episode (May 15, 2009)
---
---
3x21 I Want It All and I Want It Now (May 15, 2009)
---
---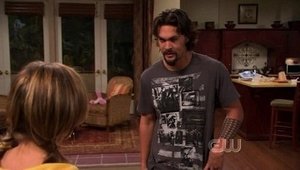 3x20 The Fall of the Roman (May 08, 2009)
---
Jason wants his daughter to meet his new girlfriend, but Kelly believes it's a bad idea. Meanwhile, Melanie has found the perfect wedding dress, but is afraid to buy it.
---
3x19 Put a Ring on It (May 01, 2009)
---
---
3x18 The Third Legacy (April 24, 2009)
---
Malik is introduced to his step-sister and worries that he may have slept with her unaware they were related. Tasha meets her former husband's new wife and is surprised to see that she is similar to herself.
---
3x17 Hill Street Blues (April 03, 2009)
---
---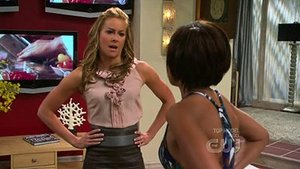 3x16 Truth and Consequences (March 27, 2009)
---
Tasha is betrayed by Kelly at work, but gets her revenge by introducing Jason to a pretty TV personality.
---
3x15 Take a Bow (March 20, 2009)
---
---
3x14 Punk Ass Chauncey (March 13, 2009)
---
---
3x13 Do the Wright Thing (January 30, 2009)
---
---
3x12 Stay Fierce, Malik (January 23, 2009)
---
Everyone believes that Malik is gay after Robin Given's implies this while on national TV as the reason for their breakup. While Malik is teased by his teammates, its revealed that another player on the team is gay, but can't face being outed. Meanwhile, Derwin accuses Melanie of dating a doctor while at work.
---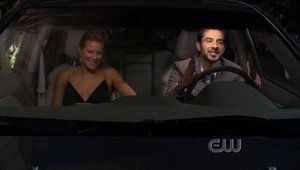 3x11 Insert Car Here (January 16, 2009)
---
Seeing Kelly with a date causes Jason to feel jealous. Tasha faces the insecurities between her relationship with Rick Fox. Melanie would like to find a connection with Derwin which isn't physical.
---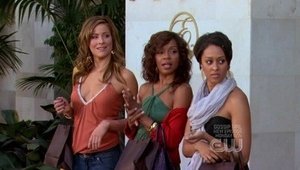 3x10 The Negotiation Episode (January 09, 2009)
---
Derwin advises Jason to stop at nothing to win Kelly back and put an end to all the divorce talk, but Jason's grand gesture may be too little too late for Kelly. When Robin (Robin Givens playing herself) tells Malik to stop fooling around with other women in order to keep up the charade of their fake marriage, Malik decides it's time to play by his rules.
---
3x09 Oh, What a Night (November 28, 2008)
---
Believing her future with Rick Fox is over, Tasha begins dating other men. Melanie is trying to deal with dating two guys at once. Jason hopes to mend the relationship between himself and his daughter, who she blames for the separation of herself and her mom.
---
3x08 The Side Part, Under Episode (November 21, 2008)
---
Melanie meets her very own Dr. McHottie (Guest star Jason Olive) at the hospital where she is a first year resident.
---
3x07 White Coats and White Lies (November 14, 2008)
---
Melanie reluctantly turns to her parents for financial help when she learns that her grant money to cover for her tuition has been revoked and she has been placed on academic probation, Meanwhile, Derwin learns bad news from Irv (Guest star: PJ Byrne) about his contract negotiations. Malik and Tasha are freaked out to learn that Robin Givens (Guest star as Herself) and Rick Fox (Guest star as Himself) shared a past together. Kelly goes on her first date since her split with Jason.
---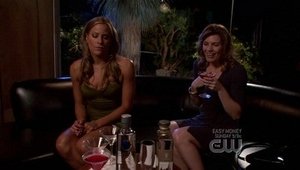 3x06 The Platski Thickens (November 07, 2008)
---
Kelly catches Jason with another woman after they each agree to move on from one another. Wendy Raquel Robinson, Tia Mowry and Pooch Hall also star.
---
3x05 A Delectable Basket of Treats (October 31, 2008)
---
Tasha boycotts Malik's marriage to Robin Givens, fearing that their marriage is a scam. At the reception, everyone assumes Melanie is the girl who is expecting Derwin's child and Rick Fox decides to introduce Tasha to his mom, (Guest star Penny Marshall). Additional guest stars include New Orleans Hornets' Chris Paul and actors Tisha Campbell-Martin ("My Wife and Kids") and Duane Martin ("All of Us") who all play themselves in the episode. Brittany Daniel and Coby Bell also star.
---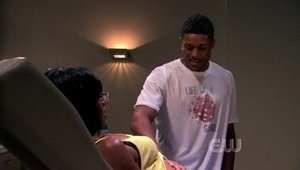 3x04 Just the Three of Us (October 24, 2008)
---
Melanie feels jealous after Derwin goes with Janay to her first pregnancy appointment. Meanwhile, Kelly decides that it's time for her and Jason to talk to Brittany about their separation. Jason, however, refuses to do so, leaving Kelly confused about what to do next regarding the issue.
---
3x03 Just When I Thought I Was Out... She Pulls Me Back In (October 17, 2008)
---
While Rick is ready to make their relationship public, Tasha refuses to do so and goes out of her way to keep it a secret from their co-workers. Meanwhile, Malik begins to realize that his marriage may not work out since Robin seems to be in it just for publicity. Finally, Melanie and Derwin's sex life begins to become practically non-existent because Derwin is too worried about becoming a father.
---
3x02 Mel-odrama (October 10, 2008)
---
Melanie has a confrontation with Janay when she thinks that Janay may be lying about her pregnancy with Derwin's baby. Meanwhile, Kelly invites Melanie and Tasha for a girls night out, and Malik is finally forced to confront Tasha and deliver his big news to her.
---
3x01 Baby on Board (October 03, 2008)
---
Melanie finally confesses to Derwin that she is in love with him, but soon after Derwin tells her about Janay's pregancy. Meanwhile, Malik has to face Tasha once she finds out about his engagement to guest star Robin Givens. Kelly enlist the help of her parents (Guest stars Lee Garlington as Bren and Don McManus as Nick), to help her keep Jason out of her life.
---