Picket Fences
Season 3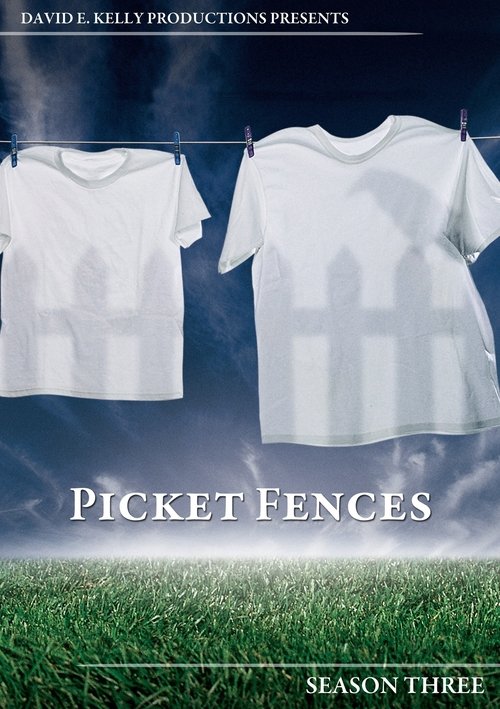 Picket Fences
Season 3
First Air Date: September 23, 1994

| | | |
| --- | --- | --- |
| First Aired on | : | 1994 |
| Episodes | : | 22 episodes |
Episodes
3x22 The Song of Rome (May 12, 1995)
---
After Father Gary Barrett is shot and killed during a robbery at the church, Mayor Bey proposes holding a spring musical pageant to help pull the community out of its somber mood
---
3x21 Upbringings (May 05, 1995)
---
Jimmy's father, Walter Brock (played by James Coburn), pays an unexpected visit and asks Jimmy to take over his law firm. This offer provokes long-standing father-son animosities, with Jimmy finally admitting that he dropped out of law school because he believed he would never measure up to his father's expectations of him.
---
3x20 Saint Zach (April 28, 1995)
---
When Zach develops stigmata-like sores on his hands, his friends believe he has healing powers, and a classmate asks him to cure his brother of leukemia.
---
3x19 Final Judgement (April 07, 1995)
---
When Jill is found guilty of physician-assisted suicide, Wambaugh insists that Judge Bone put the issue of euthanasia on trial. Meanwhile, Kenny and Carter discover that Zack has been killing swans in a nearby pond.
---
3x18 Without Mercy (March 31, 1995)
---
Jimmy consults Jill when a terminal cancer patient dies of a morphine overdose.
---
3x17 Changing of the Guard (March 10, 1995)
---
Jimmy goes outside of his department to get the help he needs to find Ed Lawson, who is wanted for murder. Meanwhile, the town launches its own search to find a new mayor, and Kenny and Max are caught kissing on the job.
---
3x16 Heroes and Villains (March 03, 1995)
---
The hearing impaired Dancing Bandit is arrested when she visits Zach on his birthday. Federal authorities want her trial to be set in Rome, where the jury reaches a surprising verdict.
---
3x15 When in Rome (February 24, 1995)
---
When a child molester moves to Rome after spending 16 years in prison it causes big problems for the local residents, especially with Jill and Jimmy, who are struggling to reconcile parental concerns with their professional duties.
---
3x14 Close Encounters (February 03, 1995)
---
Carter pronounces a woman dead after she collapses while singing, but she later "wakes up" in the morgue and sees Carter as her soulmate. Meanwhile, Kenny and Max take their relationship to the next level.
---
3x13 Mr. Seed Goes to Town (January 20, 1995)
---
Jimmy Brock's ex-wife, Lydia, visits unexpectedly and brings with her an unusual request — she wants to have another baby, and she wants Jimmy to father it.
---
3x12 Frog Man Returns (January 13, 1995)
---
The Frog Man's son tires of his father and goes to court for emancipation. Meanwhile, Zach is injured in a terrible accident and Jill overreacts, striking Matthew for accidentally hurting Zach.
---
3x11 Freezer Burn (January 06, 1995)
---
A masseur known for giving erotic massages to many female residents of the town is found dead in his freezer. Jimmy Brock is upset when he learns that his wife, Jill, was one of the masseur's clients.
---
3x10 Away in the Manger (December 16, 1994)
---
Carter Pike suspects that bizarre genetic experiments are being carried out on cows at a remote farm. This episode was originally planned as a crossover with The X-Files.
---
3x09 For Whom the Wind Blows (December 02, 1994)
---
While Brian Latham continues to proclaim his innocence, Kenny and Max review the evidence of the case and begin to believe he is telling the truth. Jimmy turns 55 and suffers a midlife crisis.
---
3x08 May It Please the Court (November 18, 1994)
---
Wambaugh realizes the dream of a lifetime when he presents oral arguments before the Supreme Court.
---
3x07 Rebels with Causes (November 11, 1994)
---
Wambaugh accompanies Jill Brock to Chicago where he receives a diagnosis of multiple sclerosis at Chicago Hope Hospital in this series crossover episode. Jill clashes with Dr. Jeffrey Geiger (Mandy Patinkin) who, she feels, looks down on her as a small-town doctor.
---
3x06 Elective Conduct (November 04, 1994)
---
Jill's mayoral campaign is damaged when Zach writes a school report filled with racist content, which he copied from an out-of-date book. Kimberly befriends Aisha when her classmate is bullied over good grades.
---
3x05 Cold Spell (October 28, 1994)
---
After a young girl spray paints a pentacle on a wall at school, Sheriff Brock removes her from the custody of her mother, a practicing Wiccan, and a court custody battle ensues. Max and Kenny discover Ginny frozen to death in her own freezer. Her brother (played by Paul Williams) holds a memorial service at which he sings "The Rainbow Connection" (a song written by Williams for The Muppet Movie).
---
3x04 Enemy Lines (2) (October 14, 1994)
---
Jill and Judge Nance air their feelings in a heated face-to-face exchange after she is arrested when she reveals that she performed surgery on the Christian Science man. Meanwhile, Kimberly has a run-in with one of Green Bay's transfer students, named Aisha, who initially responds with hostility. Also, Littleton asks Maxine out on a date.
---
3x03 The Bus Stops Here (1) (October 07, 1994)
---
A Wisconsin Federal judge orders that 400 black students from the Green Bay ghetto be bused to Rome's schools, prompting panic among Sheriff Brock and the parents, knowing that a good number of them are lowlifes and drug dealers that come from that neighborhood. Meanwhile, Wambaugh gets a surprising response to his appeal of the Brian Latham murder conviction to go the U.S. Supreme Court in Washington DC. Also, Maxine makes a mess of her relationship with Littleton.
---
3x02 Systematic Abuse (September 30, 1994)
---
District Attorney Littleton and defense lawyer Douglas Wambaugh prepare for the upcoming murder trial of Brian Latham. Littleton is concerned that his case will be hampered by the absence of hard evidence.
---
3x01 Survival of the Fittest (September 23, 1994)
---
A local girl disappears and Sherriff Brock suspects her boyfriend, Brian Latham, is involved. Meanwhile, Jill opposes a grade school teacher who is teaching creationism.
---