The Swamp Fox
Season 1
The Swamp Fox
Season 1
First Air Date: October 22, 1959

| | | |
| --- | --- | --- |
| First Aired on | : | 1959 |
| Episodes | : | 6 episodes |
Under the command of Colonel Tarleton of the Green Dragoon cavalry, Francis Marion strives to free South Carolina from the British.
Episodes
1x06 A Case of Treason (January 22, 1960)
---
When Colonel Tarleton sees Mary Videaux kissing General Marion, he begins to suspect that Mary is not the Tory she claims to be. He sets a trap for her and catches her trying to pass information to the Swamp Fox. Tarleton then arrests her and has her taken to Charleston to be held. The Swamp Fox plots to help her escape, eventually ending up at a masquerade ball that Mary has been invited to attend. Tarleton then has everyone ""unmasked"", and both Mary and Fran are taken back to the prison tower. A small group of Freedom Fighters that Marion had smuggled into the fort with him then storm the tower, and the Swamp Fox and his fiancee are freed--he to return to the fight, and she to board a ship bound for New Orleans to pass the remainder of the war.
---
1x05 Redcoat Strategy (January 15, 1960)
---
Following the Swamp Fox's capture of Colonel Townes, General Cornwallis goes to the Videaux Plantation to recruit a new Tory leader--Mary's father. Videaux doesn't offer an answer immediately, and Mary pleads with Fran not to wage war against her father. Colonel Tarleton devises a plan to trap Marion--by having British troopers impersonate Patriots who wish to join his band of Freedom Fighters. But Francis sniffs out the plot, and leads the British through the swamp. In the ensuing battle, his followers defeat Tarleton soundly, forcing him to return to the Videaux Plantation. Marion elects to let him feel comfortable there, and the episode ends.
---
1x04 Day of Reckoning (January 08, 1960)
---
This episode picks up with Marion and his Freedom Fighters in a relentless pursuit of Amos Briggs, the man responsible for killing the servant boy Toby and Young Gabe Marion, the Swamp Fox's nephew. Finally, Fran is convinced to ease the chase because his men are tired, as well as ill with swamp fever. The Tories have devised a plot to control the salt and medicine in the colonies in an effort to break Rebel resistance. The Swamp Fox enlists the aid of Mary Videaux, his fiancee, to procure the much needed medicine for him. Mary is still believed by many to be a Loyalist, and she convinces Colonel Tarleton to let her have the quinine and salt. While meeting her at Monck's Corner, Francis finds Amos Briggs in a tavern and captures him with the aid of Old Joseph, Toby's father. With Briggs held captive, Marion returns to camp with Mary--she insists on nursing his sick men back to health--and orders the Tory locked in a crude holding cell. A young rider comes to camp to join Marion's b
---
1x03 Tory Vengeance (January 01, 1960)
---
This story begins with Marion taking Toby, a servant boy, home after finding him dead. They stop at a schoolhouse to learn of Mary Videaux's whereabouts. He learns that Mary is taking tea at the home of Colonel Townes, a Tory leader. The Freedom Fighters storm the home to avoid a connection being made between Mary Videaux and Francis Marion. In secret, the Swamp Fox tells his fiancee of Toby's death, and tries to determine if Tarleton now knows of her scheme of espionage. Reaching no definite decision, Fran tells her to meet him at his brother's place later. Colonel Tarleton, arriving at the Townes plantation, insists he be allowed to take Mary home. On the trip, he accuses her of sending a message to Marion, but she stands her ground. Tarleton obviously lacks proof, but before the matter is resolved, Marion arrives, disarms Tarleton, and orders ""the lady"" to continue on her way. A band of Tories arrives, and Marion is forced to run, releasing Tarleton. After Mary arrives at Gab
---
1x02 Brother Against Brother (October 30, 1959)
---
The episode opens with the Swamp Fox and his men breaking up a Tory raid on a local farm. The Tory leader is a man named Amos Briggs--played in this episode by Denver Pyle--and the man having his barn burned is Ceton Briggs; the two adversaries are brothers. In the aftermath of the assault, Francis learns that his brother's place has also been torched. When he arrives at the home of Gabriel, his brother, it is obvious that the rumor was true. Gabriel rides off in disgust and anger. Fran's nephew, Young Gabe, later returns to report that the Swamp Fox's brother has joined with other patriots and are on their way to burn the Videaux home, residence of known Tory sympathizers and Colonel Marion's fiancee. The Colonel leaves to head off the attack. When the band proves reluctant to listen to reason, Francis vows that he will go get Mary Videaux--his fiancee--and bring her back so that she can speak to the mob herself. Arriving at the Videaux plantation, he is surprised to see a party
---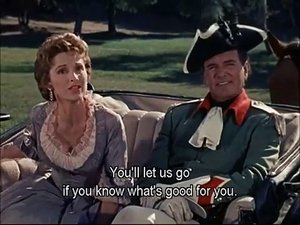 1x01 The Birth of the Swamp Fox (October 23, 1959)
---
While General Lincoln, leader of Patriot forces in South Carolina, has permitted his officers to attend a Tory-organized party, the British prepare an attack on the unsuspecting garrison in Charleston. Colonel Francis Marion, becoming aware of the eminent attack, rides into the garrison and awakens Lincoln. The General instructs Marion to go to the party and summon the officers back to the fort. However, the officers are too drunk and otherwise incapacitated to return to duty. Colonel Marion returns to the fort and is assigned the task of taking Governor Rutledge, along with Lincoln's wife and the Governor's spouse, to safety while Lincoln remains behind in an attempt to defend the garrison. With Rutledge in safety, Francis is forced into hiding in the swamps around Snow Island. After his brother is taken prisoner by the British, he devises and leads a scheme to free all of the captives. Colonel Tarleton, the leader of the British Dragoons, dubs him the ""Swamp Fox"", and the legend
---