Wildboyz
Season 2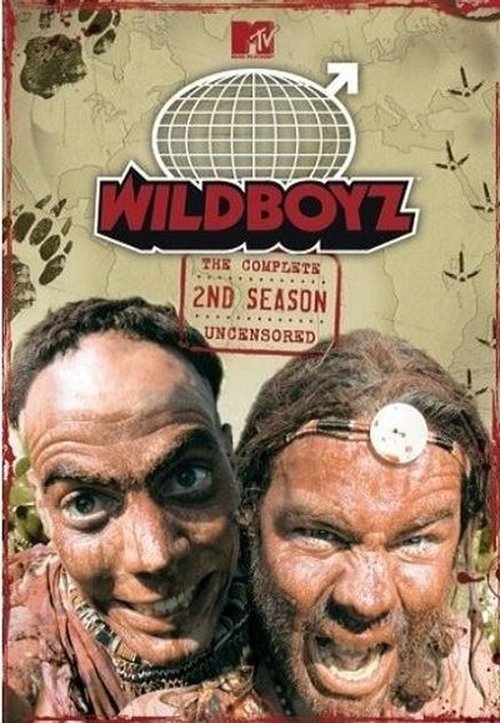 Wildboyz
Season 2
First Air Date: April 25, 2004

| | | |
| --- | --- | --- |
| First Aired on | : | 2004 |
| Episodes | : | 8 episodes |
Episodes
2x08 Indonesia (June 13, 2004)
---
Indonesia ... the largest archipelago in the world, this tropical paradise is comprised of more than 17,000 islands, that are inhabited by over 300 ethnic groupsHollywood movie star Johnny Knoxville accompanies the boys in Indonesia, where they all beat each other with whips and sticks in some kind of ceremony that inevitably derails into nonsense. Knoxville later dons medieval armor to confront dragons on the island of Komodo, while Steve-O puts his King of Pain status to the test once again when a coconut crab gets a hold of his ass and refuses to let go.
---
2x07 East Africa (June 06, 2004)
---
East Africa ... From its volcanic mountain peaks to lowland grassy plains, this diverse equitorial region is considered by some to be birthplace on mankind.Trekking high up into the mountainous jungles of Rwanda, Chris and Steve-O do what no other naturalist has done before: observe a family of mountain gorillas while dressed in giant banana costumes. Back in Kenya, guest star Wee Man is introduced to the big bugs of East Africa courtesy of a Wee Ranger, and Chris gets a heavy metal snakebite tattoo from a rock python.
---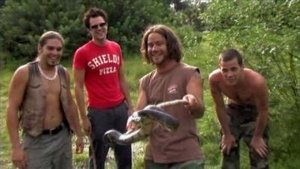 2x06 Florida II (May 30, 2004)
---
Florida ... From its murky swamps to clear coastal waters, a distinctive variety of plant and animal life flourish in this state's sub-tropical environment.Hanging out in the sub-tropical retirement paradise known as Florida, the boys engage in some recreational water skiing through the swamps of the Everglades. Out at sea, Chris and guest star Manny Puig research a grumpy fish known as the goliath grouper, while Steve-O swims through a minefield of jellyfish with little to no success. Guest star Johnny Knoxville also coerces Steve-O into getting a hot dog whipped from his butt.
---
2x05 Australia II (May 23, 2004)
---
Australia ... Often referred to as the 'Land Down Under', this continent is home to an abundance of animal species not found anywhere else in the world.The Wildboyz come out on top while down under in Australia after they survive an hour in a pen with the wombat, determine the sex of a freshwater crocodile by sticking their fingers into a slot on the underbelly to see what genitalia lurks whitin, and treat an uptight water python to a puppet show with a stuffed koala bear toy.
---
2x04 Costa Rica (May 16, 2004)
---
Costa Rica ... With rain forests harboring over 500,000 plant and animal species, this lush Central American Country boasts some of the greatest bio-diversity in the world.Chris and Steve-O jump into the jungles of Costa Rica where they encounter a small Central American Indian tribe known as the Maleko, who proceed to beat them with poisonous plants. The boys also praise the Jesus lizard for its ability to walk on water, cook a steak in a volcanic mud pit, and groove to the deadly movements of one of the most dangerous snakes in the world, the fer-de-lance.
---
2x03 Kenya (May 09, 2004)
---
Kenya ... One of the foremost safari destinations, this African country is home to a number of native cultures and the largest land animals in the world.Venturing into Kenya with Wee Man, the Wildboyz hook up with the Samburu tribe and engage in cultural activities such as stinging each other with bees, letting ants bite their nipples, and drinking cow's blood. Other adventures on the Savannah include massaging the hindquarters of a black rhino, and coaching two dung beetles in a soccer match with a regulation poo ball.
---
2x02 Brazil (May 02, 2004)
---
Brazil ... Home to the largest rainforest in the world, the Amazon river basin contains a staggering amount of plant and animal life found nowhere else on Earth.The Wildboyz go buck-wild in the rainforests of Brazil as they search out the Mee-Mee Indians to undergo a rite of passage known as the Glove of Ants - a really painful way to go from boys to men in 15 seconds. Further scientific research into the bizarre animals of the Amazon River Basin leads the boys to discover exactly how the electric eel earned its name, and how safely interact with a giant anaconda using a condom.
---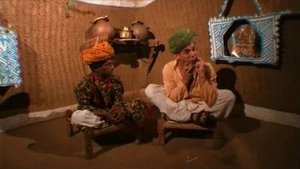 2x01 India (April 25, 2004)
---
India ... One of the most ancient civilisations in the world, this densely populated country is home to over one billion people, and renowned for its extraordinarily rich culture.The Wildboyz visit India, the greatest show on earth not contained under a big top. Here in a land where culture is king the boys participate in unique activities geared toward spiritual enlightenment, such as extreme facial piercing, walking on hot coals, getting peed on by an elephant, and corning face-to-flute with the king cobra in a remote village of old school snake charmers.
---