Degrassi
Season 8
Degrassi
Season 8
First Air Date: October 04, 2008

| | | |
| --- | --- | --- |
| First Aired on | : | 2008 |
| Episodes | : | 18 episodes |
Episodes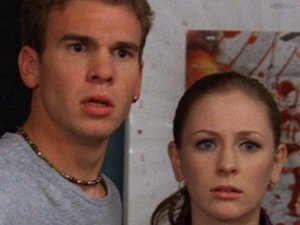 8x18 Danger Zone (April 12, 2009)
---
Blue asks Holly J. to the winter dance using a romantic presentation during class, but she has a crush on her co-worker, Spinner, and she says she has to work. The truth, however, is that it was her night off, and she only wants to spend time with Spinner at the Dot Grill. When Holly J. and Spinner are alone in the Dot after work, a former Lakehurst student comes into the Dot with a gun. When Blue comes to the door, Holly J. is forced to answer and she spells out "gun" in the fog on the window. Spinner eventually gets shot by accident after the student didn't intend to come in there and hurt anybody. In panic, Holly J. reveals her feelings for Spinner. She then convinces the shooter to come out of the Dot with her, and Spinner gets rushed to the hospital with Jane by his side. Spinner says to Holly J. that if it would not have been for her, he would be dead; he had heard everything she said, but reminds her of his relationship with Jane. Holly J. leaves and shows up at the dance, where the entire room applauds her bravery. She dances with Blue and finally informs him of her financial difficulties, which is why she didn't go to the concert with him. He calls her "Holly" and they continue to dance, Holly J. smiling in his arms.
---
8x17 Up Where We Belong (April 05, 2009)
---
Stress is at an all time high at Degrassi with exams approaching and course selections due for next term but Mia's failing English and will have to re-do it unless she can ace her final assignment - a public speech on where she sees herself in five years. One problem - the speech is due tomorrow and Mia has a photo shoot tonight. Struggling with a foot in two worlds, Mia bombs her speech. Unwilling to give up the benefits of modeling money, Mia chooses to drop out of school to model full time, but after talking with her mom she decides to go back to Degrassi, realizing that her education will ultimately get her through life, whereas modeling is only a temporary career.
---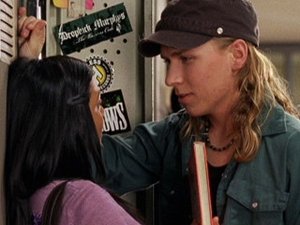 8x16 Heart of Glass (March 22, 2009)
---
Alli will do anything to keep Johnny from looking elsewhere. After hearing about his "history" she decides to have sex with him, losing her virginity, thinking that it will make their relationship stick. Afterwords she feels uncomfortable around him and decides to break up with him. Johnny later then tells her that he was also a virgin and that his "history" were all rumors. The two get back together with their relationship stronger than ever. Also Peter has been in touch with Darcy which leaves Mia concerned with their relationship. She confronts Peter about the letters from Darcy and asks him if he still has feelings for her. Frustrated that he doesn't have an answer she leaves him. The next day Peter tells Mia that he still loves Darcy but he's in love with Mia. Mia in turn breaks up with Peter telling him that the fact that he couldn't say who he wanted to be with when she first asked him was enough to break up with him.
---
8x15 Touch of Grey (March 15, 2009)
---
Emma starts doing pot to get rid of her "plain girl" image. After ingesting marijuana brownies and forgetting to take her insulin, Becca goes into a diabetic coma and has to be taken to the hospital. While in class, Emma learns that the campus cops are doing room searches. She calls Kelly to get rid of the marijuana brownies. When Kelly is leaving the room, he runs into campus cops and they find the marijuana brownies. He gets kicked out residence but is still allowed to go to school. K.C. is found to be living in a group home because of his previous life in juvie.
---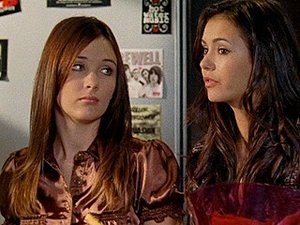 8x14 Jane Says (2) (March 08, 2009)
---
Jane admits to herself that her issues with her dad go deeper than the divorce – she thinks maybe he did things to her. Jane is very confused and feels alone. Lucas gives Jane a hard time for creating tension between mom and dad. But when Lucas finally sees the truth they stand up to their father. Meanwhile, Alli persuades Clare to get a new wardrobe to impress boys. Only problem, Clare is getting more attention from boys. Can Alli handle not being the only hot gifted niner? When K.C. tries to make her feel better, Alli kisses him which she regrets.
---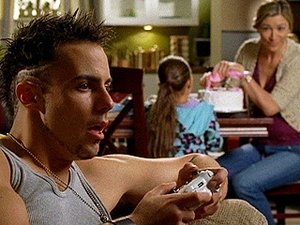 8x13 Jane Says (1) (March 01, 2009)
---
The Shep has returned after his sensitivity training and it's Spirit Week at Degrassi. However, spirits are anything but high at home for Jane as she struggles to get her dropout brother Lucas off the couch. Despite Jane's efforts, Jane's mom believes Lucas could benefit from some father/son time. Jane doesn't want her father in her life. Her friends and family don't understand why she hates him. Truthfully, neither does Jane. Danny's new girlfriend Leia has a problem – she doesn't fit in with Danny's friends and lies compulsively to avoid them. Her chance to impress Danny's posse arises at a co-ed sleepover at Peter's pad. After she lies and says she knows Fall Out Boy, her lying gets her too far when she takes the group to the Fall Out Boy concert. When they won't let them in, the group says they won't believe Leia anymore. The next day, Leia apologizes to Danny and he forgives her but Peter, Mia, Sav, and Anya still can't trust anything Leia says.
---
8x12 Heat of the Moment (February 15, 2009)
---
After Holly J. humiliated Alli by asking Johnny in front of his friends if the two were in item he told Holly J. it was a lie. Alli is then pushed to the edge by Holly J., Alli creates an "I hate Holly J." group and begins posting nasty things about her on her "Facerange". When nasty turns to hateful and then to threatening, Alli is suspended from school and questioned by the police. Holly J. refuses to go back to Degrassi, and Alli is forced to apologize. After Anya talks to Holly J, Holly J. decides to go back to Degrassi. After remembering how neglected he was as a kid, Peter tells his dad he's a terrible father.
---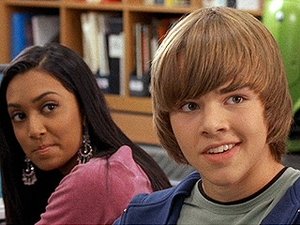 8x11 Causing a Commotion (February 08, 2009)
---
The Shep wins Principle of the Year award. Clare gets mad after the Shep continually mistreats Connor. After she and their friends stick up for him, they all get detention. After Alli gets annoyed with Connor for tapping his pencil, Connor spits in her face. Alli breaks his pencil and Connor pushes Alli to the floor, causing expulsion. When Clare finds out Connor has Asperger syndrome, she realizes that Shep still will not treat him any differently. She confronts him, saying he only likes jocks, and Shep calls Connor a freak, and Clare a little bitch. When the award ceremony comes on, they show the video of Clare and Shep's argument, and the school goes against him. This also angers the board of education (and Connor's parents who threaten to file a lawsuit) and Shep almost loses his job due to the video. Instead he is suspended from his position and is ordered by the board to go to sensitivity training in order to avoid being fired because of union rules. Sav's parents understand he wants to date, but he has to marry a Muslim no matter what. Anya leaves, but the next day, Sav tells her that he would still see her, and that he doesn't care what his family says.
---
8x10 Bad Medicine (January 25, 2009)
---
Degrassi has won their first football game, thanks to Riley. He's suddenly become stronger, and tells Peter he is taking steroids. Riley goes on a date with Anya, only to repress his being gay. His old friend from three years ago appears, trying to get closer to him. Riley's becoming more and more violent, and severely hurts Sav. Peter confronts Riley, and Riley tells him about his childhood dreams about being a star athlete, having lots of friends, and a girlfriend. Peter tells him he could still be a star athlete and have lots of friends; being gay doesn't change that. Meanwhile, Danny sets up Leia and Derek up on a date after Derek begs and Danny realizes he likes her. Derek says it's fine, and Danny and Leia get together.
---
8x09 Lost in Love (2) (January 18, 2009)
---
Desperate to win Jane back, Spinner sneaks into the Leadership Convention Jane is speaking at and proposes. When Jane turns him down, Spinner breaks up with her, but when Jane realizes she needs Spinner in her life, she worries she won't be able to win him back. Later Johnny shows up at the bot wars, and admits that he does like Alli and she persuades him to come to the dance. Clare goes to the dance with Connor to avoid hurting his feelings, but when she dances with K.C., the person she really wanted to go with, she hurts Connor anyway. Johnny shows up to the dance to Alli's pleasure. He also gives her, her first kiss and the two begin a relationship from this episode on.
---
8x08 Lost in Love (1) (November 30, 2008)
---
Spinner and Jane have plans for next year - she'll start pre-law and he'll attend police college. When he doesn't get in, he can't bear to tell her, so he lies. Jane catches him and starts to wonder if her future includes him. Clare gets invited to the dance by both K.C. and Connor. When it looks like their struggle for her attention will jeopardize Robot Wars, she decides to go with neither. Alli gets an anonymous rose but after asking Anya who it was, she reveals that is was Johnny who sent her the rose. When Alli asks Johnny to the Valentine's dance, he rejects her saying he can't go with her because she is a "niner" and his friends will tease him. Meanwhile, Kelly and Emma reveal their feelings for each other and go on a date.
---
8x07 Money For Nothing (November 23, 2008)
---
Holly J. is desperate to keep her Queen Bee appearance after learning her parents are in a financial crisis. Peter's mom, Ms. Hatzilakos unexpectedly drops in for a visit. She's stays at his pad while she's in town, and Peter quickly discovers that his life isn't so rad with mom around.
---
8x06 With Or Without You (November 16, 2008)
---
Sav and Anya plan to celebrate their six-month anniversary on the school's overnight trip. Sav's sister Alli tags along, and he becomes furious when he hears the rumors about what she did on the trip. Over at Smithdale, Manny and Emma both have a crush on their roommate, Kelly.
---
8x05 Man With Two Hearts (November 09, 2008)
---
Peter begins a relationship with Mia and a friendship with Riley. However, he finds out how difficult it can be to balance them both. Meanwhile Clare and Alli finds a surprise at Mr. Simpson's house.
---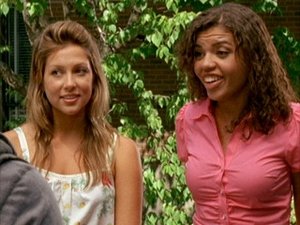 8x04 Didn't We Almost Have It All (November 02, 2008)
---
In order to make a first impression at Smithsdale University, Liberty decides to pledge for the school's popular sorority. Though, Liberty's determination to join the Greek system ultimately tests her friendship with Emma and Manny. Meanwhile, with Holly J as the new Student Council President she realizes that she is on top of the social food chain. However, her new found power is put in jeopardy when she develops an attraction towards her classmate.
---
8x03 Fight the Power (October 19, 2008)
---
Jane develops a passion for football and is interested in playing on the school team. However Degrassi's only option is to play on the boy's team. Which leads to several unexpectedly mishaps.
---
8x02 Uptown Girl (2) (October 12, 2008)
---
n part two of the eighth season premiere, Mia's modeling career spirals out of control leaving her friends and family worried. Meanwhile, Clare and KC unexpectedly form a bond.
---
8x01 Uptown Girl (1) (October 05, 2008)
---
In part one of the eighth season premiere, Degrassi welcomes a new group of students as they adjust to high school life. Mia believes that her junior year will begin on a positive note when she is scouted by a top model agency and befriends a new student. But trouble is in paradise when Mia learns the dark side of the modeling world. Meanwhile Degrassi graduates Emma, Manny and Liberty adjust to the transition of High School to College. Though the girls get involved in a mishap when a mysterious roommate threatens to tear them apart.
---