Degrassi
Season 6
Degrassi
Season 6
First Air Date: November 27, 2006

| | | |
| --- | --- | --- |
| First Aired on | : | 2006 |
| Episodes | : | 19 episodes |
Episodes
6x19 Don't You Want Me (2) (May 14, 2007)
---
Alex's double life is finally bringing in the cash she wants but hiding everything from everyone is taking a toll on her schoolwork and her connection with Paige. But making money is the only way she and her mother won't get evicted - Alex tries to convince herself she's making the right decision. When Sean and Emma are not talking, she will have to go through her scariest experience yet all by herself. Marco also learns that sometimes love is very, very messy.
---
6x18 Don't You Want Me (1) (May 07, 2007)
---
Alex and her mother Emily are in trouble - Chad, Emily's boyfriend, has run up thousands of dollars in credit card debt and hasn't been paying the rent. The situation is dire and Alex needs to make more money than she can at the theatre - when a job as a waitress at a 'gentleman's club' comes up, she takes it - but learns there's bigger money onstage. Alex has to decide what to do - and how maybe more-than-friend Paige will deal with the situation. Meanwhile, Emma wants to make plans for next year and is shocked to learn Sean's don't include her. As well, Marco does his best to keep his best friend close.
---
6x17 Sunglasses at Night (April 23, 2007)
---
Marco's at loose ends with Dylan gone, and nothing seems exciting. He and Spinner decide a spring break road trip will break the monotony but cash is the key. When Marco's online poker skills start to show, he decides it's time to up the stakes, and in no time, he's a big winner. Marco knows you can't quit while you're ahead, but quitting at all may be a lot harder than it seems. Father Marco is going to need his friends help on this one but it won't be easy for them to understand him. Or to forgive him.Peter and Darcy are having a delicious time keeping their relationship super secret. The more they fight in front of people, the cuter and hotter things get behind closed doors. But when they get caught sneaking around will they be able to be up front about what's got to happen next?
---
6x16 Love My Way (April 16, 2007)
---
Paige has one goal: to return to her former pre-Banting glory. She's going to get back to doing what she does best. Everything and that includes dating. Paige surprises Spinner by asking him out. Nothing serious, just casual. Things get even more complicated when Ellie's newly-minted ex, Jesse, also arrives into the picture. But is there someone else who wants a piece of the Paige pie? When Snake discovers Emma buying birth control, he surprises everyone with his anger including himself. He's not comfortable with Emma and Sean doing that. But as far as Emma's concerned he's going to have to get comfortable with it by any means necessary.
---
6x15 Free Fallin' (2) (April 04, 2007)
---
With her degree in jeopardy thanks to her failing grades, and the little issue of a dramatic dorm fire, Paige develops a Banting allergy. She slinks home to Toronto with her tail between her legs but nobody can know the truth about what happened. Despite rising panic attacks and friends who just might understand, Paige is committed to keeping her secret no matter what. Peters determined to show Darcy he can be a good guy even though the lies he tells keep catching up with him. He's got to find a way to get through to her...
---
6x14 Free Fallin' (1) (March 28, 2007)
---
After a spectacular panic attack during a midterm exam, Paige's professor at Banting offers her one more chance which comes in the form of a ton of work to be completed over the holiday weekend. But with a huge family dinner to cook and everyone dying to know how fantastic university life is, something's gotta give and Paige isn't exactly sure what it's gonna be. Peter attempts to get closer to Darcy he's sorry about the big internet scandal. Needless to say, Darcy is frosty with a capital F. He wants forgiveness, and Darcy puts him through his paces to get it but can these two actually connect?
---
6x13 If You Leave (April 09, 2007)
---
Manny's parents want her to come home after the tragedy at Emma's house and to Emma's surprise, Manny agrees. She can't seem to tell Manny how she feels though, since Manny's got a spirit squad competition and a brand new boyfriend to balance. Emma can't hide the fact that she feels ignored and when she thinks her friend's death is being glossed over she decides she really doesn't have to hide her feelings. At all. Dylan has been absent, grumpy, and completely mute making Marco worry that Dylan is cheating again. Jimmy and Spinner are happy to help catch him in the act, but none of them are expecting what they find...
---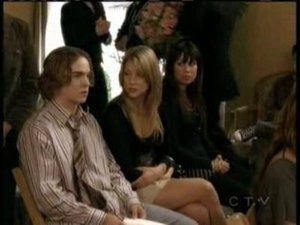 6x12 The Bitterest Pill (January 09, 2007)
---
Toby in shock over losing a friend, with Liberty's help, tries to plan a funeral that reflects his late friend's enthusiasm for life. While planning the funeral they draw comfort from one another and begin to form a closer relationship.Toby is hiding a secret and reveals it to Manny who convinces him not to tell, but as he and Liberty get closer, Toby has to decide which secrets were meant to be spilled. When Jesse says three little words to Ellie that she totally didn't expect, she realizes she's got to tell him a few of her own ones he's not going to like.
---
6x11 Rock This Town (January 09, 2007)
---
Manny decides to throw a party for Liberty's birthday, but when word gets out, the night quickly spirals out of control leading to a tragic event, the students of Degrassi will never forget.
---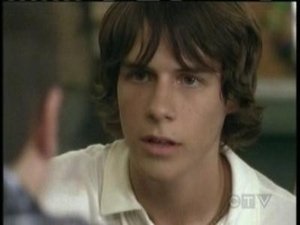 6x10 What's It Feel Like to be a Ghost? (2) (January 02, 2007)
---
Ellie thinks all Craig's bad behaviour is due to Manny to help him, she's determined to stay by his side while he's in town. When Craig grabs a spot playing with Taking Back Sunday (guest staring as themselves) at university concert, Ellie thinks their problems are over. As Jesse begs her to see the truth, Craig spirals out of control. Can Ellie figure out the truth in time to save herself? Derek and Danny are threatened by the Lakehurst goons, and learn they're really out for JT. JT goes to the opposing school and confront the bullies, especially after he learns Mia's stuck in the middle of the conflict. JT wants to be a man but has to decide what's really the right thing to do.
---
6x09 What's It Feel Like to be a Ghost (1) (January 02, 2007)
---
Craig's back in town for a music festival and Manny can't help picking up right where they left off. Craig's embracing the rock star lifestyle, and though everyone else, especially Ellie, thinks he's amazing. Manny has to decide if this new, dangerous Craig is the same one she loves. JT and Mia couldn't be happier as Degrassi's newest cute couple and everyone's happy for them except, of course, for Liberty. She decides Mia's got to know the truth about JT's past, but will he be able to pick up the pieces of his relationship?
---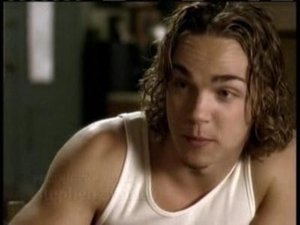 6x08 Crazy Little Thing Called Love (December 19, 2006)
---
Sean finally gets out of jail and has two years of probation. He and Emma are reunited. When Sean gets out, he tells Emma that she was the perfect girlfriend. Emma has something to reveal that makes her not so perfect...what she did with Jay in the ravine.
---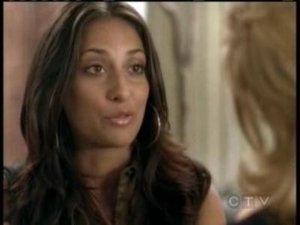 6x07 Working For the Weekend (December 19, 2006)
---
After career aptitude test results come in, Spinner is less than pleased with his results, and in desperation convinces Jimmy to go into business with him selling T-shirts adorned with Jimmy's illustrations. But the guys get in over their heads and it could ruin their business and their friendship.
---
6x06 Eyes Without a Face (2) (December 12, 2006)
---
Darcy's online world spirals out of control as she desperately seeks to be wanted and she'll do anything--including posting more risque pictures. However Darcy gets a big shock when her online world crashes into her real life one. Meanwhile Ellie tries to deal with more mature topics, like sex, at college and gets some tips from Ashley. But will they work?
---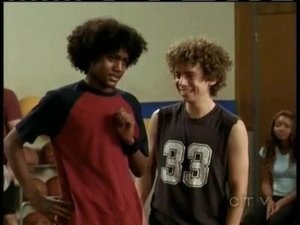 6x05 Eyes Without a Face (1) (December 12, 2006)
---
Darcy is tired of her good girl status and strives for something more exciting and when Peter introduces her to an online admirer through her Myroompage, Darcy gets more than she expected. Meanwhile, Trying to move on from Liberty's grasp, JT finds himself interested in the new girl, Mia.
---
6x04 Can't Hardly Wait (December 05, 2006)
---
Jimmy's new goals include being a successful coach for the girls basketball team, and pursuing an intimate relationship with Ashley. Meanwhile, cheer leading captain Darcy clashes with choreographer Manny.
---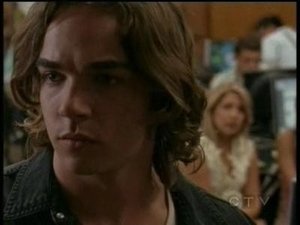 6x03 True Colours (December 05, 2006)
---
Jay goes to an unlikely person to get help for Sean. Ellie catches the attention of the editor after she submits an article for the university paper, but is it just her writing that he likes?
---
6x02 Here Comes Your Man (2) (November 28, 2006)
---
Emma can't get over Sean and Peter stands by helplessly watching his girlfriend fall for another guy. Peter and Sean want to know which of them she wants more, so they take to the streets for a race that ends with disasterous results. Meanwhile Ellie faces the harsh realities of dorm life and decides to do something about it.
---
6x01 Here Comes Your Man (1) (November 28, 2006)
---
The new school year has started and Sean is back in town. Peter and Emma seem to be happy that is until Sean returns to Degrassi. Peter is having mixed emotions with not knowing what is happening with him and Emma and also dealing with becoming the new person in the street scene. Meanwhile Marco is overwhelmed with moving in with Dylan and throwing Paige a going away party.
---