The Fresh Prince of Bel-Air
Season 5
The Fresh Prince of Bel-Air
Season 5
First Air Date: September 19, 1994

| | | |
| --- | --- | --- |
| First Aired on | : | 1994 |
| Episodes | : | 25 episodes |
Will Smith stars in the continuing story of a kid whose life got twisted upside-down when he became the Prince of Bel-Air. In Season 5 of Fresh Prince, Will (Smith) meets Lisa (Nia Long) — and before you can say "Go slow, bro," he's in love, engaged, and standing before the minister with 50 pounds of iced shrimp melting in the banquet hall. All that romance must be contagious, because Carlton (Alfonso Ribeiro) finds his soul sister through online dating. Unfortunately, that's only half right. It's Hilary (Karyn Parsons). And there's a lot more than love going on as Will grapples with a big orange whale, a mobster, a bear, Jay Leno, Lisa's cantankerous dad, and in one of the series' most memorable episodes, a bullet with his name on it. Get ready for laugh-out-loud fun!
Episodes
5x25 For Whom the Wedding Bells Toll (May 15, 1995)
---
Husband-to-be Will has the bride, the ring, the date...and second thoughts about the whole idea.
---
5x24 Love in an Elevator (May 08, 1995)
---
Stuck and out of luck, Will spends his bachelor party trapped in an elevator with a feuding Carlton and Jazz.
---
5x23 Cold Feet, Hot Body (May 01, 1995)
---
Dinner date. The Banks host a gorgeous girl from Philly who tries to lure Will away from Lisa.
---
5x22 To Thine Own Self Be Blue... and Gold (April 24, 1995)
---
A dream job for Will with a businessman friend of Philip's turns into a nightmare when the man offers him a bonus to help bribe a councilman.
---
5x21 Save the Last Trance for Me (April 17, 1995)
---
Put into a trance by a stage hypnotist, Will behaves like a 4-year-old just as the family gears up for an interview with the admissions head of a private school.
---
5x20 As the Will Turns (April 10, 1995)
---
Will inadvertently finds himself in the right place at the right time and lands a part in a daytime soap opera.
---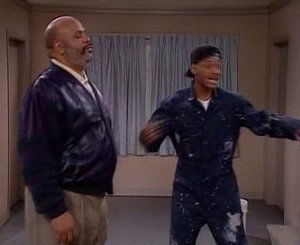 5x19 Slum Like It... Not! (March 13, 1995)
---
Will vows Philip with his sound investment advice to buy Jazz's apartment building - but the tenants scream slumlord after Philip acts on Will's moneymaking tip.
---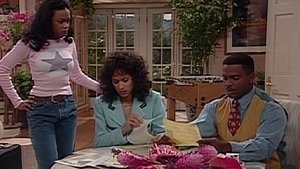 5x18 The Wedding Show (Psyche!) (February 27, 1995)
---
Shafted! The engaged couple opts for flashy Vegas vows, complete with costumes. The tasteful theme: Shaft.
---
5x17 Will is from Mars... (February 20, 1995)
---
Thanks to relationship counseling, Will and Lisa hop to move on up to a new understanding in preparation for marriage. Meanwhile Hillary wants Geoffrey to work at her new home.
---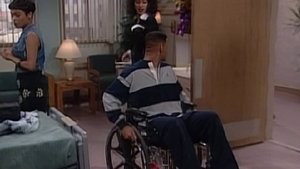 5x16 A Decent Proposal (February 13, 1995)
---
Mr. and Mrs. Smith? Will pops the question from his hospital room. And Lisa's answer is...
---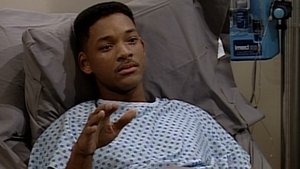 5x15 Bullets Over Bel-Air (February 06, 1995)
---
A planned camping trip is cut short for Carlton and Will when a robber approaches them at an automated bank-teller machine - and fires a gun.
---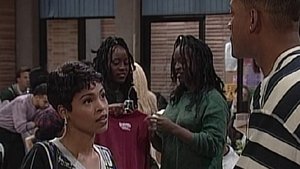 5x14 It's a Wonderful Lie (January 23, 1995)
---
The party's over. Will and Lisa tell each other lies so they can sneak off to the (uh-oh) same party.
---
5x13 Three's a Crowd (January 09, 1995)
---
Will gets roped into a weekend ski trip with Carlton that quickly turns to disaster when their party arrives; meanwhile, back home, Hilary prepares to leave the nest.
---
5x12 Same Game, Next Season (December 12, 1994)
---
Will works so hard to impress Lisa's dad that he spends all his free time with his new best buddy.
---
5x11 Will Steps Out (November 28, 1994)
---
To understand Philip's battle with the scale, Will dons a fat suit and gets a big fat lesson in empathy.
---
5x10 Will's Up a Dirt Road (November 21, 1994)
---
Will tries his hand at journalism to prove something to Lisa, but his efforts get him sued for libel - by Jay Leno.
---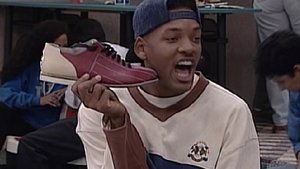 5x09 Love Hurts (November 14, 1994)
---
Lisa humiliates Will by knocking out a guy with her self-defense moves.
---
5x08 Soul Train (November 07, 1994)
---
At a Soul Train reunion, middle-aged Philip feels like his train has left the station.
---
5x07 Father Knows Best (October 24, 1994)
---
To help Ashley out of a jam at school, Will poses as her father. Oh yeah, this is gonna work.
---
5x06 Will's Misery (October 17, 1994)
---
The Banks hate the ugly golf shirts Hilary gives them - until they see Kareem Abdul-Jabbar wearing the same design.
---
5x05 Fresh Prince: The Movie (October 10, 1994)
---
Will tells a tall tale about seeing a mob killing, then being placed in a witness-protection program in the backwoods of Alabama.
---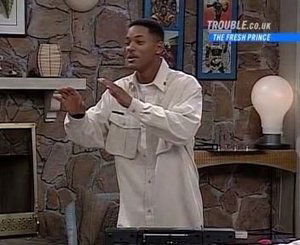 5x04 Grumpy Young Men (October 03, 1994)
---
War breaks out when the girl Will likes plants a big one on Carlton.
---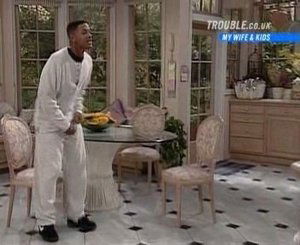 5x03 Reality Bites (September 26, 1994)
---
Will loses points as a role model for Nicky while visiting an ever-positive kiddie hero who brings joy to youngsters - but not to Will.
---
5x02 The Client (September 19, 1994)
---
Will revels in Ashley's music industry success, but both Will and Ashley are about to have a rude surprise.
---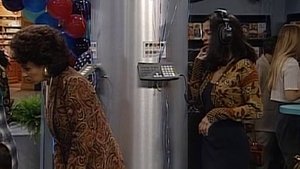 5x01 What's Will Got to Do With It? (September 19, 1994)
---
Will helps Ashley make a big impression on a recording executive, but Philip is adamantly against her pursuing a singing career.
---