The Backyardigans
Season 4
The Backyardigans
Season 4
First Air Date: October 01, 2009

| | | |
| --- | --- | --- |
| First Aired on | : | 2009 |
| Episodes | : | 19 episodes |
Episodes
4x19 Pablor and the Acorns (July 12, 2013)
---
The Acorns are put to the ultimate challenge when they try to help Pablor.
---
4x18 Super Team Awesome! (July 11, 2013)
---
Tyrone is a tour guide for the world's only lava geyser, Old Gushie. When a loose boulder in the cavern threatens to cause a geothermal disaster, Tyrone calls for help. Not one, but three super heroes come to save the day!
---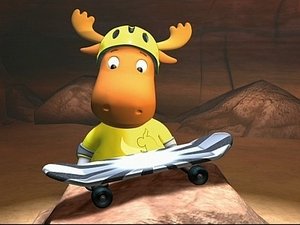 4x17 The Magic Skateboard (July 10, 2013)
---
Tyrone competes in one of the biggest skating competitions ever.
---
4x16 The Tale of the Not-So-Nice Dragon (December 16, 2012)
---
The Not-So-Nice Dragon has snatched up King Pablo and his Mighty Knights. Now it's up to the Flighty Fairy (Tasha) and the Grabbing Goblin (Austin) to rescue them!
---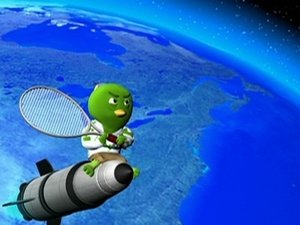 4x15 The Flipper! (November 11, 2012)
---
Uniqua, Tasha, and Pablo are the Meteor Watch Squad. But when meteor obsessed Pablo accidentally spills toxic space stuff all over himself, he becomes the super strong, super excitable Flipper!
---
4x14 Dragon Express (January 15, 2012)
---
Pablo and Austin work for Dragon Express, a delivery company where they deliver packages while flying dragons.
---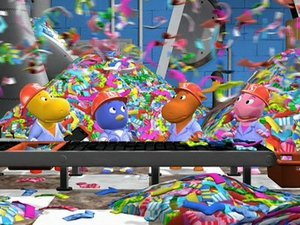 4x13 For the Love of Socks (November 27, 2011)
---
Pablo, Tyrone, Uniqua and Tasha are workers at a sock factory who must figure out a way to fix the huge sock machine after Tasha's pencil gets stuck in it.
---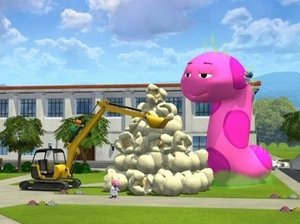 4x12 Attack of the Fifty-Foot Worman (November 27, 2011)
---
Scientist Pablo and his assistant accidentally use a growth formula on a worman. Now they need Groundskeeper Tyrone's help to stop the clumsy giant creature!
---
4x11 The Big Dipper Diner (February 25, 2011)
---
Tyrone and Tasha, the space police, have to arrest Blaarg (an evil alien) with the help of Uniqua and Pablo.
---
4x10 The Amazing Splashinis (May 28, 2010)
---
A Sea Monster prevents the Amazing Splashinis from showing off their new trick, the sextuple somersault splash.
---
4x09 Elephant on the Run (April 22, 2010)
---
An Indian elephant must be safely delivered to the Dandeli Nature Preserve.
---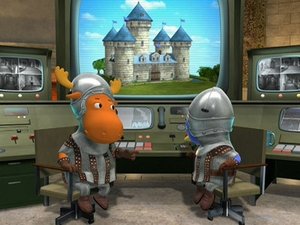 4x08 Break Out! (March 06, 2010)
---
Uniqua and Tasha are princesses who plan to break out of a huge tower. But can they do it without setting off the bobby traps made by castle guards Pablo and Tyrone?
---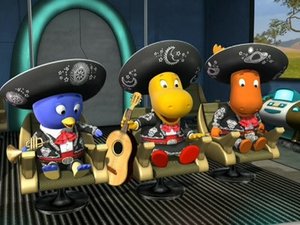 4x07 Los Galacticos (March 03, 2010)
---
Pablo, Tyrone and Tasha are part of a Mariachi band that gets stuck in a rocket, which they mistook for their new tour bus, and are launched into outer space where they must stop the Googers (Uniqua and Austin) from taking over the earth.
---
4x06 Follow the Feather (February 10, 2010)
---
Tyrone is an adventurer who finds a feather that belongs to the rare flying polka-dotted pony. With the help from adventurers Pablo and Tasha, Tyrone heads to Tibet to find the pony.
---
4x05 Robot Rampage (2) (January 10, 2010)
---
Uniqua, Tyrone, Tasha, and Austin disguise themselves as robots to enter the evil Professor Bug's lab.
---
4x04 Robot Rampage (1) (January 10, 2010)
---
Austin is a robot repairman in Mega City, a futuristic metropolis where robots do everything. But one day, all of the robots start breaking down. Austin must track down the Evil Professor Bug (Pablo) and stop those rampaging robots.
---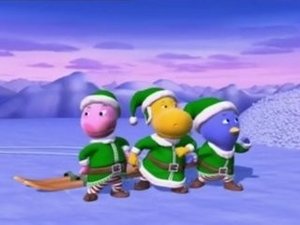 4x03 The Action Elves Save Christmas Eve (December 07, 2009)
---
Santa (voice of Conan O'Brien) needs his sack back, so action elves Tasha, Uniqua and Pablo fight abominable brothers Tyrone and Austin, who don't want to return the sack. Music genre: Memphis Soul
---
4x02 The Funnyman Boogeyman (October 26, 2009)
---
Austin's boogeyman isn't scary so much as silly, but that doesn't stop spooky hunters Uniqua and Pablo from trying to capture him. Music genre: Martinique Beguine
---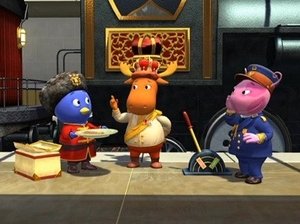 4x01 Catch That Train (October 01, 2009)
---
Ragtime music plays as Engineer Uniqua runs to catch the runaway Imperial train, when it leaves the station with no one driving and the Tsar of Russia (Tyrone) sleeping inside!
---