The Backyardigans
Season 3
The Backyardigans
Season 3
First Air Date: February 01, 2008

| | | |
| --- | --- | --- |
| First Aired on | : | 2008 |
| Episodes | : | 18 episodes |
Episodes
3x18 Escape From Fairytale Village (June 05, 2009)
---
Tyrone, the paperboy, believes that Uniqua the witch that lives in a gingerbread house, Pablo the giant, and Austin the big bad wolf, are all out to get him on his new paper route through Fairytale Village.
---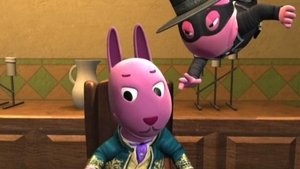 3x17 The Masked Retriever (April 23, 2009)
---
Uniqua the librarian, sets off with her horse Toronado, in search of Don Austin and his overdue library books that Tasha wants to check out. Will she able to get the book back for Tasha and make it past Don Austin's guards, Pablo and Tyrone?
---
3x16 Robin Hood The Clean (February 27, 2009)
---
In order to keep the dirt for the Festival of Dirt in the village of Filthingham, Mayor Austin Stinkypants locks Tyrone, Tasha, and Uniqua's soap away in the dungeon so they can't get clean. Tyrone sets off through Purewood Forest in search of Pablo, the Robin Hood the Clean, so he can help them get clean once again.
---
3x15 The Two Musketeers (January 14, 2009)
---
Tasha wants nothing more than to join the only two musketeers, Pablo and Tyrone. When the Empress's guards, Uniqua and Austin, try to capture them, Tasha proves her abilities by saving them, but will they make her the third musketeer?
---
3x14 Caveman's Best Friend (January 13, 2009)
---
Austin sets out in search of his lost new dinosaur that he bought from Uniqua in the stone-age town of Rockville. Austin soon learns that the only way to retrieve him is to whistle except he can't, neither can Fireman Tyrone or Cop Pablo. Can they save the dinosaur before its too late?
---
3x13 Ranch Hands From Outer Space (January 12, 2009)
---
Tasha lures aliens Pablo and Uniqua to help her as ranch hands on her mountain when their space ship runs out of gas and pancakes, or zum zums as they call them. All she has to do is promise to give them pancakes when they are finished, and the work begins.
---
3x12 Match on Mt. Olympus (August 04, 2008)
---
Pablo the sportscaster and Tyrone the meteorologist, travel to Mt. Olympus in an attempt to change the mind of the goddess of weather, Tasha, and make what they said on their tv station come true by making the rain stop. Along the way Pablo teaches the god of laughter, Austin, and the goddess of naps, Uniqua, a few rad basketball moves. Soon they find out they need to win a baskbetball game against the goddess of weather in order to make the rain stop.
---
3x11 The Great Dolphin Race (July 11, 2008)
---
In the underwater city of Atlantis, Uniqua, who dreams of one day becoming a dolphin racer, rescues and later adopts a wild dolphin, from a giant clam. She asks Pablo to help her train so she can beat Tyrone, who is the best dolphin racer around.
---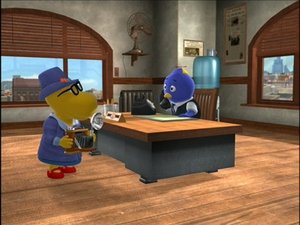 3x10 Front Page News! (June 27, 2008)
---
Supersnap (Tasha), the super-fast superhero, sets out to get a front page photo for the Pablo's newspaper, The Bigopolis Big Story. Supersnap, along with fellow superheroes Bug Girl (Uniqua)and Captain Bubble (Tyrone) get more than they bargain for when a giant robot threatens the city of Bigopolis.
---
3x09 Pirate Camp (June 09, 2008)
---
Uniqua and Pablo head to pirate Camp Walk-A-Planka to be taught "pirattitude" and how to scalawag, swashbuckle, and heave ho by the great pirate captain, Austin. Can Uniqua and Pablo put their new pirate skills to the test successfully when they have to save Captain Austin from Tasha the fearsome ghost named Captain Red Boots?
---
3x08 Chichen-Itza Pizza (June 06, 2008)
---
Uniqua and Tasha are Mayan pizza delivery girls, who set out on a mission across the pyramids of water, earth, and wind so they can deliver Tyrone the King a fresh hot pizza pie.
---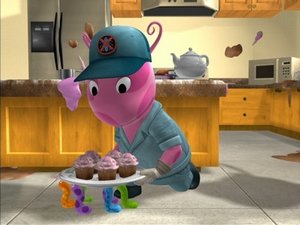 3x07 What's Bugging You? (May 12, 2008)
---
Tyrone and Uniqua are pest exterminators who are hired by Lady Tasha to save her house from an invasion of wormans. While they take care of the problem, Mr. Spiffy (Pablo) comes to inspect Tasha's house to see if she's perfect for the "Spiffy Club".
---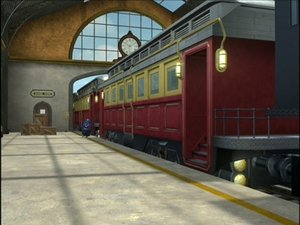 3x06 Le Master of Disguise (April 18, 2008)
---
Austin travels on the Orient Express from Paris to Instanbul in search of Pablo, who is the Master of Disguise that can only been found by his laugh. Along the way he rules out Juggler Tasha, Cowboy Tyrone, and the conductor, Uniqua, all by the sounds of their laughs. Will Austin ever be able to find Pablo, the Master of Disguise?
---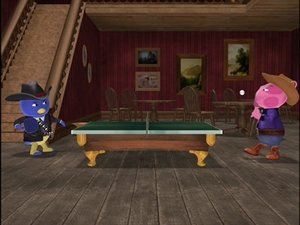 3x05 Blazing Paddles (April 11, 2008)
---
Sheriff Uniqua is proud of her little town Ping Pong Mesa. Her number one goal is to keep it safe from the bandits. Things take a turn and she is ousted as Sheriff when Ping Pong Bandit Pablo arrives and overrules the small town. Now its up to Sheriff Uniqua to resume her role and make peace once again.
---
3x04 Who Goes There? (April 04, 2008)
---
Tyrone is the security guard at a huge art museum. Then some of the art (played by Pablo, Uniqua and Austin) come to life and start running all over the place. When Tyrone finds out about this, he must stop the art before the curator (Tasha) finds out about it.
---
3x03 Garbage Trek (March 14, 2008)
---
In this Star Trek-themed episode, Captain Tasha, Lieutenant Uniqua and Ensign Austin of the garbage collection space ship USS Collector roam the galaxy collecting space garbage. The Moosians, Tyrone and Pablo, try to take take the garbage away by tricking them with fake distress calls.
---
3x02 To The Center of The Earth (March 07, 2008)
---
Inventors Pablo and Uniqua travel to the center of the earth in their earth burrowing rocket ship to retrieve Tyrone's lost lucky penny.
---
3x01 Fly Girl (February 01, 2008)
---
Uniqua travels around the world in her bi-plane, giving out singing telegrams to a grumpy pirate (Pablo), a snooty Indian princess (Tasha), and the abominable snowman (Tyrone).
---