The Backyardigans
Season 2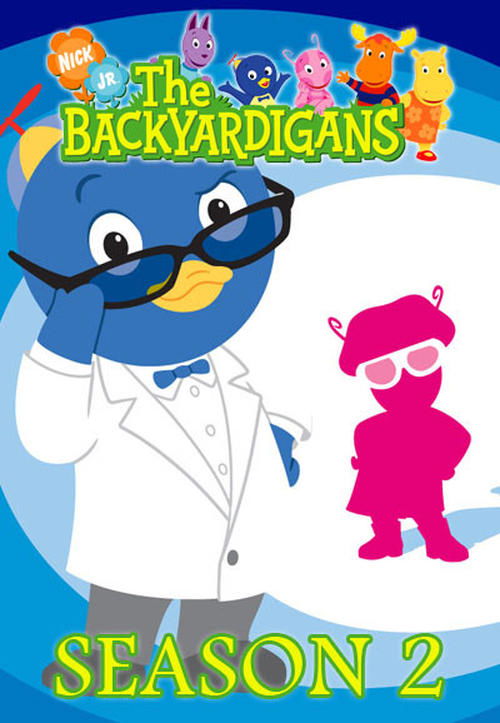 The Backyardigans
Season 2
First Air Date: October 09, 2006

| | | |
| --- | --- | --- |
| First Aired on | : | 2006 |
| Episodes | : | 22 episodes |
Episodes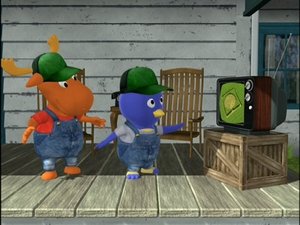 2x22 Newsflash (January 18, 2008)
---
Tasha, Uniqua and Austin work for W-I-O-WA News (The Corniest Station in the Nation), which is a news station that usually ends up reporting on corn. Tyrone and Pablo are corn farmers who are so happy with their crop, that they keep sending in reports just to get on the air, but unfortunately it isn't considered newsworthy. They decide to make up some stories about aliens visiting their cornfields so that the news team will come out to investigate further and put their corn crops on their air.
---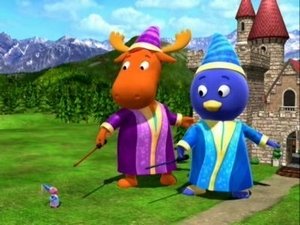 2x21 A Giant Problem (January 17, 2008)
---
Queen Uniqua sends wizards, Tyrone and Pablo, out to get rid of Tasha, the giant. Tasha is new to the kingdom and is just looking for fun and new friends, but Queen Uniqua would rather take a nap. Before long, Tyrone and Pablo use a magic spell and manage to accidently turn everyone into giants.
---
2x20 Catch That Butterfly (January 16, 2008)
---
Professor Pablo is bound and determined to find the rarest specimen, the gilded butterfly. While he is out searching for it, he believes he stumbles upon it, and hires rugged stagecoach drivers Tyrone and Uniqua to help hunt in down in the Old West.
---
2x19 Tale of the Mighty Knights (2) (January 14, 2008)
---
---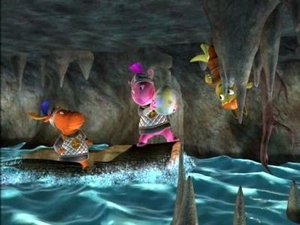 2x18 Tale of the Mighty Knights (1) (January 14, 2008)
---
Uniqua and Tyrone are royal knights who are protecting King Pablo's egg. Grabbing Goblin Austin in Goblin Land and the Fairy Tasha want the egg for themselves. They follow King Pablo's egg to Dragon Mountain to retrieve it.
---
2x17 Best Clowns in Town (September 20, 2007)
---
Pablo, Uniqua, and Austin are clowns who desperately want to be in the circus. Excitedly auditioning for the ringmaster, Tyrone, they miss the train that's moving his circus to the next town.
---
2x16 International Super Spy (2) (September 17, 2007)
---
---
2x15 International Super Spy (1) (September 17, 2007)
---
Miss T (Tasha), who is the head of the International Super Spy agency, orders Agent Secret (Pablo) to stop the villainous Lady in Pink (Uniqua) from stealing three top-secret containers. With the help of his undercover contact Austin, Agent Secret travels around the world to a exotic locations in London, Switzerland, Miami and the Caribbean to collect the three containers before the Lady in Pink and her evil henchman Tyrone, get a chance to steal them.
---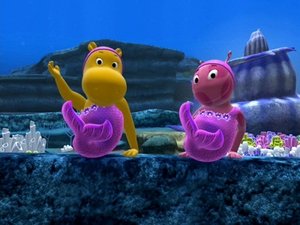 2x14 Into the Deep (June 27, 2007)
---
Pablo and Tyrone are deep sea explorers who are looking for a mermaid to take pictures of. They find two, Tasha and Uniqua, who think they are being invaded and are going to be captured.
---
2x13 Sinbad Sails Alone (March 31, 2007)
---
Sinbad (Tyrone) is sailing to find the end of the rainbow. Pablo, a young, inexperienced sailor (and a huge fan of Sinbad), sneaks aboard to help him. When Sinbad discovers this, he is upset, as he has always sailed alone and doesn't feel he need any help. Indeed, at first, Pablo seems like only a bother, causing the loss of ship's supplies, forcing them to take detours where they must play games to earn new supplies. Pablo, however, refuses to be daunted and searches for a way that he can help his idol.
---
2x12 Save The Day (March 22, 2007)
---
Tasha is a fisherlady who has a knack for navigating into dangerous areas of the ocean. Pablo, Tyrone and Uniqua are part of a rescue squad, determined to save her. Tasha, on the other hand, is determined to catch a whopper and tries to rebuff their efforts to help.
---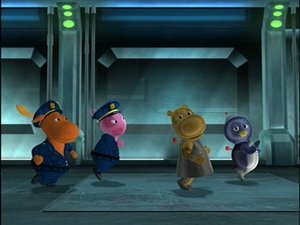 2x11 Cops and Robots (March 21, 2007)
---
Tasha and Pablo are a couple of bad robots who are out to destroy all of the worlds good robots and reprogram them to become bad.
---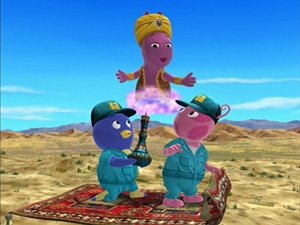 2x10 Movers of Arabia (March 20, 2007)
---
Movers Uniqua and Pablo are hired by the new Sultan of Arabia, to safely move his magical treasures from a cave in the desert to his new royal palace. Can they complete the job without using all of the genie's three wishes?
---
2x09 Horsing Around (March 19, 2007)
---
Uniqua and Pablo are a cowgirl and a jockey. When they argue about who is a faster rider, they decide to settle the matter with a race to the end of the Mississippi River, with Austin serving as the announcer. To their surprise, Tyrone enters the race on a tired, old-looking donkey named Burro. As the race progresses, the two make a quick dash for the finish, but Tyrone and his donkey gain ground as the two continuously stop to argue who is better.
---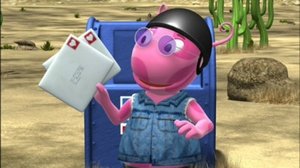 2x08 Special Delivery (February 14, 2007)
---
Tyrone, a mailman, becomes scared by the "Do Gooders," a motorcycle gang formed by Tasha, Uniqua and Pablo. While Tyrone believes they want to steal his mail, the gang is trying to make deliveries of their own.
---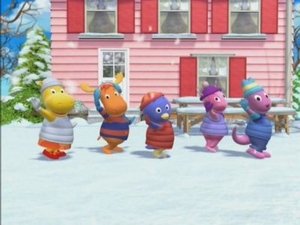 2x07 The Secret of Snow (December 15, 2006)
---
Uniqua set off in search for the Ice Lady, Tasha, because there is no snow yet. Along the way she gets help from Cowboy Pablo, Tarzan Tyrone, and Austin, the Ice Lady's assistant.
---
2x06 Scared of You (October 23, 2006)
---
Mad Scientist Tasha sends Austin to bring three monsters back to her laboratory. They are looking for Vampire Pablo, Mummy Tyrone, and Werewolf Uniqua.
---
2x05 The Swamp Creature (October 19, 2006)
---
Swamp Tour Guides Uniqua and Pablo promise to show tourists Tasha and Austin the Swamp Creature, even if they have to trick them by pretending to be the creature themselves. Little do they know what lurks deep in the swamp.
---
2x04 The Legend of the Volcano Sisters (October 18, 2006)
---
In order to stop the volcano from ruining their luau, the Luau Brothers (Austin, Pablo and Tyrone) must give the Volcano Sisters (Tasha and Uniqua) a special gift.
---
2x03 Whodunit? (October 17, 2006)
---
Sherlock Holmes style detective, Pablo, travels to Mystery Manor to find out who stole Lady Tasha's jewels. Among the suspects are Butler Tyrone, Mr. Austin Frothingslosh, and Inspector Uniqua Underhood.
---
2x02 Samurai Pie (October 16, 2006)
---
Pie makers Tyrone and Austin must make a pie for Empress Tasha, while protecting it from Ninjas Uniqua and Pablo.
---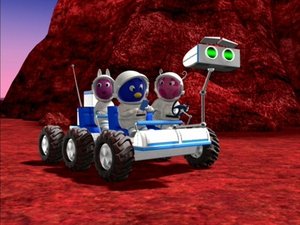 2x01 Mission to Mars (October 09, 2006)
---
When the Backyardigans receive a strange signal originating from Mars, Uniqua, Pablo and Austin blast off to investigate. They're backed up by Tyrone and Tasha, who remain on Earth to assist at Mission Control. The Backyardigans leave prepared for anything, but encounter some surprises along the way. They don't give up, however, and eventually make a surprising discovery regarding the source of the signal.
---