The Backyardigans
Season 1
The Backyardigans
Season 1
First Air Date: October 11, 2004

| | | |
| --- | --- | --- |
| First Aired on | : | 2004 |
| Episodes | : | 20 episodes |
Episodes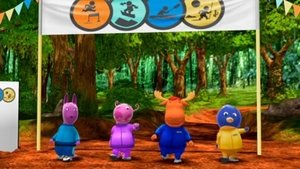 1x20 Race Around the World (March 10, 2006)
---
It's racing day and Austin is prepared. Unlike his friends Pablo, Tyrone and Uniqua, he has never won a gold medal before. Who will be first to the finish line?
---
1x19 Monster Detectives (October 31, 2005)
---
Uniqua and Tyrone, the hardnosed detective, set out to Monster's Castle where Pablo the soccer ball monster has taken Uniqua's ball. They must make it out of the castle before they get turned into monsters.
---
1x18 Polka Palace Party (September 21, 2005)
---
While Tyrone, the cowboy polka musician, heads play at the party, he runs across Uniqua, Austin, and Pablo. They all form a polka band while Tyrone helps them out.
---
1x17 Eureka! (September 20, 2005)
---
Uniqua and Tasha are brilliant dinosaur scientists, and Pablo and Tyrone are crusty, dusty prospectors. Join them as they search for a treasure.
---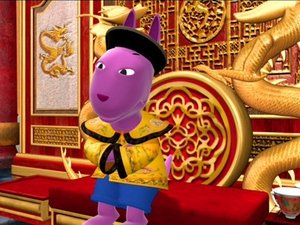 1x16 High Tea (August 25, 2005)
---
When Uniqua, Pablo, and Tyrone cannot agree on what to do, Tasha suggests a tea party - but it ends up being extremely difficult.
---
1x15 Cave Party (September 22, 2005)
---
Tasha and Austin, who live in the Ice Age, want to invite the Valley Cave People which are Pablo, Uniqua and Tyrone, to their cave on top of the mountain.
---
1x14 Castaways (September 19, 2005)
---
Uniqua, Pablo and Tyrone become stranded on a desert island.
---
1x13 Race to the Tower of Power (July 18, 2005)
---
Super Villians Pablo and Tyrone, are trying to rule the world with their powers.
---
1x12 Surf's Up (April 25, 2005)
---
Pablo, Tyrone, and Uniqua are surfers, searching for Tiki Beach, and its perfect waves. They travel the coastline, led on by a mysterious lifeguard (Austin). To the sound of Afro-pop music, they learn lots of rad surfing and dancing moves as they go. Will they finally ride the perfect wave?
---
1x11 The Quest for the Flying Rock (February 21, 2005)
---
Uniqua, Tasha, Tyrone, and Pablo are Brave, Indiana-Jones-style Explorers, on a quest for the rare, legendary Flying Rock which sits atop Big Rock Hill. In a frenzied disco dash through the jungle and the desert, they race each other to see who can make it to Big Rock Hill first, and claim the prize.
---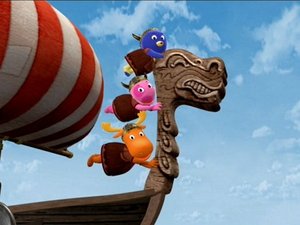 1x10 Viking Voyage (November 01, 2004)
---
Pablo, Tyrone and Uniqua discover adventure on the high seas as Vikings who meet Tasha the mermaid.
---
1x09 It's Great to Be a Ghost (October 25, 2004)
---
Ghosts Tyronne, Pablo and Uniqua practice being scary. Tasha is the "unsuspecting stranger" they choose to haunt.
---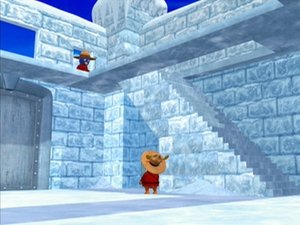 1x08 The Snow Fort (October 19, 2004)
---
Mounties Pablo and Tyrone defend their snow fort while ski patrollers Tasha and Uniqua search for someone in danger.
---
1x07 The Key to the Nile (October 18, 2004)
---
Princess Tasha and her servants must unlock the waters of the Nile and end Egypt's drought by bringing gifts to the Sphinx.
---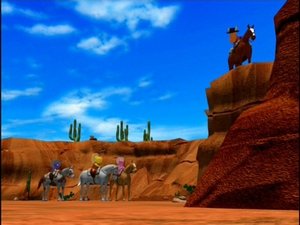 1x06 Riding the Range (October 15, 2004)
---
Cowboy Tyrone is headed for Texas to attend a hoedown, meanwhile Uniqua can't find her jump rope so she, Pablo, and Tasha head for the old west to find the theiving bandit.
---
1x05 Secret Mission (October 14, 2004)
---
The kids are secret agents who must get past traps and obstacles in their search for a secret treasure located in a museum.
---
1x04 The Heart of the Jungle (October 13, 2004)
---
Tyrone, Pablo and Austin each play Tarzan as they try to help Sherman find his way through the jungle.
---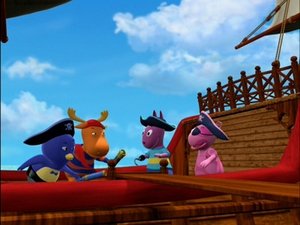 1x03 Pirate Treasure (October 12, 2004)
---
Pablo, Tyrone, Uniqua, and Austin sail the high seas in search of buried treasure. Someone will have to walk the plank. They set out in two different directions to search for the "X" that marks the spot of the treasure.
---
1x02 The Yeti (October 11, 2004)
---
Pablo, a creature called a Yeti from the frozen north, leads the Unique, Tasha, and Tyrone on a chase all the way to his igloo in the frozen north. The Yeti loves to eat raisins and give snow bellies.
---
1x01 Knights Are Brave and Strong (October 11, 2004)
---
Queen Tasha sends Uniqua through the misty forest to bring a message to King Austin.
---