E-Ring
Season 1
E-Ring
Season 1
First Air Date: September 21, 2005

| | | |
| --- | --- | --- |
| First Aired on | : | 2005 |
| Episodes | : | 22 episodes |
Episodes
1x22 Acceptable Losses (November 30, 2006)
---
After escaping from the hands of Mexican Police following a doomed operation, JT and his team end up killing a drug gang and a federal agent on the American side of the border. As the team was debriefing in a Miami hotel, Sonny and McNulty were trying to solve the crisis started by a mole inside the Pentagon.
---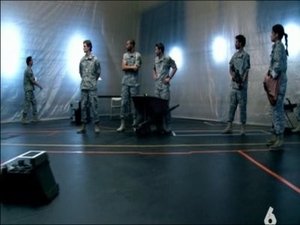 1x21 Isolation (November 30, 2006)
---
JT and the team travel to Mexico to apprehend a drug lord who has allied himself with Al Qaeda and is smuggling terrorists into the US. Meanwhile Bobby receives some bad news.
---
1x20 Hard Sell (November 30, 2006)
---
JT undergoes a psychological evaluation in which he recounts a mission to Lebanon to save one of his men who was tortured by insurgents.
---
1x19 Brothers in Arms (November 30, 2006)
---
On a mission to train an elite Iraqi secret service unit, JT and Bobby befriend an Iraqi soldier who doesn't know his brother is a suicide bomber fighting against the American occupation. Meanwhile, Sam accompanies a Congressional delegation to Iraq and becomes trapped by the bomber on a military base with JT and Bobby.
---
1x18 Two Princes (November 30, 2006)
---
While visiting Riyadh in Saudi Arabia, JT and Bobby become involved in a scheme to kidnap the two daughters of the crown prince to help them to return to the US where they grew up.
---
1x17 Friends and Enemies (November 30, 2006)
---
In North Korean waters, a submarine that Bobby's team is on collides with a North Korean nuclear submarine, damaging it. The Korean commander is eager for the Americans to save his crew, but he must work against his own countrymen, who have sent another vessel to kill everyone aboard rather than allowing the Americans to get their hands on the Korean submarine.
---
1x16 Fallen Angels (November 30, 2006)
---
A plane carrying American doctors on a mercy mission crashes in the Venezuelan jungle. The Venezuelans claim they were on a mission to assasinate their president. JT and his team must rescue them before they are captured.
---
1x15 Five Pillars (November 30, 2006)
---
After a mission failed in Pakistan, JT looks inside the E-Ring for the mole.
---
1x14 The General (February 01, 2006)
---
When a general is kidnapped in Spain, JT and his team go to rescue him but find themselves in a turf war with local authorities.
---
1x13 War Crimes (January 18, 2006)
---
JT and Special Ops get involved in investigating possible war crimes during actions in Sarajevo.
---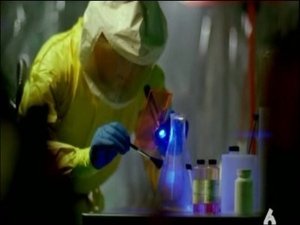 1x12 Breath of Allah (January 11, 2006)
---
When a lab is discovered in Amsterdam creating the Plague, JT and his team must find the terrorists and stop them using the deadly virus. Samantha is offered an unexpected promotion that will complicate her relationship with SOD and JT.
---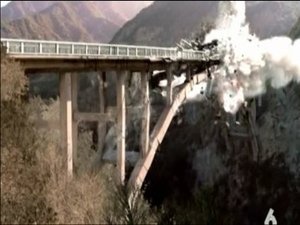 1x11 Christmas Story (December 07, 2005)
---
On Christmas Eve, JT works on a humanitarian aid mission for an Afghanistan village that helped Delta several years ago. He finds the village confronting bad weather and an advancing Taliban force. Also, Sonny helps JT's father who needs a favor.
---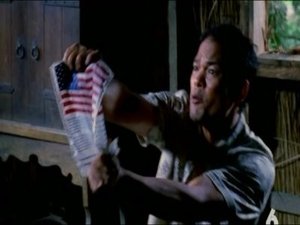 1x10 The Forgotten (November 23, 2005)
---
McNulty discovers that a captured Navy Seal could be alive and he and JT are set to save the man. However, they soon face resistance from the Pentagon and might have to do what is known as a "backdoor" mission to save the soldier. Also, more about McNulty's mysterious past is revealed during this endeavor.
---
1x09 Delta Does Detroit (November 16, 2005)
---
JT and a SO team are sent to Detroit to address a situation with a radical Christian group that has taken over a mosque and taken hostages. Sonny must address legal concerns around the action due to FBI jurisdiction and the Posse Comitatus act.
---
1x08 Cemetery Wind (2) (November 09, 2005)
---
In Columbia, JT is heading an undercover operation to nail the drug lord who attacked Angie. Now he has to finish a job they started together years ago. Back in the Pentagon, Sam finds evidence on the CIA director and has him indicted.
---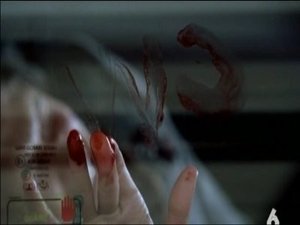 1x07 Cemetery Wind (1) (November 02, 2005)
---
When Angie is put in a dangerous situation, she can only leave him one clue as to what has happened to her. JT must recall his old Special Ops missions in order to find the answer.
---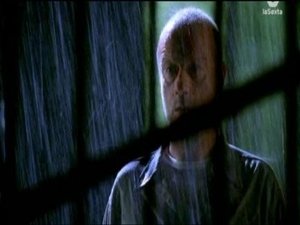 1x06 Toy Soldiers (October 26, 2005)
---
When JT challenges his superiors' reasons for unexpectedly placing a known terrorist on the capture/kill list, he learns that politics in the Pentagon can be deadly.
---
1x05 Weekend Pass (October 19, 2005)
---
Two US Marines are accused of raping a young local woman in Surinam. JT learns of this and he immediately jumps to action only to find opposition from above. The United States doesn't want to jeopardize it's aluminum interests controlled by the Surinamese government. He must navigate the political maze to discern the truth and try to save the soldiers' lives.
---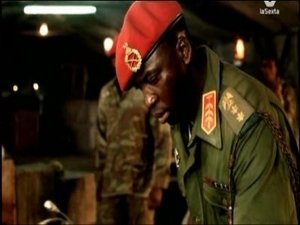 1x04 Tribes (October 12, 2005)
---
Africa is experiencing another threat of genocide reminiscent of Rwanda and JT seeks the help of a bureaucrat to help out before time runs out.
---
1x03 Escape and Evade (October 05, 2005)
---
McNulty sends JT on a mission to Iraq to find out why there is unauthorized covert action and if the United States is illegally treading on Iranian soil . However, he winds up wounded and is forced on the run. Sonny and Algazi assemble a team to rescue JT from Iraq. McNulty gets charged with sexual harassment by the Inspector General.
---
1x02 Snatch and Grab (September 28, 2005)
---
McNulty and his staff must act quickly to keep a terrorist ally from slipping away. Meanwhile, someone from JT's past figures into his misson of sending his old unit into harm's way when a high-risk mission requires the best of the special-ops teams.
---
1x01 Pilot (September 21, 2005)
---
Colonel McNulty finds himself at odds with Major Jim Tisnewski. The major must convince his superiors at the Pentagon and the Joint Chiefs of Staff that the United States should risk war with China to rescue an American operative.
---