Caroline in the City
Season 4
Caroline in the City
Season 4
First Air Date: September 21, 1998

| | | |
| --- | --- | --- |
| First Aired on | : | 1998 |
| Episodes | : | 22 episodes |
Episodes
4x22 Caroline and Joanie and the Stick (April 26, 1999)
---
As Caroline and Richard prepare to leave for Italy to visit his newborn son, Richard makes a confession that gives Caroline second thoughts about their future together: he never wanted to have children. But when he arrives alone in Italy, Richard discovers that Julia has abandoned the baby, and slowly becomes a model father. Meanwhile, Annie and Del begin a clandestine relationship. Flashing forward six months later, the series finale finds Caroline headed to the altar with Randy, when an unexpected guest arrives during the wedding ceremony: Richard, holding his infant son...
---
4x21 Caroline and the Big Move (1) (April 26, 1999)
---
After deciding they can't wait to get married, Caroline and Richard plan their nuptials for the following week. But while Caroline and Annie search for the perfect wedding dress, Richard shows up at the bridal shop with a bombshell announcement regarding his ex-wife: Julia has given birth to their son. Caroline gets an unexpected visit from Randy; and Annie and Del flirt with the idea of having a no-strings-attached fling.
---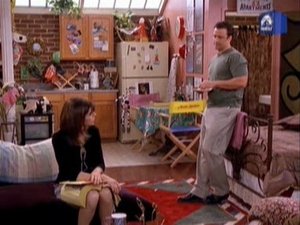 4x20 Caroline and El Niño (1) (April 26, 1999)
---
Caroline gives Richard a matrimonial ultimatum; but on his way to propose to her, he is taken hostage in a video store holdup. He decides that escape will prove his manhood and worthiness of Caroline -- and when he is wheeled in by paramedics, he does indeed propose.
---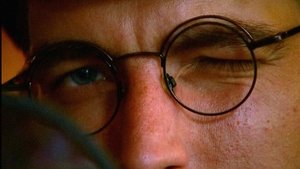 4x19 Caroline and the Ultimatum (2) (April 05, 1999)
---
Sparks fly between Caroline and Randy when he pays her a surprise visit in New York and they end up getting stuck together in a subway tunnel for two hours. Meanwhile, Richard gets his first real break as an artist when an eccentric gallery owner offers to exhibit his work -- but only if he can create another 'bleak' painting in time for the next day's show.
---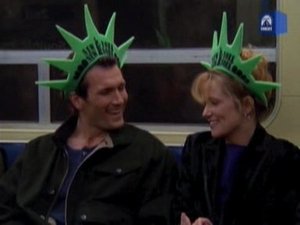 4x18 Caroline and the Return of the Sudsy Guy (1) (March 29, 1999)
---
Caroline's plans to rent out her house in Wisconsin hit an unexpected snag when Grandma Duffy refuses to leave, forcing Caroline to return to Wisconsin, where she is surprised to learn that her former boyfriend Randy will be her new tenant. Meanwhile, Richard has his hands full in New York when he agrees to take Caroline's place by caring for Annie (who is sick) and Del (who thinks his girlfriend may be cheating on him).
---
4x17 Caroline and the Sudsy Guy (March 22, 1999)
---
There's to be a big celebrity banquet to celebrate Caroline's 2000th strip, but there's a snag: Caroline is completely blocked in terms of fresh, funny ideas. While everyone else waits for her to get ready (Richard in a cheap rental tuxedo which gradually disintegrates), Caroline fantasizes about what life would be like if she retired. When she tearfully refuses to attend the banquet and does laundry instead, Richard gently points out that she has stopped writing about her real life in the strip (her fictional counterpart is ""still dating that veterinarian"") and perhaps it is time to bring her readers up to date -- and Caroline immediately draws a strip about their first date on the side of the washing machine.
---
4x16 Caroline and the Ancestral Home (March 15, 1999)
---
Caroline and the gang visit her family's home in Wisconsin and learn her parents are selling the house. Distraught, she prolongs her stay (while Richard unwillingly bonds with the locals), and ultimately decides to preserve her childhood memories by buying the house herself.
---
4x15 Caroline and the 2000th Strip (March 08, 1999)
---
Caroline tries to right an old wrong by giving up a romantic weekend in Boston with Richard to help out a visiting childhood chum, Joanie, whom Caroline once bullied in school. Meanwhile, a lonely Annie finds unexpected companionship with a smooth-talking parrot when she agrees to bird-sit for Dave, and Del has trouble accepting the fact that his new girlfriend Lisa is taller than he is.
---
4x14 Caroline and the Firing Squad (January 25, 1999)
---
Caroline is appalled to discover that Del (currently obsessed with buying a new Porsche) is paying his partner Charlie to stay at home so that his bizarre ideas won't compromise Del's career. When she persuades Del to let Charlie attend a planning meeting, the plan backfires big time: Charlie is fired. Charlie decides he wants to travel in Europe, and Del does the right thing and gives him the money for his Porsche as severance. Meanwhile, Richard gets Annie a job posing for a cartoonist who starts dating her, but the deal is fishy: it turns out he is only interested in her when she is dressed as the bizarre science fiction heroine of his strip.
---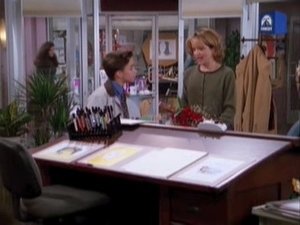 4x13 Caroline and the Horny Kid (January 18, 1999)
---
Del and Caroline participate in the company's mentoring program, but Caroline's adolescent charge Stan develops an embarrassing crush on her, while Del's turns into a teenage fixer who takes over Del's professional and personal lives with impressive competence. Meanwhile, Reg tries to convince Richard to sell his art, but the results are disastrous: a coffee house show is a fiasco, and when Richard desperately tries to emulate a subway hawker and sell his works to consumers, he is busted by an undercover cop who confiscates his art.
---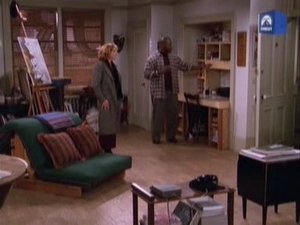 4x12 Caroline and the Big Bad Bed (January 11, 1999)
---
Caroline becomes upset over what she sees as Richard's refusal to share his private life with her -- which comes to a head when Reg Preston's girlfriend kicks him out and he moves in temporarily with Richard. Meanwhile, Del and Annie forge a temporary truce and attempt to find dates for each other at the gym. Del strikes out, but Annie finds an obliging man mountain she'd ""like to hire a team of sherpas and climb.""
---
4x11 Caroline and the Fright Before Christmas (December 21, 1998)
---
Richard, Del and Annie are apparently successful in their combined effort to knock the Christmas spirit out of Caroline, but when she appears to have lost all interest in her annual tree-trimming festivities, her alarmed buddies declare an emergency trip to nearby ""Christmasville,"" only to discover that Caroline engineered the whole thing. When even the local re-enactment of A Christmas Carol doesn't do the trick, a furious Caroline tries to drive away and backs into the town's main transformer, blacking out all of ""Christmasville"" and condemning them to slave off their sentence in Santa's workshop.
---
4x10 Caroline and the Bar Mitzvah (December 14, 1998)
---
Richard's Aunt Frieda announces that before she moves to Florida and wants to see Richard go through with the bar mitzvah he abandoned, and is willing to pay him $5,000 for the privilege. While an embarrassed Richard returns to Hebrew school, Caroline and Annie prepare a mocking party in his honor -- until Richard confesses to Caroline that he is doing it for the money only because he is humiliated by her having to pick up the tab for everything they do together. Meanwhile, Del gets a great deal in expensively tailored Italian suits, but won't admit they are several sizes too small for him.
---
4x09 Caroline and the Booby Trap (November 30, 1998)
---
After Annie is beaten out in an audition by an untalented but well endowed rival, she announces her intention to have breast augmentation surgery during a Thanksgiving dinner already complicated by Del's turning up with a frozen rather than pre-cooked turkey and the bizarre behavior of mailroom Dave. Unable to talk Annie out of it, Caroline then beats her to the doctor's office to consider treatment herself after Richard's ill-timed admission that he has fantasized about her with larger breasts. A fantasy sequence in which Caroline imagines special treatment aboard a plane convinces her to stay with what she's got. Meanwhile, Richard has taken Caroline's riposte (that she has imagined him with darker, sexier hair) to heart, but when Del's current girlfriend shows up to rescue him from the effects of an amateurish home dye job, she realizes Del stood her up for Thanksgiving and storms out, leaving Richard to deal with a bad case of chemically induced hair loss.
---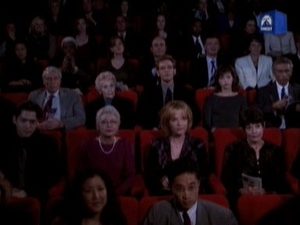 4x08 Caroline and the Diva (November 16, 1998)
---
Jealousy between Richard and Annie reaches a new height when Richard wants to attend an operatic recital to which Caroline invited Annie months ago. The two squabble so childishly that an infuriated Caroline tells them off loudly - and the insulted diva walks off the stage and refuses to return. When Caroline sneaks into the star's dressing room to apologize and beg her to finish the recital, she winds up rubbing her feet and getting drunk with her on champagne, and returns home to find that Richard and Annie's mutual anxiety about her whereabouts has produced a sort of truce. Meanwhile, Del finds himself taking a reluctant ethical stance when he is invited to an executive charter jet weekend on condition that he persuades cartoonist Reg to introduce a white character into his black-only post-apocalyptic fantasy world; and a furtive pair of nerdish animators fall madly in love with Caroline but are unable to speak in her presence.
---
4x07 Caroline and the Big Night (November 09, 1998)
---
Caroline and Richard's big night finally arrives, in the form of a romantic weekend booked in the perfect room at the perfect country bed and breakfast. What's wrong with this picture? Naturally everything: Richard's choice of the perfect negligée for Caroline to wear gets switched for Del's brother's barbeque apron; their room is given away to another couple who have gotten married after not seeing each other for 30 years; and the bed and breakfast is run by a bitter, bickering pair of neurotics who ultimately throw Caroline and Richard out. But Richard saves the day by getting Annie and Del to turn Caroline's apartment into a romantic fantasyland - which, we learn in the coda, they enjoy for several consecutive days...
---
4x06 Caroline and the Paper Chase (November 02, 1998)
---
Del has hired Caroline and Annie to provide the voices for his new promotional video, but when he comes to pick them up it turns out they have to perform it for the boss first as a puppet show - about menstruation. While Annie is in her office, Caroline searches in Richard's desk for a highlighter and finds his divorce papers, and Richard angrily denounces her invasion of his privacy. Of course Annie immediately lifts the papers, is forced to hide them from Richard, sees them dumped down the corporate mail chute, and has to enlist Caroline's help to wheedle them back from the bizarre and hostile mail room staff - leaving a reluctant Richard and a strangely eager Charlie to act out the puppet show for Mr. MacDermott, who reveals that he is only doing the animated cartoon as part of a community service sentence. Discovering that the divorce papers are two months old but that Richard has not yet signed them, and is therefore technically still married, Caroline confronts him - and he confe
---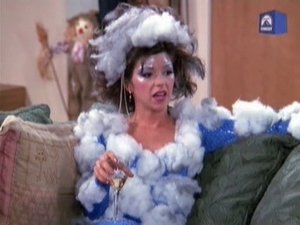 4x05 Caroline and the First Date (October 26, 1998)
---
---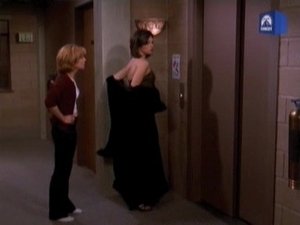 4x04 Caroline and the Drycleaner (October 12, 1998)
---
It's just not Annie's day: she gets fired from Cats after eight years and is immediately dumped by her agent. To get back some self esteem, she agrees to go out with her dry cleaner to his dry cleaners' annual banquet, but when she attempts to strut both their stuff on the dance floor, she succeeds only in fracturing his leg. Meanwhile, since sales of her greeting cards are down, Del talks Caroline into attending a focus group which some wild new ideas about Caroline's cartoon strip. Richard is aghast to find Caroline seriously considering some of them (turning Salty into a dog, giving Caroline super-powers); then Del announces that all greeting card sales are down, Caroline's less than most.
---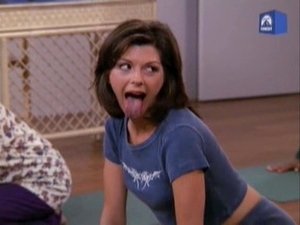 4x03 Caroline and the Rotten Plum (October 05, 1998)
---
Caroline settles into her new workplace, where she inadvertently - and immediately - ticks off office manager Plum, who banishes Caroline and Richard to the basement. Meanwhile, Annie lusts after her yoga teacher Jonathan, but learns from Angie that he is a former porn performer.
---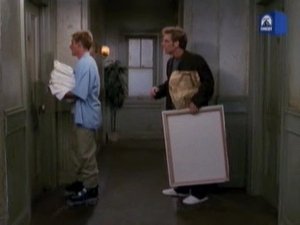 4x02 Caroline and the Office (September 28, 1998)
---
When Carol can no longer stand the pressure Del is putting on her to work out of her new corporate office instead of her home, a reluctant Caroline discovers that Richard has been sleeping there: his vengeful father-in-law has stripped him of apartments, possessions and credit cards, and Charley has been using Richard's old apartment as a makeshift hotel for visiting Russians. Then Richard falls afoul of the militaristic office manager Plum, who subjects him to standard employment tests, including a visit to the staff psychologist - who finds Richard's behavior a little odd.
---
4x01 Caroline and the Guys in the Bathroom (September 21, 1998)
---
Acting as narrator, the Elevator Lady brings us up to speed on the events at last season's close culminating in Richard and Caroline's first kiss. Desperately aroused, Caroline and Richard pause only long enough for Caroline to run to the bathroom to brush her teeth; but once there she is confronted by a vision of four men: ex-boyfriend Trevor, the first man she ever slept with, the high school coach she had a crush on, and the first little boy she ever kissed. An angry dialogue ensues, and an inflamed Richard, overhearing, strips down - only to be walked in on by an angry Annie, who accuses him of exploiting Caroline's vulnerable state. Then Caroline emerges from the bathroom naked, only to be confronted by Annie and Charlie, the latter having arrived with an urgent message from Del: Eagel Greeting Cards is going out of business. A mortified Caroline dresses and rushes to comfort Del, only to discover that he is celebrating the sale of his company to a major conglomerate, and to be pr
---