Caroline in the City
Season 2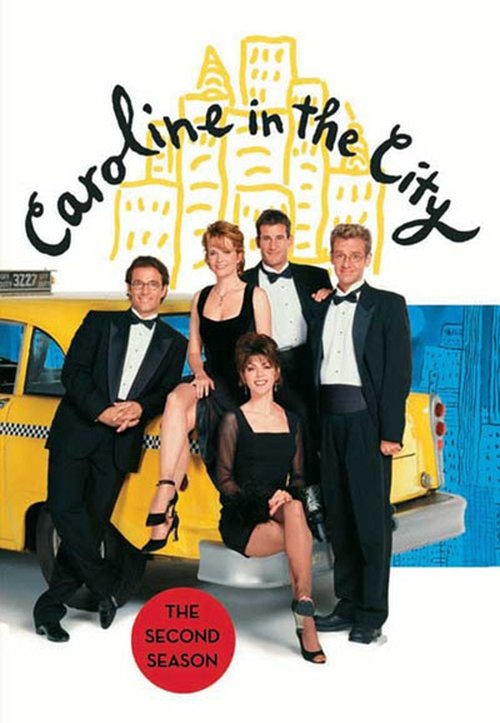 Caroline in the City
Season 2
First Air Date: September 17, 1996

| | | |
| --- | --- | --- |
| First Aired on | : | 1996 |
| Episodes | : | 25 episodes |
Episodes
2x25 Caroline and the Wayward Husband (3) (May 13, 1997)
---
Conclusion. Julia arrives at ""Richard and Caroline's"" apartment in tears, announcing that her engagement is over and demanding to spend the night on the sofa - which means Richard and Caroline have to spend the night together in her bedroom. A nude Julia reveals that seeing the happy couple has revived her feelings for a non-plussed Richard; meanwhile, Caroline consults Del about the possibility of a relationship with Richard, and an uncharacteristically thoughtful Del advises her to follow her heart. Annie's first day on the set of the Shadoe Stevens series doesn't go well, as she is totally unable to master her complicated medical lines, until the director and writer agree to switch her to the part of the hard-bitten female cop (resulting in even more unspeakable jargon). Del is in despair over the impending loss of his company, until Charlie bails him out with the trust find his father has maintained for him all these years - on condition that he becomes Del's partner. Caroline phon
---
2x24 Caroline and Richard & Julia (2) (May 13, 1997)
---
Richard's long-lost love arrives with bad news: she's getting married in two days, to arrogant and insanely jealous fashion designer Marcello. Not to be outdone, Richard concocts a coupling of his own - to Caroline, much to her astonishment. Meanwhile, Del's business is going bankrupt, so he reluctantly arranges a midnight meeting at Remo's with his arrogant father, who refuses to help him but does buy Del's Porsche at an instant profit to teach him a lesson. Annie is offered a part in a pilot for a new series starring Shadoe Stevens, and instantly calls New York to resign from Cats.
---
2x23 Caroline and the Bad Trip (1) (May 06, 1997)
---
Caroline and Annie are overjoyed to learn that Caroline's agent has arranged for her to promote her new book on the Jay Leno show; then Annie reminds Caroline that she will need an entertaining story to tell. Enter Richard's mother Natalie, carrying a jacket that belonged to Jerry Garcia and revealing that the dead rocker was Richard's real father. But Richard, hiding in the stairwell until his mother leaves, isn't impressed: there's hardly a celebrity that Natalie hasn't maintained fathered him. While Caroline and Annie fly to Los Angeles, Del tries to teach Richard how to pick up women during Happy Hour at Remo's (Richard: ""I'm not sure I can do that - I mean, be happy for a whole hour.""), and Charlie goes in search of his father, whom an adoption agency locates instantly: a bumbling waiter in a fashionable restaurant who is overjoyed to meet Charlie, even though their reunion gets him fired two weeks before his retirement. While waiting to appear with Leno, Caroline is warned that s
---
2x22 Caroline and the Ombudsman (April 22, 1997)
---
Caroline's having a really bad hair week because her shower's been out of commission for several days and she can't get the super in her building to repair it. A deliveryman at Remo's suggests she hire his brother-in-law who specializes in persuasion; then an aghast Del and Richard explain to her that she has inadvertently hired a hit man. Trying to protect Mr. Tedescu, Caroline shadows him to head off the hit, which involves getting Richard glued to the pipes in the Elevator Lady's apartment. Meanwhile, Annie's agent wants to make her famous by publicizing her saving an audience member's life with CPR. The catch is that the man was with his mistress and doesn't want any publicity - especially when his wife assumes that Annie is the other woman.
---
2x21 Caroline and the Critics (April 15, 1997)
---
When Caroline learns that an obscure upstate newspaper has dropped her syndicated strip, she drives up with a reluctant Richard to find out why. Naturally Richard's car breaks down, and the two wind up playing marriage counselor to the only local mechanic and his on-the-point-of-leaving wife. Meanwhile, Annie recognizes an obnoxious diner at Remo's as the theater critic who gave her the worst review of her career, and hatches an elaborate revenge plot that involves Del, Charlie, and a cab driver/actor with his own ax to grind.
---
2x20 Caroline and the New Neighbor (April 08, 1997)
---
Things get a little stiff when an demanding elderly new neighbor, who is driving an initially sympathetic Caroline nuts, asks Caroline and Annie for a really big favor - to help out with the removal of her dead, naked husband. Meanwhile, Richard tries to sell his car, but the only bidder is Louis, a bizarre individual claiming to be a minister and promising eternal life in exchange for the vehicle. Charlie, smitten with Sophia, the beautiful new waitress at Remo's, offers Richard $500 (which he makes driving the car as a gypsy cab) so he can give the car to Sophia as a love token; but Richard decides to keep the car and drive it as a cab himself. Through all this, Del is obsessed with the idea that he is losing his hair and his looks.
---
2x19 Caroline and the Buyer (April 01, 1997)
---
Del asks Caroline to help him woo one of his father's biggest clients, a greeting-card store magnate who misunderstands what the cartoonist has to offer. Meanwhile, Annie resents Richard's relationship with her mother, and a friendly game of bocci turns ugly.
---
2x18 Caroline and the Monkeys (March 11, 1997)
---
Del hopes to spark up romance with Annie's neurotic friend Cassandra, who plans on lighting a fire of her own - she's a compulsive pyromaniac just of an institution. Meanwhile, Caroline spends a night out on the town ""alone,"" crashing the restaurant where Richard is trying to enjoy a quiet meal and ultimately being forced by him to attend a movie on her own. Meanwhile, Charlie keeps spotting monkeys throughout Manhattan, and becomes convinced they are taking over the city.
---
2x17 Caroline and the Getaway (February 25, 1997)
---
When Caroline calls her out on always blowing her off for male dates, Annie makes a deal: they will go away together for a weekend skiing trip and ignore men. Naturally, both immediately spot exceptionally interesting men: an old school chum of Caroline's who confesses to having had a mutual crush, and for Annie a handsome tycoon. Meanwhile, Richard is hoping that his relationship with a fellow philosophy student won't remain Platonic, but the tryst he arranges in Caroline's apartment while she is away is invaded by Del and Charlie, who intend to make themselves at home to watch sports.
---
2x16 Caroline and the Dearly Departed (February 18, 1997)
---
It's not a pretty picture when Caroline persuades reluctant con-artist Richard to fake his own death in order to catch the eye of a wealthy art dealer who's scouring the city in search of the works of dead painters - and who winds up delivering the eulogy at Richard's fake funeral.
---
2x15 Caroline and the Long Shot (February 11, 1997)
---
Richard wins a chance to make his dreams come true by sinking a $100,000 three-pointer during a Knicks game.
---
2x14 Caroline and the Kept Man (January 21, 1997)
---
Caroline's romance is beached when Joe's ex returns from an environmental mission.
---
2x13 Caroline and the Singer (January 14, 1997)
---
Annie's sister Donna, who has come to town in hopes of reviving her singing career, discovers Richard's secret love letter to Caroline (inside Annie's diary) and uses it as inspiration for a new song, to Richard's horror and Annie's fury, since she has been using the letter to blackmail Richard into taking her mother to electrolysis appointments. Caroline is preoccupied with her perfect plain black pumps, which she left in Joe's apartment; after a fruitless quest to replace them, she sneaks in to retrieve them, and is found by a repentant Joe. Meanwhile, Del and Charlie get snowed in - inside Del's Porsche, with the keys and his cell phone locked in the trunk by Charlie.
---
2x12 Caroline and the Perfect Record (January 07, 1997)
---
Caroline's romance is beached when Joe's ex returns from an environmental mission.
---
2x11 Caroline and the Freight King (December 17, 1996)
---
When a doodle of a porcupine drawn by Richard gets into a stack of Caroline's greeting card designs by mistake, Del tries to convince Richard to develop the idea into a character of his own - but Richard protests that he is a real artist, not a cartoonist, throwing Caroline for a loop. Annie can't seem to shake a recurring five dollar bill with ""Repent"" written on it, and her mother tries to convince her it's a sign from God that she should return to the Church. When Caroline accidentally gets locked inside the laundry room overnight, her encounter with a bum who used to be a trucking magnate convinces her she has made the right career choice. Richard succumbs to Del's monetary temptation and produces a series of increasingly gloomy and unusable porcupine cards; and he finally apologizes and admits that he admires Caroline's professionalism as a cartoonist. Meanwhile, when a telegram stripper shows up at Del's office by mistake (she was supposed to be at a law firm), Del hires her as r
---
2x10 Caroline and the Red Sauce (December 10, 1996)
---
Annie's mother arrives unexpectedly and moves in with her, to her mounting dismay, but refuses to tell her why - then confesses to Caroline that she has left Annie's father. Annie demands a showdown with her father, who in turn confesses that this is no ordinary spat: he is in love for the first time in his life with another woman. Meanwhile, Richard takes a temporary job as a gift wrapper for Macy's, but his bad attitude gets him demoted to elf; and Del and Charley become convinced that their new assistant is a psycho killer, since all the people on her resume turn out to be dead.
---
2x09 Caroline and the Therapist (December 03, 1996)
---
When Salty begins behaving oddly, Mark recommends that Caroline consult a cat therapist. Although the woman is a complete fruitcake ""not allowed to practice on people any more,"" she accurately pinpoints the problem as Richard's fear of caring for animals. He confesses that he suffered a childhood trauma at the hands of his teacher, Mrs. Fox, when both the class gerbil and rabbit died while in his care and she condemned him as an ""animal killer."" Annie, who has been fixed up by her mother on a blind date with a peculiar forest ranger, helps Caroline track down the retired Mrs. Fox and convince her to make amends with Richard. This doesn't work out quite as planned, since Mrs. Fox also bites the dust.
---
2x08 Caroline and the Comic (November 26, 1996)
---
Richard's father asks for his son's help in reviving an old comedy routine.
---
2x07 Caroline and Victor/Victoria (November 19, 1996)
---
Annie poses as a man to prepare for a ""Victor/Victoria"" audition.
---
2x06 Caroline and the Nice Jewish Boy (November 12, 1996)
---
Joe refuses to accompany Caroline to an award ceremony because one of the sponsors uses animal products; so she calls former date Willard, whom she dumped because he was fat and balding. After Charlie takes him to a Jewish singles event by mistake, Del lies about his background to date an attractive woman who parents will only allow her to date Jewish men. Willard shows up a reformed hunk who only came to tell Caroline to go to hell - ""And I'm rich, too!"" Aghast that Del plans to tell Risa the truth only after they spend a weekend together, Caroline points out delicately that if they sleep together Risa will know only, because Del is a ""turtleneck kind of guy."" So Del books himself into hospital, telling Risa he needs his ""tonsils"" removed; but she shows up to confess that she is eloping with her former boyfriend, who isn't Jewish either. A reluctant Richard escorts Caroline and even more reluctantly dances with her. Just as they seem about to have a tender moment, Joe appears, having
---
2x05 Caroline and the Dreamers (October 29, 1996)
---
Upset that Caroline's strip is not being merchandised aggressively, Del finally stands up to his father who promptly replaces Del as president with his sister, who in turn immediately fires him. Excited about forming his own company (with Charlie as his sole employee), Del assumes that Caroline will jump ship with him, particularly as he kept forgetting to renew her contract with his father's company. When Del calls his former cartoonist clients to a meeting in his crummy new office, they promptly desert him, leaving Caroline in the lurch how can she tell Del she values her income more than their friendship? Meanwhile, Richard is excited about being chosen to paint a mural for the city, even when he discovers he was the only applicant, but he's not prepared for the hostile reaction by the local denizens of the 'hood in question. He finally wins them round by agreeing to incorporate both Dennis Rodman and one hood's girlfriend into the mural, and even Annie is impressed at the unveiling
---
2x04 Caroline and the Guy Who Gets There Too Soon (October 22, 1996)
---
Realizing Caroline never received his love letter, Richard labors to retrieve it from her friend's apartment.
---
2x03 Caroline and the Cat Dancer (October 15, 1996)
---
Richard tries to adjust to his new apartment, where he is plagued by noisily amorous neighbors; Joe tries to adjust to the fact that Caroline plans to remain friends with Del; and Annie frantically tries to adjust her financial records when she is notified that the IRS is auditing her for 1993, a year she barely remembers. Her bad-tempered auditor is under fire for being too lenient with his clients, but when he learns she is a dancer in Cats, he strikes a deal: she'll ""never have to pay taxes again"" if she can get him an audition for the show. Enter 'producer' Del and 'director' Charlie. Meanwhile, disturbed by Joe's jealousy, Caroline makes up her mind to break a date with Del by telling him she's been called out of town.
---
2x02 Caroline and the Letter (2) (September 24, 1996)
---
Realizing Caroline never received his love letter, Richard labors to retrieve it from her friend's apartment.
---
2x01 Caroline and the Younger Man (1) (September 17, 1996)
---
Three months have passed, and Caroline is thinking about advertising for a new assistant, so Charlie tries to demonstrate he would be perfect for the job and knocks Salty out the window. Sparks fly between Caroline and the vet who treats Salty, despite her fears that at 24 he is much too young for her. Meanwhile Richard, having failed as an artist in Paris (his only customer is knocked into the Seine just before buying some paintings), returns to New York and is forced to take a menial job in an ice cream parlor, where he just misses seeing Caroline on her first date with Joe, during which they helped raid an animal experimental laboratory and were arrested. (One of the participants is Shelly, still wistful about Richard, in her final appearance to date.) Caroline wakes up in bed with Joe and is unable to sneak out before he wakes and demands to see her again that evening, and on her way home she and Richard suddenly meet face to face.
---