Winx Club
Season 7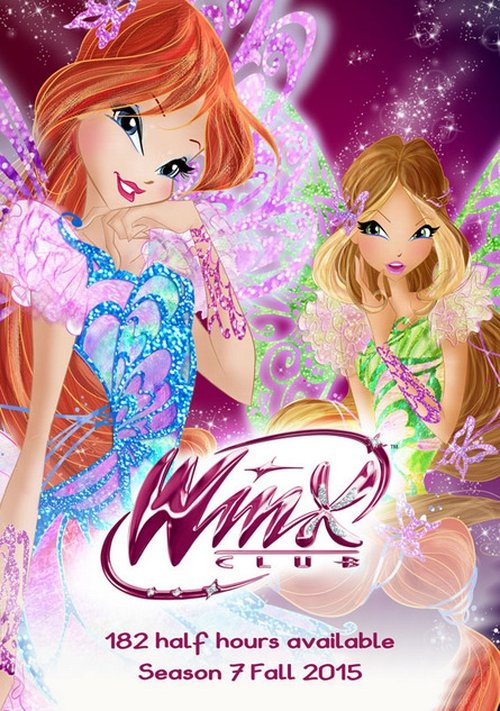 Winx Club
Season 7
First Air Date: September 21, 2015

| | | |
| --- | --- | --- |
| First Aired on | : | 2015 |
| Episodes | : | 26 episodes |
Winx Club series 7 carries on the theme of recent Winx releases by carrying a strong environmental message. In this adventure the fairies discover the real importance of the rare Fairy Animals, which they must save from Kalshara, an evil shape-shifter and her clumsy brother, Brafilius.
Episodes
7x26 The Power of the Fairy Animals (October 03, 2015)
---
---
7x25 New Magic Harmony (October 03, 2015)
---
---
7x24 The Golden Butterfly (October 02, 2015)
---
---
7x23 The Secret of Alfea (October 02, 2015)
---
In a magical universe, witches, warriors begin fighting in the name of good .vs. evil! At a magic school, five teenage girls are selected to defend the universe with their magic.
---
7x22 The Kingdom of Diamonds (October 01, 2015)
---
---
7x21 It's a Crazy, Crazy World! (October 01, 2015)
---
---
7x20 Baby Winx (September 30, 2015)
---
---
7x19 The Magix Rainbow (September 30, 2015)
---
---
7x18 Banana Day (September 29, 2015)
---
---
7x17 Lost in a Droplet (September 29, 2015)
---
---
7x16 Back to Paradise Bay (September 28, 2015)
---
---
7x15 The Magic Stones (September 28, 2015)
---
---
7x14 Tynix Transformation (September 27, 2015)
---
---
7x13 The Unicorn's Secret (September 27, 2015)
---
---
7x12 A Fairy Animal for Tecna (September 26, 2015)
---
---
7x11 Mission in the Jungle (September 26, 2015)
---
---
7x10 Winx Trapped (September 25, 2015)
---
---
7x09 The Fairy Cat (September 25, 2015)
---
---
7x08 Back in the Middle Ages (September 24, 2015)
---
---
7x07 Beware of the Wolf (September 24, 2015)
---
---
7x06 Adventure on Lynphea (September 23, 2015)
---
---
7x05 A Friend From the Past (September 23, 2015)
---
---
7x04 The First Color of the Universe (September 22, 2015)
---
---
7x03 Butterflix (September 22, 2015)
---
---
7x02 Young Fairies Grow Up (September 21, 2015)
---
---
7x01 The Alfea Natural Park (September 21, 2015)
---
---