Winx Club
Season 2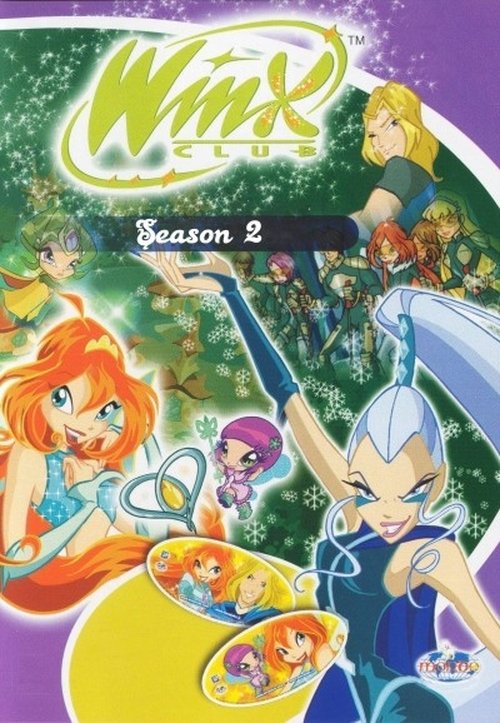 Winx Club
Season 2
First Air Date: April 19, 2005

| | | |
| --- | --- | --- |
| First Aired on | : | 2005 |
| Episodes | : | 26 episodes |
Winx Club is an Italian animated television series, created by Iginio Straffi and produced by Rainbow S.p.A.. The series is aimed toward children between the ages of five and twelve and has spawned an international franchise of toys, books, clothing, DVDs, as well as two CGI feature films. The second season of Winx Club premiered on April 19, 2005 through July 14, 2005 in Italy, and on September 10, 2005 through March 11, 2006 on 4Kids TV. |Main Villains:Lord Darkar
Episodes
2x26 The Ultimate Power Couple (May 23, 2005)
---
The teachers (Faragonda, Griffon, and Codatorta) and the Pixie Elders (Athena, Discorda, Ninfea, and Concorda) help the Winx Club. With Stella's help, they are able to open another portal into Realix and the Winx Club go to save Bloom. Meanwhile, upset that Darkar dumped them, Icy, Darcy and Stormy use their powers to combine and turn into MegaTrix and they take on Darkar. The Winx Club tries to battle Darkar to release her from his spell, but are unsuccessful. While Darkar is busy battling the MegaTrix, the Heroes show up and Sky tries to talk to Bloom. Will love save her and the entire realm from Darkar?
---
2x25 Storming Shadowhaunt (May 20, 2005)
---
The magical universe enters its darkest hour as Bloom (who has turned evil) and Darkar(who has dumped the witches) combine powers to enter Realix. The Winx Club and warriors enter Shadowhaunt where they face Kerbog who has been yet again transformed into an extinct magical creature called an Octaceraton! The five fairies powers have no effect on it and when the Teachers show up to help. Is there any hope of saving Bloom?
---
2x24 Desperately Seeking Bloom (May 19, 2005)
---
Bloom is in Darkar's captivity so he can unite Dragon Fire with Shadow Fire and open the portal to Realix. The Winx Club and Heroes must head for Shadowhaunt and rescue Bloom! Fortunately Amentia and the guards will help them as well, but it's too late-Darkar has turned Bloom into evil!
---
2x23 Darkness And Light (May 19, 2005)
---
Flora, Helia, Sky, Brandon, and Layla go to the pixie village for essence from the flower of life to cure the sneezing pixies but find out it was destroyed in the battle between Icy and Livy for the codex. Ninfea encourages Flora to heal the flower of life. Meanwhile back at Alfea the Bloom, Stella, Musa, Techna and Layla Charmix train to fight Darkar. Then Musa Stella and Techna find the real Professor Avalon revealing the other to be a fake right before he kidnaps Bloom!
---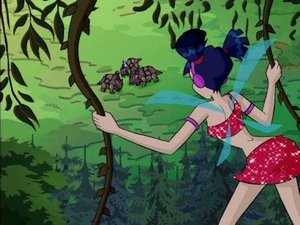 2x22 Last Resorts (May 18, 2005)
---
Seemingly trapped by the Witches, the Winx girls and the heroes have to work together in the fight for their lives! With Timmy as head strategist, they set a trap for the Witches.
---
2x21 Trouble In Paradise (May 17, 2005)
---
Icy, Darcy and Stormy turn the creatures of the Resort Realm against the winx club girls.
---
2x20 The First Charmix (May 16, 2005)
---
While The Winx leave for a getway resort, Avalon shows his true loyalties and tricks a pixie into going back to Pixie village. Icy follows to retrieve the codex.
---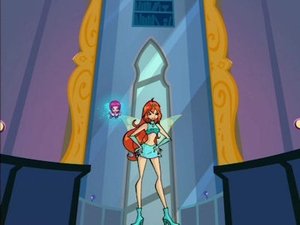 2x19 Shadows In Bloom (May 13, 2005)
---
Bloom is angry for loosing two pieces of the Codex to the witches and turns to Avalon for advice. While undergoing regression therapy with professor Avalon a mysterious dark energy takes hold of Bloom. While her friends worry about her well being, Bloom ultimately makes her way to the secret room to steal Alfea's part of the Codex.
---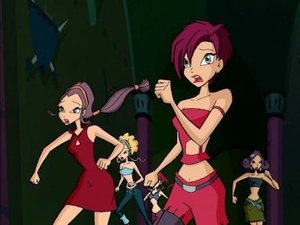 2x18 Heart of Cloud Tower (May 12, 2005)
---
Griffin takes back control of the Heart of Cloud Tower, providing temporary relief and a glimmer of hope. But Senior Witches soon locate the part of the codex. The Winx overwhelmed by the power of the their enemies fall back on their one last chance, convergence.
---
2x17 Exchange Students (May 11, 2005)
---
Bloom and the rest of the Winx go to Cloud Tower to learn more about Dark Magic from the witches. Mirta and Zing go along to help out. While the girls are there, Cloud Tower is attacked by Icy, Darcy, and Stormy, who try to steal another piece of the codex!
---
2x16 The Fourth Witch (a.k.a. Hallowinx) (May 10, 2005)
---
The girls are invited to an Halloween party on Earth by Bloom's old rival Mitzy. The party is held in a mansion that is said to be haunted by the ghosts of three witches looking for their long lost sister.
---
2x15 Magic in My Heart (May 09, 2005)
---
Musa faces her greatest challenge ever when she must face a huge audience including her father but evil crashes the party and Stormy threatens to destroy Musa's father! Music power is put to the ultimate test to save the concert and Musa's beloved father.
---
2x14 The Wrong Righters (May 06, 2005)
---
Sky, Bloom, Brandon, Flora, Lockette, and Zing attempt save Princess Diaspro from a a band of goodie goodies known as the Wrong Righters who attempt teach Diaspro a lesson in kindness and helping others.
---
2x13 Gangs of Gardenia (May 05, 2005)
---
When Bloom decides to go back to Earth, Layla, Musa, and Stella decide to join her. When some gangsters catch Musa using magic, it's up to the Pixies to save them!
---
2x12 Truth or Dare (May 04, 2005)
---
A boy named "Jared" has a crush on Musa, and wants to go out on a date with her. Later, Darcy casts a spell on Jared to jinx the magical chamber, and the Winx Club must combine their powers to beat the monster.
---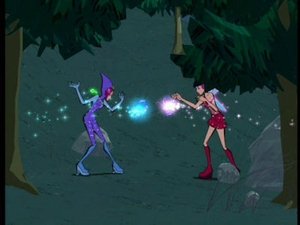 2x11 Homesick (May 03, 2005)
---
Lord Darkar hits the pixies with a spell while they're playing which makes them want to go home. The Winx Club must save the pixies and battle the monsters Darkar sends to stop them!
---
2x10 Reaching for the Sky (May 02, 2005)
---
Red Fountain is attacked by a chaos globe! While the Heroes are busy protecting their campus, the Witches break in and try to steal the codex. Bloom, Flora and Techna try to help the specialists gaurd the codex.
---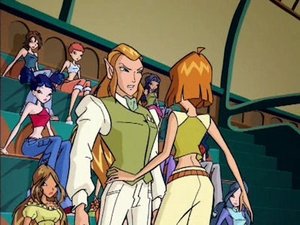 2x09 The Angel of Doom (April 29, 2005)
---
After careful observation of Professor Avalon, Techna and Digit become convinced that he isn't who he says he is. They begin researching his past and fear he is the Angel of Doom in disguise.
---
2x08 Party Monster (April 28, 2005)
---
The new campus for Red Fountain opens. The Winx Club joins in the grand opening celebration and meet Helia, who likes drawing. But Lord Darkar attacks Red Fountain with a monster, hoping to distract Red Fountain from Icy, Darcy and Stormy, who are trying to steal the codex.
---
2x07 The Dark Tower (April 27, 2005)
---
A mysterious large dark towers appear near Alfea. As the Winx Club attempts to destroy it, their powers are drained!
---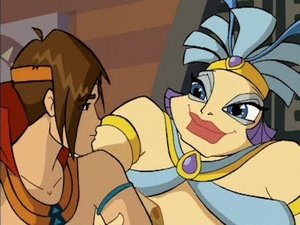 2x06 My Boyfriend's Wedding (April 26, 2005)
---
After saving the pixies, Bloom, Stella, Layla and Sky go to Downland to stop Queen Amentia from marrying Brandon.
---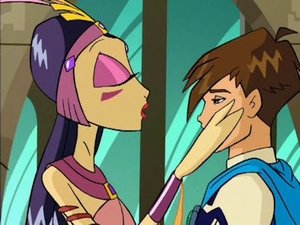 2x05 Rescuing the Pixies (April 25, 2005)
---
Layla, Bloom, Stella, and Sky successfully reach ShadowHuant. Meanwhile, Layla saves the remaining pixies and later a mysterious man appears and rescues the four of them from the witches.
---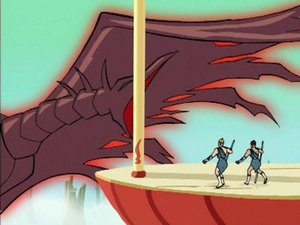 2x04 Queen of Perfection (April 22, 2005)
---
Stella and Brandon fall into an underground river at the bottom of the chasam which sucks them down the current into a whirlpool and onto the shores near an underground kingdom called Downland where they are found by a palace guard and a centry named Sponsus who takes the couple to Amentia the perfectionist and queen of Downland. Amentia sees Brandon and takes him for her husband! A devestated and weakened Stella must soon find the sun to renew her winx or her friends will become monster chow!
---
2x03 Into the Under Realm (April 21, 2005)
---
Faragonda decides to test the winx club on going to the Under-Realm but only Bloom,Stella,and Layla pass. Sky and Brandon accompany the girls on their mission but upon arrival run into a group of monsters whose quick defeat costs the fairies most of their winx! The mission becomes even more difficult when Stella and Brandon fall into a dark chasam.
---
2x02 Princess of Tides (April 20, 2005)
---
Layla is out cold in the bedroom of the Winx Club and Lord Darkar goes to the Light Haven -- the Do-Gooder's boot camp where Icy, Stormy, and Darcy are being held. He breaks them out to become his evil army. He also gives them a major upgrade on their powers.
---
2x01 Back to School (April 19, 2005)
---
The new school year begins at Alfea, but in a evil realm called the Under-Realm, in a place calles ShadowHuant, a group of pixies: Amore, Blinky, Chatta, Digit, Lockette, Piff, Tune and Zing, are trapped in the dungeon of ShawdowHuant located in a cell that is taking all of their powers. Their best friend, Layla, a fairy princess from the Realm of Tides, goes to the Under-Realm to try and save her best friends, while she must also fight for her life in the Palace of ShadowHuant. Layla is also losing most of her powers and that is making it harder to try and rescue her friends.
---