Kenan & Kel
Season 3
Kenan & Kel
Season 3
First Air Date: October 10, 1998

| | | |
| --- | --- | --- |
| First Aired on | : | 1998 |
| Episodes | : | 22 episodes |
Episodes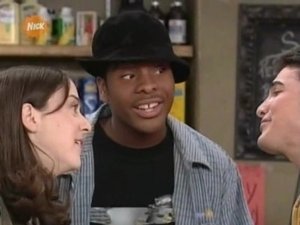 3x22 Poem Sweet Poem (April 24, 1999)
---
Kenan writes a lovely poem, inspired by Sharla, for a class assignment. Unfortunately, Kel leads a female classmate, Alison, to believe that Kenan wrote the poem for her. When she breaks up with her boyfriend, Kenan and Kel try to make things right.
---
3x21 Who Loves Who-ooh? (November 14, 1998)
---
The sweethearts ball is coming up and everyone has a date, except Kenan. He wants to ask Sharla, but he's afraid. Instead, he decides to tell everyone he's taking Tamia to the dance. Now all he has to do is convince Tamia to go to the dance with him.
---
3x20 We Are The Chimpions (February 27, 1999)
---
Kenan & Kel adopt a chimpanzee through the zoo's adopt-a-critter program. After the guys are informed that their pet is being transferred, Kel decides he's going to kidnap the chimp---if he doesn't lose him first.
---
3x19 Clothes Encounters (February 20, 1999)
---
Kenan & Kel take a trip to the mall and manage to get locked out of their dressing rooms. One minor problem--Kenan is dressed only in his underwear and a t-shirt.
---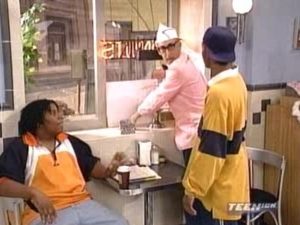 3x18 He Got Job (February 13, 1999)
---
Kel takes on a job at the donut shop. It's not long before he's created a sensational new donut---and ruined the store.
---
3x17 Picture Imperfect (February 06, 1999)
---
When Kel accidentally destroys half of the school's yearbook photos, it's up to him and Kenan to rectify the situation. In a rare stroke of luck, Bill Bellamy happens to be in town that week.
---
3x16 The Contest (February 06, 1999)
---
A local radio station is sponsoring a contest and the grand prize is two courtside seats to a Chicago Bulls game. All Kenan & Kel have to do is perform a stunt crazier, wackier, and more dangerous than all the other entrants' stunts and the tickets are theirs for the taking.
---
3x15 The Limo (January 30, 1999)
---
To impress a wealthy girl, Kenan pretends he's loaded too. All goes well until Kel wrecks the limo Kenan has rented for the evening.
---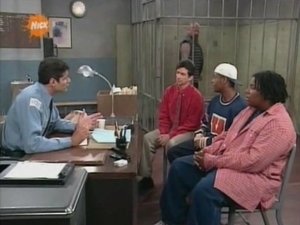 3x14 I'm Gonna Get You Kenan (January 30, 1999)
---
When Kenan hits a robber with the door at Rigby's he has him put in jail. Meanwhile Kenan has the house to himself after his parents leave. But when Kenan hears that he escapes he gets very scared.
---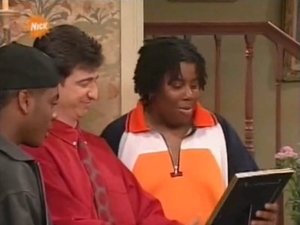 3x13 Housesitter (January 23, 1999)
---
Chris entrusts Kenan & Kel with the responsibility of taking care of his house while he's out of town. The guys do a great job, if you don't count the fire, and the flood, and the hole in the ceiling, and the...
---
3x12 Present Tense (January 16, 1999)
---
Eager to see the gift his parents bought him for his birthday, Kenan snoops around and finally finds it. Then, Kel accidentally breaks the gift, which eventually winds up in the possession of Kenan's uncle. Now the guys have to get the gift back and replace it. Good luck.
---
3x11 Freezer Burned (January 02, 1999)
---
As a result of bumbling, Kenan and Kel find themselves trapped in a freezer. And one by one, Roger, Sheryl, Kyra, a restaurant full of customers, and Dr. Joyce Brothers come into the freezer and the door closes behind every one of them.
---
3x10 You Dirty Rat (December 19, 1998)
---
There's a rat loose in Rigby's and it's up to Kenan & Kel to capture it before the exterminator gets to it.
---
3x09 Surprise, Surprise (December 12, 1998)
---
Roger is planning a surprise anniversary party for Sheryl. Too bad Kenan & Kel are in charge of picking up the cake and Sheryl's gift.
---
3x08 Attack of The Bug Man (November 28, 1998)
---
While Kenan & Kel are in Kenan's room playing Penguin Hunter, the Rockmores' house is robbed. Kenan & Kel try to prevent Kenan's parents from coming home before they can see what has happened.
---
3x07 I.Q. Can Do Better (November 28, 1998)
---
Kenan & Kel take an IQ test and Kel outscores Kenan. When the guys go to talk to Principal Dimly about the results, Kel accidentally leaves incriminating evidence in the office.
---
3x06 Happy B-Day Marc (November 21, 1998)
---
Marc Cram is having a birthday bash and everyone's invited---except Kenan. Kenan is determined to attend the party, one way or another.
---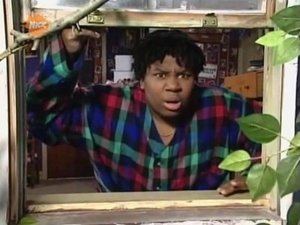 3x05 To Catch A Thief (November 07, 1998)
---
Kenan believes that Marc has stolen his watch so he and Kel set a trap to catch him in the act at Kenan's house.
---
3x04 The Chicago Witch Trials (October 29, 1998)
---
There's a new girl in school named Becky. Kel thinks he's head-over-heels in love with her, but Kenan thinks she's a witch and is determined to prove it.
---
3x03 The Raffle (October 24, 1998)
---
The Rockmores get a brand new TV, and when Kel breaks the TV that Chris was planning to give away in the Rigby's raffle, Kenan pulls the old switcheroo. What are Kenan & Kel to do? Fix the raffle, of course!
---
3x02 Skunkator vs. Moth Man (October 17, 1998)
---
There's a big comic book convention in town and Kenan & Kel are dying to go. Too bad Kenan has to train Rigby's new employee, Sharla, that day. The guys decide to go anyway and things go downhill from there.
---
3x01 Fenced In (October 10, 1998)
---
Kenan & Kel manage to score a date with two lovely young ladies named Lee Ann and Amy. Kenan is really anxious about the date and makes extensive plans to ensure that things run smoothly. Unfortunately, Kel can't seem to hold on to a yo-yo he's purchased for his date, and as a result the guys find themselves with their heads stuck in a fence.
---