Kenan & Kel
Season 1
Kenan & Kel
Season 1
First Air Date: August 17, 1996

| | | |
| --- | --- | --- |
| First Aired on | : | 1996 |
| Episodes | : | 14 episodes |
Episodes
1x14 Twizzles Fizzles (November 23, 1996)
---
Roger and Sheryl leave Kenan in charge one weekend when they go out of town. The rules are simple: don't make a mess and take care of your father's beloved cockatoo, Twizzles. Within an hour of their departure, Twizzles expires and the boys are panicked. Searching Chicago for a replacement, the boys borrow $100 from Chris to buy a similar bird from Pet This! While transferring the bird into Twizzles's old cage, it flies out the window. In a desperate attempt to get the new Twizzles back, the boys spread birdseed all over the house and open all the windows and doors. When Roger and Sheryl come back early and walk inside the house they learn the birdseed attracted not only the Twizzles impostor, but half the fowl in Chicago.
---
1x13 Safe and Sorry (January 11, 1997)
---
Chris sends the boys down to the little-used storage room in the basement of Rigby's to clean up. When Kel picks up a book to kill a large spider crawling on Kenan, a map falls out. The map gives directions to a safe, but the boys are hesitant--they've just seen a movie about the mob where a character who found a safe met with an unfortunate end.
---
1x12 Baggin' Saggin' Kel (January 04, 1997)
---
It's time for the yearly bag-off competition between Rigby's grocery store and the store owned by Chris's nemesis--Angus's Food Barn. It looks like Rigby's will lose for the 18th year in a row until Kel unknowingly reveals his bagging skills and becomes a Rigby's employee. Nervous about the competition, Kel and Kenan come up with a sure-fire way to win. A day before the competition, Kel is bribed by Angus to come work for him. Distraught, Chris prepares to lose again--until Kel reveals the boys' master plan.
---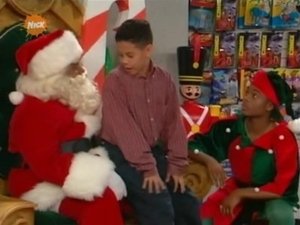 1x11 Merry Christmas, Kenan (December 14, 1996)
---
Kenan has been saving up all year to buy a Christmas present for himself: the world's coolest mountain bike. To get the last few dollars he needs, he accepts a job filling in as a department store Santa after the other Santa meets with an unfortunate accident. Excited about finally being able to afford the bike, Kenan is thrown into turmoil when he meets a little boy who wants nothing for himself, just a bike for his little sister. The little boy inspires Kenan to learn the true spirit of Christmas and giving, and Kenan becomes a real-life Santa for the little girl's family.
---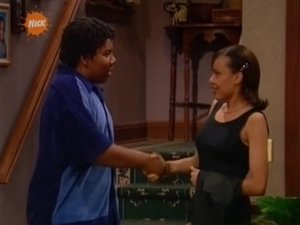 1x10 Dial 'O' for Oops (November 30, 1996)
---
It's love at first sight when Kenan meets the daughter of his father's mean boss, Mr. Dawson. Ignoring his father's warnings, Kenan sets out to ask her for a date. But when the answering machine records more than just him hanging up, Kenan and Kel set out to switch the tape before the Dawsons can get home and listen to it.
---
1x09 In the Line of Kenan (December 07, 1996)
---
The President of the United States makes a visit to Rigby's during a stop in Chicago. While walking through the store, he falls prey to a toppling display of orange soda cans the boys have erected. Saved from disaster by Kenan, the President tells him to drop by the White House as his special guest if he's ever in town. The boys take him up on his offer and wreak havoc at the White House.
---
1x08 The Cold War (November 09, 1996)
---
Kel has a bad case of the flu. Kenan tries to cure him with a homemade remedy consisting of just about everything in the kitchen. To their surprise, Kel is in perfect health the next morning, which gives Kenan an idea. In their quest to reformulate their cure for the common cold, more than a few ingredients are mistaken and they end up with a cure with an uncontrollable side effect: deep sleep. All is well until the boys realize they have given the cold medicine to Kenan's father--an air traffic controller.
---
1x07 Diamonds Are For Roger (December 28, 1996)
---
Kenan's parents are getting ready to celebrate their 17th wedding anniversary. Roger really wants to go all out to impress Sheryl, so he visits an old friend who owns a jewelry store. When Roger is unable to decide which cubic zirconium he wants, Nate--the store owner--lets him take the stones home to think it over. In the meantime, Kenan and Kel are watching ""America's Criminals"" and see a diamond thief who looks exactly like Kenan's father. Later they find the zirconium that Roger brought home and conclude that he is the thief. They get themselves into an even bigger predicament when they try to return the ""diamonds"" to the jewelry store.
---
1x06 Mo' Sweater Blues (November 02, 1996)
---
Kenan finally gets up the nerve to ask out Brianna, the girl of his dreams. On the night of their date she arrives wearing a beautiful white sweater her grandmother knitted for her before she died. Kel accidentally spills a drop of orange soda on it. Kenan panics and the boys race to clean it up, spilling grease on it in the process. Ushering Brianna out of the house, sweater unseen, the boys spend the rest of the night frantically trying to clean the sweater without letting Brianna know anything is wrong. Instead of cleaning it, though, they only succeed in making it worse and worse.
---
1x05 Duh Bomb (November 16, 1996)
---
When two hip older teenagers scoff at Kenan and Kel for being too young to get into a real club, the boys set about making their own dance club--in Rigby's. Things turn disastrous as the partygoers begin to eat everything off the shelves and trash the store just as Chris walks in.
---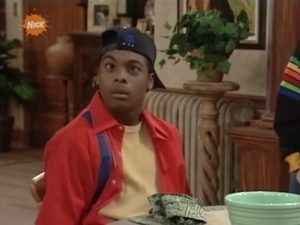 1x04 Mental Kel-Epathy (October 12, 1996)
---
Kel begins showing uncanny psychic abilities by telling Kenan and the family things he couldn't have known, so Kenan decides to bring him on a daytime talk show, even though Kel was lying.
---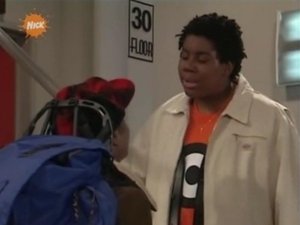 1x03 Doing Things The Hemingway (October 19, 1996)
---
Kenan decides that to live life to the fullest he must be like Ernest Hemingway, and he sets a list of goals to accomplish. At the top of Kenan's list is Brianna--the girl of his dreams. He decides that in order to get her attention he must climb to the top of the Sears Tower and hang a banner declaring his love for her. However, after walking up 110 flights of stairs and hanging the banner, Kenan and Kel get stuck in a window washing cart on top of the Sears Tower; worse still, the banner tears and reads "Kenan loves Brian."
---
1x02 The Tainting Of The Screw (October 26, 1996)
---
When Kenan nearly chokes on a screw he finds in his tuna sandwich, he hatches a devious plot to sue the tuna company for $10 Million. They meet with a lawyer to discuss their plans, but will Kel be able to stick to Kenan's version of the story?
---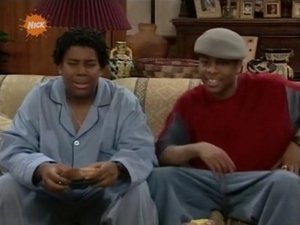 1x01 Pilot (August 17, 1996)
---
Kenan wants to buy a car, but his parents don't want him to have one. However, he finally manages to buy one, despite the unknown fact that the car was stolen. Kenan then makes an agreement with the police to catch the thief, being the password: "the chipmunk has pneumonia.".
---