River Monsters
Season 2
River Monsters
Season 2
First Air Date: April 25, 2010

| | | |
| --- | --- | --- |
| First Aired on | : | 2010 |
| Episodes | : | 7 episodes |
Episodes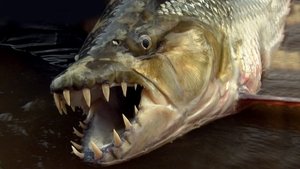 2x07 Demon Fish (May 31, 2010)
---
Jeremy Wade journeys to the infamous Congo River in Africa in search of the world's most ferocious fish. This supernatural monster predator pushes Jeremy to his physical and mental limit. It requires all of his skills and the help of a witch doctor.
---
2x06 Hidden Predator (May 30, 2010)
---
The biggest bull shark ever recorded was caught in South Africa, in a river. Was this monstrous freshwater catch a horrifying fluke, or are there more shark giants prowling this river? Jeremy Wade heads to South Africa to see if he can land a monster!
---
2x05 Rift Valley Killer (May 23, 2010)
---
Jeremy Wade is on a quest to Africa's Rift Valley to explore the roots of fishing and the monsters these first fishermen faced. It's a dangerous place, filled with killer crocs, hippos and warring gangs, but at its heart is a worthy prize: the Mputa, aka Nile perch, Africa's largest freshwater fish.
---
2x04 Alaskan Horror (May 16, 2010)
---
Extreme angler Jeremy Wade searches for the lethal lake monster of native legend that's been dragging people down to an icy grave for centuries. He ends up landing the largest fish he's ever caught, but is this the monster?
---
2x03 Congo Killer (May 09, 2010)
---
Jeremy Wade travels to one of the few rivers left on earth that will still test a fisherman. The Congo, a river steeped in legends... and soaked in violence. One spirit in particular is said to lure fishermen from their boats to their death.
---
2x02 Killer Snakehead (May 02, 2010)
---
Angler Jeremy Wade sets his sights on an aggressive Far Eastern predator that's now invading America's backyards. Accused of homicide, and said to breathe air and crawl on land, the Snakehead is a monster that sounds more like a gangster than a fish.
---
2x01 Death Ray (April 25, 2010)
---
Jeremy Wade heads to the Mekong River in search of one of the world's largest, most terrifying river fish, the giant freshwater stingray. Armed with a venomous 10-inch barbed tail, this 700-pound monster pushes Jeremy to his limit.
---