The Guardian
Season 3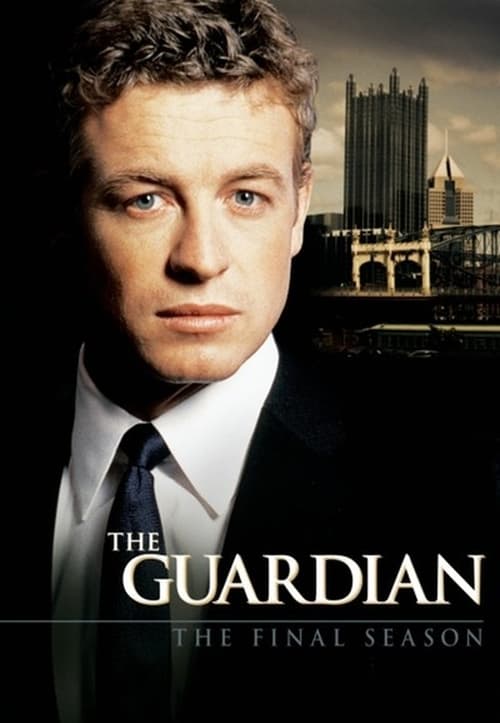 The Guardian
Season 3
First Air Date: September 23, 2003

| | | |
| --- | --- | --- |
| First Aired on | : | 2003 |
| Episodes | : | 22 episodes |
Episodes
3x22 Antarctica (May 04, 2004)
---
Nick takes a job at the law firm of Walter and McNeil. Lulu gives birth to a baby girl. She decides to work part-time at legal services of Pittsburgh to take care of the baby. Burton thinks his son made a mistake by taking the new job. Alvin tries to stop the execution of Taliek Allen because of new evidence that Alvin's client suffered brain damage when he was attacked. Alvin along with Nick must try and get a trial stating why he should live and not be executed. Lulu decides to have full custody of the baby and give the baby her last name not Nick's. Alvin is angry because of what Nick told his client regarding his chances for a clemency hearing. Nick learns that Burton has stepped down from his firm to be a grandfather to the baby. Nick also leaves his job at the firm of Walter and McNeil.
---
3x21 Blood In, Blood Out (April 27, 2004)
---
Nick 's future at the firm is about to be voted on, as Nick awaits the verdict on his future he takes on two cases that involve two boys. The first boy Nick defends is Kevin Brown who is accused of raping a girl who became pregnant with a baby. The second boy Nick defends is a young boy who attacked an 8 year-old girl and attacked a social worker who was trying to place him in a foster family. The boy was placed in a center that was supposed to help rehabilitate the boy into society. Alvin defends a former client of LSP named Taliek Allen. Alvin defends a former client of LSP named Taliek Allen who fired his attorney. Taliek Allen shot a friend of Alvin's. He tries to get his client's sentence appealed. Alvin's client says he is tired of going through the appeals process to get his prison sentence reduced.
---
3x20 The Vote (April 20, 2004)
---
Nick 's future at the firm is in question because of because of a lawyer Burton thinks quite highly of but he doesn't feel she is ready to be a partner in the firm just yet. Sandra however blames Nick for not being voted into the firm. Sandra files a sexual discrimination lawsuit against Nick and his firm causing Jake to hold an executive meeting to consider what action to take against Nick. Burton is worried about his son 's future at the firm.
---
3x19 Remember (April 06, 2004)
---
Alvin tells ALS will later affect Nick about his date with Victoria and how they're relationship and for Alvin his only form of communication will be blinking his eyebrows. At a court hearing Alvin is asked to turn over his files involving past clients at LSP. Alvin isn't ready to turn over the yet just yet because feels that in doing so would violate the Attorney client privilege. Nick also helps a young boy who claims he can't remember being abused Nick learns that Andrew has been lying to him all along and now has to testify at his father's hearing.
---
3x18 The Bachelor Party (March 09, 2004)
---
Alvin Masterson has a lot to do in so little time he is getting married to Victoria Little and has ALS. Nick decides to Los Angles. Alvin tries to get to know Nick better. Alvin drives to see his son who he last saw at age 7 and learns that his son already has a dad. Alvin wonders if marring Victoria is the right thing to do and if it is for the right reason.
---
3x17 The Watchers (March 02, 2004)
---
Nick sees a change in his dad that worries him, Burton keeps getting dizzy due to Vertigo. Burton wonders if he will be a good dad to Shannon. After Nick & Burton learn Shannon has been found they try to get the woman who called police about Shannon to tell Nick and Burton where Shannon might be. When Burton offers to pay the woman to tell where Shannon is Nick isn't sure the woman will tell the story.
---
3x16 Sparkle (aka: Glow) (February 24, 2004)
---
Nick tries to find an unwanted foster child a home Philip may have hurt the baby. Burton gets angry after finding that Shannon posed for a photographer named Malcom Reeves. Burton learns that Roy signed papers letting Shannon model. Nick learns that his house was robed so she could by make-up. Burton learns ran away with Malcom.
---
3x15 Without Consent (February 17, 2004)
---
Jake lies to everyone about how he got hurt soon Burton & Maureen find out the secret. Nick tries to figure if Luke should live in Foster Care or live with his dad after seeing his mom sleep with a friend of his. Lulu drafts a trust fund for their baby; Nick wants them both to be trustees. Burton worries about Jake who was supposed to help on a case.
---
3x14 All Is Mended (February 10, 2004)
---
Nick learns his unborn baby has Down Syndrome to learn more about it Nick helps Mark set up a trust fund so he won't lose his Social Security. Nick tells Lulu about Mark and that he took the case to understand more about Down Syndrome and help Lulu understand what maybe a head for their baby. Kate Shaw asks Jake to take an AIDS test because Kate wanted him to join a country club.
---
3x13 Amends (January 27, 2004)
---
Nick finds out how hard it is to get the trust of the people he hurt back. Burton feels Nick isn't ready for a heavy caseload that might hurt Fallin & Fallin. Nick wonders if the bus driver caused the accident on purpose. Lulu tries to place Connor Adams in a foster home and understand why Nick had the affair with Suzanne.
---
3x12 Beautiful Blue Mystic (January 13, 2004)
---
Nick begins taking a drug called Beautiful Blue Mystic, not realizing how it hurt Fallin & Fallin and LSP. Nick goes to get help to kick the habit. Nick learns that Anne needs help finding a place for her son because she is dying of cancer. Lulu confronts Suzanne about the affair she had with Nick.
---
3x11 Legacy (January 06, 2004)
---
Ted's dad goes on a shooting spree killing himself & co-workers leaving Nick and Suzanne to tell Ted his dad has committed murder. Nick and Suzanne take Ted to see his dad. Burton wants Nick managing partner of the firm but Nick doesn't seem ready. Burton worries about Eric Kane who seems ready to go back to work to soon and not deal with trauma of the shooting. Burton gets worried when Eric Kane closes a deal without the authority of a CEO.
---
3x10 Swimming (December 16, 2003)
---
Nick learns that his dad will need surgery to fix his heart, also Nick must keep the firm from losing a merger, help Burton find a good doctor to do the surgery. Nick wonders if Burton will make it through the surgery and tells his dad Lulu is pregnant. Shannon asks to go to the hospital because worries Burton might die and have no place to live.
---
3x09 Let God Sort 'Em Out (November 25, 2003)
---
Nick tries to find a place for Donny Longo & his Grandfather to live together, but Donny has a hard time with Rebecca's ruling (the Judge that handled the shelter hearing). Meanwhile Burton must try to get Mr. Lounge's house back from a man that bought it at an auction. Mr. Longo lived in the house for 65 years with paying rent. Nick learns that Mr. Longo used the property for bad purposes that caused Mr. Longo to lose custody of Donny.
---
3x08 Believe (November 11, 2003)
---
LSP teams up with Victoria Little to form AIDS Relief Alliance, meanwhile Nick becomes a medical guardian to two kids who may AIDS. Lulu learns she is about to be a mom. Nick and Susan Powell meet Mr. Wheat who learns that one his kids needs a home because she is HIV positive. Nick asks Burton for his for mom's engagement ring to marry Lulu after she sees the ring Lulu wonders if Nick is moving things to fast. Nick leans his client is HIV positive after he wouldn't give a blood test. Nick learns Calvin may have given HIV to his client.
---
3x07 Hazel Park (November 04, 2003)
---
Nick runs into a former client while helping in a cleanup project for his Community Service. Nick helps the former client out by calling a community College after learning he can't read. Burton takes the case of a mother who puts her baby up for adoption because she can't afford to keep her son. Burton wants to adopt Shannon but her dad doesn't want the adoption to happen.
---
3x06 Let's Spend the Night Together (October 28, 2003)
---
Nick & Lulu move into his place and find out how hard it is keep their love life out of the office. Jake learns his mom and dad want to divorce. Jake is about to lose control of his life when he finds out the secret his father has hidden for years. Lulu's dad drives her crazy when he finds out that his daughter is seeing Nick, her dad asks Lulu to take over his painting business.
---
3x05 Shame (October 21, 2003)
---
When the bank insists that the firm pay off its loan immediately, Nick is forced to try to collect unpaid fees from delinquent clients. Meanwhile, Lulu's estranged father returns and asks her for money.
---
3x04 The Father-Daughter Dance (October 14, 2003)
---
Lulu starts her job as Director of LSP, leaving Alvin to wonder if he is needed at LSP. Nick helps a couple sue a fertility clinic because the baby is black. The parents want to keep the baby and the clinic to pay for damages. Nick needs to help find Samantha Gray who lost her sight because her dad. Samantha goes to Nick's office to tell him she isn't going back to the place she came from. Nick has dinner with Mrs. Aaronson who became pregnant after doing a procedure to have a baby, now the lawsuit against the clinic will be dropped. Samantha learns her dad lost his rights to be a dad because he was drug addict. Nick waits with Samantha on a bench in the courthouse wondering if her dad will show up for the hearing. When he doesn't show up Nick finds him doing drugs.
---
3x03 The Line (October 07, 2003)
---
Alvin is having to take James Mooney's caseload & trying to stop Lulu from leaving for new job. Nick meets Sharon Diamond who was arrested for solicitation. Nick asks for help in what to recommend for Sharon (A.K.A.: Tiffany Skovich) who was working at a restaurant. Nick tells Tiffany Skovich to talk to the police about Mason and go to a shelter. Alvin tries to get Mason to stop using girls for money. Alvin goes to far looking for Tiffany before police get to the scene, leaving Nick to wonder why he isn't at LSP. Alvin fights Roger over pictures he took outside the restaurant where Mason worked. Roger & other LSP board members feel Alvin went to far. Lulu is the new Director Legal Services of Pittsburgh.
---
3x02 Big Coal (September 30, 2003)
---
Nick tries to help a young lady who has cancer but get can't the insurance company to help her out, this puts Nick in a bind. Nick asks Lulu to help him get the insurance company to pay for her medical care. Nick tells his client's dad he needs to look somewhere else for the money.
---
3x01 Carnival (September 23, 2003)
---
---