NCIS: Los Angeles
Season 5
NCIS: Los Angeles
Season 5
First Air Date: September 24, 2013

| | | |
| --- | --- | --- |
| First Aired on | : | 2013 |
| Episodes | : | 24 episodes |
Episodes
5x24 Deep Trouble (1) (May 13, 2014)
---
When the NCIS: Los Angeles team and DEA uncover the cartel's plans to slyly transport billions of dollars' worth of cocaine from Colombia to the U.S. using a submarine, Callen and Sam must quickly locate the missing vessel. Meanwhile, Hetty is called to Washington in the aftermath of the controversial mission in Afghanistan.
---
5x23 Exposure (May 06, 2014)
---
When a news reporter announces the group responsible for the deadly explosion at a military-sponsored charity event, the team must investigate her claims and search for the attacker.
---
5x22 One More Chance (April 29, 2014)
---
Sam is convinced that the theft of software for a new unmanned aerial vehicle is connected with the disappearance of the lead engineer's 10-year-old daughter, a girl Sam once provided protection detail for in Saudi Arabia.
---
5x21 Three Hearts (April 15, 2014)
---
The team takes an undercover agent who is suspected of working for the smuggler he is supposed to be investigating into custody; Kensi and Deeks discuss their relationship.
---
5x20 Windfall (April 08, 2014)
---
Nell joins Deeks in the field on a case involving a former Marine who is being tracked by al-Qaida after embezzling money from Iraq.
---
5x19 Spoils of War (April 01, 2014)
---
After learning that Special Agent Kensi Blye disappeared and the Taliban may be he holding her captive, Hetty sends the NCIS: LA team to Afghanistan on a rescue mission.
---
5x18 Zero Days (March 25, 2014)
---
Eric witnesses his friend, a computer systems expert, being attacked by people who want information that could redirect a missile; Kensi runs into a familiar face in Afghanistan.
---
5x17 Between the Lines (March 18, 2014)
---
When a gang identifies and executes an undercover agent, the team must locate a mole before other agents are put in danger.
---
5x16 Fish Out of Water (March 04, 2014)
---
Following an explosion at a fish market, the NCIS: LA team partners with an undercover DEA agent to determine if the incident is an act of terrorism or a botched drug smuggling deal. Meanwhile, in Afghanistan, Granger and Kensi investigate a helicopter crash that could be tied to their ongoing search for the infamous white ghost.
---
5x15 Tuhon (February 25, 2014)
---
Callen and Sam search for a murder suspect -- a retired assassin (Danny Trejo) they encountered on their first case together.
---
5x14 War Cries (February 04, 2014)
---
The investigation into the murder of two private military contractors ends up putting a member of the team in grave danger; Sam arranges a blind date for Callen.
---
5x13 Allegiance (January 14, 2014)
---
While in Afghanistan, Kensi and Granger join the team on a joint case when a federal agent in Los Angeles tied to Hawala, an ancient system of money transfer, is murdered.
---
5x12 Merry Evasion (December 17, 2013)
---
A senator's daughter is the victim of a home invasion. The team investigate to determine if it was a random crime or a targeted attack due to her father's crackdown on international cyber warfare. Meanwhile, Kensi's holiday spirit changes after she receives a surprise Christmas gift.
---
5x11 Iron Curtain Rising (December 10, 2013)
---
When a former Romanian Communist leader and suspected war criminal is discovered to be living in Los Angeles under a false identity, the NCIS: LA team must locate him before he disappears again.
---
5x10 The Frozen Lake (November 26, 2013)
---
Callen and Sam enlist the help of a Gurkha, an elite Nepali soldier specializing in knife fighting, to retrieve a missing thumb drive. Meanwhile, Kensi and Deeks struggle to find a balance in their partnership.
---
5x09 Recovery (November 19, 2013)
---
Kensi goes undercover as a nutritionist and Deeks poses as a new patient at a rehab center to investigate the death of a Navy officer.
---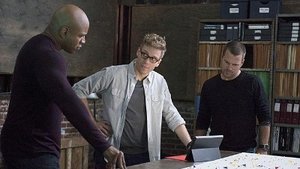 5x08 Fallout (November 12, 2013)
---
The team must locate and retrieve a stolen antiterrorism device before the city is attacked; Hetty is haunted by her past.
---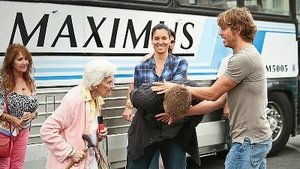 5x07 The Livelong Day (November 05, 2013)
---
The team must alert Homeland Security when they uncover a threat to a Los Angeles-based train during a murder investigation.
---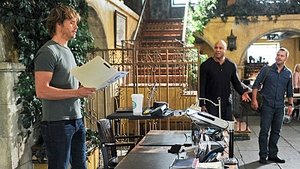 5x06 Big Brother (October 29, 2013)
---
When a 15-year-old hacker compromises missions, Callen goes under cover at a prestigious high school.
---
5x05 Unwritten Rule (October 22, 2013)
---
Analyst Nell Jones joins the NCIS: LA team in the field when a former Navy officer's girlfriend is kidnapped in exchange for Navy intelligence. Meanwhile, Deeks unknowingly breaks one of Hetty's rules.
---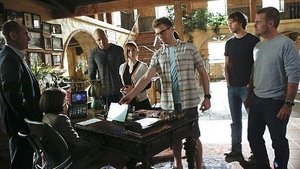 5x04 Reznikov, N. (October 15, 2013)
---
The NCIS: LA team finds themselves in danger while investigating a kidnapping case of a man claiming to be Callen's father.
---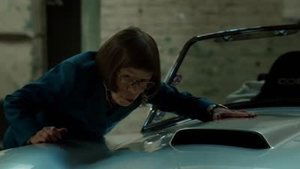 5x03 Omni (October 08, 2013)
---
The NCIS: LA team must find who compromised a classified vaccine project from a bio tech company. Meanwhile, Deeks struggles with his emotions upon returning to the field.
---
5x02 Impact (October 01, 2013)
---
In an effort to help Sam and Deeks return to work, Hetty calls upon Operational Psychologist Nate Getz to help them cope with their traumatic experience. Meanwhile, the rest of the NCIS: LA team investigates the murder of a former Navy Admiral and a controversial journalist aboard a private jet.
---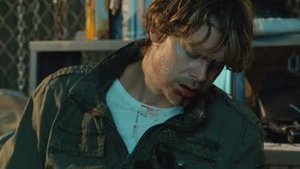 5x01 Ascension (September 24, 2013)
---
While Sam and Deeks recover from traumatic torture that will have a lasting impact on their personal and professional relationships, lives are still in jeopardy as the NCIS: LA team searches for stolen nuclear weapons.
---