Kick Buttowski: Suburban Daredevil
Season 1
Kick Buttowski: Suburban Daredevil
Season 1
First Air Date: February 13, 2010

| | | |
| --- | --- | --- |
| First Aired on | : | 2010 |
| Episodes | : | 20 episodes |
Episodes
1x20 Frame Story / And... Action! (November 25, 2010)
---
---
1x19 Morning Rush / A Fist Full of Ice Cream (November 06, 2010)
---
---
1x18 Dancing With the Enemy / Tattler's Tale (October 30, 2010)
---
---
1x17 Abandon Friendship! / Braking the Grade (October 23, 2010)
---
---
1x16 Rank of Awesome / A Very Buttowski Mother's Day (October 02, 2010)
---
---
1x15 Things That Make You Go Boom! / Kyle Be Back (August 09, 2010)
---
---
1x14 Exposed! / Wade Against The Machine (June 21, 2010)
---
---
1x13 Mellowbrook Drift / Gift of Wacky (June 21, 2010)
---
Mellowbrook Drift: Kick challenges a physics-obsessed street racing crew, led by bullying nerd Ronaldo in a winner-takes-all race on Mt. Hurtsmore which pits the laws of physics against the "laws of awesome". To defeat the competition, Kick and Gunther turn to school woodshop teacher One-Eyed Jackson for help. Gift of Wacky: Kick is invited to Wacky Jackie's birthday party, in the middle of a stunt, so Kick decides to get rid of her forever. Kick makes a deal with Brad, who promises to help find a gift for Jackie's birthday. When Kick sees he is the only guest at her party, he decides to throw her the most awesome party ever.
---
1x12 For the Love of Gunther / Father From the Truth (May 22, 2010)
---
---
1x11 Dad's Car / The Treasure of Dead Man Dave (May 15, 2010)
---
---
1x10 Those Who Camp, Do / Dog Gone (May 08, 2010)
---
Those Who Camp, Do: Kick is stoked to be going on an overnight camping trip, since he hopes to "become a man". However, there is an obstacle, the "rustic campsite", is too civilized for his liking. After that false start, Kick and Brad have a true test to complete. Note: Gunther does not appear in this episode. Dog Gone: Kick is roped into dog sitting Oskar while his mom and Oskar's owner, Ms. Chicarelli go play shuffleboard. Kick has to find a way to watch Oskar or he will be "grounded for life".
---
1x09 Drop Kick / Box Office Blitz (May 01, 2010)
---
Drop Kick: Tired of being bullied by Brad, Kick decides to train with a former champion wrestler. But when he learns that his new mentor Papercut Peterson has bullying issues of his own, Kick must prove to his new teacher that every underdog has their day. Box Office Blitz: When Pantsy, the assistant manager of the Multiplex bans Kick from seeing a movie featuring his favorite daredevil movie star, Kick won't rest until he sneaks into the heavily guarded theater and sees Rock Callahan's "Zombie Motocross."
---
1x08 Runaway Recital / Trike X-5 (March 27, 2010)
---
Runaway Recital: Harold, Kick's father forces Kick to take piano lessons, which leads to Kick's another wild escape. Trike X-5: Brianna steals Kick's beloved first stunt bike, which she ultimately uses to compete in a pageant party to beat her pageant rival, Penelope Patterson.
---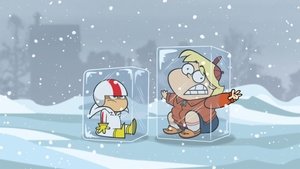 1x07 Snowpolcalypse! / According to Chimp (March 20, 2010)
---
Snowpocalypse!: Kick and Gunther, with the help of Wade, set out to rescue students stranded on a school bus in a snowstorm, while Kendall, the class president, tries to take control over the situation. According to Chimp: Kick adopts an escaped chimp as a pet, one which has the potential to cause serious mayhem, unless its pacified by chocolate bananas.
---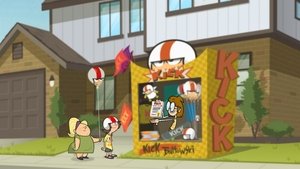 1x06 Obsession: For Kick / Flush and Release (March 13, 2010)
---
Obsession For Kick: A new girl in the neighborhood named Jackie Wackerman sees Kick performing a stunt and immediately claims to be his #1 fan. Gunther tries to warn Kick that Jackie is crazy, but Kick doesn't believe him. A while later, she starts to disturb his stunts and Kick finally sees that Jackie is crazy. With Gunther's help, he creates a lie to make her stop following him and make his life return to normal, but the question is does it work? Flush and Release: Kick and Gunther seek a legendary giant goldfish which Kick plans to harness for the ultimate wave-boarding experience with the help of their neighbor Mr. Vickle.
---
1x05 Kickasaurus Wrecks / Battle for the 'Snax (March 06, 2010)
---
Kickasaurus Wrecks: Tired of being called "Shrimp", Kick declares that he will do something big. When given his chance, the resulting disaster deals Kick another chance, by being the best "shrimp" ever. Battle For The Snax: Kick tries to help Gunther's family get business at their restaurant, FØÖD, because if he doesn't, Gunther and his family have to move back to the "Old Country". He helps them put back in business by creating the most awseome restaurant in Mellowbrook, the BattleSnax!
---
1x04 Knocked Out / Not Without My Cereal (February 27, 2010)
---
Knocked Out: Kick plans to launch his career on a talent show, but before the show starts, Gunther accidentally knocks him out, Can Gunther wake up Kick before its too late? Not Without My Cereal: Kick has to watch his sister, Brianna, while waiting in the grocery line, in order to get his favorite cereal. But when Brianna runs off with some cereal, he has to bring her back without his mom finding out or seeing him or Brianna. What's worse is that a grocery worker is watching Kick, waiting for him to mess up.
---
1x03 Kicked Out / Kick the Habit (February 20, 2010)
---
Kicked Out: Kick performs another dangerous stunt and falls off a cliff with Gunther, finding and creating an awesome hangout, which Brad and his friends kick them out of, which has Kick and Gunther repeatedly trying to retake from them. Kick the Habit: Facing the risk of being sent to military school, Kick sets out to prove to his concerned parents (and the neighborhood), that he can refrain from performing any stunts for an entire day, despite Brad and the neighbors wanting to ensure Kick will succumb to temptation.
---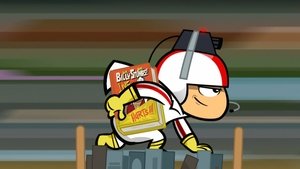 1x02 If Books Could Kill / There Will Be Nachos (February 13, 2010)
---
If Books Could Kill: Kick has an autographed copy of a book by his idol Billy Stumps which Gunther mistakenly returns to the library. Kick does whatever he can to get it back even though the librarian won't listen to them. There Will Be Nachos: With their parents out of town, Brad throws a party at the house, which Kick is not allowed to attend. This does not stop Kick and Gunther from trying to get into the party to score some of Senor Brad's "famous" nachos.
---
1x01 Dead Man's Drop / Stumped (February 13, 2010)
---
Dead Man's Drop: Kick keeps trying to show everyone that he can beat Dead Man's Drop ramp. The only barrier that is in his way is his older brother Brad, who wants to keep him inside the house so he could take another driver's test. Stumped: Kick misses Billy Stumps's show, his favorite daredevil, at the local mall, and he gets a chance to ride shotgun with Billy at the next show by finding the key with the help of Gunther and Wade, owner of the local Food'n Fix
---