Overhaulin'
Season 3
Overhaulin'
Season 3
First Air Date: May 31, 2005

| | | |
| --- | --- | --- |
| First Aired on | : | 2005 |
| Episodes | : | 27 episodes |
Chip Foose and his A-Team, with the help of an insider, plan a fake robbery or towing of an unsuspecting mark's car. They must rebuild the car in seven days. The week-long event is filled with pranks and angry marks, but it will all be rewarded on D-Day when the mark is given back the car.
Episodes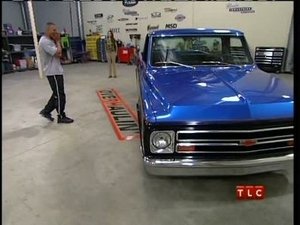 3x27 Hot Head (May 30, 2006)
---
Mark's best childhood memories were riding around in his dad's '72 Cutlass. Now Mark is struggling to take care of his family and cannot afford to fix it up enough to take it out of the garage.
---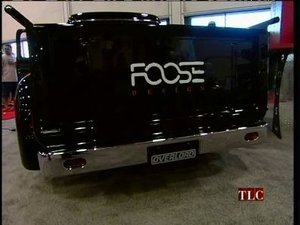 3x26 Overhaulin' Truck (May 02, 2006)
---
Chip Foose overhauls Alonzo's 1970 Chevy truck.
---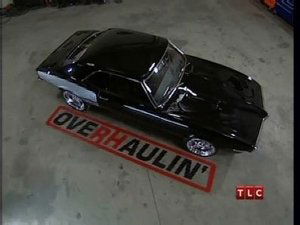 3x25 Uncle Sam's Nephew (April 25, 2006)
---
David never had enough saved to fix up his '68 Firebird. After high school, he joined the Marines and served three times in Iraq and Afghanistan. Now that he's back and enrolled in college, Overhaulin' is going to give him a little surprise.
---
3x24 Photo Shoot Fiasco (February 07, 2006)
---
The mark is Miles and his 1968 Ford Bronco.
---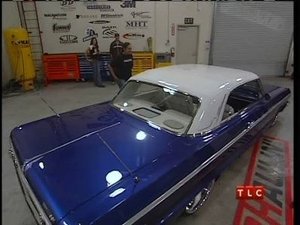 3x23 Lowrider Girl (January 31, 2006)
---
Chip and his team overhauled Noemi's '64 Chevy Impala with help from her husband Cesar as the insider.
---
3x22 NAPA Doublehaulin' (April 04, 2006)
---
Chip Foose and his team take on two overhauls for Dayrline who works for NAPA Auto Parts. They overhaul her treasured '67 El Camino and NAPA's '03 S-10 pick up that she uses to make deliveries sometimes.
---
3x21 Got GTO? (January 17, 2006)
---
The mark is David, who is paralyzed and in a wheelchair. The A-Team overhauls his '69 GTO.
---
3x20 Overtime (March 07, 2006)
---
Matt loves his Model A Ford but doesn't have the time to give it the love and attention it needs. More specifically, among many other things - this classic car has 1987 Mazda engine in it! Foose and the Overhaulin' team to the rescue!
---
3x19 SEMA (February 28, 2006)
---
When a thief mistakenly killed Merrick's father seven years ago, Merrick inherited his father's prized possession, the '67 Charger. Merrick cannot afford to fix up the car alone - so the Overhaulin' arrives to save it from the junkyard.
---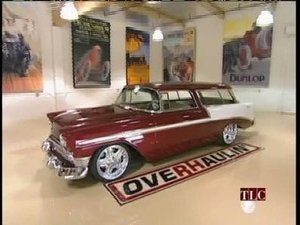 3x18 Leno's Heist (December 20, 2005)
---
When Jay Leno found out that his part-time mechanic and friend, Dave Killackey and his 1956 Noman were in dire need of help - but couldn't afford the expense himself, he turned to the dynamic Overhaulin' team to make Dave's dream come true.
---
3x17 That '70s Van (January 31, 2006)
---
Back in 1976, he bought his van brand new and adored it. Today, he focuses on family and friends and has put the van aside. He is always quick to help family and friends, so his daughter thinks it's about time that they did something special for him.
---
3x16 Overlord (January 24, 2006)
---
The Overhaulin' team has pulled off the ultimate prank: stealing Chip Foose's beloved '56 truck right out from under his nose and overhauled it over the course of four months! A new side of Chip is revealed as the prankster gets pranked!
---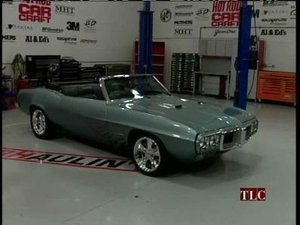 3x15 Neighborhood Watching (November 29, 2005)
---
Dennis always loved his '69 Pontiac Firebird. He was very upset when it was stolen. He had no idea that it was being fully reinvented at Hot Rod Car Craft, with his girlfriend Stephanie playing the inside with Overhaulin'. During that difficult week for Dennis, Overhaulin' pranked-up a scheme that enlisted the Firebird owner into joining the Neighborhood Watch. Also joining the Watch: a neighborhood bagman played by Chris.
---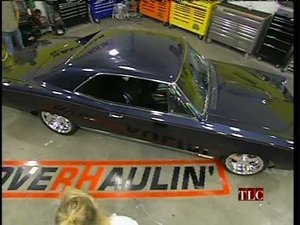 3x14 Desperate Impound (November 22, 2005)
---
The A-Team overhauls Sharon's 1967 Pontiac GTO.
---
3x13 The Biggest Beater (December 13, 2005)
---
The Overhaulin team set out in search for the biggest beater in all of America.
---
3x12 Firey Brit (November 08, 2005)
---
Chip Foose and the A-team overhaul Jo's Magnum. Their insider is her husband Andy.
---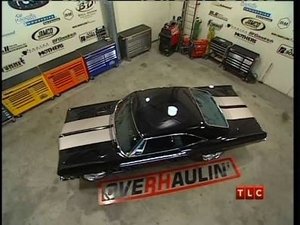 3x11 Customs (October 25, 2005)
---
Chip Foose and the A-Team overhaul Martin and his 1965 Impala.
---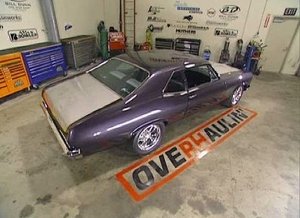 3x10 Nova-Caine (October 18, 2005)
---
Ivan's the mark, not knowing his Nova from 1970 is leaving his parents' property and moving to Classic Industries, where Overhaulin' will work with his wife, Shannon. She'll be an insider for a week of building and pranking. Chip Foose gets a well-earned vacation for the first part of the build, but he does the design ahead of time and returns by the end of the build to add his one-of-a-kind details to the car. When Chip's gone, his dad Sam Foose assumes the role as Captain of the build team.
---
3x09 Clean LeMans (October 11, 2005)
---
The A-team overhauls Frederick's 1968 Pontiac LeMans. Fredericks is told that his car was confiscated by the Environmental Protection Agency.
---
3x08 U.S. Navy Steal (October 04, 2005)
---
Chip Foose and team overhaul an ex-US Navy Seal John's 1965 Ford pickup.
---
3x07 Snaked (September 27, 2005)
---
Chip Foose and team overhaul Ana's 2005 mustang.
---
3x06 Ugly Horse (August 23, 2005)
---
The Team at Overhaulin', get a hold of Mike's 67 mustang.
---
3x05 Illegal Fowl (August 16, 2005)
---
Deputy Sheriff Mike more than loves his 1965 T-Bird; it was his father's treasure and he is beyond sentimental about the ride. His wife Stephanie works as an insider for Overhaulin' as Chris, Chip and the team at ACS grab the Thunderbird and decide to make the hardtop into a roadster. It's a big job if you have a while to pull it off; it's sheer madness to try in a week. But never underestimate the drive of Foose and the A-Team.
---
3x04 Bel Air BBQ (August 02, 2005)
---
Chip Foose and team overhaul Tyson's 1956 Bel Air. Tyson took shop classes trying to learn how to restore his Bel Air. His mother set him up at Overhaulin. The work was very slow forthcoming and she wanted to help him out. The Bel Air was so rusted that Chip had to find another 56 to swap bodies. The second one wasn't much better. Finally it took 3 bodies to get one perfect machine.
---
3x03 The Mad Kidney Donor (July 26, 2005)
---
Jason's pal Willy -- to whom Jason once donated one of his kidneys -- convinces him to take his 1995 Chevy Tahoe to a shop for a free service Willy's arranged. However, when he goes to retrieve the car, he's told he can't the Tahoe back without full payment.
---
3x02 Wiley & the Road Runner (July 19, 2005)
---
John has owned three Plymouth Road Runners in his life. When his current one, a rare 1969 convertible, is "stolen" and John is accused of insurance fraud, he gets desperate to get the car back.
---
3x01 Tuner Car (May 31, 2005)
---
Chip Foose and his team create a '95 Honda Civic tuner car. Dylan loves tuner cars and dreams of having a fast, slick Honda with cool paint, a fast motor, racing seats and all the bells and whistles.
---