Overhaulin'
Season 1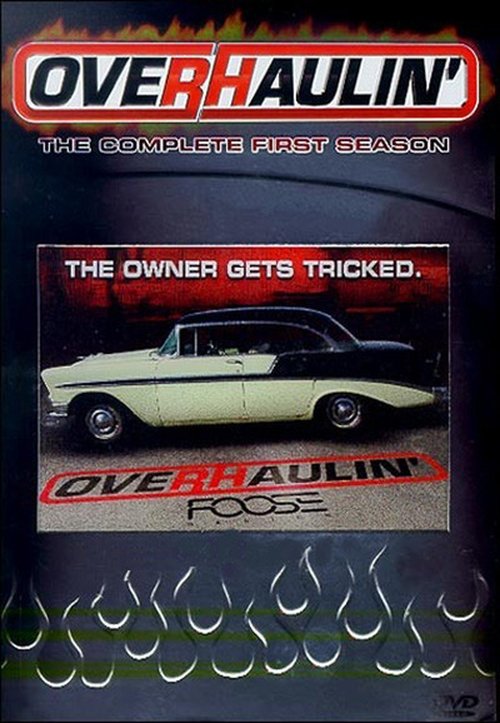 Overhaulin'
Season 1
First Air Date: April 13, 2004

| | | |
| --- | --- | --- |
| First Aired on | : | 2004 |
| Episodes | : | 7 episodes |
Chip Foose and his A-Team, with the help of an insider, plan a fake robbery or towing of an unsuspecting mark's car. They must rebuild the car in seven days. The week-long event is filled with pranks and angry marks, but it will all be rewarded on D-Day when the mark is given back the car.
Episodes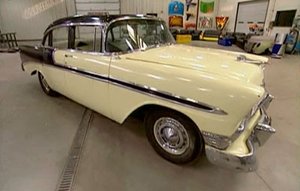 1x07 Lucky Star (June 01, 2004)
---
Cassie is an 18-year-old bank teller -- she's responsible, fun loving and the proud owner of a very boring '91 Ford Explorer. Chip Foose, along with the mega-OVERHAULIN' team of Gary Bell, Vince Incalcaterra, Raymond Miller, Jeremy Johnson, Ryan Filar, Joseph John Messinese, Derrick Atkinson, Jeremy Hayter and David Wachter worked at the giant parts factory known as APC, to reinvent Cassie's SUV in a short seven-day period. The insiders: Aunt Barbara and Uncle Mike, the family she lives with. They helped OVERHAULIN' by disabling the car; Cassie had to send it to the shop; OUR shop. As the week went on, Mike told Cassie that the car needed big repairs. Days later, Barbara told her niece that the Ford was stolen from the repair shop. Later still, investigator for the D.A. Courtney asked Cassie about the stolen vehicle. Hours later, Special Agent Chris told her to come to a place where she could ID her now recovered car. She arrived for a surprise.
---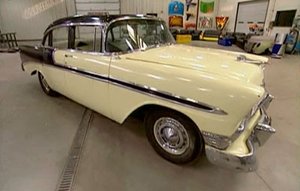 1x06 School's Out (May 18, 2004)
---
Dale is one of the top dogs at the foundation that supplies both scholarship funding and project cars for the prestigious car-building college Wyoming Tech in Laramie, Wyo. Dale secures old donated vehicles for the school. But, unbeknownst to Dale, the OVERHAULIN' pranksters took one of those cars from his property and brought it to the WyoTech campus. It's there that over 30 student builders, along with the OVERHAULIN' build team of Chip Foose, Troy Trepanier, Bryan Fuller and Levi Green, transformed the dusty old '56 Chevy Bel Air into something truly special for the school. The finished car will be the mascot for WyoTech, as well as a possible scholarship funding source if the Chevy is auctioned off. But before that, Dale was led on a goose chase during the week of the build, hearing that the car was discovered crossing state lines and on its way to a chop shop. OVERHAULIN' made use of the school and city, painting Western themes, as Dale was finally led back to Wyo Tech, only to see a car that in almost no way resembled the one stolen from him just a week before.
---
1x05 Beverly Hills Camaro (May 11, 2004)
---
Actor Ian Ziering played the role of "Steve" for years on "Beverly Hills 90210." His character had a love of cool and fast cars -- that "love" wasn't acting; Ian is a car guy who has been trying to trick-out a '68 Camaro for years. After enough stalling, Ian's pal Terry got involved. He's our insider and our A-Team on this Chevy is Chip Foose, Sal Perez, Jim Sleeper, Aaron Ohama, Josh Kamholz, Rick Andersen, Mundo Hernandez and Orlando Hernandez. The ruse: the Camaro is locked in a shop that Ian hears is going "bankrupt." Of course, nobody is going bankrupt, nothing is being liquidated, but we prank and fool with Ian as his '68 Camaro comes together for a week at American Muscle Cars in California. When the car is finally cool and Foose-perfect, Ian is told to show up at AMC or risk losing the car to shop creditors. Standing before the locked-up shop, who phones Ian? None other than fellow 90210 star, Jason Priestley. Jason tells Ian that he is now on hidden camera; that inside that now-opening shop is the very cool car Ian always dreamed about.
---
1x04 Surfer Kid (May 04, 2004)
---
Mylan goes surfing every day, getting to the beach in his rusty old 1977 El Camino. He's one of those rare teens who's both ultra cool and as nice as they come. Working as insiders, his folks Vicki and Tim knew that the tow truck that grabbed Mylan's car ("due to tickets") was OVERHAULIN', delivering the car to the A-Team of Chip Foose, Bryan Fuller, James Ferguson, Carl Lutes, Craig Chaffers, Revo, J.C. and surf legend Tyler Hatzikian. The tough assignment: making the El Camino into the coolest of surf-wagons. Of course, when Mylan went to our fake impound, he was turned away -- the car's in his dad's name. As the rebuild went on, surfer Tyler Hatzikian created custom boards to ride on the El Camino's tano cover. The final creative meld of surf toys and surf wagon was truly breathtaking. Mylan was soon sent to yet another fake car impound. This time, he was confronted with the truth of the whole strange week, along with his new ride. The incredible vehicle brought Mylan to tears, and when it was all over, there wasn't a dry eye in the shop.
---
1x03 Parts Guy (April 27, 2004)
---
Jeff works at a car parts shop. His boss, Tony, borrows Jeff's 1971 Chevy Chevelle to a shifty production company that's shooting an infomercial... and accidentally "loses" the car.
---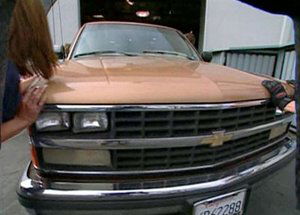 1x02 Museum Worthy (April 20, 2004)
---
Chuck de Heras is a car collecting aficionado. His true love of the automobile and its history has meant he's developed a friendship with Dick Messer - who runs The Petersen Automotive Museum in Los Angeles. A quick call from Dick to Chuck asking if he can borrow one of Chuck's cars from his collection, a '50 Ford Coupe, for a display at the Petersen is all it takes for our Overhaulin' A Team to get their hands on this shabby classic. Time to get to work! We've only got a week. But, it's not long before Chuck gets the call from his friend telling him that his car has been stolen from the Petersen Museum. While the team works round the clock on the car, hosts Chris & Courtney pose as insurance agents from hell and show up at the museum accusing Chuck and Dick of stealing the car to commit insurance fraud. Lies, all lies, and all part of the ruse to keep Chuck away from his car and keep our team working. When Chuck gets a call from Dick Messer asking him to come down to museum, Chuck finds cop cars and those two pesky insurance agents again when he gets there. Is it possible that his friend Dick is actually a car thief? Of course not but now we've got Chuck back to the museum to reveal his new, overhauled Ford.
---
1x01 Search & Rescue (April 13, 2004)
---
Mat Mershimer is a straight 'A' high school student, volunteers in search and rescue and is an Eagle Scout. He also drives his grandfather's old '88 Chevy pickup truck that's seen better days. Mat's dad, Jim, contacted the Overhaulin' A team because he would like Mat, who is always doing nice things for others, to have something nice done for him for a change. But we can't make it that easy for Mat. And we need to get a hold of that truck! Our host Chris Jacobs poses as a tow truck operator who comes to Mat's house to tow away the truck because straight-as-an-arrow Mat has too many parking tickets. Eagle Scout Mat has never gotten a ticket in his life but with some help from his father Jim, as our insider, away goes Mat's truck to our Overhaulin' garage. And little does Mat know but we've got Nascar driver Robby Gordon helping the A Team out, too! Chip Foose, our Overhaulin' A Team leader, starts designing the plans for one amazing search and rescue vehicle while we continue to play a few more tricks on unsuspecting Mat. It seems that tow truck guy who took Mat's truck is actually the leader of a car thief ring! Mat thinks he's never going to see his beloved pickup truck ever again. But what does Mat see in the garage when he's invited to take a tour of Robby Gordon's Speed Shop? No way can that be his old truck! Will all the pain, and pranking, that Mat's endured be worth it once he sees his new search and rescue vehicle?
---