How It's Made
Season 19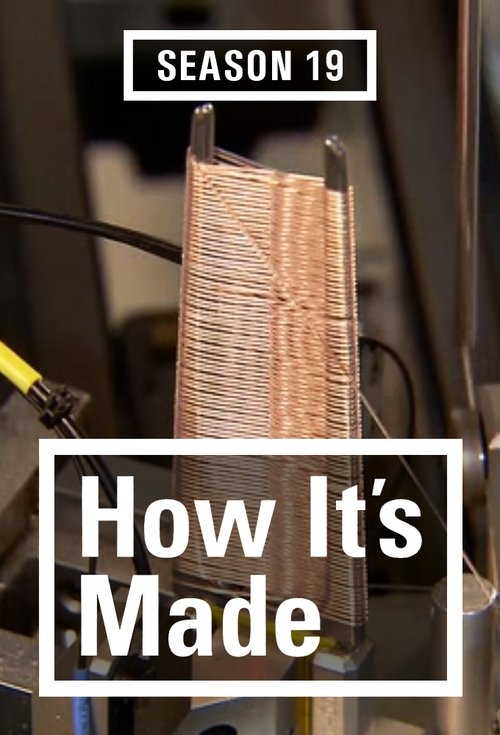 How It's Made
Season 19
First Air Date: April 19, 2012

| | | |
| --- | --- | --- |
| First Aired on | : | 2012 |
| Episodes | : | 13 episodes |
Episodes
19x13 Navajo Rugs, Crude Oil, Kaleidoscopes, Titanium Dental Implants (June 24, 2012)
---
---
19x12 Space Pens, Reef Aquariums, Metal Caskets, Composite Bike Wheels (June 23, 2012)
---
---
19x11 Tasers, Canned Soup, Jaw Harps, Diving Boards (June 22, 2012)
---
---
19x10 Clay, Pitted Prunes, Spurs, Polyurethane Tires (June 21, 2012)
---
---
19x09 Dinnerware, Air Brake Tanks, Frosted Cereal, Fossils (June 14, 2012)
---
---
19x08 Bamboo Bicycles, Chainsaw Art, Breath Mints, Manual Motorcycle Transmissions (June 07, 2012)
---
Get the story behind bamboo bicycles, chainsaw art, breath mints and manual motorcycle transmissions.
---
19x07 Fish Decoys, Film Digitization, Cylinder Stoves, Concrete Light Poles (May 31, 2012)
---
Find out how fish decoys, film digitization, cylinder stoves and concrete light poles are made.
---
19x06 Multi-Tools; Jojoba Oil; Marionettes (May 24, 2012)
---
Learn how multi-tools, Jojoba oil and marionettes are made.
---
19x05 Turf Grass, Beef Jerky, Wood Chippers, Bowling Pins (May 17, 2012)
---
Get the story on turf grass, beef jerky, wood chippers and bowling pins.
---
19x04 Robotic Hunting Decoys, Canned Tomatoes, Scoreboards, Lassos (May 10, 2012)
---
Featuring robotic hunting decoys, canned tomatoes, scoreboards and lassos.
---
19x03 Canvas Wall Tents, Peace Pipes, Shredded Wheat Cereal, Cannons (May 03, 2012)
---
Find out how canvas wall tents, peace pipes, shredded wheat cereal and cannons are made.
---
19x02 Pewter Flasks, Potato Salad, Hydrogen Fuel Cells, Engineered Wood Siding (April 26, 2012)
---
Learn how pewter flasks, potato salad, Hydrogen fuel cells and engineered wood siding are made.
---
19x01 Garden Forks, English Toffee, Paint Chip Cards, Bundt Pans (April 19, 2012)
---
Find out how they make garden forks, English toffee, paint chip cards and Bundt pans.
---