Teenage Mutant Ninja Turtles
Season 8
Teenage Mutant Ninja Turtles
Season 8
First Air Date: September 13, 1994

| | | |
| --- | --- | --- |
| First Aired on | : | 1994 |
| Episodes | : | 8 episodes |
Episodes
8x08 Turtle Trek (October 29, 1994)
---
Krang activates his new dimensional portal, thanks to Shredder's installation of the Energy Transmitter at the Power Relay Station, giving him access to Dimension X.
---
8x07 Cyber-Turtles (October 22, 1994)
---
While investigating the theft of a rare telescope, the Astro-Viewer, the Turtles discover odd tracks leading away from the National Space Exploration Center.
---
8x06 Enter: Krakus (October 16, 1994)
---
Krakus, a cop from the future, arrives and thinking that the Turtles are in league with Titanus, shakes them down for information.
---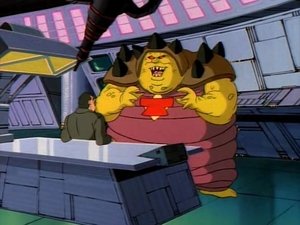 8x05 H.A.V.O.C. in the Streets (October 09, 1994)
---
Titanus sends of couple of his H.A.V.O.C. mutants to bust into the aerospace plant and steal some much needed equipment. Only problem is that the Turtles were waiting for them.
---
8x04 Cry H.A.V.O.C.! (October 02, 1994)
---
The Turtles get the drop on masked thieves hijacking a jewellery store, only to have themselves arrested for the crime! Before the turtles can be booked, they are rescued by the mutants Amok and Overdrive.
---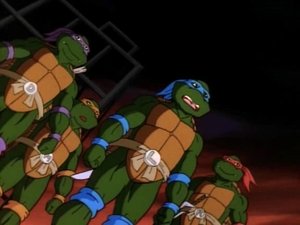 8x03 State of Shock (September 26, 1994)
---
After defeating a mysterious group of ninjas at the Emeryville Power Station, the Turtles decode part of a map that they were able to liberate from the would-be thieves.
---
8x02 Wrath of the Rat King (September 19, 1994)
---
Burne has created a hot line for callers to use should they spot those responsible for the destruction of the Channel Six News Building. Inside the Hall of Science, Shredder is fearful that the Turtles will eventually find a way into the building and decides to seek out an old friend in the sewers: the Rat King!
---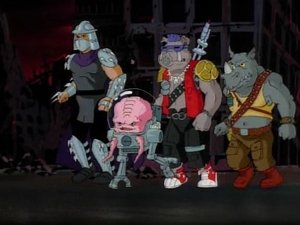 8x01 Get Shredder! (September 13, 1994)
---
Krang tells Shredder the Hall of Science may still contain equipment ideal for use in taking over the world. At the sight of the break-In, the Turtles follow the trail left behind by the villains and arrive at the world's fair just as their enemies gain control of the Hall of Science.
---