Teenage Mutant Ninja Turtles
Season 4
Teenage Mutant Ninja Turtles
Season 4
First Air Date: September 10, 1990

| | | |
| --- | --- | --- |
| First Aired on | : | 1990 |
| Episodes | : | 41 episodes |
Episodes
4x41 Episode 41 (March 29, 1991)
---
---
4x40 Episode 40 (March 28, 1991)
---
---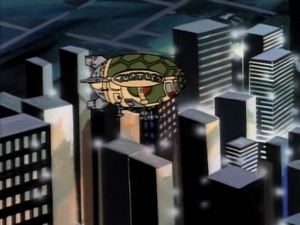 4x39 Unidentified Flying Leonardo (December 08, 1990)
---
UFO sightings at an upstate farm town known as High Falls, cause April to investigate., Splinter foresees danger clouding April's visit and sends Leonardo to chaperone.
---
4x38 The Foot Soldiers are Revolting (December 08, 1990)
---
After Bebop and Rocksteady blow another assignment, Shredder fires them and decides to replace them with an intelligent Foot Soldier named Alpha One.
---
4x37 Big Bug Blunder (December 01, 1990)
---
A fly lands in the mutagen and it increases in size. Not being able to control it, Bebop and Rocksteady send the giant insect to Earth.
---
4x36 Beyond the Donatello Nebula (December 01, 1990)
---
Donatello has created a device to communicate with distant galaxies. While trying to communicate with the Turtle Nebula Donatello accidentally brings a spaceship to Earth.
---
4x35 Raphael drives 'em Wild (November 24, 1990)
---
On his way home from getting pizza Raphael and a cab driver accidentally get exposed to rays from a Personality Transmogrifier.
---
4x34 Splinter Vanishes (November 24, 1990)
---
Returning from another mission, the Turtles are shocked to discover their mentor has left the lair, leaving behind only a video taped message.
---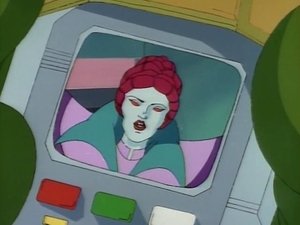 4x33 Leonardo VS Tempestra (November 17, 1990)
---
The Turtles sneak into an arcade in the middle of the night to play video games. Leonardo gets hooked on a game called Tempestra's Revenge.
---
4x32 The Big Cufflink Caper (September 14, 1990)
---
Shredder, Bebop, and Rocksteady are in town to steal a rare new mutagen created by Oswald Dren, a grad student. Some mutagen is accidentally spilled onto a reel of movie film causing monsters to come to life.
---
4x31 Donatello's Degree (September 08, 1990)
---
Professor Willard W. Willard invents a Molecular Intensifier to control the growth of living things. Krang hears about it and sends Shredder to steal it.
---
4x30 The Dimension X Story (September 08, 1990)
---
Disguised as humans, Rocksteady and Bebop are sent to attach special trans-dimensional thrusters to the Channel Six Building.
---
4x29 What's Michelangelo Good For? (November 10, 1990)
---
The Turtles, bored at the lack of action, decide to investigate when they hear that cufflinks are being stolen around the city.
---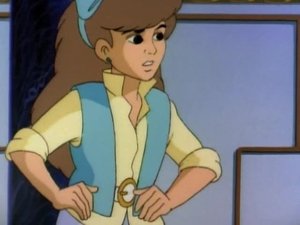 4x28 Poor Little Rich Turtle (November 10, 1990)
---
Donatello gets an invitation to accept his degree personally from Professor Sopho at Sopho University. The only problem is that the invitation is addressed to a Miss Donna Tello.
---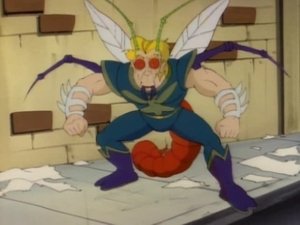 4x27 Michelangelo Meets Bugman (November 03, 1990)
---
Shredder sends out a message from Dimension X to the Turtles telling them to meet him at the Southside Dump so that he can kick their shells in.
---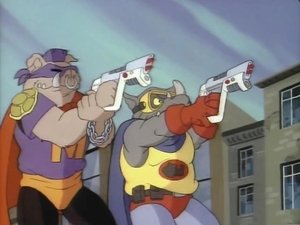 4x26 Rhino-Man (November 03, 1990)
---
The Turtles go along with Michaelangelo and his pet pigeon to the zoo so that Dr. Goodfellow can check the bird out.
---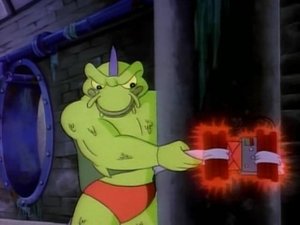 4x25 Rebel without a Fin (October 27, 1990)
---
Krang has come up with yet another brilliant plan to free the Technodrome. The evil alien sends Bebop and Rocksteady to kidnap Buffy Shellhammer, 15 year-old CEO of Shellhammer Chemicals.
---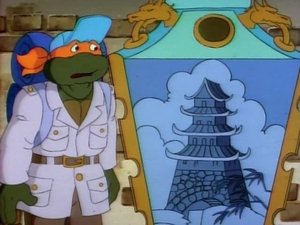 4x24 Farewell, Lotus Blossum (October 27, 1990)
---
Michelangelo avidly reads a comic book which features his favorite superhero, Bugman. While reading one of the comic books, Mikey hears a cry for help in the sewer.
---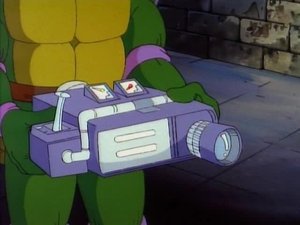 4x23 Donatello Makes Time (October 20, 1990)
---
J. Gordon Hungerdunger, a Texas millionaire, is holding a best super-hero contest. The winner of the contest will receive the humongous Malaprop Diamond.
---
4x22 The Big Zipp Attack (October 20, 1990)
---
Dr. Polidorius creates a half-man half-fish named Ray. The Doctor has Ray plant explosives in certain parts of the sewer so that he can sink the city beneath the ocean.
---
4x21 Funny, They shrunk Michelangelo (October 13, 1990)
---
While on their way to a movie, the Turtles rescue the Urn of Chakahachi from two thieves. The thieves pry off a pearl from the Urn before the Turtles get their hands on it.
---
4x20 Were-Rats from Channel 6 (October 13, 1990)
---
Professor Lloyd Cycloyd, a crazy scientist who escaped from an institution, accidentally discovers the Turtles' lair. He sees Donatello testing out one of his new inventions, a time stopper.
---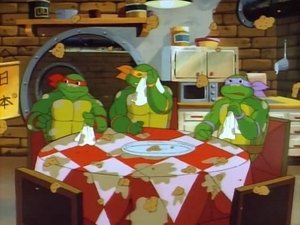 4x19 Leonardo Lightens Up (September 29, 1990)
---
Krang sends Shredder, Bebop and Rocksteady to find Rigidium to repair the Technodrome. A meteorite lands containing a large egg. The egg hatches, revealing a Zipp, a cute little creature that begins to eat the Technodrome.
---
4x18 Slash the Evil Turtle from Dimension X (September 29, 1990)
---
While Michelangelo is testing out a sailboard in the sewers he accidentally gets swept out into the city harbor.
---
4x17 Raphael Meets his Match (September 22, 1990)
---
Raphael wins a ticket to a costume party on MacDonald Crump's yacht and decides to go disguised as a Teenage Mutant Ninja Turtle.
---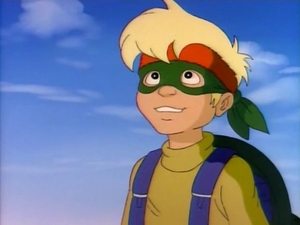 4x16 Bebop and Rocksteady Conquer the Universe (September 22, 1990)
---
On their latest trip to Earth, Bebop and Rocksteady steal a machine that makes everyone scared of everything.
---
4x15 Raphael Knocks 'em Dead (September 15, 1990)
---
Raphael must contend with a mobster named Pinky McFingers when he is kidnapped from a local comedy club.
---
4x14 Son of Return of the Fly II (September 15, 1990)
---
Vengeful Baxter Stockman and an A.I. computer return to Earth from a dimentional limbo and capture the Turtles while luring Shredder into their trap as well.
---
4x13 Back to the Egg (September 26, 1990)
---
Krang hires a multi-dimentional ring-master who intends on making the Teenage Mutant Ninja Turtles part of his circus by using an anti-aging serum.
---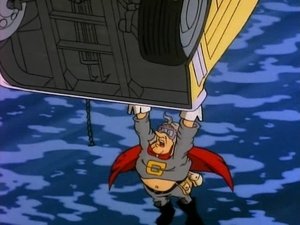 4x12 Superhero For A Day (September 25, 1990)
---
Gadget Man comes out of retirement after 50 years, but is tricked by Shredder into fighting against the Turtles.
---
4x11 Menace, Maestro Please (September 28, 1990)
---
The Turtles must contend with the "Phantom of the Floxy" while trying to hinder Shredder's latest plan to bring the Technodrome back to earth.
---
4x10 Name That Toon (September 21, 1990)
---
A Technodrome computer disguised as an electronic keyboard ends up on Earth, and in the most unlikely of hands.
---
4x09 Planet of the Turtles (September 20, 1990)
---
The Turtles must save the Earth from a massive energy drain and its Apocalyptic result by traveling to another dimension where turtles are the dominant species.
---
4x08 Rondo in New York (September 19, 1990)
---
A big-time Hollywood action movie star arrives in New York to promote his newest movie.
---
4x07 Turtlemaniac (September 18, 1990)
---
An eccentric billionaire, Monroe Q. Flem, who is also a collector, wishes to collect every piece of TMNT memorabilia that he can get his evil hands on, including April and the Turtles themselves.
---
4x06 Four Turtles And A Baby (September 17, 1990)
---
When General Tragg and his troops attack the Neutrino capital, the Neutrino leaders, Zenter and Gizzla, send their infant daughter Tribble through a portal to Earth, asking the Turtles to look after her, but Tribble causes big trouble for our heroes.
---
4x05 Shredder's Mom (September 14, 1990)
---
New York is in the middle of an induced heat wave caused by Shredder, who must battle the Turtles and deal with his mother, Miyoko Saki, at the same time.
---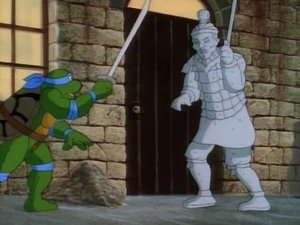 4x04 Peking Turtle (September 13, 1990)
---
The Turtles must battle a reanimated Terracotta Army after Shredder steals an energy device shaped like a giant pearl, which is held and guarded by a Jade Dragon.
---
4x03 Michelangelo Toys Around (September 12, 1990)
---
While trying to see the new toys at the Toy Fair, Michelangelo stumbles upon a plot to take over a noted toy company.
---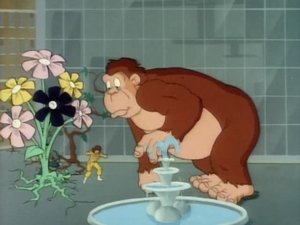 4x02 Turtles of the Jungle (September 11, 1990)
---
A professor's new ray-gun causes plants to go wild and his pet ape Jocko to become a giant rampaging monkey. By using the same ray-gun, Donatello is increased to Jocko's size so he can fight the giant ape and save April from him.
---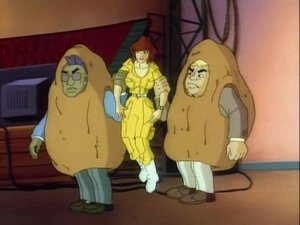 4x01 Plan Six From Outer Space (September 10, 1990)
---
With the Technodrome in serious need for new equipment, Bebop and Rocksteady are sent to Earth, disguised in human form, to capture the Channel 6 building and return it to Dimension X.
---