The Legend of Zelda
Season 1
The Legend of Zelda
Season 1
First Air Date: September 08, 1989

| | | |
| --- | --- | --- |
| First Aired on | : | 1989 |
| Episodes | : | 13 episodes |
Episodes
1x13 The Moblins are Revolting (December 01, 1989)
---
Gannon's forces rebel and use the Capture Staff to trap him in a bottomless pit. After freeing the other monsters from the Evil Jar, they all launch an attack on the Castle. Link or Zelda then learn Gannon has been overthrown and decide to take advantage by getting the Triforce of Power. But they are unaware Gannon is freeing himself from the pit.
---
1x12 The Missing Link (November 24, 1989)
---
While Zelda is picking blossoms in the courtyard, a portal opens and moblins and energized arrows emerge. Link arrives to help, but is then struck by one of Gannon's fireballs. This causes Link to be trapped in Gannon's Evil Jar. However, Link's spirit remains behind, but only Zelda can see him. Now Zelda and Link's spirit will have to journey to the Evil Jar to get Link's body back.
---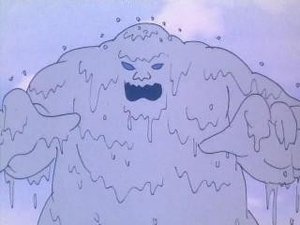 1x11 Fairies in the Spring (November 17, 1989)
---
King Harkinian is building a waterpark for his people, but strange creatures attack during construction. One of them manages to kidnap the King. Link and Zelda use the Triforce to help rescue him and it allows them to breath underwater. Can they rescue the King and find the cause of these attacks?
---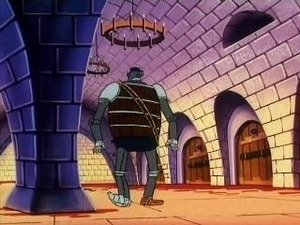 1x10 Hitch in the Works (November 10, 1989)
---
Link inadvertantly falls into a basement while doing chores and discovers the castle handyman. They work together to get out of chores, while Gannon plots to capture Zelda and make her wear a necklace that will make her do whatever he commands.
---
1x09 Stinging a Stinger (November 03, 1989)
---
Link is conned into trading his sword for a worthless one by a peddler. Now defenseless, Link and Zelda are captured by Gannon and brought into the Underworld, where the peddler shows up to sell Link's sword to Gannon.
---
1x08 Underworld Connections (October 27, 1989)
---
The Triforce is blasted into three pieces and scattered throughout the underworld. Link and Zelda will have to make their way through Gannon's domain before he gets them.
---
1x07 Doppelganger (October 20, 1989)
---
Gannon's magic causes an evil reflection of Zelda to come out of her mirror. Along with the evil reflection come some moblins, who capture Zelda. Link is unaware of what happened and the evil reflection tricks him into bringing the Triforce out of the castle so Gannon can steal it.
---
1x06 That Sinking Feeling (October 13, 1989)
---
Just when it looks like Zelda will finally kiss Link, the ground shakes and they fall into in the underworld.
---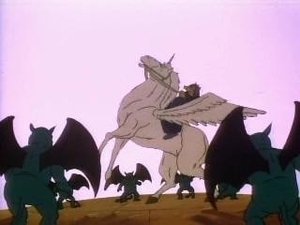 1x05 Sing for the Unicorn (October 06, 1989)
---
Zelda finds Link's latest effort to get a kiss sweet, when Gannon suddenly kidnaps King Harkinian using a flying unicorn. Gannon demands the Triforce be handed over within the hour or the King will face to a firey death. Link and Zelda, with the help of a girl named Sing whose unicron was stolen, journey into the underworld to rescue the King.
---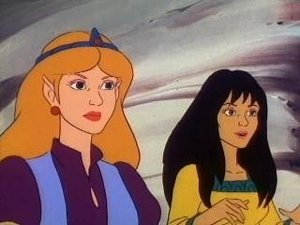 1x04 Kiss'N Tell (September 29, 1989)
---
Link and Zelda defend a black-haired maiden from a 3-headed Gleeok. When the maiden rewards Link with a kiss, however, he is suddenly transformed into a frog by a Gibdo in disguise. As Zelda comforts Link, Gannon attacks and captures her. Link and Spryte learn from the Triforce they have to find the Witch of Walls to set things right.
---
1x03 The White Knight (September 22, 1989)
---
Zelda falls in love with Prince Facade, making Link jealous. When Zelda is captured and taken to a swamp, however, Facade is too vain to pursue and it's up to Link to save her.
---
1x02 Cold Spells (September 15, 1989)
---
Gannon casts a spell on Spyrte to cause trouble for Link and Zelda, while he threatens the Triforce.
---
1x01 The Ringer (September 08, 1989)
---
Gannon learns of a magician's contest behind held at the Castle and disguises himself to enter. As Zelda watches the contest, Ganon sends a bat to find the Triforce of Wisdom, which is being guarded by Link and Spryte. To distract him, Gannon transforms a lizard into a gigantic monster that captures Zelda. As Link goes to rescue her, Gannon steals the Triforce. Will Link and Zelda be able to catch Gannon before it's too late?
---