Always Greener
Season 1
Always Greener
Season 1
First Air Date: September 09, 2001

| | | |
| --- | --- | --- |
| First Aired on | : | 2001 |
| Episodes | : | 22 episodes |
Episodes
1x22 Cliffhanger (June 03, 2002)
---
Marissa is depressed over her feelings for Tom. Tom comes and wants to talk to Sandra. Marissa tries to read the letter Isabelle gave him, but Tom says he would prefer Sandra do it, which makes her more upset, as Tom says he can't read. Meanwhile, Liz and John are trying to get a loan. They did not succeed and, Isabelle tells John at the pub she hasn't heard from Tom since he got the letter.
---
1x21 When a Man Walks into a Bar (May 27, 2002)
---
Katy has to come home from the city. Tom drives her home, and when they get there rumors start flying about Tom and Katy once at Bert's party, which everyone wasn't going to come to. Marissa moves back to the city, Sandra also notices her feeling a little flat and has a chat to her about Tom (after she eats all of Pip's chocolate). Marissa thinks she has the worst taste in men because Tom has not responded to her.
---
1x20 A Cross to Bear (May 19, 2002)
---
This episode is set around Easter time. Liz's parents come up for a surprise visit to the country, only to reveal that Liz's father has cancer. Meanwhile, in the city, Isobel goes to visit Katy on Good Friday. Katy was going to go for a drive with Tom, but when Isobel turns up for the surprise visit their plans are ruined. Pip and Cam are worried about their mother and Greg Steele, and try to jepoardize their relationship before coming to a conclusion that it's not the right thing to do.
---
1x19 Mirror Image (May 13, 2002)
---
Marissa struggles to remember the person she was in the city. Has the country really changed her that much? Kim has been involved with some of the popular crowd from Inverness School, and she's made some friends. However, they continue to taunt one girl and Marissa tells Kim she has turned out like Shelly Southall.
---
1x18 The Good Woman's Guide to a Happy Home (May 06, 2002)
---
Liz is reading a magazine with some feminist issues, and they talk about it around the table at breakfast time. It then begins the comical scenes of an old fashioned family through out the ep, relating to marriage and divorce. Irene discovers Connie's affair with her husband Derek, and throws Derek out for the night. Derek has to stay with the Taylor's, as Marissa is his secratary. While Derek is having a great time there, Irene is really upset throwing out Derek's things and burning them in a fire. Meanwhile, in the city, Greg gets out of control with Mickey about Shelly, and they have fights and Mickey goes off to the country to see Jason and spend the night there. Pip and Cam are in trouble for throwing the party which Greg tells Sandra about, and Sandra and Greg go out on a date. Tom comes to visit Pip and Cam, and he says he's worried about Sandra with Greg, as Greg has a violent streak. In the end, Irene forgives Derek and takes him back.
---
1x17 Ordinary/Extraordinary (April 29, 2002)
---
Kim tries to make a family video, so they go to the city and film the Todds as well. Marissa is out while the others are at tea and the younger ones are having a party. She bumps into Tom and Skid at a nightclub, and has a run in with both of them. Tom tells her, while he is drunk, that she is special and will find someone one day, like the way he loves sandra. Jason meanwhile decides not to go, and stays home trying to study as he is really going back to school. Patch and Scumbag try and trash the place, but eventually he has a falling out with them and tells them to leave.
---
1x16 History Repeating (April 21, 2002)
---
After Jason's drinking gets him into trouble with his friends, John tells him a family secret that he accidently killed someone in a car crash because of his drinking, and he was put in jail and released on bail. He asks Jason to keep it between themselves. We learn more truths about Isabelle, and the fact she is hiding great sandness about what she saw Tom go through his whole child hood and she did nothing to stop it, and that she wasn't really his mother and Tom had to realise that, even though she is his biological mother only. Kim gets chicken pox and Liz worries about the health of her baby. Tom confronts Marissa, and Marissa is upset by Tom's reaction. Meanwhile, the city kids are lining up for tickets to the Limp Biscuit Concert, and camping out in the city which Sandra is reluctant about. Cam meets a girl and kisses her in line, and Shelly and Pip resolve a few differences.
---
1x15 What's in a Name? (April 14, 2002)
---
Tom finds the identity of his real mother and real name (Isobel Turnbull!) and Marissa tells Sandra the truth of Tom being in love with her. Jason's friends continue to get him into trouble, and he and John's relationship is at breaking point.
---
1x14 Bright Sparks (April 07, 2002)
---
John tries to get the family involved in the fire brigade, and Marissa comes along to help out too, only to be harassed by the men that get involved with Jason. Jason gets a reaction from Isobel when he is pressured into the pyronist scene, and John and Liz are disappointed in what he has done.
---
1x13 Baby Love (March 31, 2002)
---
Liz is stressed because of the pregnancy, and the Taylor kids have yet to find out their mother is pregnant. Meanwhile, Jason tries to win back Katy but has no such luck as she is traumitised by the abortion. The Taylor and Todd families reunite at the farm house, and compare notes on how everything is going city and country wise. Liz confesses to Sandra of her pregnancy, and later on the rest of her family. This is met with joy and pleasure, the kids being happy for their mother and that they're going to have another younger brother or sister.
---
1x12 The Mating Urge (November 25, 2001)
---
It is just a regular day at Inverness - well, sort of. Marissa is getting over her breakup with Skid, Kimmi is still jealous of Pip and John & Liz discover that Bert is planning to put a fence between their properties - making sure they pay half the price. Jason, Tom and their workmates get to work but the younger two - Patch and Scumbag, both have their eye on Marissa. In Allanhurst, Sandra has been invited by Greg Graham to the Real Estate Awards. Pip is going to a party with Bomber and Mickey and Campbell are staying home alone.
---
1x11 The String in the Biscuit (November 18, 2001)
---
This entire episode takes place on February 14 - Valentine's Day. Throughout this episode each character (main and recurring) takes time out in the 'Confession Room' to tell us their Valentine's hopes and dreams.
---
1x10 Sisters Are Doing It for Themselves (November 11, 2001)
---
Inverness' female population are all out at Connie Linguini's kickboxing class. Well, except for Liz. She is stuck at home doing the housework and going unrecognized - this is not at all where she envisioned herself being as a farmer's wife. Jason finally gets a job as a labourer and Tom is edgy around Marissa after the picture in the previous episode and everyone else has now made him the butt of their jokes. Marissa tells Katy about Derek & Connie's relationship, something Katy finds hard to swallow. Connie, however, doesn't seem to mind how close Eileen is when she is making a move on Derek. Isabelle decides to make friends with the Taylors, which Jason takes as a very good sign.
---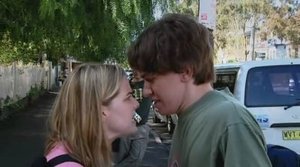 1x09 Call It Fete (November 04, 2001)
---
Sandra's 36th birthday - and her first without Robert - is fast approaching. Tom is heading to get his birth certificate and finally reveals issues of his parentage and how his adoptive father treated him. In Inverness, the church fete is looming and Jason, in an attempt to impress Isabelle, has promised he will bring a lot of cakes but the women of the family are reluctant to cook for him. The men are equally unimpressed with Marissa's campaign to advertise her clothing stall through pictures of men in frocks.
---
1x08 Dog Days (October 28, 2001)
---
It's a regular weekend in Inverness. Jack the dog is pining for Pip, Tom is teaching Jason and John the basic tricks of the farming trade and Marissa is up surprisingly early for her first day of work. In the city, Pip goes to see Shelley but doesn't get anything out of it, a joke regarding Greg that Mickey tells Campbell doesn't go down too well and Sandra goes to another job interview for a software company, thanks to a friend of Greg's.
---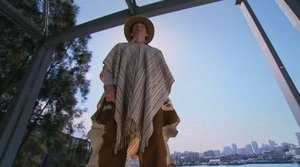 1x07 Love, Pain and the Whole Damned Thing (October 21, 2001)
---
While Cam and Pip head off to a new school and Sandra accepts a date, John finally invites Skid out to the farm.
---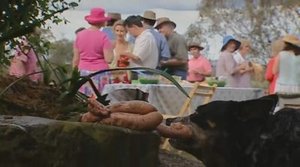 1x06 Keep Off the Grass (October 14, 2001)
---
Hosting a Church barbecue could help integrate the Taylors into the community at last - or ostracise them forever. Sandra's search for a job becomes serious as she realises just how much it costs to live in the city. Finding a small marijuana crop in the bush near the house, makes John realise the family haven't left all their problems behind them.
---
1x05 Pinch Me Linda, I'm Really Here! (October 07, 2001)
---
As the Taylors arrive in the country, after many bladder stops along the way, fights ensue over who gets which room. Kim and Jason end up getting rooms of choice while Marissa is left with the junk room. The Todd's arrival in the city is worse when they discover the house has been trashed and covered in graffiti.
---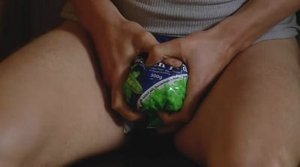 1x04 Movers and Shakers (September 30, 2001)
---
The day of the move comes and no-one is ready. As both families have to struggle with a lifetime of memories, Tom sets about to get a reference for Sandra from Derek, and to get Bert to give away one of his pups.
---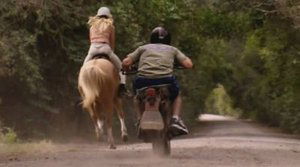 1x03 Close Encounters of the Furred Kind (September 23, 2001)
---
A case of cold feet for both families as they begin to realise their decisions - are they really going to do this? Liz's decision to move and sense of herself are challenged by the humour and chaos of a school reunion. Pip declares war on puppy-killer Bert Adams. Marissa's assumptions about her father and his work are turned on their head when Mickey accompanies him on a night on the streets.
---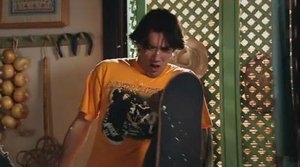 1x02 Where, What, Why, When, How? (September 16, 2001)
---
When the adults tell the kids of their idea, the reactions are varied. Marissa storms off to Skid (whom Liz discovers isn't that bad), Pip doesn't want to leave their dog Jack but the others are all considering it. Kim decides to put revenge on Shelley but her first plan doesn't go too well
---
1x01 The Other Man's Grass (September 09, 2001)
---
John Taylor and his wife Liz live in the city with their three kids, rebellous Marissa, naive Kimberley and singer Jason. Their life is strenous, Kimberley is regularly bashed by Shelley Southall, Marissa is onto drugs and Jason's friend Mickey doesn't think his songs are good at all. John's sister Sandra Todd lives on a property at Inverness raising her two kids Pip and Campbell. Her life is hectic as well, she works for shonky real estate manager Derek Unn and her closest neighbour is out to kill all her pets and her family.
---