The Wire
Season 1
The Wire
Season 1
First Air Date: June 02, 2002

| | | |
| --- | --- | --- |
| First Aired on | : | 2002 |
| Episodes | : | 13 episodes |
On the drug-infested streets of West Baltimore, there are good guys and there are bad guys. Sometimes you need more than a badge to tell them apart. Season 1 follows a single sprawling drug and murder investigation in Baltimore — one that culminates in a complex series of dangerous wiretaps and surveillance.
Episodes
1x13 Sentencing (September 08, 2002)
---
"all in the game..." - Traditional West Baltimore. Every crew has weak links--including Avon Barksdale's. With the heat turned up in the high-rises, Daniels and McNulty turn to a higher authority in an effort to crack the case wide open. Season finale.
---
1x12 Cleaning Up (September 01, 2002)
---
"This is me, yo, right here." - Wallace. The low-rise pay phones are out of service, so McNulty and Daniels try to keep pace by tapping Barksdale's office. Bodie gets new responsibilities from Stringer; Freamon gives Shardene a 'new look'; and D'Angelo goes to NYC on an errand for his uncle. With the detail's future hanging in the balance, Daniels faces off against Burrell and his political allies.
---
1x11 The Hunt (August 18, 2002)
---
"Dope on the damn table." - Daniels. The police turn up the heat on tracking down Savino, Wee-Bey and Little Man. Burrell orders Daniels to hit drug dealers for results that will impress the press. Barksdale sees his ranks thinning after the hit on Orlando. Bubbles tries to stay sober while scoping out the projects for McNulty; and Freamon determines there's a rat in the detail.
---
1x10 The Cost (August 11, 2002)
---
"And then he dropped the bracelets..." - Greggs. With Wallace in custody, McNulty and Daniels try to figure out what to do with him in the months before he testifies. Sydnor and Carver track down one of Barksdale's stash houses, and Prez shows off his 'gift for the paper trail.' McNulty's estranged wife Elena takes desperate measures after learning that he had their kids follow Stringer Bell.
---
1x09 Game Day (August 04, 2002)
---
"Maybe we won." - Herc. Barksdale plays an expensive game of one-upmanship with an east-side rival. Meanwhile, Herc and Carver take some cash off of Wee-Bey's hands, and Omar resurfaces with a bang.
---
1x08 Lessons (July 28, 2002)
---
"Come at the king, you best not miss." - Omar. An unlikely source gives McNulty the tag of a car driven by Stringer Bell. Meanwhile, Greggs and Carver bust a congressional aide carrying dirty cash, but are forced to let him go. Omar earns his 'loose cannon' moniker.
---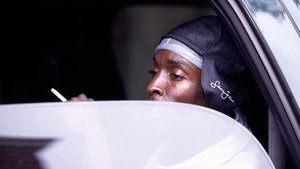 1x07 One Arrest (July 21, 2002)
---
"A man must have a code." - Bunk. Tipped off by the wire, Greggs, Herc, Carver and Freamon make a bust, but the incident makes Avon and Stringer suspicious, leading them to close shop in the Pit. Meanwhile, Bunk and McNulty look for another witness in the Gant slaying and hunt a suspect known as 'Mr. Bird.'
---
1x06 The Wire (July 07, 2002)
---
"..and all the pieces matter." - Freamon. When Rawls looks to make a premature arrest for three murders that are linked to D'Angelo and Avon Barksdale, McNulty and Greggs must argue for a delay in order to preserve the valuable wiretap gains they have made. Meanwhile, Wallace and D'Angelo struggle with their consciences after Avon pays them blood money.
---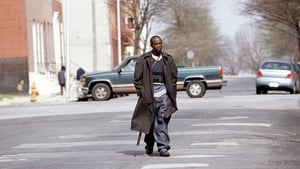 1x05 The Pager (June 30, 2002)
---
"..a little slow, a little late." - Avon Barksdale. McNulty's detail finally gets 'clone' pagers to track Barksdale and his gang, but nobody can crack the codes used by the callers. Meanwhile, Bell instructs D'Angelo on how to school his lookouts while simultaneously flushing out a possible snitch. Later, Carver and Herc find Bodie, but their interrogation doesn't turn up results.
---
1x04 Old Cases (June 23, 2002)
---
"It's a thin line 'tween heaven and here." - Bubbles. Greggs and McNulty try to get Hardcase to turn informant as arraignment begins for those caught in the raid. Barksdale places a bounty on the head of rival gang leader Omar. Meanwhile, McNulty takes Bubbles on a cultural field trip, and Herc and Carver try to track down Bodie.
---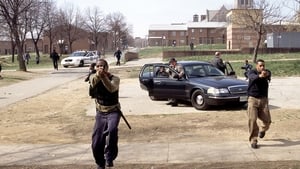 1x03 The Buys (June 16, 2002)
---
"The king stay the king." - D'Angelo. The early-morning 'field interviews' by Herc, Carver and Prez result in a minor riot, a boy losing an eye and some bad publicity for the department. On the other side of the law, D'Angelo teaches Wallace and Bodie how to play the game (chess) and later impresses Bell with his 'take' from the low-rises.
---
1x02 The Detail (June 09, 2002)
---
"You cannot lose if you do not play." - Marla Daniels. McNulty feels the heat when a witness who testified against D'Angelo is found murdered. Meanwhile, Greggs is given the lay of the land regarding Avon Barksdale's key players, and Herc, Carver and Prez find big-time trouble at the towers.
---
1x01 The Target (June 02, 2002)
---
"... when it's not your turn." - McNulty. Baltimore homicide detective Jimmy McNulty gets into hot water and winds up assigned to a detail of narcotics outcasts charged with investigating drug lord Avon Barksdale and his powerful operation in Franklin Terrace. Meanwhile, Avon's nephew D'Angelo is fresh off beating a murder rap, but he finds himself demoted upon his return to the gang.
---