New Street Law
Season 2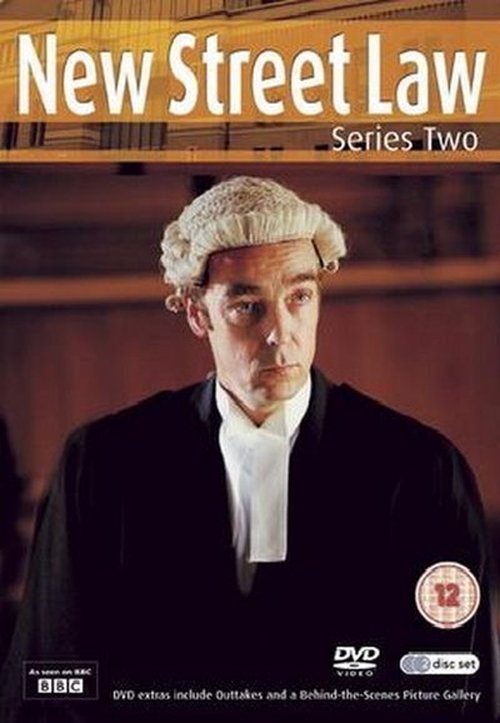 New Street Law
Season 2
First Air Date: February 21, 2007

| | | |
| --- | --- | --- |
| First Aired on | : | 2007 |
| Episodes | : | 6 episodes |
Episodes
2x06 Series 2 - Episode 6 (April 04, 2007)
---
The CPS are determined to label the killing of a burglar as racist, when Jack and Laura defend the accused defendant. Ray, Charlie's client, had his next door neighbour's dog bite off his testicle and he is prepared to sue.
---
2x05 Series 2 - Episode 5 (March 26, 2007)
---
Al's boyfriend Steve is dead, which shocks Jack. A young boxer has Charlie and Annie defending him, but the judge wants to secure a conviction as he knows the victim.
---
2x04 Series 2 - Episode 4 (March 14, 2007)
---
Jack and Laura represent a man who has been accused of rape 10 years ago. The case is emotional. A man is suing his son's school for banning sports day and Charlie is his representative. Charlie sees an opportunity for him to make up with his son.
---
2x03 Series 2 - Episode 3 (March 07, 2007)
---
Two girls are accused of murdering a class mate, so Jack and Frank represent them. The chances of winning are high, but they must decide whether to take their client's advice and trust them. Rebecca, a high-class hooker sues a plastic surgeon for loss of earnings after a bodged collagen injection left her with a "trout pout". Rebecca is represented by Charlie.
---
2x02 Series 2 - Episode 2 (February 28, 2007)
---
Jimmy McGregor, a gangster, asks Jack for help to defend him in a case for posession of heroin. However, McGregor has a violent past and Jack remembers when McGregor wasn't convicted for murder when he should have been. The key defence witness is McGregor's loyal wife, but Jack uncovers some revealing evidence. Afterwards, Jack is worried for McGregor's wife's safety and he isn't shocked when a body is found. Annie and Laura represent two opposite sides in the same case. Tommy claims that an angel told him to give £40,000 to charity, and Laura represents him. Annie represents his wife Claudia who has another idea why he did it. Laura spends the night with Jack, but she is unhappy when at the chambers dinner, he backs off and reverts to type.
---
2x01 Series 2 - Episode 1 (February 21, 2007)
---
Jack is arrested for perverting the course of justice, and he is granted bail. Although he is guilty of the offence, he has stopped an innocent woman going to prison and so argues his moral innocence. Jack is convinced by the team to be represented by Frank Halcroft and Frank thinks up a plan to get Jack out of prison. Frank convinces Honor to use her contacts in the case, but all doesn't go according to plan when Laura is attacked. In the end, Jack receives a suspended sentence after an honest and moving speech in court. A female football agent is represented by Charlie and Joe. Annie breaks off her affair with Charlie in an attempt to save her marriage. Steve, Al's partner is sacked and Al asks for advice on whether he has a case for unfair dismissal.
---