Bigg Boss OTT
Season 1
Bigg Boss OTT
Season 1
First Air Date: August 08, 2021

| | | |
| --- | --- | --- |
| First Aired on | : | 2021 |
| Episodes | : | 42 episodes |
Bigg Boss OTT, also known as Bigg Boss: Over-The-Top, is the first season of the Indian reality TV series Bigg Boss to be made for and aired on a streaming platform exclusively.
Want to see ?
Trailer: Bigg Boss OTT | Karan's Iconic Entry | Streaming Today at 8 PM on Voot | Promo
Episodes
1x42 Grand Finale (September 18, 2021)
---
5 strong finalists, 1 Bigg Boss OTT trophy and only one will walk away as the winner of the first ever season of Bigg Boss OTT. Brace yourselves for an entertainment extravaganza with Karan Johar, Ritiesh and Genelia Deshmukh. Now that's what we call an OTT Grand Finale!
---
1x41 Yaadon Ka Pitaara (September 17, 2021)
---
Savage fights, mushy love and solid friendships, the housemates have done it all. Now it's time to look at their remarkable ride and decide if those memories are worth keeping or can they let it go? Watch this sentimental episode now! Warning: This one is a total tear-jerker.
---
1x40 Midnight Eviction Ka Jhatka! (September 16, 2021)
---
The brutal race to the top begins! In an unexpected twist, Bigg Boss puts the finalists through a horrifying midnight eviction. The door to the finals will open only for one - Raqesh or Neha? Watch this heartbreaking episode now!
---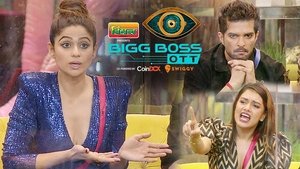 1x39 Shamita Par 'Insecurity' Ka Aarop? (September 15, 2021)
---
Burning questions from the press leaves the finalists sore. Shamita is grilled for being "insecure" - after all Raqesh and Divya are just friends. Will Shamita hold on to her feelings or will she move on? All this and more scandalous topics will be addressed. Catch all the masaledaar drama of the finale week.
---
1x38 Emo Alert! Try Not To Cry (September 14, 2021)
---
Our lovely finalists will REUNITE with their families tonight and it's going to be one hell of an emotional ride. Kya hoga jab gharwalon se milenge unke gharwale? Tune in to watch Bigg Boss OTT NOW!
---
1x37 Jab Divya Met Varun (September 13, 2021)
---
Divya Agarwal gets a sweet surprise from her boo, Varun Sood. A stern warning for the gharwale and a kiss of love for his "baby". Eyes on the prize, Divya! Excited for the OTT finale week? Stay tuned.
---
1x36 Star-Studded Sunday Ka Vaar (September 12, 2021)
---
Neha Kakkar and Tony Kakkar are coming in hot with their entertainment ka kaanta! What's more? Varun Sood is also here to support his other half, Divya Agarwal! Brace up for a shandaar Sunday ka vaar!
---
1x35 #ShaRa Aur Woh! (September 11, 2021)
---
Uh-oh! The most complicated love triangle of Shamita-Raqesh-Divya is back in the spotlight. All Shamita has ever wanted is for Raqesh to stay away from Divya, but the effect is quite the opposite. Will Shamita be able to shake her jealous rage? Watch the melodrama now!
---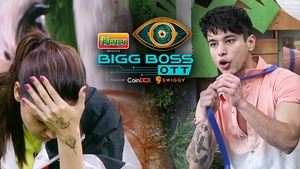 1x34 Pratik makes Divya lose it all (September 10, 2021)
---
Moose Jattana's decision to side with Raqesh Bapat in the Ticket To Finale task makes Pratik Sehajpal very angry. He refuses to follow the house rules. The result? Bigg Boss cancels the ENTIRE task and Divya Agarwal loses her advantage to the finale! Uh oh! Yeh kya kiya Pratik?
---
1x33 Race For The Ticket To Finale! (September 09, 2021)
---
Shots are fired and now it's time for action! The ticket to finale task is in session and the housemates are playing the game, OTT style! From verbal crossfires to physical fights, watch out for this race to the finale.
---
1x32 It's WAR! Shamita & Divya's Catfight (September 08, 2021)
---
Newsflash! Shamita and Divya just can't stand each other. A brutal strike in the task has got the divas sparring once again - and it's getting uglier. What's next for these friends turned sworn enemies? Find out in this catty episode.
---
1x31 Bigg Shocker For Housemates! (September 07, 2021)
---
A twist we never saw coming! Goodbye to all the connections and welcome to the GAME. While Divya is celebrating, others are in a spot of bother. Will this change the dynamics forever? Watch this shocking episode now.
---
1x30 Nishant calls Shamita 'Ghamandi' (September 06, 2021)
---
Ice queen! Ghamandi! Nishant is running wild with his accusations on Shamita. The feud escalated when the two were given a simple task. Soon, Nishant while guarding his dearest friend went all guns blazing on Shamita. Watch this epic feud now.
---
1x29 Sunday Ka Power-Packed Vaar (September 05, 2021)
---
Your favourite hotties Rubina Dilaik and Nikki Tamboli are back in the Bigg Boss house and they are adding a teekha tadka! What's more? Unwrap the sin with Karan Johar and the team of Voot Select Original 'Candy' in this action-packed Sunday Ka Vaar.
---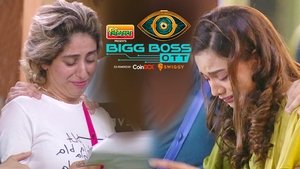 1x28 Ghar Se Aaye Letters! (September 04, 2021)
---
Emotions are at an all-time high in the Bigg Boss house. Personal letters are here from the families of the housemates, but with an unexpected TWIST! Who will bear the brunt of this twist? Find out in this episode.
---
1x27 Nishant Aur Moose Ki Takraar (September 03, 2021)
---
Known to be always in sync, Nishant and Moose today are at loggerheads. The reason you ask? A sacred friendship. Will this feisty clash of opinions ruin their connection? Find out in this episode!
---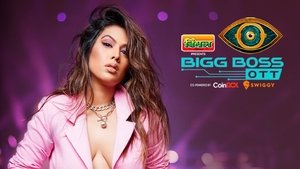 1x26 Nia ki entry? Haye Garmi! (September 02, 2021)
---
Ooh la la! Things are heating up inside the BB House as Nia Sharma steps in. Her sizzling equation with the boys is putting their jodis in a super tough spot. Will this be a turning point for the connections? Catch all the dhamaal in this episode.
---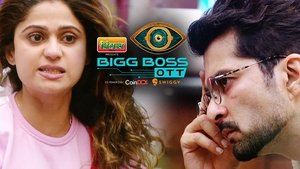 1x25 #ShaRa Ka Connection Tuta? (September 01, 2021)
---
The budding love story between Shamita Shetty and Raqesh Bapat has turned into a warzone! A few misunderstandings between the duo led to a volatile argument... and what's next? The jodi deciding to call it QUITS! Watch this emotional episode now.
---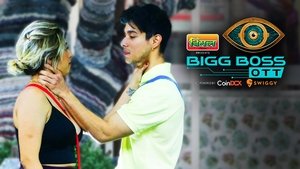 1x24 Dhoka 2.0! Pratik Dumps Neha? (August 31, 2021)
---
Heart-breaker Pratik is at it AGAIN! Neha ka connection hai khatre mai, as Bigg Boss gives the housemates another chance to pair up with Divya. Will Pratik take this scandalous opportunity, or will he prove everyone wrong? Catch all the action in this episode.
---
1x23 Sizzling Sunny's Naughty Task (August 30, 2021)
---
Sunny Leone cranks up Shamita and Raqesh's connection with a frisky task. And... It's getting super hot inside the BB house! Will the jodis be able to pass Sunny's test? Watch all this and more in the episode!
---
1x22 Sunday Ka Vaar: It's Sunny! (August 29, 2021)
---
Hotness alert! Sunny Leone is in the house to put the jodis through an ultimate test of 'Connections'. Baby doll ka tadka aur Karan Johar ki class, this weekend is LOADED. Watch now!
---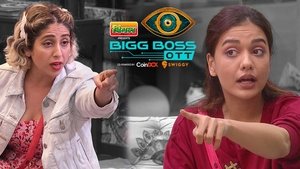 1x21 Neha Calls Divya a GUNDA? (August 28, 2021)
---
Whoa! Neha ko aati hai Divya se "Gundagardi wali feeling". You think our lone wolf will take that allegation lying low? Of course not! But her reaction pisses all the housemates. Kya Divya ki manmani banegi sabki pareshani?
---
1x20 Gaba Wants to QUIT! (August 27, 2021)
---
"UNFAIR", shouts Milind Gaba as he storms out to Quit the show! Milind ke josh ne udda diye gharwalon ke hosh. Looks like the 'Khunkhaar Bhediya' task has woken up this sher. Watch the drama unfold.
---
1x19 Brutal Brawl, Eviction Bomb! (August 26, 2021)
---
The biggest brawl in the house leaves Divya heartbroken and results in someone's surprise exit from the house? Watch the latest episode to find out who was right and who was not!
---
1x18 Grr! Akshara Aur Neha Ki Catfight (August 25, 2021)
---
Akshara Singh's nasty comment on Neha Bhasin irks everyone around! Will Neha take Akshara's mean comment lying low? Gear up for the biggest catfight of this season. Watch this episode now.
---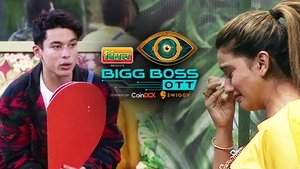 1x17 Whoa! Pratik Dumps Akshara (August 24, 2021)
---
Uh-oh! Pratik Sehajpal's shocking move leaves Akshara Singh in tears. He literally breaks her heart and decides to make a NEW connection with Neha Bhasin. A total game-changer move, Pratik! Watch the episode now.
---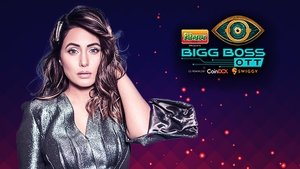 1x16 Hina Ke Swag Ne Lagayi Aag (August 23, 2021)
---
Look who's here to stir some classic controversy! Hina Khan... and this time her teekha tadka might just brew up a storm. Hina makes the housemates choose 'Sabse Bada Phattu' of the house, and guess who Moose picks? Hint: #BhagwanHaiWoh
---
1x15 Sunday Ka Vaar (August 22, 2021)
---
Sassy Karan ke teekhe bol, Hina Khan ki khubsurat aada aur Rakhi ka OTT andaaz! Get ready for entertainment ka triple dose. Watch the high-voltage action in the Bigg Boss house in this super loaded weekend episode.
---
1x14 Tameez Seekhiye Zeeshan, Varna... (August 21, 2021)
---
Ouch! What made Akshara hurl this scathing insult at Zeeshan? An unwarranted order topped with a ton of attitude! The result? An explosive fight between the two power-packed personalities that left the housemates and the crew SHOOK!
---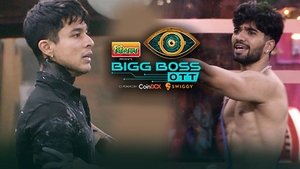 1x13 The Biggest Brawl Yet! (August 20, 2021)
---
Starboy Zeeshan gets into an argument with all-time angry young man Pratik! What follows will blow your mind. Watch the latest episode now.
---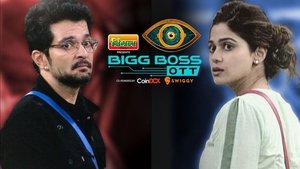 1x12 Raqesh-Shamita ne palti game! (August 19, 2021)
---
Day 12: Sanchalak duo Shamita Shetty and Raqesh Bapat have decided to take their roles VERY seriously. The result? The rest of the housemates feel the heat.. OTT Style!
---
1x11 'Spineless' Jibe Makes Raqesh CRY (August 18, 2021)
---
Day 10: From calling him spineless to accusing him of never sticking to his decisions, Pratik Sehajpal attacked Raqesh Bapat like never before! Will Raqesh take these insults lying low, or will he retaliate? Find out now, on Voot!
---
1x10 Ridhima Vs Pratik - The Bigg Bawal (August 17, 2021)
---
Day 09: What happened when Pratik Sehajpal accused Ridhima Pandit of being 'kaamchor'? A BIGG bawal! An otherwise composed Ridhima has a shocking meltdown that shakes up the entire house. Watch this dramatic episode now.
---
1x09 SidNaaz ka jaadu chal gaya (August 16, 2021)
---
It's that time again, Sidharth Shukla and Shehnaaz Gill are in the BB house and their chemistry is just OTT! Will their sizzling chemistry turn up the heat between the contestants in the house? Tune in to find out.
---
1x08 Sunday Ka Vaar, KJO style! (August 15, 2021)
---
From Karan Johar's tadkewala vaar to SidNaaz's masti in the Bigg Boss house and the first ever OTT elimination, this Sunday Ka Vaar just got a whole lot interesting! Tune in now.
---
1x07 Ridhima-Pratik's fiery fight! (August 14, 2021)
---
Day 6: Ridhima Pandit lashes at Pratik Sehajpal when he criticises her for not washing the dishes the previous night. From accusing Pratik of bossing around the housemates to showering him with cuss words, watch the episode for Ridhima's outburst!
---
1x06 Divya loses her calm (August 13, 2021)
---
Day 5: Divya Agarwal loses her composure when the task takes an unexpected turn, and she is forced to break character. Will Divya channelise all the rage into the task and emerge victoriously? Watch the drama unfold, on Voot!
---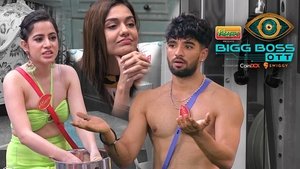 1x05 Zeeshan dumps Urfi! (August 12, 2021)
---
Day 04: Zeeshan Khan turns the table around when he choose Divya Agarwal as his partner and dumps Urfi Javed straight to elimination. Consequently, Urfi fumes with rage and hurls abusive remarks towards him. Watch the drama unfold, on Voot!
---
1x04 Shamita-Raqesh Ki Jodi Fail? (August 11, 2021)
---
They seemed like a match made in heaven, but Sima Aunty has a different opinion on their connection! Is Shamita Shetty and Raqesh Bapat's jodi, a bigg failure? Watch this episode to find out now.
---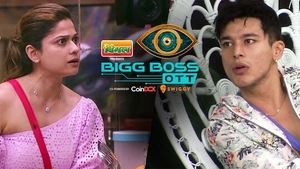 1x03 Massive Fight! Pratik Vs Shamita (August 10, 2021)
---
Day 02: Shamita Shetty loses her cool and flares at Pratik Sehajpal when he sarcastically refers to her as a cook. Furious, Shamita accuses Pratik of bossing around and disrespecting women! Watch the argument as it goes completely OTT, on Voot!
---
1x02 Pehla task, pehla jhagda! (August 09, 2021)
---
Day 01: The first BIGGEST fight of the season is here! Aisa kya hua Pratik aur Divya ke beech? Will the other gharwale intervene? Watch the first exciting episode, on Voot!
---
1x01 An 'Over the Top' launch! (August 08, 2021)
---
Stay glued to your seats as Bollywood icon Karan Johar brings to you the thirteen players, who battle it out in this unique season of Bigg Boss OTT! Tune in to this grand opening and witness the show like never before, on Voot!
---