Plan "B"
Season 1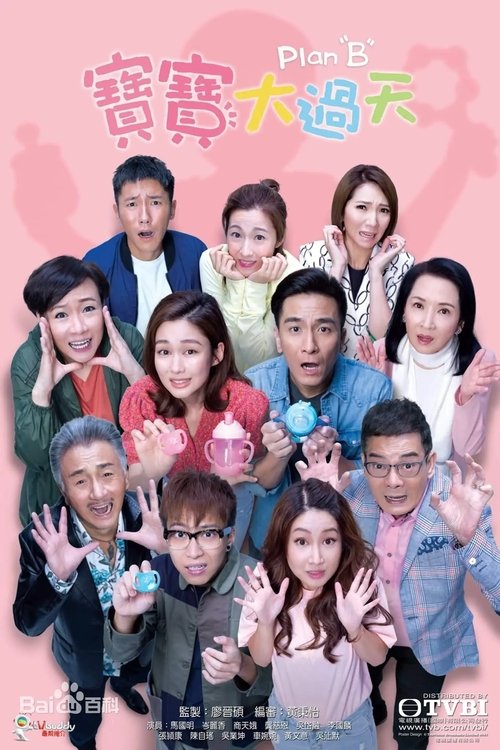 Plan "B"
Season 1
First Air Date: June 14, 2021

| | | |
| --- | --- | --- |
| First Aired on | : | 2021 |
| Episodes | : | 25 episodes |
Episodes
1x25 Episode 25 (July 16, 2021)
---
---
1x24 Episode 24 (July 15, 2021)
---
---
1x23 Episode 23 (July 14, 2021)
---
---
1x22 Episode 22 (July 13, 2021)
---
---
1x21 Episode 21 (July 12, 2021)
---
---
1x20 Episode 20 (July 09, 2021)
---
---
1x19 Episode 19 (July 08, 2021)
---
---
1x18 Episode 18 (July 07, 2021)
---
---
1x17 Episode 17 (July 06, 2021)
---
---
1x16 Episode 16 (July 05, 2021)
---
---
1x15 Episode 15 (July 02, 2021)
---
---
1x14 Episode 14 (July 01, 2021)
---
---
1x13 Episode 13 (June 30, 2021)
---
---
1x12 Episode 12 (June 29, 2021)
---
---
1x11 Episode 11 (June 28, 2021)
---
---
1x10 Episode 10 (June 25, 2021)
---
Tsoi-shan and Mei-foon are disappointed with Chor-kiu's arbitrary decisions. Tsoi-shan does not want Nga-yau to rejoin the workforce as he is also unhappy about Nga-yau keeping him in the dark. Siti's resume and performance are exceptional. Mei-foon wants to fire her. Tsoi-shan is also at his wits' end. Tsoi-shan interrogates Siti as he realizes his home is burgled. Mei-foon promptly comes to Siti's defense as Mei-foon knows Siti is a sympathetic person because Siti hides the fact that she is arbitrarily hooking up with Tai-long. But Chor-kiu already knows everything. Chor-kiu honestly hopes Nga-yau can rejoin the workforce as she does not want her to live a purely domestic life and feel wronged. Nga-yau is deeply moved. Nga-yau mentions the circumstances under which the two of them met to Tsoi-shan, who eventually gives in. Nga-yau hopes she can regain her other identity, besides being a mother.
---
1x09 Episode 9 (June 24, 2021)
---
Mei-foon calms down and returns home.Yattung keeps clinging to Meifoon.Ngayau somehow senses Yattung does not need her anymore.Chorkiu arbitrarily hires some foreign domestic helper as she hopes to help Ngayau rejoin the workforce.Tsoifung invests in Pikchi's online handbag business as he does not want Tsoishan to look down on him. But he ends up losing money and inventory.Tailong suggests approaching Tsoishan to deal with the issues,causing Tsoifung to feel annoyed.Tailong is plotting to seize some chance to make family members get along again.But under some bizarre circumstances,the victims go to Frozen Bro to vandalize. Tsoishan scolds Tsoifung. But Tailong accuses Tsoishan of kicking someone when they are down. Tsoishan decides to borrow money from the bank for helping Tsoifung repay his debt. Ngayau angrily runs away from home as Tsoishan does not want her to work, and he does not think much of her menial jobs. Chorkiu abruptly takes foreign domestic helper Siti to Tsoishan's home
---
1x08 Episode 8 (June 23, 2021)
---
Tai-long asks Tsoi-shan to give him a chance as he claims he is back on the straight and narrow. Tsoi-shan is counting his pennies. He also wants Nga-yau to learn household financial management from Mei-foon. But Mei-foon's extreme way of managing household finances causes Nga-yau to feel ridiculous. Tai-long becomes a security guard. On the first day of his new job, Tai-long realizes his boss is Hong Lok. Tai-long just has to endure Hong Lok's mistreatment. Tsoi-shan's thriftiness is getting out of hand. He even suggests not allowing Yat-tung to attend playgroups. Nga-yau sees right through Tsoi-shan that he uses some unusual maneuver to avoid Tai-long. Tsoi-shan criticizes Tsoi-fung as Chi-chung reveals Tsoi-fung is causing the company to lose money. To vent his frustration, Tsoi-fung decides to let Tai-long stay at his place. Mei-foon finds out Tsoi-shan is not honest with her. She angrily runs away from home as she also knows Tai-long does not want to see her.
---
1x07 Episode 7 (June 22, 2021)
---
Chor-kiu wants to expel Mei-foon from Nga-yau's home. But she realizes Mei-foon and Nga-yau are getting along well. Chor-kiu changes the topic and points out Nga-yau's family could be put at risk as Mei-foon still keeps thinking of Tai-long. Chor-kiu complains about Tsoi-shan and his relatives. Although Tsoi-shan feels guilty, he still refuses to expel Mei-foon. Nga-yau sets a trap to test Mei-foon as Hong Lok tells her Tai-long is in Hong Kong. She finds out Mei-foon still has affectionate feelings for Tai-long. Nga-yau sternly warns Mei-foon that for the sake of Yat-tung, she would even risk her life to defend her family. Tsoi-shan does not like Nga-yau treating Mei-foon in this manner. But he finds out Mei-foon is hiding something. Tsoi-shan gets furious. However, Mei-foon declares she will not forget Tai-long. Tsoi-shan and Nga-yau are wary of Tai-long. The duo pluck up courage to approach Tai-long and question him.
---
1x06 Episode 6 (June 21, 2021)
---
Chor-kiu objects to Mei-foon temporarily staying at Tsoi-shan's home. She reminds Nga-yau to be wary of issues between her and her mother-in-law. Nga-yau is afraid of Mei-foon endlessly moaning. She also does not like her living habits as she is worried about Yat-tung's safety being compromised. Nga-yau tells her elder cousin sister Ip Fan her difficulties. But Nga-yau realizes she is also bothered by issues between her and her mother-in-law. Ip Fan asks Nga-yau to line up a job interview at Frozen Bro for her husband Kwan Chi-chung. Tsoi-shan hires Chi-chung because of Tsoi-fung's bad work attitude. Tsoi-shan decides to let Mei-foon stay indefinitely as he finds out Nga-yau brides Pik-chi to take Mei-foon away. Nga-yau cannot come to terms with this situation. Tsoi-shan promises to correct Mei-foon's bad habits. Yat-tung loses her way, and Nga-yau has a breakdown. But in the process, she has come to understand what Chor-kiu taught her. She decides to accommodate Mei-foon in her home.
---
1x05 Episode 5 (June 18, 2021)
---
Tsoi-shan and Nga-yau are moving into their new home. Everybody anticipates a new beginning. But the chums cannot fulfill their wishes as Chor-kiu is still a control freak. Mei-foon feels miserable as she fails to help Yat-tung enrol. To pacify Mei-foon, Tsoi-shan invites her to spend the night at his home. But Chor-kiu is one step ahead. Yat-tung also throws a tantrum as she despises Mei-foon, who sadly leaves. Tsoi-shan laments their worse situation after moving home. Mei-foon runs away from home after arguing with Pik-chi. Tsoi-shan finds out Mei-foon secretly contacts Tsoi-shan's father Yau Tai-long because she is lonely. Tsoi-shan reminisces about those days when he and Mei-foon relied on each other. Tsoi-shan eventually offers her shelter in his home. Although Nga-yau is reluctant, but she has learned to give in because of Yat-tung. Tai-long shows up and eagerly contacts Mei-foon.
---
1x04 Episode 4 (June 17, 2021)
---
Mei-foon prepares "sure win tactics" for the "through-train school" interview. She wants Tsoi-shan, Nga-yau and Yat-tung to engage in family activities as often as possible. Also, Nga-yau is overburdened as she has to handle chores related to moving home. But Tsoi-shan is focused on making money. The couple quarrel over how to split parenting duties. Nga-yau resorts to asking Mei-foon for help. But she somehow senses something is wrong as she sees Mei-foon getting unusually hysterical. On interview day, some teacher implies Nga-yau uses Mei-foon to win favor. Mei-foon also makes some unwise move, causing Yat-tung to fail the interview. Nga-yau has a breakdown. She is certain that she is a hopeless mother. Tsoi-shan comforts Nga-yau. He shoulders the burden of decorating their new home.
---
1x03 Episode 3 (June 16, 2021)
---
Tsoi-shan becomes another person and eagerly listens to Chor-kiu. Hong Lok patiently persuades Nga-yau to move out of Chor-kiu's home and help Tsoi-shan to regain his manhood. To break free from Chor-kiu's control, Tsoi-shan has saved up for moving home. But Nga-yau fights within herself as she knows she has always gone against Chor-kiu. Chor-kiu finds out Mei-foon lurks around "through-train school". She arbitrarily sets a trap for ruining Mei-foon's credibility. Tsoi-shan loses his temper on the day of Yat-tung's interview, causing Yat-tung to fail. Chor-kiu gets angry and wants to blame someone. Nga-yau mentions she is moving out as she cannot stand it any longer. Mother and daughter turn against each other. The duo recall Chor-kiu had aortic dissection when Nga-yau was in labor. They appreciate a precious mother and daughter relationship. Chor-kiu eventually gives in and agrees to let Nga-yau and Tsoi-shan move to a new home.
---
1x02 Episode 2 (June 15, 2021)
---
To enable Yat-tung to get a place in a posh school, Chor-kiu forces Tsoi-shan to undergo special coaching. She also wants him to take care of Yat-tung by himself. Yat-tung becomes rebellious as she is going through Trouble Two. Tsoi-shan does not know how to deal with her. Nga-yau arranges for Tsoi-shan to see some parenting expert. During the proceedings, Tsoi-shan is insulted. Tsoi-shan is regretful about moving into Chor-kiu's home in the first place as Mei-foon has to sneak into the place whenever she pays them a visit. Mei-foon is simply embarrassed. After arguing with his younger brother Yau Tsoi-fung and his wife Cheung Pik-chi, Tsoi-fung finds out Mei-foon has become a school worker at "through-train school" as she wants Yat-tung to have a better chance of enrolling. Tsoi-shan is humiliated as Chor-kiu wants to impose more stringent regulations on him. Yat-tung vandalizes again.
---
1x01 Episode 1 (June 14, 2021)
---
Full-time mother Hong Nga-yau and her husband Yau Tsoi-shan have a two-year-old daughter called Yau Yat-tung. The family and Nga-yau's parents Hong Lok and Fong Chor-kiu are living under the same roof. Yat-tung is going to apply for kindergarten. Tsoi-shan feels annoyed as Chor-kiu keeps giving him advice. Nga-yau takes Yat-tung to attend "separation class". But her efforts are wasted. Yat-tung just resists everything. Nga-yau is certain Yat-tung has separation anxiety disorder (SAD). Nga-yau realizes her mother-in-law Kam Mei-foon has a perfunctory attitude when it comes to raising kids. But her one-year-old nephew Yau Ka-yiu, who is looked after by Mei-foon, performs better than Yat-tung. Nga-yau decides to let Chor-kiu look after Yat-tung for one day. But she just has to rush home as she is worried about Chor-kiu's lack of stamina. Nga-yau's bad temper is getting worse. Tsoi-shan eventually makes her realize she has always suffered from SAD.
---