Boston Public
Season 2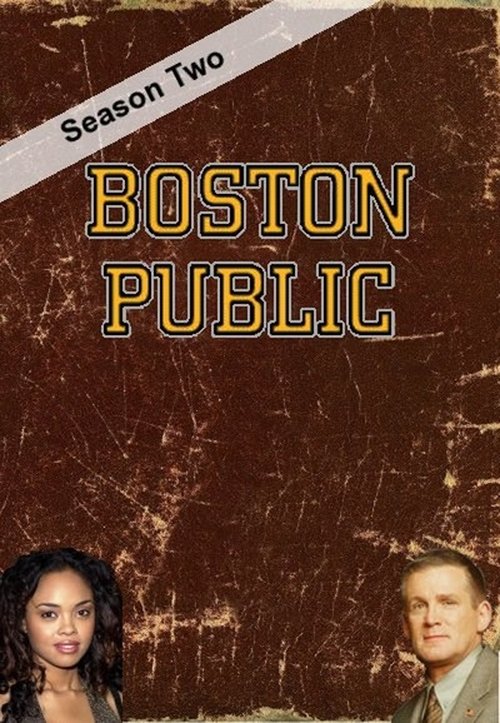 Boston Public
Season 2
First Air Date: October 29, 2001

| | | |
| --- | --- | --- |
| First Aired on | : | 2001 |
| Episodes | : | 22 episodes |
Episodes
2x22 Chapter Forty-Four (May 20, 2002)
---
Staff and students at Winslow High struggle to get on with their lives after a number of tragic events.
---
2x21 Chapter Forty-Three (May 13, 2002)
---
Lauren and Marilyn investigate a student who seems to be eating her own hair. Danny is discovered having sent letters home to the ""over-weight"" girls in his class after he is punched a girl who receives one of these letters. Marla goes to Steven and Scott about this issue, asking that he be fired. Meanwhile, Scott and Steven are continuing to have personality conflicts regarding leadership. Jamal Crenshaw's brother, Amaad, murders a store clerk and soon after, Jamal confides in Harry. Harry takes it to Ronnie, a past lawyer, who believes that Jamal's best bet is to turn himself in. However, when he doesn't; Harry and Ronnie do. Later on, Amaad comes to visit Harry at Winslow High and when things get out of hand, Harry calls the police. But before he can give them any details, he is stabbed by Amaad; three times.
---
2x20 Chapter Forty-Two (May 06, 2002)
---
As the prom approaches, female students outrage the faculty when they auction themselves as dates, while Harper deals with angry students who oppose his allowing a gay student to compete for the queen's crown.
---
2x19 Chapter Forty-One (April 29, 2002)
---
Ronnie puts together a surprise birthday party for Senate but her good intentions quickly turns into chaos when all the guests resort to bickering and nitpicking at each other. Among the sparks at the party, Lipschultz snoops into Harper's briefcase and reveals his application for headmaster at an opposing school, while Lauren and Scott grow closer together as she has her own issues after being called a perfectionist.
---
2x18 Chapter Forty (April 22, 2002)
---
Dana Poole returns to Winslow High as a mature, sexy, college freshman looking to spend time with Senate for a class project. Meanwhile, Lipschultz gets a visit from a 58-year-old man who says he's his son, and Hanson is accused of giving special treatment to Debbie.
---
2x17 Chapter Thirty-Nine (March 18, 2002)
---
Ronnie catches a student performing a crime; two female students tell Marylin about their sexual conversations online with an older man.
---
2x16 Chapter Thirty-Eight (March 11, 2002)
---
Mikki, an 18-year-old Winslow student, tricks Harper and the administration into allowing Barely 18, a racy Maxim-like magazine to come to the school to shoot provocative photos of her. Ronnie, who stumbles upon the shoot, pleads with Mikki not to pose for the magazine, saying it is a decision she will regret for the rest of her life. Ronnie confides in Mikki that she was approached in college to pose for a pictorial, but thankfully decided against it. Later, Ronnie reveals to Senate that she actually went through with the shoot, but the photos were never published. Ronnie and Senate share a moment, but nothing materializes from it. Meanwhile, back at school, a student approaches Guber with information that Meredith hit her with her prosthesis during an argument. After some investigating, Guber reluctantly admits that he believes the student and fires Meredith. As a result, Guber and Meredith's relationship seems to be terminated as well. Also at the school, one of Lauren's students ha
---
2x15 Chapter Thirty-Seven (February 25, 2002)
---
Controversy swirls at Winslow over a reviled racial epithet, which becomes a heated subject of debate in a class taught by the provocative Danny Hanson, who fans the flames by alleging a double standard. ""Clearly,"" he tells his students, ""people seem OK with Chris Rock using the word...But if Garry Shandling did...you'd all be sick."" Word gets to Harper, who calls upon Hanson to cease the discussion because ""the word stirs up too much hate."" But when the teacher persists, the principal trumps him. ""Do you think you understand n----r, Danny? Do you think you really get it?""
---
2x14 Chapter Thirty-Six (February 18, 2002)
---
Seven teenagers, including Zack, are killed in a drunk driving accident and the students and teachers, both, must face their grief. Ronnie takes it especially hard having been close with Zack. Brooke's best friend was also killed in the accident. Meanwhile, Harvey tries to convince the students that he was George Washington in a previous life.
---
2x13 Chapter Thirty-Five (February 11, 2002)
---
A student's illness rattles Senate, who's haunted by feelings of futility; a teen's eating disorder upsets Lauren, who's also unnerved by an web site advocating anorexia.
---
2x12 Chapter Thirty-Four (February 04, 2002)
---
The faculty decide to have a staff talent show to lighten the mood at Winslow. Lipschultz asks Ronnie to sing a duet with him at the talent show but she convinces him that Marylin is just waiting to be asked. Meanwhile Danny befriends one of his Cerebral Palsey kids and arranges for him to attend Winslow. The mood is severely challenged when a student finds a notebook with plans for a bombing and shooting spree at Winslow
---
2x11 Chapter Thirty-Three (January 28, 2002)
---
Ronnie and Danny discover that Brooke is dating a 27 year old man and report it to Steven. Steven is outraged at this discovery and demands Brooke stop seeing him. She disagrees at first but the next morning, her boyfriend Rupert reports to Steven that the two have broken up. Brooke later debates leaving Winslow High but Steven convinces her not to.After Harry getting sick of his students being considered dumb, he challenges Guber to a debate in preperation for a big upcoming debate for Scott's debate team. He accepts and the two teams practice to no end. When it comes debate time, both teams deliver but Scott's team comes out victourious but only by three points.
---
2x10 Chapter Thirty-Two (January 21, 2002)
---
Lauren asks Guber to go to a concert with her on the night of his three-month anniversary with Meredith and he accepts. Which causes Meredith to be extremely angry. Danny is having problems with religion in school. One of Ronnie's students attempts suicide and is pregnant because of a sex crime after she is pregnated for the purpose of having the child for her parents. Harvey moves onto the state finals with his speech and places in the top three.
---
2x09 Chapter Thirty-One (January 14, 2002)
---
Tensions escalate among Meredith, Jeremy and Guber, who seek family counseling; controversy swirls around a student's class-project photo and a speech by Lipschultz.
---
2x08 Chapter Thirty (January 07, 2002)
---
A revelation concerning Jeremy fractures the relationship between his mother and Guber; a plea from a death-row inmate troubles Harper; a student's ADD affliction disquiets Ronnie.
---
2x07 Chapter Twenty-Nine (December 10, 2001)
---
Tidings of comfort and joy gladden this Christmas episode, which, true to the series, also has its share of heartaches and crises. The main storyline centers on the holiday hopes of principal Harper's teenage daughter, Brooke, who's anxious for a reconciliation between her divorced mom and dad. In other developments, Guber and Mrs. Peters shop together for a special Christmas present; Marylin, Marla and Louisa form a musical trio at the school pageant; and Senate gets caught up in the plight of a sensitive youth who he thinks may be suicidal.
---
2x06 Chapter Twenty-Eight (December 03, 2001)
---
A statutory-rape case entangles Ronnie with the enraged parents of the 15-year-old victim; an illicit-drug situation embroils Harper with his unsettled daughter
---
2x05 Chapter Twenty-Seven (November 26, 2001)
---
Hanson is arrested after a domestic dispute, causing Harper to seriously consider firing him. Lauren is skeptical when a student decides to drop out because a record company wants to sign her, and Harper is livid when he discovers that someone close to him has been anonymously dispensing sex advice in the student newspaper.
---
2x04 Chapter Twenty-Six (November 19, 2001)
---
Harper's headstrong daughter Brooke enrolls at Winslow High after she is kicked out of private school. Meanwhile, when Ronnie is disappointed that her class is not learning Shakespeare, her ex-suitor Matthew Baskin, who continues to pursue her, offers a unique way to reach her and her students.
---
2x03 Chapter Twenty-Five (November 12, 2001)
---
Senate is outraged when he learns that one of his prized students was admitted to Williams College because he bought his college application essay over the Internet. Also, Lipschultz calls a student a derogatory term and new teacher Danny Hanson wants him held accountable, but Harper refuses. Hanson goes to Ronnie for legal help, and his class decides to sue Lipschultz in court for defamation of character.
---
2x02 Chapter Twenty-Four (November 05, 2001)
---
Ronnie's career at Winslow High gets off to a precarious start when Guber sees her in a compromising position. Meanwhile, Lauren tries to help a straight-A student get into Princeton, but Harper wants to transfer the student to a continuation school because she is pregnant. Also Mrs. Peters, looking very different, volunteers as a teacher's assistant at Winslow.
---
2x01 Chapter Twenty-Three (October 29, 2001)
---
A wealthy attorney decides to become a teacher at the school—quickly stirring things up between her fellow teachers and the students. Meanwhile, Lipshultz gets into trouble after giving a student the wrong name and Marla is enlisted to sponsor a club of female students, which causes her to examine her own insecurity.
---