Greek
Season 4
Greek
Season 4
First Air Date: January 03, 2011

| | | |
| --- | --- | --- |
| First Aired on | : | 2011 |
| Episodes | : | 10 episodes |
It's a time of adjustment for all, as Casey and Evan find themselves classmates in CRU Law School, Ashleigh becomes overwhelmed by life in the big city, Rebecca and Calvin take control of their houses, Cappie has declared a major and even Dale has decided to make serious life changes! Can life at CRU ever be the same?
Episodes
4x10 Legacy (March 07, 2011)
---
In the series finale, the Kappa Taus try to stop the demolition of their house. Meanwhile, Cappie and Casey come to a realization about their on-again, off-again romance; and Cappie and Evan determine whether their friendship is meant to last.
---
4x09 Agents for Change (February 28, 2011)
---
ZBZ becomes a finalist for the best chapter in the nation and Rebecca takes charge with an iron first, she even goes so far as to invite Frannie, now employed at CAA, to help them prepare. Casey worries Rebecca is turning into Frannie, who tries to rekindle a friendship with her.
---
4x08 Subclass Plagiostomi (February 21, 2011)
---
Kappa Tau faces academic probation when one of their pledges mysteriously receives straight F's, the KT's suspect Omega Chi and Dale are behind it. Rebecca uses the investigation as her post Evan break up coping mechanism and discovers that Omega Chi is actually playing a trick on Dale. Evan takes revenge on Casey for his break up with Rebecca by attempting to make her look less than capable in her Law school studies.
---
4x07 Midnight Clear (February 14, 2011)
---
Rusty is planning Calvin's 21st birthday party at his apartment. Casey and Ashleigh have not been speaking and are afraid to run into each other at the party. A really bad snowstorm hits Cyprus Rhodes shutting down all roads. Since Heath is not able to make it back with the alcohol, the gang of eight decides to walk to Dobbler's. Inside Dobbler's, the group decides to play the game "Kiss & Tell" where secrets and feelings are revealed.
---
4x06 Fumble (February 07, 2011)
---
Casey and Cappie wake up together and Casey kicks him out of the house before anyone finds out, claiming that nothing can happen between them. Rusty wakes up from the party completely hungover, and unable to remember what happened. He finds red lipstick on his mouth, and sets out on a search with Calvin to find the mystery girl. Casey and Cappie meet up later and realize that they did not use protection the night before. Casey gets the morning after pill just in case. At ZBZ, the sisters are watching over faculty children during the big game, and Cappie comes over to help Casey, and to prove to her that he's matured. Rusty also divulges to Casey that Cappie declared a major. Later that night, Casey and Cappie share a romantic moment in the playground. Meanwhile, Professor Segal (Josh Randall) flirts with Ashleigh, who is still distraught about her undetermined future
---
4x05 Home Coming and Going (January 31, 2011)
---
Lasker Parkes (Jonathan Silverman), Peter's dad, comes to visit Kappa Tau, and Cappie feels pressure to impress the him. Cappie plans an Everest party for Homecoming, complete with ice luges throughout the house. Lasker wants to know who is Peter's big brother in the. Rusty wants to be Peter's big brother, but Peter wants Cappie. Meanwhile, Casey tries to convince Ashleigh to find a job and move out, but Ashleigh keeps dragging her feet. Casey and Evan go to an alumni dinner because their law professor will be there. Casey gets into a fight with Ashleigh. To impress Peter, Rusty plans to steal the A&M goat mascot at night, but while they're in the process, Dale and some Omega Chi members interrupt with the same plan.
---
4x04 All About Beav (January 24, 2011)
---
Beaver goes to class to find he got an F on his paper because it's plagiarized. He's needs to write a decent, original paper by the next morning or the F stays on his record. Casey talks with Katherine in hopes of forming a study group with her, but Katherine says she doesn't like study groups. Beaver meets Katherine, and is instantly smitten. Rusty and Dana are working on a science project together, and Ashleigh joins in to help make their slideshow more presentable. Dana requests to be called a co-inventor on the credits page, but when Rusty finds out, his anger ruins the presentation. The committee likes the invention, but pulls Rusty from the project and gives it to a professional team. Rebecca invites Cappie to the pledge party so she can make Evan jealous. Casey and Beaver team up in search of case summaries for Casey. Beaver accidentally invites Katherine along as they search for notes, much to Casey's dismay.
---
4x03 Cross Examined Life (January 17, 2011)
---
Rusty, Dale and Dana are hanging out together and Dana suggests throwing a murder mystery dinner party to help Dale socialize. Members of Omega Chi Delta then storm in and take Dale away as he's pledged to them. Casey gets a surprise visit one night from Ashleigh, who has lost her job in New York and now plans to stay back at the house. Calvin reveals that he has no major, just like Cappie, but wants to keep it a secret. Meanwhile, Rusty worries that Dale is joining Omega Chi to get back at him, so he devises a plan to get Dale membership into Kappa Tau. But Dale is insulted by Rusty's insistence, and goes to Omega Chi's hazing anyway. While he's there, Rusty and his friends kidnap him and take him to Dana's murder mystery party, inadvertently leaving Spidey there to face the Omegas' wrath. Dale eventually leaves Rusty's party, claiming that he wants to be a part of that fraternity, and that Rusty should care about his own pledge Spidey instead. Casey is having a hard time finding a study group to join in her new law class because of her controversial past. Ashleigh reveals that she actually ran away from her job because she couldn't handle it. Katherine (Nora Kirkpatrick) returns to attend CRU Law school.
---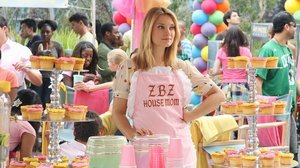 4x02 Fools Rush In (January 10, 2011)
---
The KT's decide since they lost several members of their frat last year, it's time to actually try to recruit pledges. The KTs set up a booth during rush on campus to help with recruiting. Tegan (Charisma Carpenter) shows up to help the ZBZs maintain their newly regained best house on campus title. Tegan and Rebecca argue on how rushing should go and Casey comes to Rebecca's rescue with a plan to have Dana (Martha MacIsaac) keep Tegan distracted. The ZBZs entertain a potential new pledge Heather, who is Heath's sister. Dale also entertains the idea of rushing this semester
---
4x01 Defending Your Honor (January 03, 2011)
---
The season opens with Casey, Evan, & Ashleigh's graduation day. Casey and Cappie haven't spoken since Spring Break and are anticipating saying their final goodbyes to each other, which does not go as smoothly as expected. We then skip to the end of summer and Casey packing up to move to Washington DC for law school. Through some prompting from Evan, Casey learns that the reason she did not get into CRU law school was a result of a bad recommendation from Joel (Sam Page). After Casey confronts Sam, he reconsiders and has his letter rescinded. Casey is accepted into CRU law and decides to stay after all. Ashleigh has moved to New York for an internship that is not exactly what she was hoping for. Evan is attending CRU law school with Casey.
---