Greek
Season 3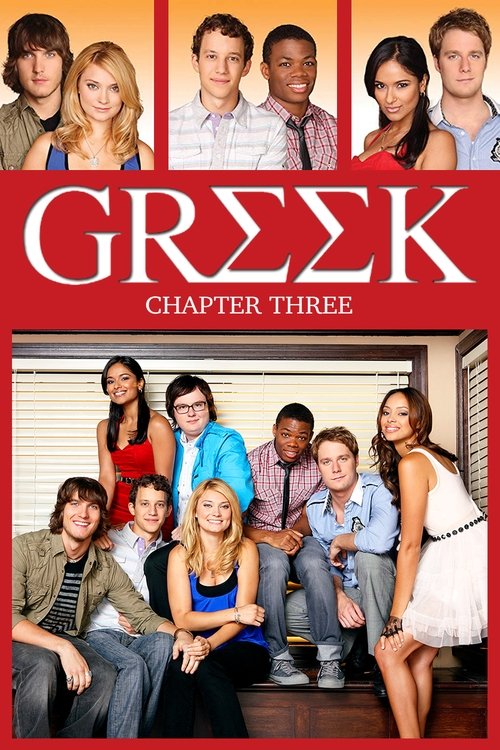 Greek
Season 3
First Air Date: August 31, 2009

| | | |
| --- | --- | --- |
| First Aired on | : | 2009 |
| Episodes | : | 20 episodes |
The end of the world has come and gone. Well, Kappa Taus End of the World party, that is. And now the students of Cypress-Rhodes University face an uncertain future as a consequence of their actions. Can Rusty keep his GPA above the minimum to stay in the honors engineering program? Will Casey finally win the heart of Cappie? Can Dale make penance for his temporary lapse in morality?
Episodes
3x20 All Children... Grow Up (March 29, 2010)
---
The students of CRU are on Spring Break in Myrtle Beach, which means the year is winding down and the seniors have big decisions looming over their heads. As Ashleigh contemplates her job options, Casey is on edge waiting to see where she'll be accepted to law school. While Cappie is busy planning a romantic surprise for Casey's birthday, she worries that not making it into CRU Law could mean the demise of their relationship. Will Cappie and Casey survive Spring Break intact?
---
3x19 The First Last (March 22, 2010)
---
The KTs and OXs are preparing for the Gods of Golf Tournament, the winner of which will be named the top fraternity on campus. Meanwhile, the ZBZs are disappointed to learn that the annual Greek Week has been canceled. Casey talks to Katherine, who agrees to bring back the Greek Goddesses Pageant, under the condition that the competition focus more on strength of character and less on looks, of course. Which houses will end the year on top?
---
3x18 Camp Buy Me Love (March 15, 2010)
---
Casey and Cappie get a surprise visit from Cappie's parents, April and Tobias who proceed to invite the couple to join them on a camping trip. While at first reluctant, Casey decides to go, in hopes that they may be able to encourage Cappie to choose a major and graduate with her. But she quickly learns that his parents are free-loving hippies who think Cappie should just relax and continue to enjoy his college experience.
---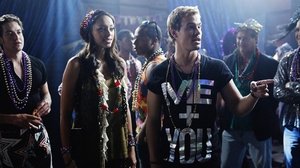 3x17 The Big Easy Does It (March 08, 2010)
---
Everyone at Cyprus Rhodes is preparing for Mardi Gras festivities, except for Casey, who must prepare for the biggest test of her life - the LSAT. While Casey continues to push Cappie to declare a major and make plans to focus on the future, he is too busy announcing the next parade at the Kappa Tau Mardi Gras party. Meanwhile, Joel offers Casey some solid guidance and support for the LSAT. Find out how Casey handles two big tests, the LSAT and her attraction to Joel.
---
3x16 Your Friends and Neighbors (March 01, 2010)
---
The Hilgendorf family has moved in next door to the Kappa Tau house, and their presence is putting a damper on the KTs' festivities. When their rules get to be too much of an interference, Rusty and Cappie decide to "borg" Professor Tom Hilgendorf - i.e., to bring him in and make him a KT pledge. Once inducted into the Kappa Tau world, Tom doesn't seem to want to leave, making Cappie rethink his plan to eventually graduate. Find out if either Cappie or Tom will finally grow up.
---
3x15 Love, Actually, Possibly, Maybe... Or Not (February 22, 2010)
---
It's Valentine's Day at CRU and love is in the air! Casey and Cappie are at war over who can come up with the most romantic Valentine's Day gift. Casey also tries her hand at playing Cupid when she sets Katherine up with Rusty in an attempt to get back in Katherine's good graces. Will Katherine and Rusty spark a love connection or will their awkwardness get in the way?
---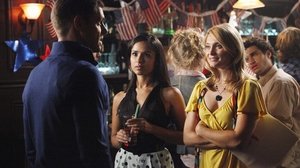 3x14 The Tortoise and the Hair (February 15, 2010)
---
Casey is ready to discuss the future with a resistant Cappie, and the situation isn't helped by handsome Washington politician Joel (Sam Page), who encourages Casey to envision a potential career in politics after she volunteers to help him with his voter registration campaign at the Cyprus Rhodes campus. Find out if Cappie is ready to grow up or if he will fall behind.
---
3x13 Take Me Out (February 08, 2010)
---
It's the All-Greek baseball game and alliances are tested on and off the field. With the hope of winning more blue ribbon points, the ZBZs partner with the Omega Chi's, throwing off Cappie and Casey's love game by pitting them against each other. Watch the Greeks take to the field.
---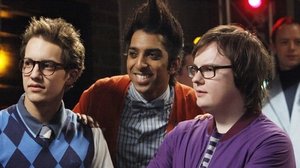 3x12 Pride & Punishment (February 01, 2010)
---
The ZBZ's are still on edge when they hear their candle is responsible for the Gamma Psi fire, and Casey cracks under the guilt, putting the ZBZ house in jeopardy! Hoping to boost morale and her marketing major, Ashleigh enlists Rusty and Dale in a philanthropic "Geek Auction," but it's up to Casey to play dirty to save the ZBZ's, their house and their Greek rank. Find out if Casey can save the day.
---
3x11 I Know What You Did Last Semester (January 25, 2010)
---
The Cyprus Rhodes students are preparing for the "Help Us Rebuild Our Castle Fairytale Ball" for the Gamma Psi's - some out of guilt - by picking out their best prince and princess attire.
---
3x10 Friend or Foe? (November 02, 2009)
---
Cappie and Casey go public, and Omega Chi and Kappa Tau get serious about pranking. Things heat up when Song Fest pits ZBZ against Gamma Psi. Rusty and Dale take their rivalry out of the lab.
---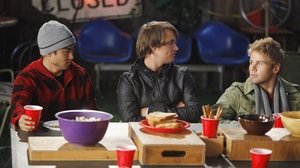 3x09 The Wish Pretzel (October 26, 2009)
---
Everyone is packing their bags and heading home for Thanksgiving, but Casey and Rusty find themselves stranded at CRU when their parents leave them behind for Maui. Will Thanksgiving at CRU beat going home for the holidays? A surprise at the end will leave you speechless and wanting more.
---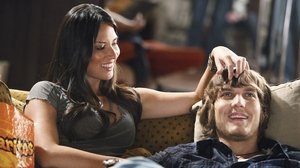 3x08 Fight the Power (October 19, 2009)
---
In Casey and Ashleigh's continuing struggle to bring ZBZ back to the top, Ashleigh decides a four-way mixer is the best way to gain their popularity back. Will her party save ZBZ from the fourth spot, or will she put them in even more debt?
---
3x07 The Dork Knight (October 12, 2009)
---
Casey's detective skills inadvertantly start a brawl between the Kappa Tau's and the Omega Chi's. Meanwhile, Rusty, Calvin, and Dale take a trip to Comic-Con as Ashleigh and Fisher resume their relationship but still have a few issues.
---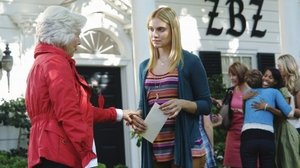 3x06 Lost and Founders (October 05, 2009)
---
It's Founders Weekend at the ZBZ House and Casey uses the opportunity to scrap for donations from the alums while Rusty tries to keep Jordan from dropping out of school.
---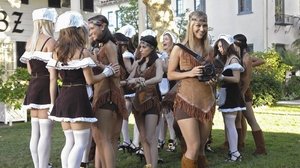 3x05 Down On Your Luck (September 28, 2009)
---
Shocked to learn that ZBZ has slipped in the ranks down to fourth, Casey is determined to bring ZBZ back to the number one spot by motivating their pledge class to take action, believing that, if they create a cool photo shoot for the Lamda Sig calendar, it could improve their house's ranking. However new pldge Abby convinces the other pledges to boycott the shoot so, in order to make nice with the ZBZ pledges, Ashley and Casey get them all makeovers. Meanwhile, dissatisfied with her college experience, Jordan wonders how to make her time at CRU more fulfilling and, in an effort to prove his love and commitment for Jordan Rusty decides to lavaliere her. When Rusty divulges his plans to his KT brothers, they warn him of the Kappa Tau curse that occurs when a brother lavalieres his girlfriend. Elsewhere, Cappie helps Evan find a part time job to help his financial situation, but when he meets one of Evan's new and very attractive co-workers, Lana, he decides to get a job too.
---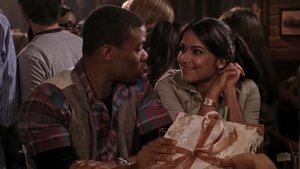 3x04 High and Dry (September 21, 2009)
---
Casey patrols non-alcohol party night during Dry Weekend on campus until she and Evan unknowingly eat some special brownies. Meanwhile, Grant's old high school girlfriend surprises him with a visit, and Rusty seeks academic help at a book signing.
---
3x03 The Half-Naked Gun (September 14, 2009)
---
It's time for the annual all-Greek "Undie Run", and the Pan-Hellenic board voted strongly against it. In an effort to change the vote, Casey uses her political savvy to enlist IFC president, Evan, to stage a petition signing. Meanwhile, it's nearing the end of the Greek-wide game of Gotcha!, and only Rusty and Jordan are left, which puts a damper in their effort to spend alone time together. Additionally, Evan finds out about Calvin and Grant's relationship and helps them keep it a secret from the rest of Omega Chi.
---
3x02 Our Fathers (September 07, 2009)
---
Casey finds out about Rebecca and Fischer's secret kiss, but when Rebecca confesses to Ashleigh, she outs Casey for keeping it a secret. When Mr. Cartwright, Mr. Howard, and Mr. Logan arrive for Father-Daughter weekend at ZBZ, they find out about their daughters' feud, and it reflects upon their weekend behavior. At the same event, Rusty gets nervous about meeting Jordan's father. Meanwhile, in an effort to get over their lost loves, Dale and Cappie fawn over the same girl, but they both ultimately get rejected.
---
3x01 The Day After (August 31, 2009)
---
The students at CRU feel the ramifications of the Kappa Tau's "End of the World" Party. Rusty risks being dropped from the honors program if he cannot raise his grade in organic chemistry and Casey adjusts to single life.
---