Fraudstars
Season 1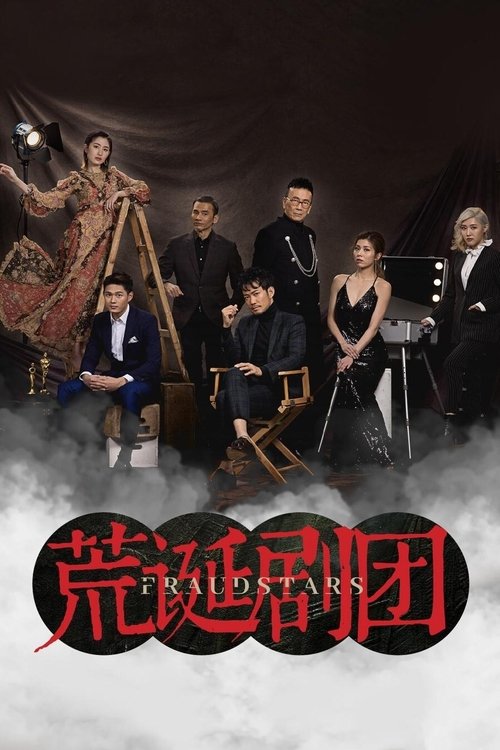 Fraudstars
Season 1
First Air Date: April 16, 2021

| | | |
| --- | --- | --- |
| First Aired on | : | 2021 |
| Episodes | : | 8 episodes |
Episodes
1x08 Episode 8 (June 04, 2021)
---
Yan-yan has caught Fraudstars people. She forces them to come up with ideas to help her win Brad over. While Tsz-lok's life is put at risk, the troupe want to create an accidental explosion to kill Brad's wife. Actually, Chi-yeung and his chums only want to create a fake accident to fool Yan-yan. They have already arranged for Master Man to go to save Brad's wife. But their plan unexpectedly goes wrong. The troupe have committed crimes. Chi-yeung takes the blame for everything and ends up as the only prisoner. Fast-forward two years and Chi-yeung is released from prison.
---
1x07 Episode 7 (May 28, 2021)
---
On Script Incubation Programme competition day, Tsz-lok and his chums finally realize the topic is about enabling Yannis Café boss Cheuk Yan-yan to win handsome guy Brad over. Screenwriters come up with all kinds of ideas. Chi-yeung finds out Sa-sa has not told him about Tsz-lok's participation in the competition. He also knows Sa-sa has seen director Yip Lap-tak, who is his foe. Herman arbitrarily finds some partner and hastily commences production of Dreams of Gold. Fraudstars faces the danger of coming to an end. Cheung Chung discovers Yannis Café coffee contains Happy Water, which could turn people into zombies. Some screenwriter has actually become a zombie that is killed by Yan-yan. Yan-yan forces Tsz-lok to disclose troupe members' identities. The chums are taken hostage.
---
1x06 Episode 6 (May 21, 2021)
---
Fraudstars recreates some scenario of yesterday. Uncle Nam fancies Miss Chung and bravely saves his crush. He then goes to see her parents. But because of his minion Fly arguing with adversary the Bear, he nearly hurts his prospective parents-in-law. Uncle Nam decides to quit the gang life. Gang veterans want Uncle Nam to kill the Bear before he quits. Uncle Nam and Miss Chung get married as Uncle Nam eventually decides to stop killing people. Uncle Nam dies after offering his diamond collection to Fly and the troupe. Fly just snatches the diamonds. Script Incubation Programme results are released. Tsz-lok and Bo are qualified candidates. Meanwhile, Cheung Chung is investigating Yannis Café.
---
1x05 Episode 5 (May 14, 2021)
---
Gang boss and also dementia sufferer Uncle Nam once invested in Chi-yeung and Herman's movie project Rainbow Grayscale. He just keeps mentioning his first love Miss Chung. To fulfill Uncle Nam's wish, Fraudstars decides to recreate some scenario of yesterday so that Uncle Nam can relive old memories. Ka-ling is supposed to play the role of Miss Chung. But she declines as the storyline requires her to engage in kissing. Herman helps Ka-ling overcome her worries as he finds out the reason why Ka-ling is afraid of kissing. Tsz-lok and his buddy Bo sign up for Script Incubation Programme organized by Yannis Café. But Cheung Chung discovers some Yannis Café membership card at the homicide scene.
---
1x04 Episode 4 (May 07, 2021)
---
Master Man decides to join Fraudstars. Sa-sa plays the role of an AV actress, and Chi-wan is her on-screen partner. Chi-yeung and his chums intervene as Chi-wan really wants to molest her. Wah-hung comes to see what is happening. He is also infatuated with Sa-sa and wants to have a threesome with Sa-sa and his son. Some accident happens during shooting, and Sa-sa has a fatal fall. Her gun-wielding gangster security guard boyfriend goes after Wah-hung and his son. Chi-yeung saves the duo and tries his best to help them flee. Master Man offers money to Lin Kit, who reveals the truth behind the accident that took place all those years ago. Mentor and disciple eventually forget this old story. Cheung Chung pays Chi-yeung a visit. He unwittingly discovers some notice about Battle of the Swindlers. He also finds out Chi-yeung has covertly investigated Ark and Foo Keung.
---
1x03 Episode 3 (April 30, 2021)
---
Foo Keung falls into a trap. Under the influence of some dope called Happy Water, he comes clean about some incident that took place many years ago. Actually, Foo Keung and Ark's daughter died. Foo Keung then became infertile. He wrongly believed some feng shui master and was scammed out of a substantial sum. Also, Ark had since become a dodgy fung shui master. After being scammed, Ark got furious as Foo Keung decided to give away the family wealth to charities. Fraudstars' interest in her is aroused. Shell has lost the custody battle, and her ex-husband is taking her daughter to Canada. The troupe then have to deal with producer So Wah-hung. They want to go after his son So Chi-wan first. Chi-yeung and Herman persuade Master Man to make a comeback. Master Man still feels guilty about causing his disciple Lin Kit to become a paraplegic all those years ago.
---
1x02 Episode 2 (April 23, 2021)
---
The chums agree to establish Fraudstars Theatre Company. Master Man is the only one who is not joining. Herman wants to deal with swindler Master Ark. Actually, Ark had scammed her cancer-stricken younger brother, who is now in a coma. Sa-sa sneaks into a place of worship. She finds out selected devotees are given a jade pendant. Herman deciphers the jade pendant's secret. Chi-yeung and Tsz-lok find out Ark and altar cleaner Foo Keung are a married couple. Shell and Chi-yeung became foes because of production of Sad Storm, and Shell decided to quit. Chi-yeung then finds out their predicament. Chi-yeung and Sa-sa poach business away from Ark by turning Ka-ling into a cult leader. Foo Keung is lured into a trap.
---
1x01 Episode 1 (April 16, 2021)
---
Chan Chi-yeung, who won best director award when he made his directorial debut, ends up having no movie project. His buddy producer Herman invites him to come to some restaurant to see a new investor that he manages to hook up with. Chi-yeung meets up with equally down-and-out screenwriter Lee Sa-sa, production designer Shell, action director Master Man, actress Lau Ka-ling and assistant director Choi Tsz-lok. They have had some unpleasant experiences with Chi-yeung. Their dream is shattered when they learn of the news of the investor's death from the TV. They also do not have money to pay the bill. They resort to using their talents to handle the issues. Chi-yeung recalls when he and his buddy Cheung Chung talked about cinema dreams in their youth. He wants to make a movie based on Sa-sa's screenplay Dreams of Gold. Herman then suggests the chums enter a new profession and become scammers.
---