Tim and Eric Awesome Show, Great Job!
Season 1
Tim and Eric Awesome Show, Great Job!
Season 1
First Air Date: February 11, 2007

| | | |
| --- | --- | --- |
| First Aired on | : | 2007 |
| Episodes | : | 10 episodes |
Episodes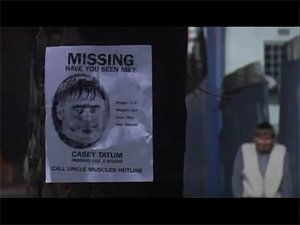 1x10 Missing (April 15, 2007)
---
The Uncle Muscles Hour is disrupted when Casey wanders off and Casey's brother is forced to adapt to life without him. Dr. Steve Brule teaches us about modern fashion, resulting in some tension between Jan and Wayne Skylar. Eric talks about his collection of Rascals on "Nights with Tim Heidecker". And the new Cinco product, "B'ougar", turns your imaginary fears into real ones.
---
1x09 Hamburger (April 08, 2007)
---
Tim and Eric are late in delivering the episode to the Network and must rely on Hamburger Taxi to get the tape there on time. Dr. Steve Brule helps out the Married News Team with a special report on stomach and digestion problems. Tim makes a call to a music store about his uke' that keeps falling on his computer. Two men get in a fight over a car crash and settle it with a dance-off using their pygmy Tim and Eric dancers. A kid searches for his Chippy in a claw vending machine. And Michael Q. Schmidt performs his new "Raise My Roof" dance to win the "Uncle Muscles Grand Championship" dance-off.
---
1x08 Anniversary (April 01, 2007)
---
"Tim and Eric Awesome Show, Great Job!" celebrates its 50th anniversary hosted by Pat Dudley, but Tim and Eric haven't spoken to each other since an unfortunate stairway incident. Pierre teaches children how to meditate and asks for their dads' email address. Bob Odenkirk advertises "E-Z Kreme", an all-natural diarrhea inducer. Richard Dunn plays an improv game with himself on the show "Dunn-Prov". And Cinco advertises their handy "MIDI Organizer Filing System".
---
1x07 Abstinence (March 25, 2007)
---
We get a glimpse of Pall Willeaux's dreams as he advertises his "Lazy Horse" mattresses. Tim & Eric replace their crew with elderly men. Tim and Eric beatbox. David Cross sings a song about abstinence to Abbey Brooks in the porno film "Pizza Boy". The Channel 5 Married News Team gives live coverage of the "No Sex Hot Dog Parade" as part of "No Sex Week". Maria Bamford talks about skin care and her abusive mother on her show "The New You". And Eric has some trouble with the computers at the "Cinco Personal Banking Center".
---
1x06 Slop (March 18, 2007)
---
Success. Tim and Eric's replacements host the show. The Beaver Boys go clubbing, try to pick up some ladies, and enjoy some good shrimp and white wine. David Liebe Hart returns with a new puppet and a new song about staying in school. Tragg shows his viewers how to make some of his famous slop on his cooking show "Tragg's Trough". "Kid Break" returns with a rap about wearing your dad's dirty socks. And surplus media distributor Ken Tulley advertises his series of "Fitness Can Be E-Z" tapes and throws in some great deals along with them.
---
1x05 Chunky (March 11, 2007)
---
A keytar group plays a song about sports. Carol's secret love for her mean boss finally reaches a boiling point. The new Cinco toy, "T'ird", is advertised. Danny Mothers interviews Glen Tennis about his second film "Crystal Shyps". Vernon does some ventriloquism with his potty mouthed dummy, Horsy, with Richard Dunn on the drums. And Eric pulls a prank on Tim.
---
1x04 Salame (March 04, 2007)
---
Steve and Mike Mahanahan advertise their child clowns and child clown shoes. David Liebe Hart and his puppet Jason sing about the Korendians and meeting in the light. Tim and Eric give a seminar on how to build a successful sitcom writing career. And Tim and Eric's assistant, Simon, presents them various numbered elderly ladies in "Here She Comes."
---
1x03 Cats (February 25, 2007)
---
Tim learns a new magic trick that runs him into some problems. "Kid Break" shows children that it's okay to sit down while you pee. Tairy Greene teaches new Gravy Robber employees the best gravy robbing techniques. Tim draws free portraits on Hollywood Blvd. And Jaime Stevens returns home from his summer abroad with newfound powers in "Kitty Cat Man".
---
1x02 Friends (February 18, 2007)
---
Cinco Insurance advertises their "Balls Insurance" plan. Eric sends Tim an ornamental hot dog after finding out he is dying of "Limp Lip." Dr. Steve Brule celebrates 10 years in broadcasting. Eric looks for his Chippy. Pierre teaches children how to dance and scolds them for allegedly possessing rotten meat. Tim and Eric try to write a jingle for Rolos.
---
1x01 Dads (February 11, 2007)
---
Tim's Dad sends Eric a gift basket wishing him luck on the new show. Leif and C Boy square off in a hackey sack championship. Dr. Steve Brule does a report on fruits and vegetables. Casey and his Brother perform "Time Travel" on The Uncle Muscles Hour. Tim and Eric revive the Old Waiting Room Sketch. The new Cinco toy, "B'owl", is advertised. And Tim makes a call to pest control about his bees and his disappointing son, Spraynard Krugar.
---