Criss Angel Mindfreak
Season 2
Criss Angel Mindfreak
Season 2
First Air Date: May 31, 2006

| | | |
| --- | --- | --- |
| First Aired on | : | 2006 |
| Episodes | : | 22 episodes |
Episodes
2x22 Underwater Car Escape (January 01, 0001)
---
Tied and locked into the trunk of a car, Criss is lowered into a lake and must escape before he runs out of air or drowns.
---
2x21 My Secret Cabaret (October 11, 2006)
---
Shot in the Palace Showroom of the Magic Castle, this episode climaxes with Criss stopping his pulse in five places while being monitored by a team of medical experts. Jonathan Davis of KORN gives Criss an unforgettable surprise in Los Angeles, California. Other highlights include never before seen bloopers and footage of Criss performing as a teenager.
---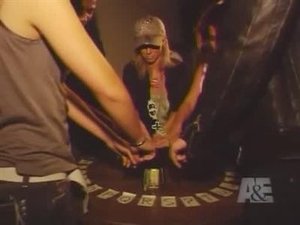 2x20 Celebrity Seance (November 08, 2006)
---
This episode proves once and for all whether the living can communicate with the dead. Five brave souls will spend a night in one of the most haunted places in America, the Armagosa Hotel in Death Valley, known for paranormal activity as Criss tries to connect with forces beyond our comprehension. Which celebrities will remain in the house?
---
2x19 Magician of the Year (September 27, 2006)
---
Criss travels to Los Angeles to accept the Magician of the Year Award.
---
2x18 Shark Cage Escape (September 20, 2006)
---
Criss is shackled, handcuffed and locked in a steel cage and sunk to the ocean floor.
---
2x17 Straitjacket Keelhaul (September 13, 2006)
---
Criss tries to survive an underwater stunt.
---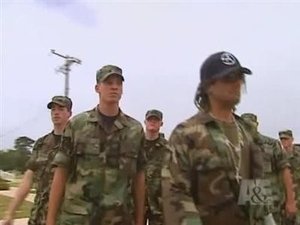 2x16 Military Salute (September 06, 2006)
---
During a visit to Vandenberg Air Force Base to pay tribute to U.S. troops, Criss makes a hummer disappear, Tries to guess a card and produces a special guest from an empty duffly bag.
---
2x15 Rice Burners (August 23, 2006)
---
Criss takes it underground in Long Island, New York and shares his passion for motorcycle trick riding with a crew of extreme riders who execute the craziest stunts on two wheels, and sometimes just one. Criss ups the ante when he makes a motorcycle vanish and reappear from nowhere, drives blind and demonstrates a fresh style of riding sure to astonish.
---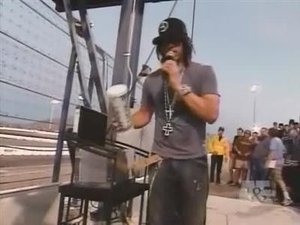 2x14 Prophecy (August 16, 2006)
---
Criss stops his pulse and vital signs in five body locations in front of a certified medical staff and in front of thousands of spectators, and predicts the outcome of a motor speedway race. Criss also waits tables and does close up magic in his favorite hometown diner.
---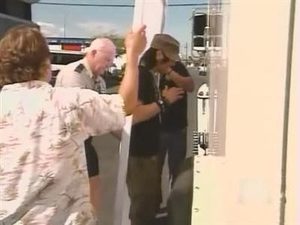 2x13 Sucker (August 09, 2006)
---
Criss and his team perform an elaborate pickpocket ballet; demonstrate psychic surgery, and reveal the con-artist techniques used by three card monty dealers, card cheats and casino scammers. Criss blows the lid off anyone who uses magic to take advantage of the vulnerable.
---
2x12 Back to School (August 02, 2006)
---
A Long Island homecoming has Criss traveling to familar places to try out illusions on the locals, among them are high-school teachers and students.
---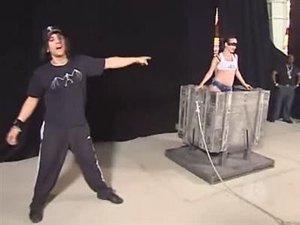 2x11 Metamorphosis (July 19, 2006)
---
On Fremont Street in Las Vegas, Criss performs one of his signature demonstrations the fastest Metamorphosis ever attempted in front of thousands of spectators. There are no curtains or covers, just an almost deadly wall of fire. Criss also receives the prestigious "Magician of the Year" Award for the third time!
---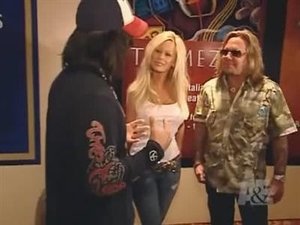 2x10 Celebrity Minds (July 12, 2006)
---
Criss reads the minds the minds of celebrites including Ice Cube, Vince Neil, Mark McGrath and Robin Leach.
---
2x09 Chad's Story (July 05, 2006)
---
Criss helps a youg magician named Chad with a touching story by letting him have a magic show at his friend Lance Burton's theater.
---
2x08 Bike Jump Vanish (June 28, 2006)
---
Criss has been a longtime fan of Evel Kineval, the famous motorcyle legend. In this episode, Criss is going to attempt to perform Kineval's first jump. He trains with Trigger Gunn, a champion aerialist and world record jump holder. The jump will take Criss down a 60-foot long, 20-foot high ramp at 50 mph, assuming his family doesn't stand in his way. Don't miss this episode! Special guests include Trigger Gunn, Carey Hart, Ice Cube.
---
2x07 Party (June 21, 2006)
---
Get ready for a party out on the town with Criss Angel as they celebrate a cast members birthday, as only Mindfreak can. Criss and his crew put on some incredible stunts and outrageous illusions in some of Sin City's most notable locales.
---
2x06 Easy Rider (June 14, 2006)
---
Criss is suspended and chained in a wooden box full of explosives and must escape before he's slammed by a stunt car.
---
2x05 Animal Magic (June 14, 2006)
---
Criss makes an elephant vanish in public. He also has tricks involving pigeons, monkeys, and cockroaches.
---
2x04 Walk on Water (June 07, 2006)
---
When Criss did a guest spot on Las Vegas, he walked on water for a few seconds. Now he will attempt it in one continious shot as he will walk across an entire pool while people swim under and around him. Criss also brings a mannequin to life and introduces some new fans to his way of magic.
---
2x03 In Two (June 07, 2006)
---
Cutting people in half has been a staple in the magic world throughout its history. Now it's time for Criss to put his own spin on this classic trick. Watch as Criss cuts someone in two without using boxes, covers, or trick clothes of any kind. You won't want to miss this one-of-a-kind demonstration.
---
2x02 Vanish (May 31, 2006)
---
Magicians throughout the centuries have included disappearing acts. For this episode, Criss performs his own incredible take on this illusion: to vanish a spectator surrounded 360 degrees by thousands of witnesses, during the day, in the middle of Las Vegas Fremont Street.
---
2x01 Building Float (May 31, 2006)
---
Season Two of Mindfreak kicks off with a stunt so amazing, it defies comprehension. Criss floats from one building to another in front of a crowd during the middle of the day. Criss Angel also shows off an amazing light bulb float using kinetic energy, lifts a kid right off the pavement in a parking lot by sticking his hand to the kid's head, and he also harnesses the power of static electricity among a crowd to levitate them off the ground in the middle of a park.
---