The Block
Season 13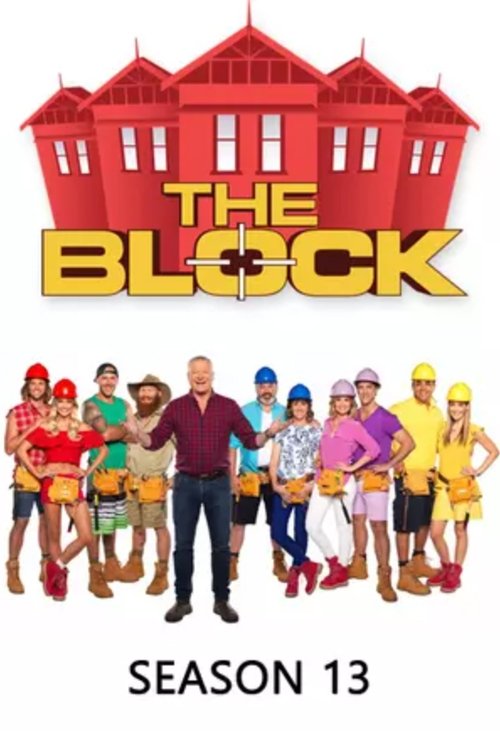 The Block
Season 13
First Air Date: July 30, 2017

| | | |
| --- | --- | --- |
| First Aired on | : | 2017 |
| Episodes | : | 52 episodes |
The Block takes determined couples, rundown apartments, and gives them equal-sized budgets and just weeks to out-renovate each other to see who becomes the ultimate winner.
Episodes
13x52 The Block Auctions (October 29, 2017)
---
After 12 weeks the houses go under the hammer. Couples compete for the first choice auction order and will win anything bid over their reserve with the highest over reserve taking an additional $100.000.
---
13x51 The Teams At Home And Public Open For Inspection (October 24, 2017)
---
Visit the teams to find out what they've been up to since they moved out from The Block. The houses are open for inspection as people get a chance to check out the homes.
---
13x50 The Best Of The Block - Pimp My Pad Block Style (October 23, 2017)
---
The judges play a game called Pimp My Pad Block Style, where they choose their favorite rooms from across the series to create the ultimate Block Pad.
---
13x49 Front Garden Judging (October 22, 2017)
---
There's still a lot of painting to be done as the teams approach the deadline for delivery of their front gardens and facades. They meet Scott at HQ for the judges comments and scores for the last time.
---
13x48 Front Gardens Continue (October 18, 2017)
---
With just a few days left on the block to complete their front gardens and defects list the teams are giving it all they've got get get to the finish line.
---
13x47 Front Garden Continues And Teams Work On Their Defects Lists (October 17, 2017)
---
The teams continue work on their front gardens and have a huge amount of painting to get through, they have also been given a defects list by foreman Keith and Dan.
---
13x46 Front Garden Commences (October 16, 2017)
---
It's the final week of renovations and a big job for the teams to complete landscaping of the front yards, bring their facades to life with cladding and verandas.
---
13x45 Studio And Garage Judging (October 15, 2017)
---
What the teams have achieved in one week is remarkable as they deliever five incredible studio apartments with walk in robes and en-suites.
---
13x44 Studios And Garages Continue And Final Walk Arounds (October 11, 2017)
---
With a massive 100 meters to renovate everyone is under the pump getting their rooms ready for a night of painting. Scott and Shelley visit the teams and check out their rooms.
---
13x43 Studios And Garages Continues (October 10, 2017)
---
The teams continue with the massive task to present their studios and garages in just one week. Foremans Keith and Dan continue with their defects check list
---
13x42 Studio And Garage Week Commences (October 09, 2017)
---
The teams have one week to renovate their studio apartments and garages, totalling a massive 100 square meters. Foreman Keith and Dan visit each house to list the defects.
---
13x41 Backyards Judging (October 08, 2017)
---
It's been an exhausting week to finish their massive backyards, but the teams deliver five stunning outdoor spaces to the judges.
---
13x40 Backyards And Walk Arounds (October 05, 2017)
---
It's touch and go whether one team will be able to get crane access to have their shipping container pool lifted into their backyards, it's causing major delays to the tight deadline.
---
13x39 Backyards Continued (October 04, 2017)
---
Tensions are high as one couple negotiates with another two teams asking them to stop work so they can get their pool craned into their backyard. It's a race to get the concrete slabs poured ready for the install of the pools and spa.
---
13x38 Backyard Week Commences (October 03, 2017)
---
Excavation commences as the teams start work to deliver their massive backyards in just one week. With four of the five couples including pools and a spa, it's going to be a testing week.
---
13x37 Guest Bedroom Rebuild Judging (October 02, 2017)
---
The contestants deliver the last room inside the houses: their guest bedrooms. The judges are very impressed with all of the rooms the teams have delivered, and the scores are high.
---
13x36 Guest Bedroom (September 27, 2017)
---
The teams return from a challenge in the ski fields wth just a couple of days to finish their rooms. They are also planning their backyards with one team facing problems with their pool.
---
13x35 Guest Bedroom And Challenge (September 26, 2017)
---
The teams continue with the demolition of their guest bedrooms, along with planning for their backyards where four out of five couples are wanting to include pools.
---
13x34 Guest Bedroom Commences (September 25, 2017)
---
It's guest bedroom week, the last room to finish inside of the house and a chance for the couples to put all of the experience they gained over the past eight weeks into practice.
---
13x33 Hall And Laundry Judging (September 24, 2017)
---
The couples struggle to reach the finish line to deliver the hallways and laundries.
---
13x32 Hall, Laundry And Challenge Continues (September 20, 2017)
---
The couples have been shopping and cooking in their new kitchens to produce their own signature dish. Celebrities Kate Langbroek and Dave Hughes join Scott and Shelley to judge the winner.
---
13x31 Hall,Laundry And Challenge (September 19, 2017)
---
It's all systems go for hall and Laundry week and the couples test drive their brand new kitchens with a challenge to produce their own signature dish.
---
13x30 Hall And Laundry Commence (September 18, 2017)
---
The couples start planing their hallways and laundries. Three buyer advocates check out all the houses to give the teams feedback and the chance to win $10,000 towards their renovations.
---
13x29 Kitchen Judging (September 17, 2017)
---
It's another mad rush for the teams to fi ish their kitchens for room reveal, but some contestants find time to help one team make the deadline to advoid being eliminated from the competition.
---
13x28 Kitchen And Challenge Continues (September 13, 2017)
---
Two contestants are working around the clock to advoid being eliminated from the competition, while the other four teams join forces to renovate and style a five-star holiday accomodation.
---
13x27 Kitchen And Challenge (September 12, 2017)
---
The kitchen installers arrive on site. Two contestants race to get their master suite and kitchen finished to avoid being eliminated from the competition.
---
13x26 Kitchen Commences (September 11, 2017)
---
The teams are busy preparing for their kitchen installs. Two contestants call a body corporate meeting; they need a unanimous vote to save them from being eliminated from the competition.
---
13x25 Master Suite Judging (September 10, 2017)
---
Delivery of the biggest spaces ever on the programe is pushing everyone to their limits. Judges arrive to score the rooms.
---
13x24 Master Suite Continues (September 06, 2017)
---
The pressure of finishing the biggest room ever in block history is starting to get to the couples. It's a hive of activity in four of the houses but one team is three days behind.
---
13x23 Master Suite and Challenge (September 05, 2017)
---
Everyone is feeling the pressure, resulting in some of the Blockheads bending the rules and another team about to give up. They all get arty on a challenge, competing to win a much needed $5000 in cash.
---
13x22 Master Suite Commences (September 04, 2017)
---
The teams don't have to renovate but build their master bedroom, en suite and walk-in robe: a massive 45 square meters
---
13x21 Living And Dining Judging (September 03, 2017)
---
It's the final push to the finish line for the contestants to deliver their living and dining rooms. Block judges give two teams high scores but one team misses the mark.
---
13x20 Living And Dining And Challenge (August 30, 2017)
---
All the teams are busy working on their living And Dining rooms when they get a visit from Scott to announce its challenge day.
---
13x19 Living And Dining Continues (August 29, 2017)
---
The teams continue work on their living And dining rooms. A body corporate meeting results in one couple being accused of cheating.
---
13x18 Living And Dining Commences (August 28, 2017)
---
It will be a challenge this week to get the right flow, from the older style front part of the houses to the new contemporary back extensions.
---
13x17 Anything But A Bedroom Judging (August 27, 2017)
---
It's a push to the finish line before tools down. The teams deliver a combination of home offices and lounge rooms to block judges.
---
13x16 Anything But a Bedroom and Challenge (August 23, 2017)
---
The teams head off for a challenge. They need to transform five rooms within Ronald McDonald House into sanctuaries for families visiting their sick children in the nearby hospital. One couple doesn't finish in time for tools down.
---
13x15 Anything But A Bedroom Continues (August 22, 2017)
---
One team is feeling the presssure which threatens to hold up the construction of the house extensions. It's bad news for one couple as their plans for a pool in their backyard is squashed
---
13x14 Anything But A Bedroom Begins (August 21, 2017)
---
The teams decide how to best use the room space and what type of room they will deliver to the judges this week, it can be anything but a Bedroom. Scott visits one couple for a budget intervention.
---
13x13 Kids Bedroom Judging (August 20, 2017)
---
It's a mad rush to the finish before tools down. Block judges Neale Whittaker, Shaynna Blaze and Darren Palmer are impressed with some rooms but others fall short. One team gets the first perfect score of 10 out of 10.
---
13x12 Kids Bedroom And Walk Arounds (August 16, 2017)
---
Scott and Shelley visit the teams and check on the progress of their kids bedrooms. There's budget worries for one couple and foreman Keith catches one contestant trying to cheat.
---
13x11 Kids Bedroom Continues and Challenge (August 15, 2017)
---
Everyone continues to plan and work on their kids room. One team calls the first body corporate meeting and it's off to the Yarra Valley for a challenge to win some much needed prize money.
---
13x10 Kids Bedroom Begins (August 14, 2017)
---
The team starts work on the kids bedrooms. One of the couples house is shut down and a block surprise brings an emotional reunion.
---
13x09 Guest Bedroom Judging (August 13, 2017)
---
It's a tough decision for Block Judges Neale Whittaker, Shaynna Blaze and Darren Palmer, delivering the closest room judging scores in Block history.
---
13x08 1st Guest Bedroom Takes It's Toll (August 09, 2017)
---
---
13x07 1st Guest Bedroom Continues (August 08, 2017)
---
---
13x06 1st Guest Bedroom Begins (August 07, 2017)
---
The couples start demolition and planning for their guest bedroom. Clint and Hannah have some big decisions to make around their unfinished bathroom. One contestant gets some sad news.
---
13x05 Main Bathrooms Revealed (August 06, 2017)
---
It's a frantic race to the finish as our couples deliver their incredible main bathrooms to the judges. Sadly one team doesn't finish in time for tools down.
---
13x04 Bathroom Week Struggles (August 02, 2017)
---
The Blockheads all face different challenges as they approach delivery day of their bathrooms. Site foreman, Keith, shuts down one house with the team having to stay the night with their neighbours.
---
13x03 Bathroom Week (August 01, 2017)
---
Our five teams start on day two of their main bathrooms. They are all busy finding trades, changing floor plans, selecting tiles and fixing problems, working double time to stay on track for room delivery in just four days.
---
13x02 48 Hour Challenge Reveal (July 31, 2017)
---
---
13x01 48 Hour Challenge (July 30, 2017)
---
Five new couples arrive at The Block to find five heritage houses Scott Cam has found and transported from around Victoria. They have just 48 hours to deliver a winning bedroom to get first pick of the houses.
---